The other day we came upon a year old blog post by Dan Carlson, a.k.a. the Meandering Naturist, about
naturism and exhibitionism
. Since Dan's blog posts are often thought provoking, we can rarely resist to share our own thoughts on the subject in a comment. One which often competes in size with the actual post. It wasn't any different with this one about naturism and exhibitionism, but then we figured that we could as well publish our ideas here. On our own blog. So you, our readers, get the chance to participate in this discussion as well. Although we're quite sure that many of you are reading both our blog as Dan's.
Anyway, the topic of the blog post is whether all naturists are in fact also voyeurs and/or exhibitionists. Not in a purely negative or cartoonish way involving a long rain coat or binoculars. But rather the question whether the need to see and to be seen is in our nature. When we go to a party, we wonder what the others will be wearing. Once there, it doesn't take long before we've checked out everyone around. On the way back home the subject tends to come up, have you seen how gorgeous/ugly/long/short/fancy/expensive/sexy/prudish/… he or she was dressed. And we know that others will have the same talk about us, during their own ride home.
It's just what people do. Does all of that behaviour just moves away when we're not clothed at all?
Checking out the nudists
It's often said that once you've become comfortable in your natural state and once you've seen quite a lot of other nudists, you just don't notice the nudity anymore. It's something we don't exactly agree with. But we do understand where it comes from. During our first social nude experiences, we couldn't keep our eyes away from all those naked bodies. They were the only thing we noticed. Which isn't all that strange and we don't think that it makes us voyeurs. It was just something completely new. Within 5 minutes we saw more real life breasts and penises and vaginas than we had seen in our whole life before that moment.
In fact, maybe it does make us voyeurs. But not any different than when we're soaking up all the fancy dresses and high heels and bling bling at that party. Research has shown that when men take communal showers, every single one will let his eyes move to the side to see what his neighbour has hanging there. Again, it's in our nature.
We have been nudists for a long time and especially during the last years we' have seen many thousands of naked people people. In all different shapes and sizes. Yet if you happen to walk up to us tomorrow at some nudist resort, we will have a quick look. We can't help it. It doesn't matter whether you're a man or a woman. Your age, shape or skin colour has nothing to do with it either. And it certainly doesn't mean that we find you sexually attractive. It just happens. Because it's human.
The limit between nudism and indecent exposure
As Dan summarises in his
blog post
, it's nothing else than people watching. Looking at your nude body is basically the same as checking out your new shoes. Knowing that you will also look at our nude bodies isn't any different than picking a certain dress before going out. Are those acts of voyeurism and exhibitionism? You could describe it that way. But personally we prefer to only use those terms when a sexual aspect comes into play.
Dan gives the example about how, about a week after re-starting his Facebook account, he started receiving pictures of genitals. As online nudists, we've probably all been there.
"Hi"
"How are you?"
Bam! A picture of a penis on your computer screen. Luckily you already had your first coffee of the day. Luckily your colleague isn't looking over your shoulder.
Why do people do that? Why do people send pictures of their genitals to strangers? And even more interestingly, why is it always the genitals? Why don't they send a picture of their knee or nose or armpit? Obviously because there's a sexual connotation. The idea that right at this moment someone is looking at a picture of their penis gives them pleasure. Will that stranger who has just seen me naked respond? What will they respond? Will they be shocked? Will they get aroused? Will they send a picture of their genitals back? It's all part of the game.
Non-sexual nudity, or not?
For us, this is where nudism ends and real voyeurism and exhibitionism begins. This isn't genuine human behaviour anymore but where it becomes a fetish. Nothing wrong with fetishes, by the way, as long as all of this happens with consent it's all perfectly fine. Unfortunately there's little consent in above example. That person's nudity was just forced upon us. And even though we're used to seeing naked people all the time, in this case we do find it disturbing.
As with so many things in this world, the difficulty lays in the grey zone. On one end of the spectrum there's the quick peek you just made down to our waists. And the one we made down to yours. On the other side is the "dick pic" we just received. But what's in between? If we notice an attractive person on the nude beach and think about him or her again later that day, does that make us a voyeur? We've met several nudist couples who told us that a visit to the nude beach is often some kind of foreplay. Without engaging in public sex. Just the seeing and being seen.
In this case, we rely on one of the foundations of nudism: Respect. And then it all becomes very clear. If you have more fun in the bedroom after you've seen us naked or after you noticed us looking at you while you walked by, we couldn't care less. Good for you! Once you start pulling us into your game, you cross the line. That's the kind of voyeurism and exhibitionism which doesn't have a place within nudism.
Naked Wanderings' Complete Guide for the First Time Nudist ebook

Do you still have questions about nudism or naturism?
Are you looking for even more tips and tricks?
Our ebook will be the perfect resource for you!

Learn More
---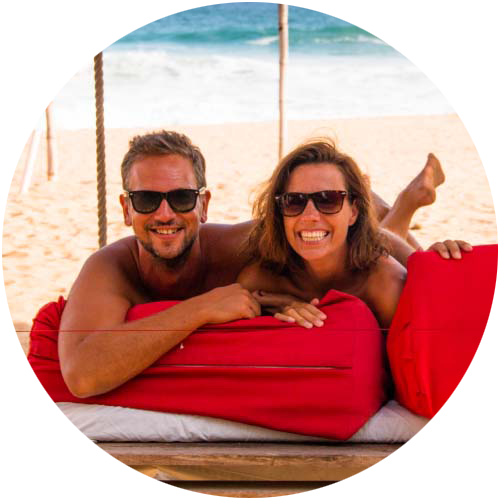 Support Naked Wanderings
Do you like what we do for naturism and naturists? Did we make you laugh or cry? Did we help you find the information you were looking for? Then definitely join our Patreon community!
---