We were planning to spend our last days in Colombia in style. Meanwhile, we had visited Colombia's only official nude beach and we had enjoyed several great meetups with local nudist groups (more about that next week). The only thing which was missing on our list was a place where we could spend day and night in the nude.
Almost by accident, with the help of our growing nudist contact list, we had discovered that only a couple of months earlier the first nudist hotel in Colombia had opened its doors. We could not think of a better way to end our trip through the country.
So we found ourselves knocking on the door of The Naked House, in the outskirts of Bogotá. Ready for a Colombian nude hotel experience. It didn't take long to discover that this place is more than just a nudist hotel. What we found was the comfort of hotel accommodation in the form of an open house where we were welcomed rather as friends than as customers. All of this in an amazing natural setting. We already loved Colombia, and now even more.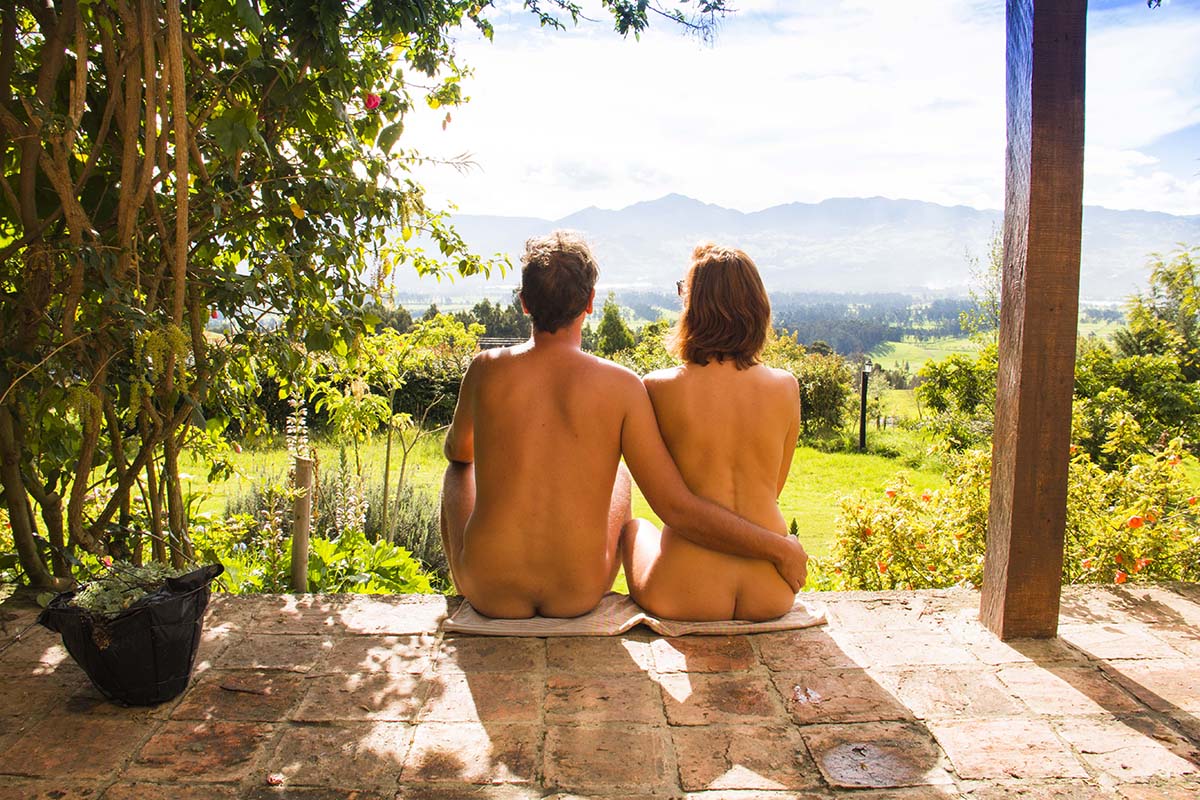 How to get to The Naked House
Although The Naked House is located at only about 60km from downtown Bogotá, Colombia's capital and main transport hub, getting there is quite time consuming due to the city's infamous traffic jams.
The easiest way is to take an
Uber
from Bogotá's El Dorado airport which will cost you about $40 – $50 and takes about 2 hours. The much cheaper option is a local bus from the Bogotá Salitre Terminal to Nemocón which only costs a couple of dollars but will take you on a ride of at least 3 hours.
Nemocón is a small village and nudism is not something most people living there have ever heard of. Neither is the name The Naked House. From Nemocón it's easy to take a tuk-tuk to The Naked House but you'll have to ask the driver for either Finca Agrreste (the official name of the hotel) or for La Finca de Don Filipe. In both cases, they'll drop you off right at the gate of The Naked House.
Bogotá's El Dorado airport is the main airport in Colombia and connects with cities all over North and South America and Europe. If you're flying in from inside the country, pretty much every city which has an airport will have connections to Bogotá.
Because national flights are ridiculously cheap in Colombia, it might be worth to check if it's not more economical for you to fly to Cartagena or Medellin and take a local flight from there.
Check our
Resources Page
for finding the best flight deals.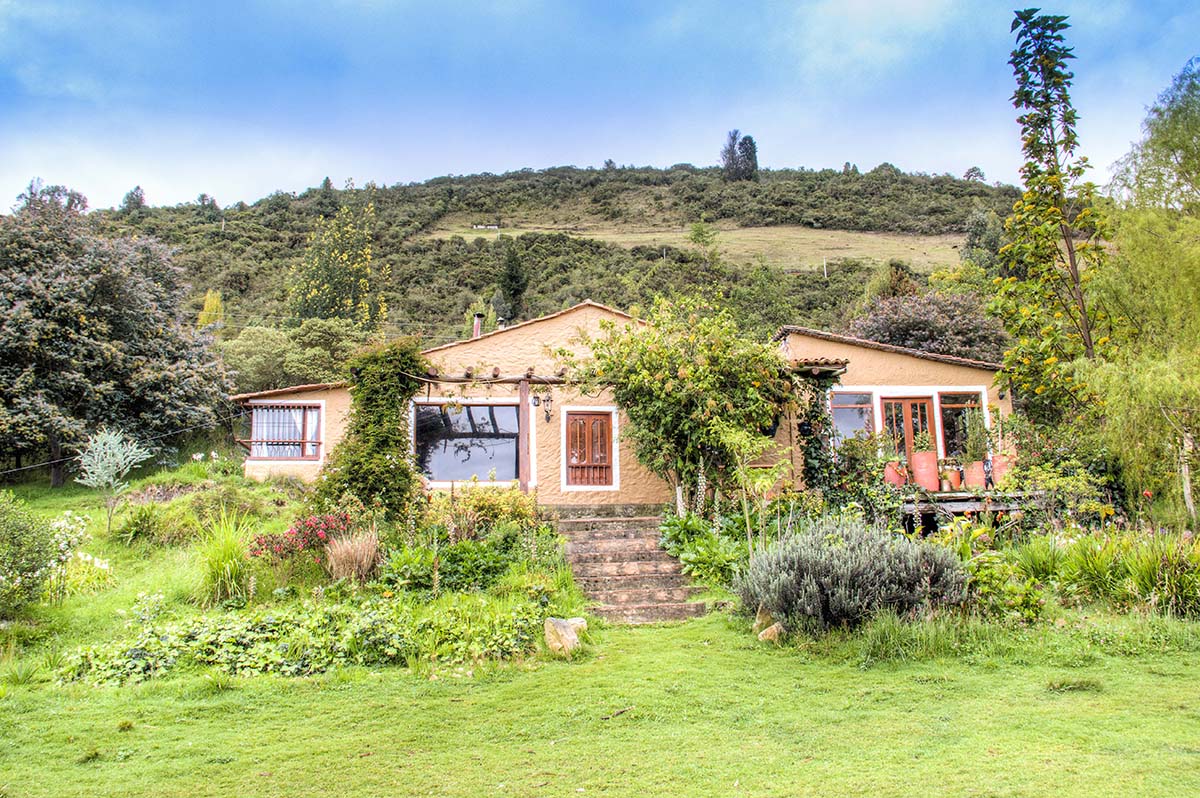 Where to stay at The Naked House
The Naked House consists of a three-room mansion with a communal living room, dining area and a fully equipped kitchen. Each room has a different style focused on your comfort needs and budget.
The Mogua room is the most economical with two single beds. This room can also be rented as a shared room if you don't mind someone else sleeping in the same place.
The Casa Blanca room on the other hand is the suite of the house.
We've stayed at Cerro Verde room which is the owner's favourite and we can easily understand why. Not only is it very spacious, but you wake up with a magnificent view of the surrounding hilly landscape.
Both the Cerro Verde room and the Casa Blanca room have a sofa, an ensuite bathroom and a smart TV with Netflix. All the rooms have brand new furniture which means that these might be the most comfortable beds you'll find in Colombia. At least that's how we've experienced it.
For those who require more privacy, there's also the guest house Susata which is separated from the main house. The Susata has its own living room and kitchen. This place is perfect for beginning nudists who like to take things slow.
All rooms can be rented with either only breakfast or with lunch and dinner as well.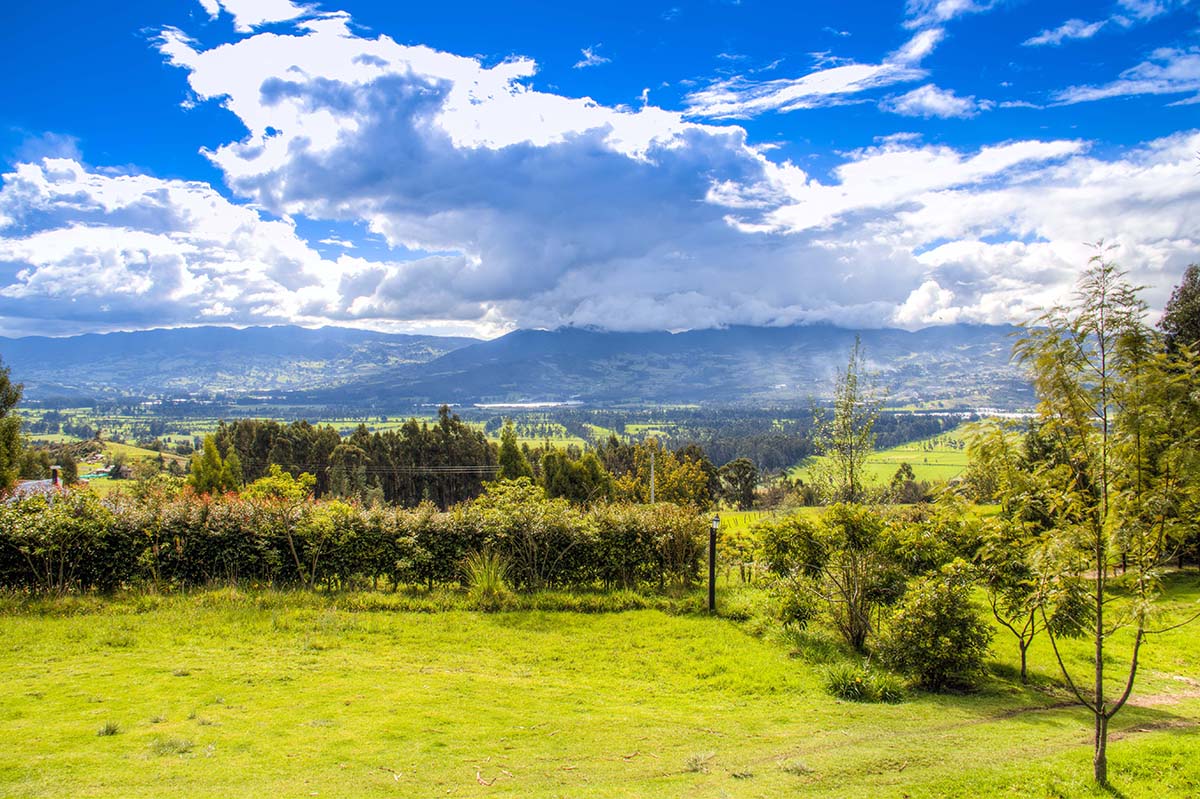 What to do at The Naked House
Something typical for the Bogotá region is its unpredictable weather. When we arrived at The Naked House the chilly drizzle rather invited us to put on more clothes instead of taking some off. Half an hour later the sun broke through and we found ourselves comfortably naked on the terrace with a glass of wine. Watching over a landscape which could easily have been stolen from Tuscany or the south of France.
When the sun is out, this is exactly where you'll want to be: outside. Absorbing the sunlight, relaxing in the nude, reading a book or watching the valley below. And maybe most of all, breathing the fresh air and detoxing from the stress and pollution of Bogotá. At the moment only several parts of the huge property are "nudist friendly", meaning that the trees and hedges provide protection from the curious eyes of passers-by. One of the big projects the owners are running is to create more of these secluded spaces until eventually, you can run around butt naked on the whole property.
When the weather does turn against you, there's no need to put on your clothes. The wood stove inside the main house invites you to relax in the cosy couches, continuing that book or playing games or in our case, spend endless hours talking with the owners.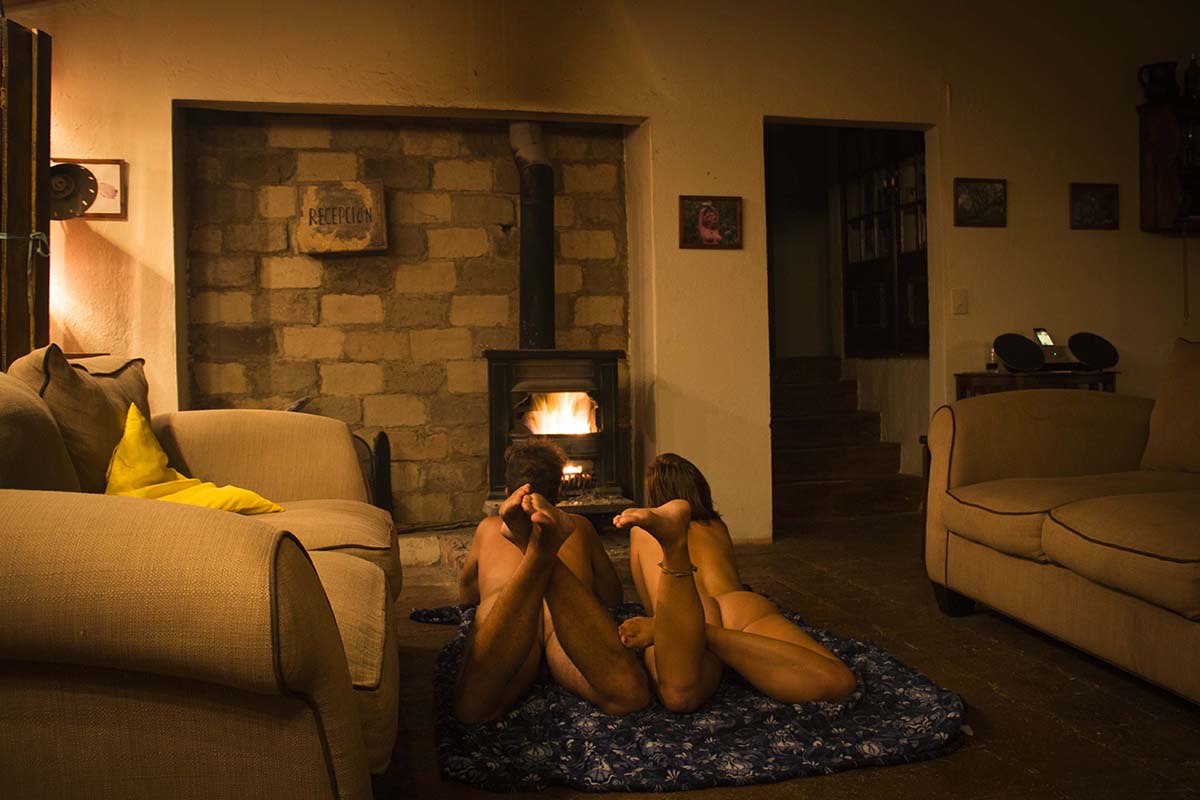 Around The Naked House
The main reason why Colombians are attracted to the Nemocón region is the fresh air. While Bogotá is just around the corner, you can almost taste the difference in air quality. If you're planning to spend a couple of hours or even a day with clothes on, outdoor activities are certainly a must. The hilly landscape and rustic dirt roads are perfect for hiking in the region. You can just start at The Naked House and follow the paths going up the hill. For even better views you could visit the Checua desert with its typical Andean mountain landscape.
Nemocón itself is certainly worth a visit as well. While Bogotá is one of South America's largest metropolises, it seems like time in Nemocón has stood still somewhere along the way. Its cosy town square has a couple of restaurants and in the surrounding streets, you'll find plenty of local shops. Nemocón's main attraction is the salt mine which is open for tourists and for more information about the salt industry and its history you can visit the town's salt museum.
Even a day trip to Bogotá is a possibility but keep in mind that traffic jams might make the journey much longer than expected. The best way to visit downtown Bogota is to take the bus or an Uber from Nemocón to Bogotá's north terminal and from there the TransMilenio buses to the centre. These have their own lanes and are not much influenced by other traffic.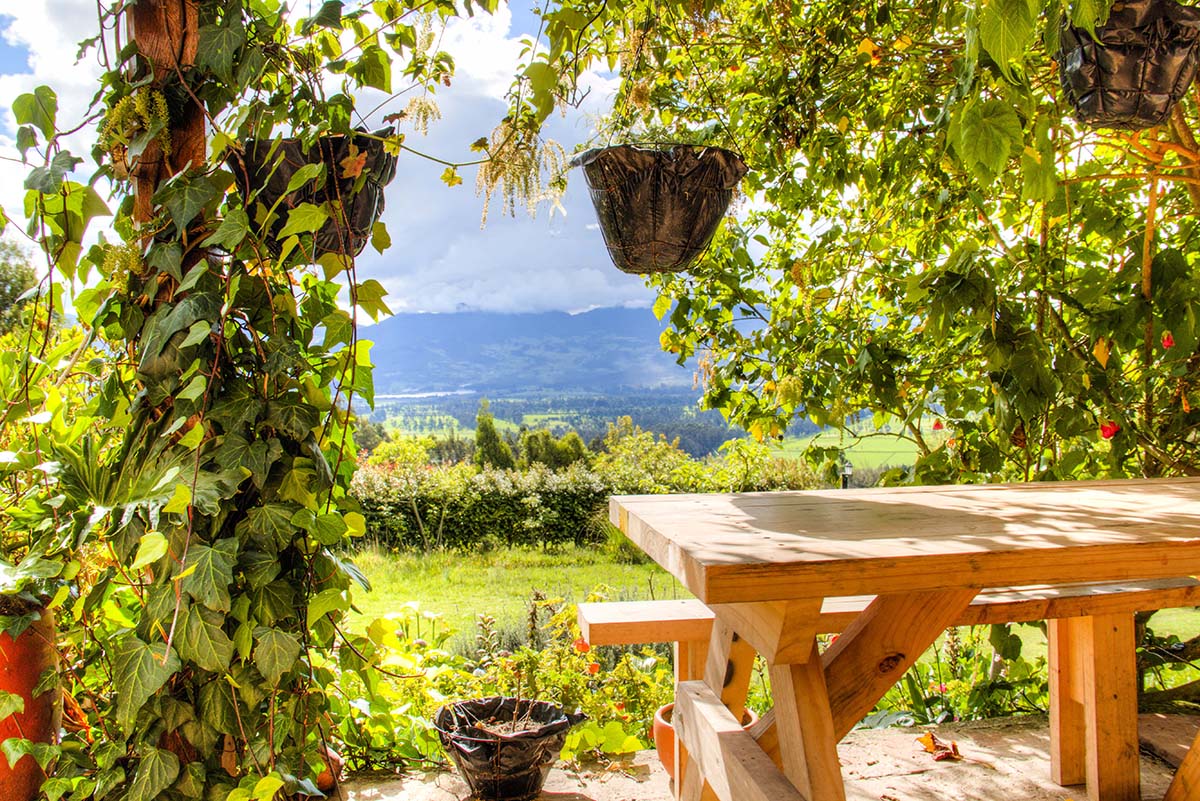 Staff of The Naked House
Filipe and Edwin have earned their stars in a clothed hotel but decided that it was time for something new. When they discovered the beauty of nudism it didn't take long for them to decide that this was the direction they wanted to go. Soon after The Naked House, the first nudist hotel in Colombia, was born.
Because of their experience in both the hotel sector as in nudism, they know perfectly how to provide a wonderful nude experience with all the professionalism which comes with hosting guests. We've already mentioned it in the introduction, The Naked House is more than just a hotel. Felipe and Edwin have created a space for you to come home and where you can be your nude self.
Very important to mention is that Felipe and Edwin speak very good English and that Edwin is an excellent cook. You might want to keep the latter in mind when deciding about whether you want breakfast only or full board. Just saying.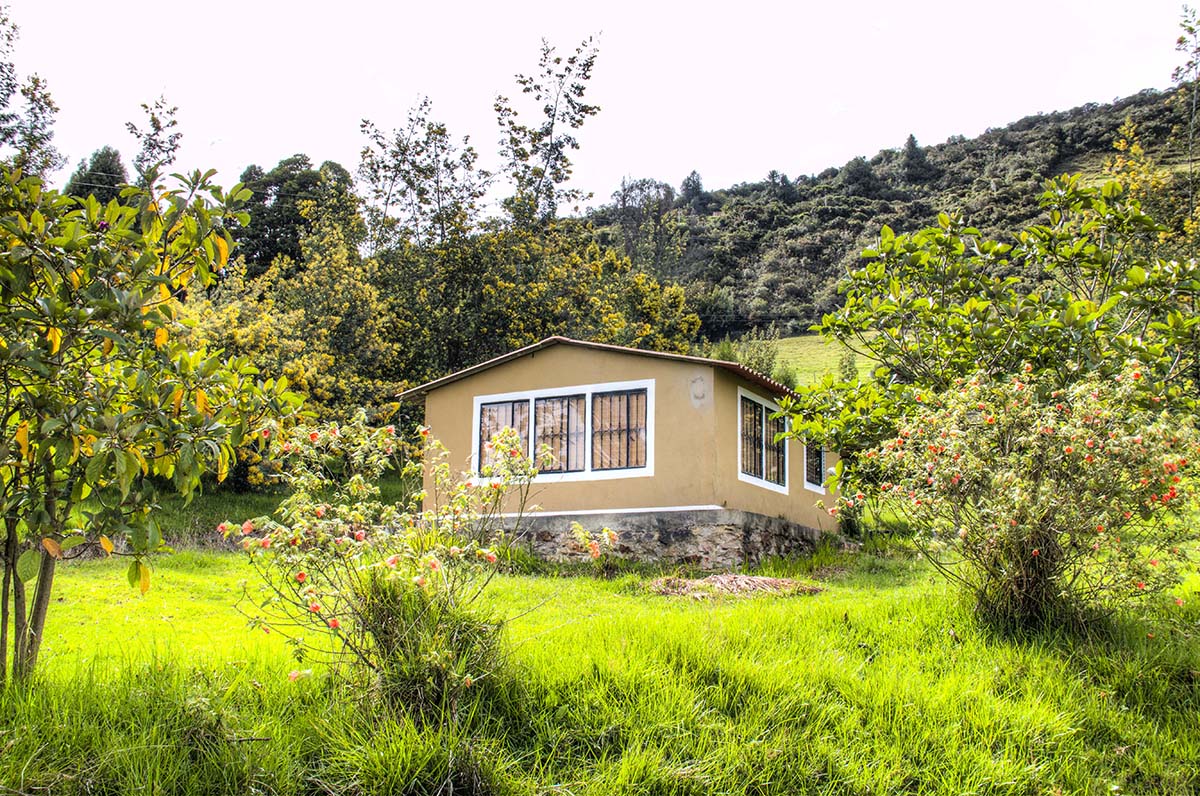 Guests at The Naked House
When we were at the Naked House, we were the only guests. Which isn't really surprising, not only is the Naked House the first nudist resort in Colombia, it also only opened several months ago so it still has to get known. Which will happen soon, we're quite sure about that, because the Naked House has a very large range of possible guests.
It's obviously the perfect getaway for nudists in Bogotá who want to experience nudism outside of their own home. Then there are the nudists from all other parts of Colombia for whom the Naked House is currently also their only opportunity for nude accommodation. And then there are the foreign travellers to Colombia, an ever-growing group of people that wants to discover this wonderful country and which certainly includes nudists or people interested in a nude experience. For them, it's a great opportunity to spend time outside of Bogotá or on their way from the city to Villa de Leyva.
Events are often organised at the Naked House which attracts the local nudist community and interested nudists from all around. It's the perfect opportunity for attending a nude event, meeting other nudists and not having to put on your clothes to go home at the end of the day.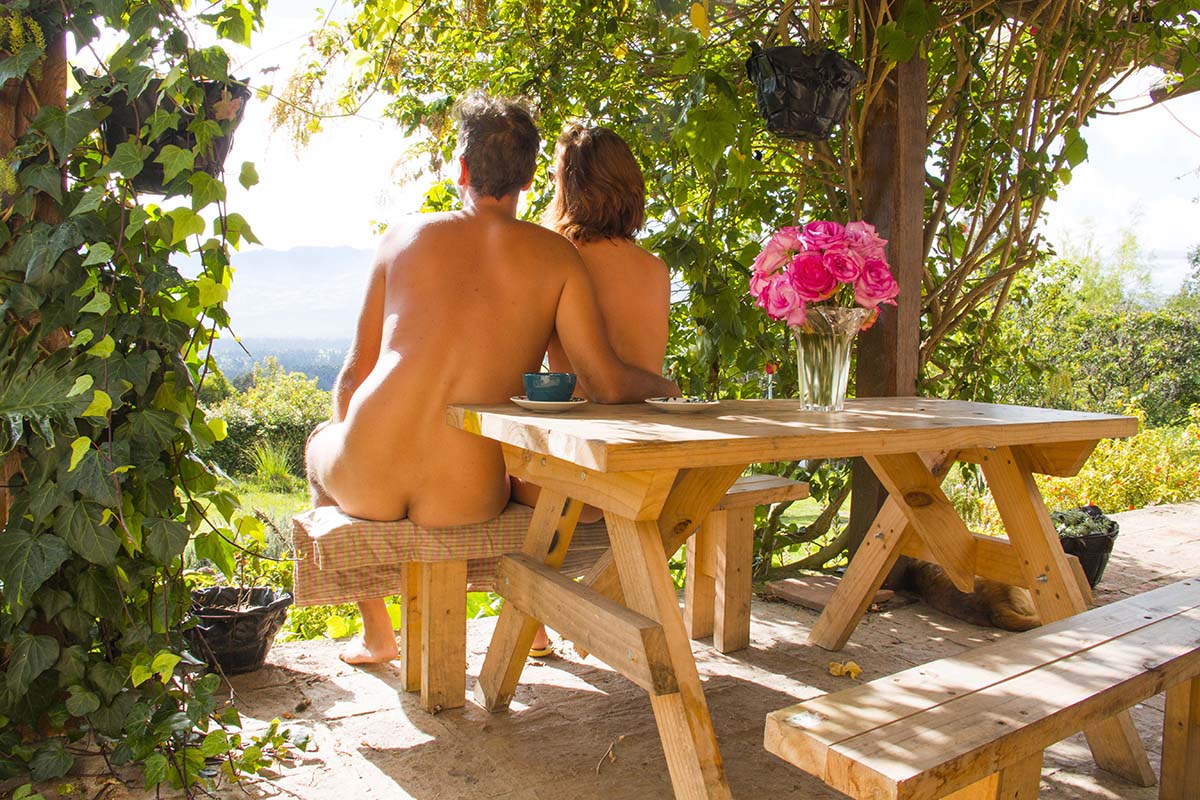 Reservations
Do you want to sit naked on that bench as well? There are several ways to get in touch with Felipe and Edwin from The Naked House for any further questions or to make reservations.
The most common and easy way is (just like everywhere else in South America) via WhatsApp, but also via other social media or via the website, it's possible to make your bookings.
Summary
Colombia is not a country you just visit. It's a country you have to experience. One of those experiences should certainly be a visit to The Naked House. Your currently only chance of experiencing a nude hotel in Colombia where you'll be welcomed like a long lost friend and get to know a side of Colombia which you otherwise might never find.
Disclaimer: We have been invited as guests of The Naked House, but of course all opinions are our own. We are super confident you will love this place as much as we did!
---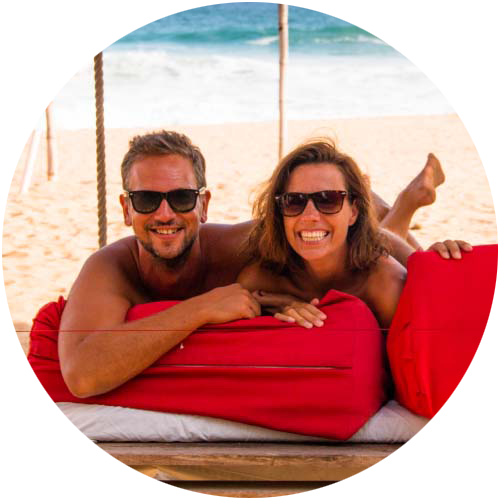 Support Naked Wanderings
Do you like what we do for naturism and naturists? Did we make you laugh or cry? Did we help you find the information you were looking for? Then definitely join our Patreon community!
---