We have been wanting to write about this topic for a while, especially when we see yet another social media post about nudism, and the comments section is filled with remarks about the person's physical appearance. Many times, those comments don't leave much space for interpretation. A "you look great" could be considered sweet or friendly, a "nice boobs babe" is rather… well… yeah… Pretty annoying.
Why we never wrote about this before
Many other bloggers have written about this topic before, and you can even find it mentioned in the list of rules of your favorite nudist resort. There are certain things you are not supposed to say according to the nudist etiquette and complimenting others on their body parts definitely makes the top three.
But there's also a dark side to this rule. Some time ago, we heard the story about how several guests at a nudist resort complained to the staff about a single man acting weirdly. He had positioned himself at an empty corner of the sun deck next to the pool and didn't talk to anyone. Nor did he ever make eye contact with any of the other guests. This made a number of mental alarm bells go off and one of the staff members went over for a chat with the guy.
Apparently, he was a super introverted person, and to prepare for his first visit to a nudist resort he had done a lot of online research. He had read all the
do's and don'ts lists
, which typically are a bit longer when it comes to singles, and what he found was not exactly encouraging him to strike up conversations with random naked strangers. So he figured that the best thing he could do was try to make himself invisible. When you don't talk to anyone, it's impossible to say anything wrong, right? Apparently not.
The art of talking to strangers
On one of our pre-Naked Wanderings travels, we hung out with two guys for a while who we had met along the way. One of them was really outgoing, talking to everyone he met and if there weren't any people around he was probably talking to dogs and goats. The kind of guy who could literally say everything. Who could even say something offending without anyone being offended, just because of the way he said it and his body language. Everyone liked him instantly.
The other guy really looked up to his friend. You could notice how much he envied the smoothness of how his friend socialized. He tried to copy him. On several occasions, we saw the not-so-social guy make the exact same joke as his friend had done an hour earlier. But it didn't work. Instead, it felt rude and offensive. The remark that made everyone laugh when friend A said it, made people feel embarrassed and disgusted when friend B said it.
Communication is about much more than just words. It's also about the right time and place, about your tone and body language, and about estimating the mental state of the person you're talking to. We believe that there might be an ideal setting where "nice boobs babe" will be considered funny or sweet. But we haven't tested it out and we don't recommend you try it either.
Are you allowed to check out each other's junk?
Is all of this becoming weirdly confusing? Wait… it gets worse. One of the reasons why we eventually decided to write this blog post was because we stumbled upon the below video.
The general consensus is exactly the same as what we have been saying in our
tips for first-time nudists
. Yes, you can look, it's actually very normal to look, but you should not stare because that makes people feel uncomfortable.
The difficulty is that if you look too much, you're a voyeur. If you enjoy being looked at too much, you're an exhibitionist. Once again, it takes a certain level of people skills to estimate the right balance. And this might well be the reason why the person from the first example kept looking away from the other guests.
Just act normally
We keep recommending people to act exactly the same at nudist places as they would at textile places. If you keep staring at a woman's breasts at a textile beach, even though they are covered, you are quite likely to get punched in the face by the large boyfriend you hadn't noticed (that's what you get from staring, you fail to notice the surroundings). And you can praise yourself lucky that you didn't walk up to her and say "nice boobs babe".
But it's not always that obvious. In the above video, Jessica (also known as The Nude Blogger) gives the example of someone walking up to her at the nude beach to ask if he could give her a massage. We've spent a fair amount of time on textile Caribbean beaches and over there it's actually very common that people ask if you want a massage. And they charge quite a bit for that too. So why would someone not accept a free massage? Because it's on a nude beach? Because she was there alone?
If you listen to the story, it was all about the setting. The beach appeared to be quite empty, so why would someone try to run a massage business there. There had been another guy – or maybe the same guy, that's not clear – who had asked if he could sit right next to her and then started playing with himself. So a free massage just didn't feel right. If she had been at a private resort, the setting could have been completely different and she might have happily accepted a free massage.
Nudist communication 101
Told you that it would get more confusing… So you're this amazingly friendly nudist who just loves giving free massages without any hidden agenda, how do you make sure that people understand that your intentions are genuine? The answer is small talk. If you just walk up to strangers on the nude beach asking if you can give them a free massage, their perv-radar will automatically start beeping. If, on the other hand, you just strike up a conversation about the weather and how warm the ocean is this time of the year, talk a bit about yourself and your passion for massaging and "hey, if you ever want a massage, I'm right there at the end of the beach", it's going to be considered much less awkward.
Another important thing to realize is that many nudists are not 100% comfortable (yet) with their nudity. They still feel more vulnerable than when they are clothed. They are very aware that they are naked. So when you say "you look great", they hear "you look great naked". A world of difference. The best tip we can give you is to refrain from comments about the physical appearance of a naked stranger, no matter how great he or she looks and no matter how genuine your intentions are.
How to handle unwanted comments
Throughout this blog post, we've mainly pictured women as the victims and men as the predators. That is because this is the scenario of the majority of cases of harassment. But men also get harassed from time to time, both by women and other men. If this is happening to you, what do you do?
We have seen our share of creeps on nude beaches and tried several methods. We've given them the middle finger, pointed at them, screamed "f*** off you creep", but only later we realized that this is counter-effective. Especially when it comes to exhibitionists, your reaction and discomfort actually turn them on. One woman in the video seems to have found a better solution by throwing balls of sand towards them. We imagine that having to duck every other second kinda ruins the experience.
Personally, we've learned to ignore the creeps. If they keep staring from a distance, we just turn our backs to them and don't let them ruin a great afternoon at the beach. But if they get too close and make us feel too uncomfortable or unsafe, we ask the help from others or just go away. That is what we recommend to you as well. The creeps may have come to look at the naked people, but a group of angry naked people storming in their direction will definitely scare them off.
---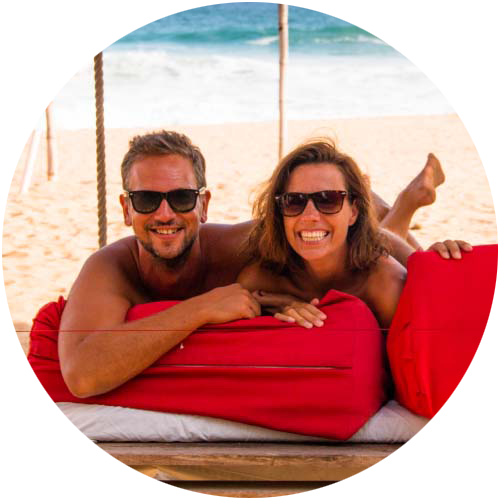 Support Naked Wanderings
Do you like what we do for naturism and naturists? Did we make you laugh or cry? Did we help you find the information you were looking for? Then definitely join our Patreon community!
---