During the last years, we have stayed at so many different kinds of naturist accommodations. From campsites in the woods to all-inclusive resorts at the beach. From small BnBs to huge
naturist villages
. Self-catered villas, bungalows, glamping tents, apartments, you name it. But there was one type that still stood shining bright on our bucket list: A ship.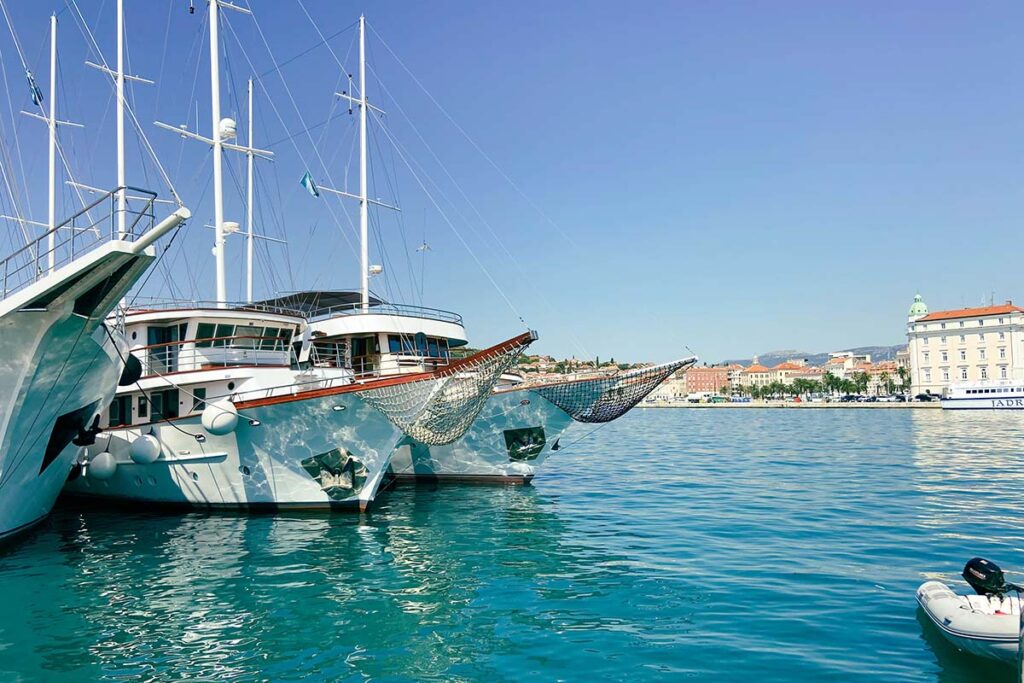 What is a naturist cruise?
Our experience with this type of vacation is very limited. In fact, it was none until the moment when we set foot on our ship called the Fantazija. We had never been on a multiple-day naturist cruise, or any cruise whatsoever. So we can't compare. We can't tell you that every naturist cruise around the world will be identical to what we have experienced. But there must be some similarities.
The idea of a naturist cruise is that you get to visit several different places, while in the meantime, you're staying on a boat where you are allowed to be naked. Once you embark in a port for sightseeing, dinner, or drinks, you will have to put some clothes on, of course. It kinda reminded us of the many naturist road trips we've done during the last few years. But with the difference that we didn't have the hassle of packing and unpacking every other day, didn't have to sleep in different beds, or figure out how to get from one place to another. While the journey is an important aspect of a road trip, everything is pretty much a destination during a cruise.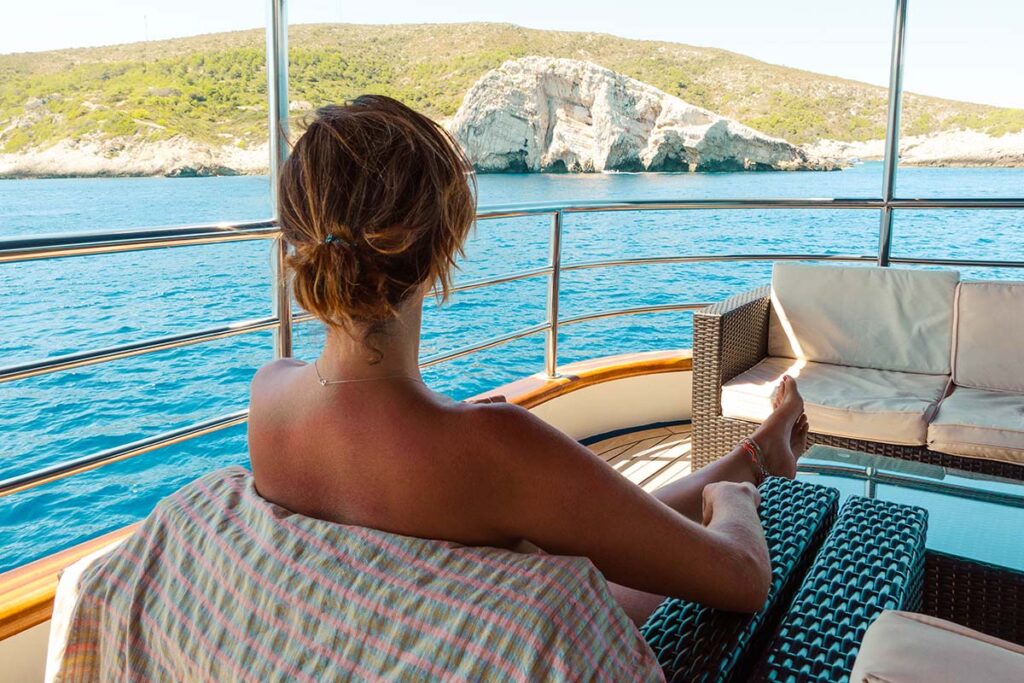 The itinerary of our naturist cruise
Katarina Line organizes two different naturist cruises along the Croatian Adriatic coast: One leaving from Opatija in the north and another one leaving from Split in the southern part of the country. We chose the one leaving from Split, mostly because we had already visited several of the northern islands in the past and because Split is a really nice city to spend some time before and after the cruise.
During the seven days on the water, we would be taken to the highlights of the nearby islands, including Stari Grad (one of Europe's oldest towns), Korčula (the possible birthplace of Marco Polo), Vis (said to be one of Croatia's most beautiful islands) and several others. Along the way, we would have additional stops at other interesting places like the Blue Cave and for plenty of skinny-dips.
We kinda expected that the ship would sail from one place to another during the night when all the guests are fast asleep, but that didn't seem the case. Instead, the ship just embarked in a port in the late afternoon and continued its trip the next morning after breakfast. Which is a pretty good idea when we think about it now. While the gentle rocking of the boat in the harbor proved to be perfect to put us to sleep in no time, it would probably have a much different effect if we'd be on the open water.
It didn't take long to realize that all our days on the cruise would look pretty much the same. Waking up around 8 for breakfast, after our second coffee the engine would kick off and mountainous coastal landscapes would start passing by. The day would be filled with naps in the sun on the upper deck, regular stops for skinny dips in the warm Adriatic waters, reading, sunbathing, gazing in the far distance, and waving at the people on the other boats who either seemed pretty astonished by our nudity or were naked as well. A delicious three-course lunch would break the day. Beers, wines, and gin-tonics started flowing often as early as 10 AM.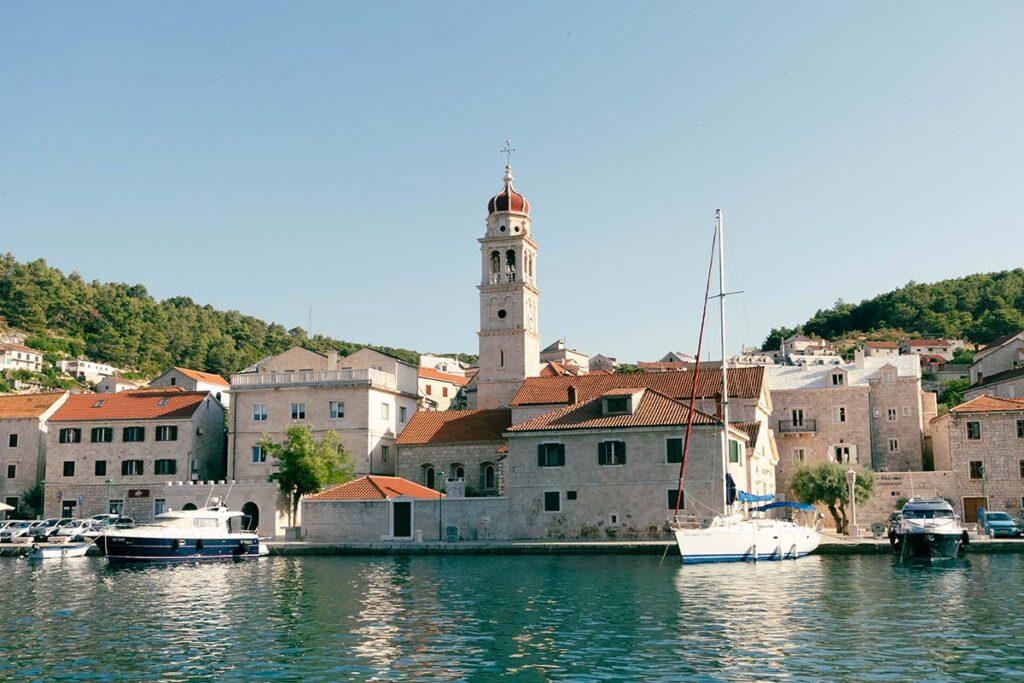 Who goes on a naturist cruise?
From what we hear, the Katarina Line cruises normally take up to 50 people on a ship. Which isn't much, but we like small groups. When we were sailing out of the port of Split and looked at all those huge major cruise lines, those cities on water, we couldn't be happier with our small ship. In fact, due to COVID, it was even smaller than normal, our ship didn't have more than 30 guests.
Given the current travel restrictions, it wasn't a coincidence that most of the other guests were from not that far away. English, French, Germans filled most of the cabins and this list was completed by a couple from the Netherlands, an Italian couple, one from Hawaii, and one from Namibia. The average age of the guests ranged between 50 and 80 years, which is pretty much what we expected. We don't know why, but cruises have the reputation to mostly attract the elder generations. It's just something you do as a single or a couple and not really as a family. So most people seem to wait for their offspring to leave the nest before boarding a cruise ship.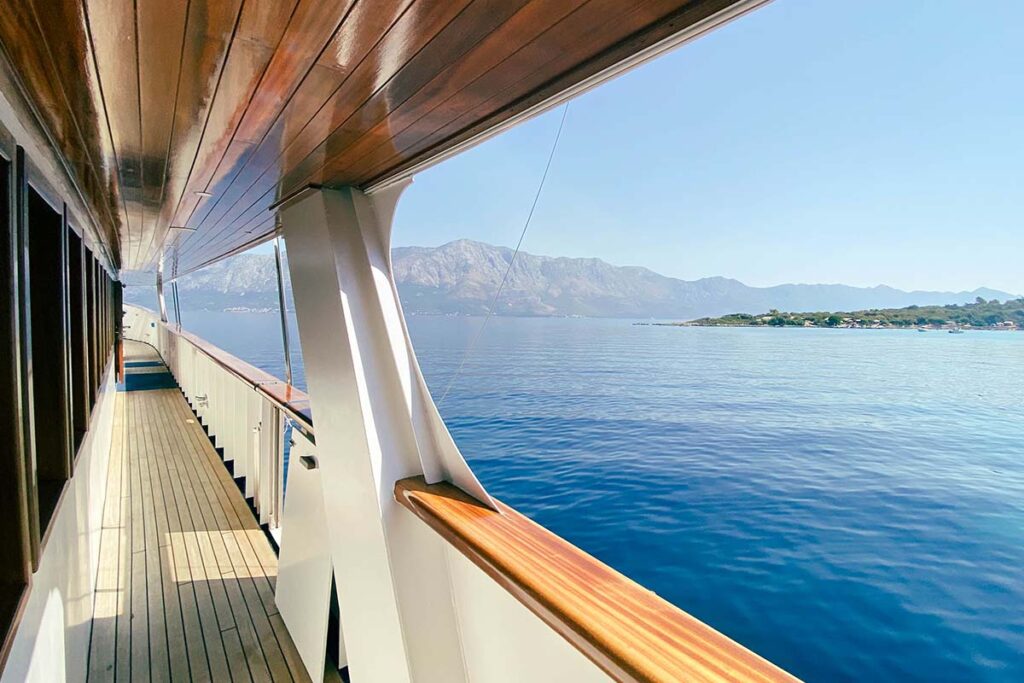 The organization of the cruise
The staff of a cruise is very important because you (and all the other guests) are spending a lot of time together with them. We were very lucky with our crew, they almost seemed like they had been stolen from a Disney movie. The grumpy looking Captain who spent most of his time behind the wheel, the funny bartender who was always up for a joke, the shy bartender's sidekick who needed a couple of days to warm up before she also appeared to be pretty funny, the passionate sailors, the energetic cook, the friendly cleaning lady, it was all just picture perfect.
If there's one thing we missed during the cruise, it was a naturist crew member. Not necessarily one that's naked all the time, but one that knows the dynamics of naturism. It would have avoided some awkward moments, like right at the start of the cruise. You have to imagine this, there are 30 complete strangers who join a naturist cruise, everyone is there for the same reason: because they like to be naked, but nobody knows when exactly they can undress. Once you're on the boat? Once we sail out of the harbor? When no other boats are in sight? Will someone give a starting signal? When that didn't happen, Lins – who basically already wanted to undress before we even got on board – took the lead, and soon everyone followed. Our naturist cruise had officially begun.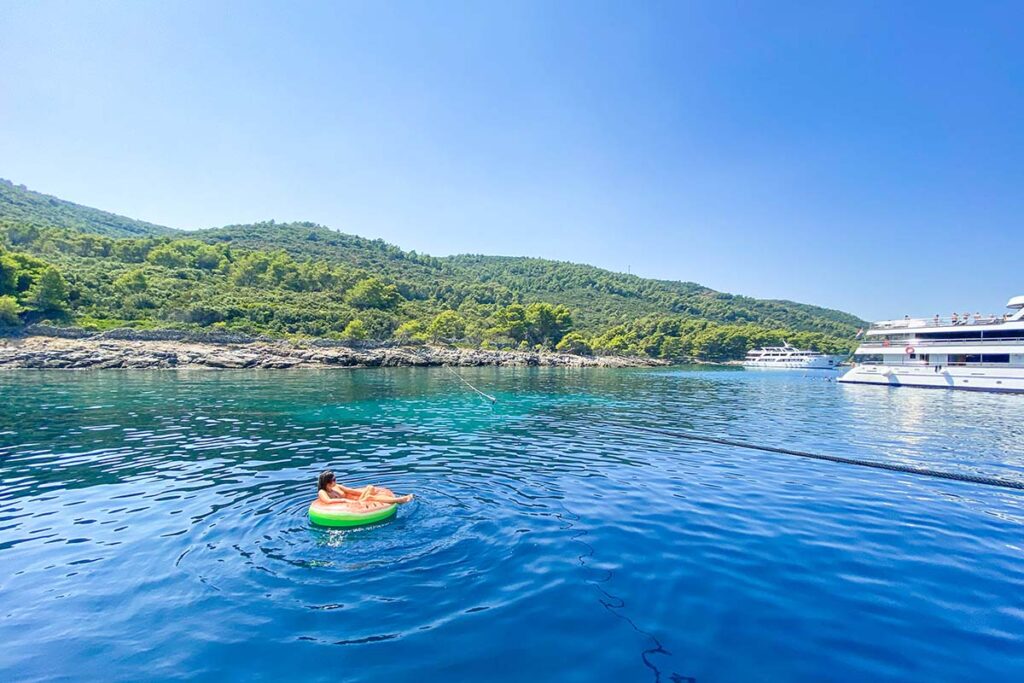 Are we cruise people now?
This is a question we had been playing with since days before the cruise. Are we cruise people? Are we ones to enjoy the easy life? Can we handle a fixed schedule when traveling? We have always enjoyed the hassle of finding our own way from one place to another and the flexibility of deciding whether we want to stay longer in one place or just leave right now. On a cruise, all those decisions are made for you.
We learned that it's all about mindset. If we'd be having stressful lives most of the time, a cruise might be exactly what we are looking for. A week of having nothing to worry about except for waking up in time for breakfast, making sure to put enough sunscreen on, and not getting too drunk too early in the afternoon.
A cruise is a middle way between an all-inclusive resort and a road trip. It's the best of two worlds. You get everything just brought into your lap, but also get the chance to explore new towns and villages every day.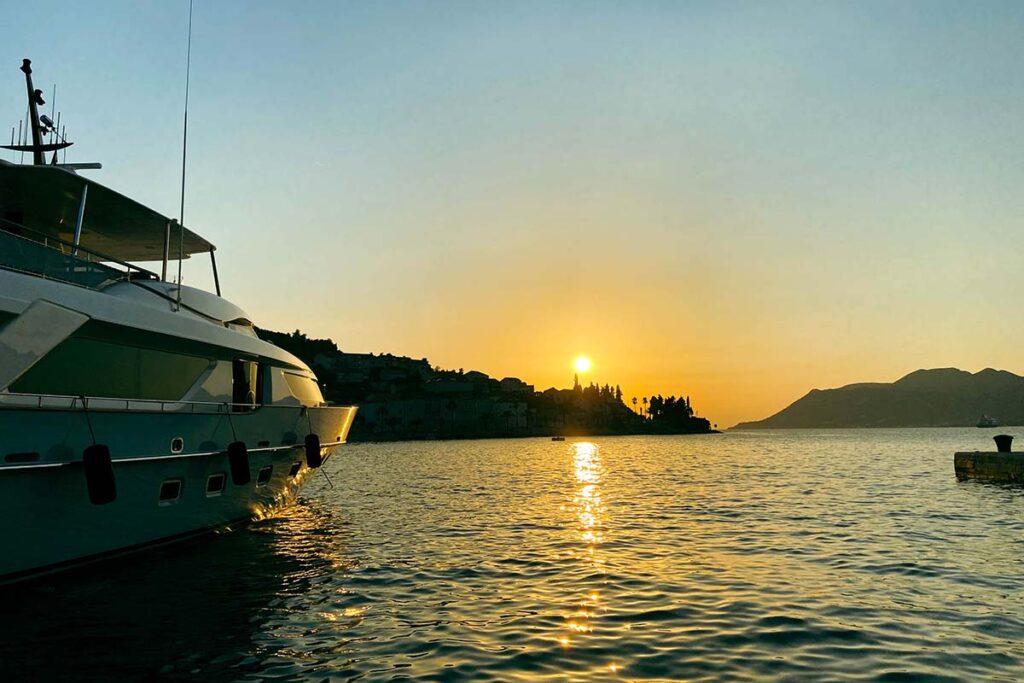 Information and reservations
As mentioned before, Katarina Line offers naturist cruises from two different destinations in Croatia: Split and Opatija. All necessary information can be found on their website:
➡️ Naturist Cruises from Opatija
➡️ Naturist Cruises from Split
From what we hear, these cruises tend to get fully booked real quick, so make sure to reserve your cabin in time!
Practical information
The airport of Split has connections to plenty of cities around Europe. Another option is the airport of Zadar which receives a lot of low-cost flights. From Zadar, you can take a 3-hour bus ride to Split.
Opatija doesn't have an international airport, the nearest airports are Pula or Zagreb.
If you're arriving from outside of Europe, you'll probably have to connect in Zagreb, Dubrovnik, or any major transport hub in Europe.
For the best deals on flights, accommodations, and transportation: Check out our
Resources Page
.
Watch the vlogs
---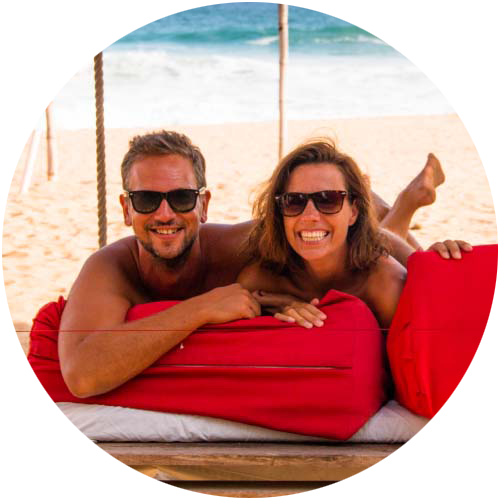 Support Naked Wanderings
Do you like what we do for naturism and naturists? Did we make you laugh or cry? Did we help you find the information you were looking for? Then definitely join our Patreon community!
---