It doesn't happen very often that we really have to plan things during this journey, of course, we have to be careful with the seasons if we're hoping to get naked at the places we visit but normally it doesn't really matter whether we end up there this month or the next. Well, it did for Canada. Every Canadian we met had told us to really come in August. This would give us the best chance for some decent weather. So our time frame was pretty limited, the whole month of August and about ten days more in September would have to do the trick. During this short period, we wanted to get a glimpse of what Canada has to offer the nudies.
Since Canada is such a huge country, we could never cover it all. We had to pick a certain part. But which one?
The answer arrived in the form of two invites. The first one from
Bare Oaks Naturist Park
, probably the best-known naturist campground in the country, and the second one from Attila, one of our readers, who happened to organize the first naked cruise on Lake Ontario at the beginning of August. This was an opportunity we did not want to miss for the world. So Ontario it would be. And because a month might be a bit too long for just Ontario, we decided to add
Quebec
as well.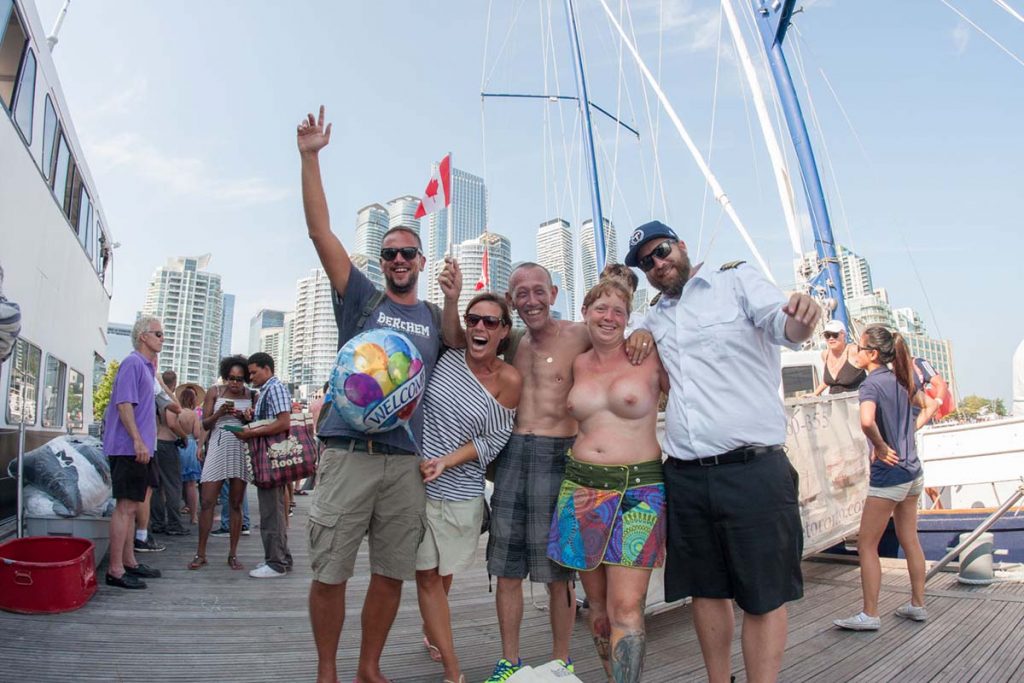 Getting ready for a Canadian nude cruise
Early August we found ourselves leaving Mexico behind and on our way to Toronto. Not only did Attila invite us to the cruise, but he also proposed to pick us up at the airport and to let us stay in his apartment for a couple of days until we would be moving on. As soon as we stepped out of the airport we saw a big smile holding a balloon and flowers, a reader was about to turn into a good friend.
Within our first hour or so we had already been introduced to Canada's national dish: Poutine (french fries with gravy and cheese). As Belgians, we can, of course, appreciate french fries like no one else and Canada just got one step higher on our list of places we like. When we would find out about the craft beer later, it would rise even more by the way.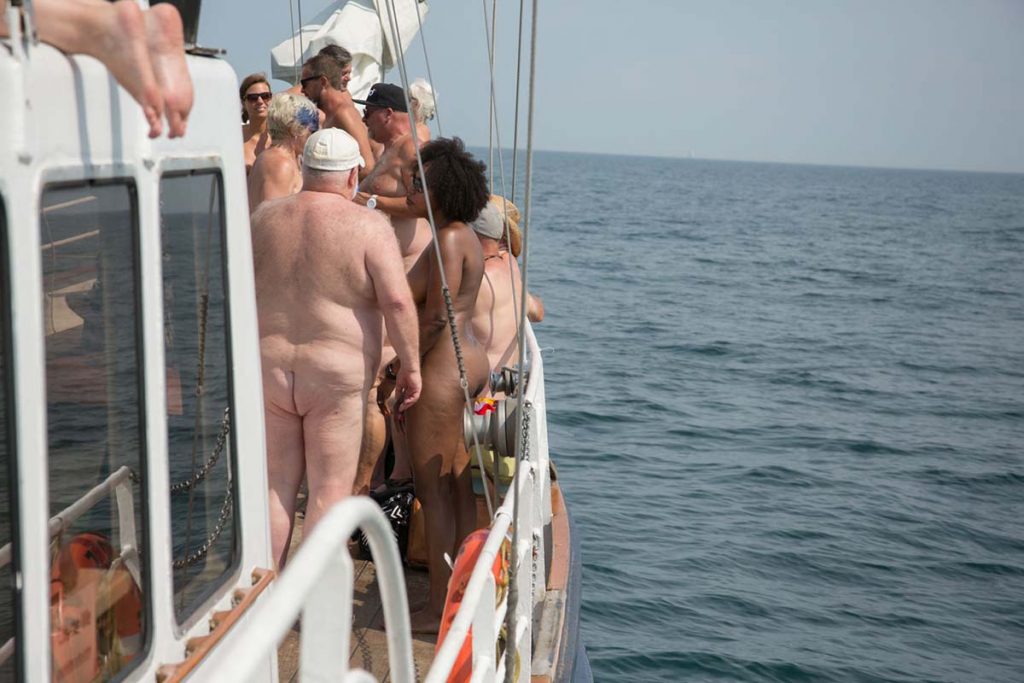 We had thought that Attila would have a million and one thing to organize the day before his big cruise so we kind of imagined that for us this would be a relaxing day, not unwelcome after rushing through our last days in Mexico. Quite surprisingly Attila invited us for a day out, however, to a naturist resort around Toronto called Ponderosa.
Apparently everything for the cruise had already been arranged. The boat was booked, the food would be there, the DJ had received a playlist (which would be last-minute resent to him after a quick but firm revision from Lins) and the guests had received final instructions about when to be where. So we could spend most of the day with our naked behinds in the sun next to Ponderosa's swimming pool. Better than relaxing in an apartment.
Cruising away nude on Lake Ontario
Shortly summarised, the first Naked Cruise on Lake Ontario would be a four hour trip on a large sailing boat with about 50 participants. Food and good vibes were complimentary. Of course, being in Canada, the major concern and a huge influence on the success of the trip would be the weather. You can probably imagine the shine on our faces when we were waking up that morning to a cloudless sky and temperatures that promised to go into the thirties. A better day was unimaginable.
The cruise would leave at 12:30 so the guests were asked to be at the dock at 12. Because we were staying with the organizer whose adrenaline now really started pumping, we headed towards the dock at about 11. We had to be the first ones to welcome our fellow shipmates. So there we were with Attila, Thomas (an American for whom this would be his first naturist experience) and ourselves. Waving a small Canadian flag.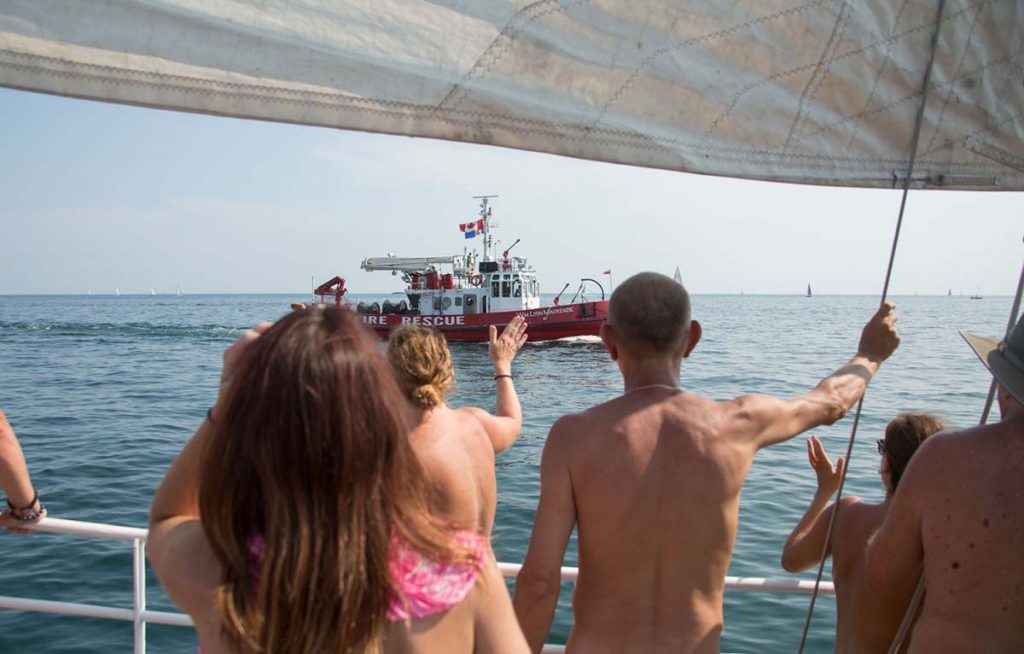 Minutes passed by and so did many Canadians on their morning stroll next to the lake, but none of them stopped. 11:30 came and so did 11:45. Still, no participants were showing up and this started to worry us. What if nobody is coming? What if this turns out to be a failure? This friendly guy who took us into his home would be ruined. What if people didn't know the meeting point? What if…
And just like that, people started arriving. A couple from the right, a couple from the left, a group who had passed by several times but wasn't sure and didn't want to ask something like "Hey, are you from the nude cruise?". A loud voice announced the arrival of Jim and his wife, Robert who would photograph the whole tour showed up and so did all of the others.
We were ready to go.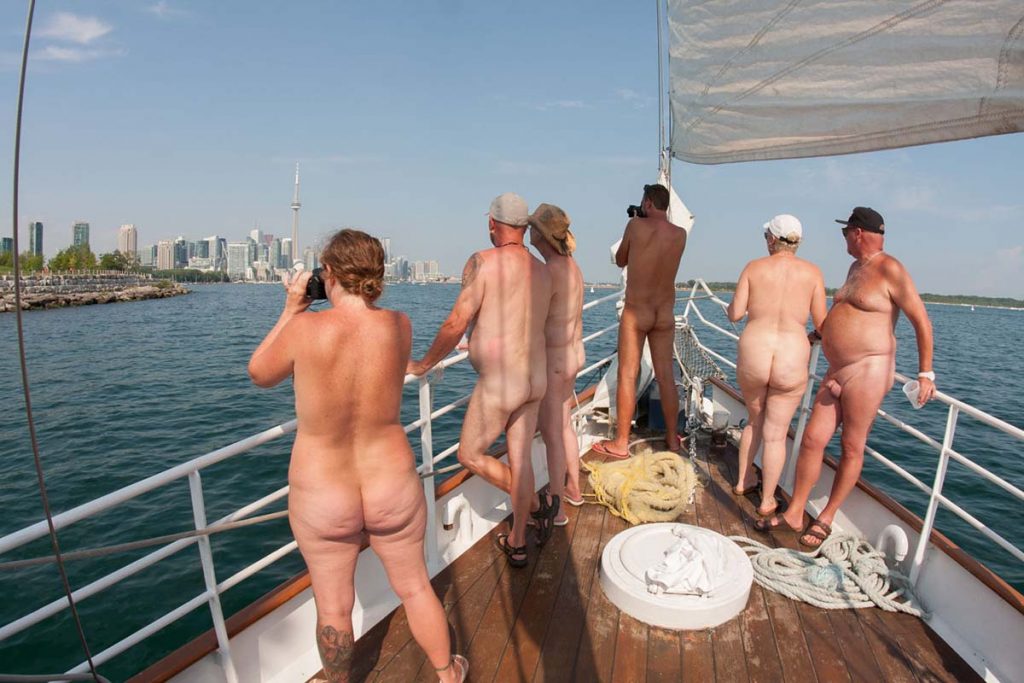 The policy said that we could be naked as soon as we reached open water but that message hadn't come through to all the naked sailers or they (just like ourselves) just plainly ignored it. As soon as the ship left its dock, the clothes left their owners. Because we were still close to the pier, soon we were spotted by people around. They smiled, they waved, gave us a thumbs-up, and took out their cell phones to memorize that moment when there was this fun bunch of naked people on a boat on Lake Ontario and they were not part of them.
We really had a fun bunch, men, women, young, ehm… let's just say that everyone was young at heart. Beers were passed around, everyone was meeting everyone else, food was served, more chatting to everyone else, people started dancing, we redid that famous Titanic scene hoping that our boat wouldn't go down as well, more meeting new people and eventually even Twister came out of the box. All while we were cruising up and down Lake Ontario in the bright sunshine.
End of the nude cruise but not of the fun
Four hours went by in the blink of an eye and before we realized it our boat was heading towards the pier again. The first Naked Cruise on Lake Ontario was coming to an end. Just like we undressed only seconds after we had left, now everybody was waiting for the last meters to start getting dressed again. Several women even decided to remain topless (which is completely legal according to Ontario laws by the way), among whom even somebody who had never been socially nude before.
Everyone had a blast and was very happy that they had been part of such a fun event.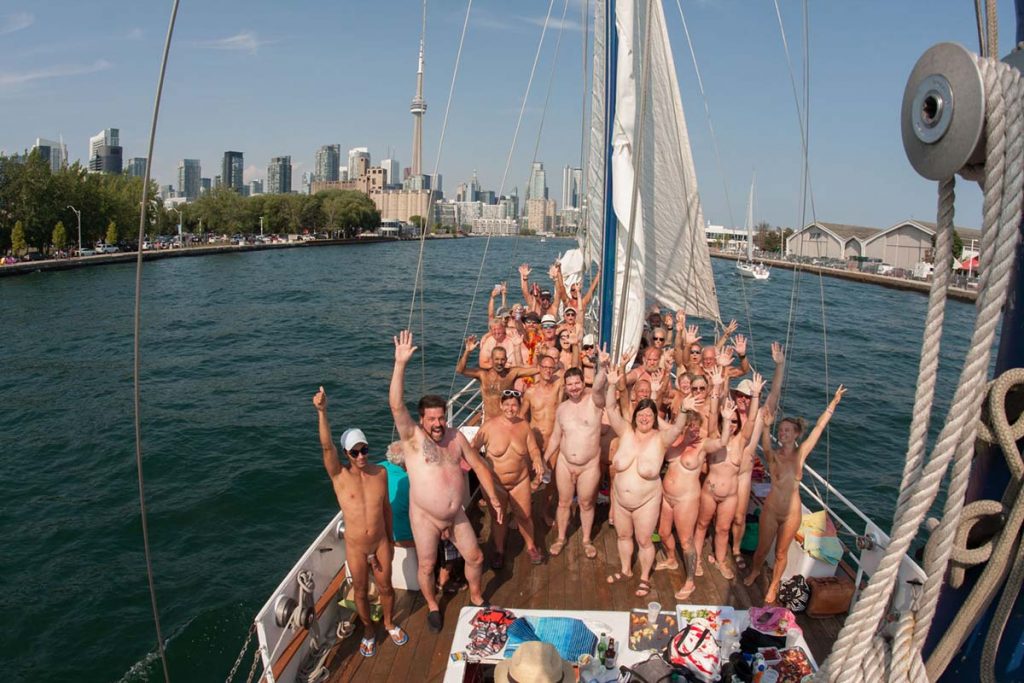 The sun was still out, we were all in the mood, and Toronto's only official nude beach was just a short taxi boat ride away from where we were dropped off from the cruise. So we and several others went back on a boat, although slightly smaller and faster, to get naked once again. At Hanlan's Point beach. It was around 7 pm when we arrived but the place was still crowded, it seemed like all of Toronto had come out to get their white Canadian butts a well-deserved tan. We drank the last of our beers, had a skinny dip, watched the sunset over the lake, and decided that we had to call it a day. A beautiful day.
To finish we got some amazing sights of the colorful "Toronto by night" skyline from the ferry back and we knew that this was going to be one of those things we'll remember for life.
If you'd like to participate in next year's cruise, please send
an e-mail to Attila
to receive all the necessary information. We have a feeling that the 2nd Naked Cruise on Lake Ontario will be sold out pretty fast.
Picture credit: NOMAD at Naked Club. Do not copy any of these images without the photographer's permission.
Disclaimer: We have been invited as guests of this cruise, but of course all opinions are our own. We are super confident you will love this place as much as we did!
---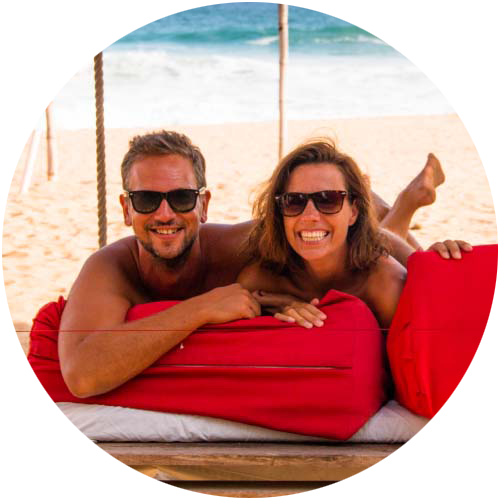 Support Naked Wanderings
Do you like what we do for naturism and naturists? Did we make you laugh or cry? Did we help you find the information you were looking for? Then definitely join our Patreon community!
---