We often call ourselves the "digital generation". The Internet found its way into our homes when we were early teenagers. Before we were allowed to drive a car, the squeaking modem sounds got replaced by the fiber that helped Napster infuriate the music industry. After that, we've just been experiencing one revolution after the other. We were the early adopters of social media. Well, at least of
Facebook
,
Instagram
, and
Twitter
, TikTok is still a big mystery to us. We were the first blog readers, podcast listeners, and
Airbnb
guests.
When we were kids, dad used to take out his big camera on family events. Take 24 or 36 well-positioned shots and then weeks later find out that half of them are dark or blurry. Our first party, our first kiss, our first time drunk remain undocumented forever. The pictures of our childhood cover not much more than the bottom of a shoebox. Today, our smartphones contain more photos than a whole village would possess in the early nineties.
We are the easy-photo-generation
We literally take pictures of everything. How we look when we get out of bed, the mess on our desk, oh look how cute the cat is. New stuff we see at the supermarket, the traffic jam, the sunset over the highway, still traffic jam, breakfast, lunch, dinner, the 4th beer with friends, the 7th beer, oh look the cat is being cute again…
Most of all, we like to take photos of our vacations. It sometimes bothers us, how people these days don't seem to stop anymore to absorb the beauty of a park, a building, or a lake. They just walk by, snap, snap, snap, and figure that they'll have a good look at it when they get home. Or not.
Taking pictures has become a part of our lives. We do so without thinking. If you're about our age, or younger, and you meet up with friends, chances are that you'll take a selfie within the first 15 minutes. That's not even the second beer.
The generation/information gap
We got into a Twitter conversation the other day about taking pictures at naturist resorts. A generation gap quickly became obvious. Some wondered why on earth that someone would ever want to take a picture at a naturist resort. It's not that you're going to show it to anyone. And what if there are other people in it? How do I know that you're not secretly taking pictures of me? What if the pictures get stolen and end up on the web?
The other side wondered why they shouldn't take pictures at the naturist resort. We document our whole lives. It's almost a habit. Who are we kidding, it is a habit. Spending a week without taking pictures of ourselves and our surroundings would mean a gap in our photo library. A gap in our memory. As if this week just didn't exist.
Even if we don't intend to take pictures, our smartphones are glued to our hands. We have friends and influencers to follow, Whatsapp groups that require our attention, messages need to be replied to, pictures to be seen, posts to be read. We need to engage or we don't belong. Is that a good thing or a bad thing? The future will tell. The world isn't going to stop if you put that phone away for an hour, you know. Yeah, dad, it's not going to stop either if you miss the 7 PM news. It's just what we do.
How to handle smartphones at naturist resorts
The Twitter conversation moved on to how naturist resorts cope with this sudden device that has two high-quality cameras. Some mentioned that their favorite resort had a strict no-phone policy. If you really need to send out a Whatsapp message you have to go to the parking lot. Someone mentioned
Bare Oaks Park
, which has a photo point where you are allowed to take your selfies with the big sign. Several resorts hand out small stickers to put over the back camera of your phone, so everyone can easily see that you just can't take their picture. And then we all wondered why those stickers aren't standard procedure at every resort.
In any case, the potential risk is obvious. We've all heard the stories about people being blackmailed with nude shots. Kids being bullied and lives being ruined. Those things do happen. But how's a stranger who secretly took your picture at a naturist venue going to know your name, find your address, and social media accounts? Find out who your close friends are? Most cases of blackmail happen with people we trust. People who we would allow taking our photo. In many cases, the victim has actually taken the picture.
Is banning the smartphone really the answer?
This makes us wonder. Does banning smartphones from naturist resorts really solve the problem? Does it really eliminate the risk? Today, online companies can deliver spy tools on your doorstep that would even make James Bond frenzied. High-quality cameras that fit in buttonholes or glasses. Cameras that are hidden in clocks or smoke detectors or that look like a plant or a rock (yes, we looked it up and they're pretty convincing).
Doesn't banning the smartphone give us a false sense of security? If someone has the intention to take pictures of naturists, will he or she really use the most obvious tools? We could go even further. With banning smartphones, aren't we actually encouraging the villains to search for smarter tools? While they might otherwise just try with a phone and get caught.
The voyeur business
Now before you're all freaked out and swear to never take off your undies again, there is an important side note. The number of people being photographed at naturist venues is really small. First of all, while voyeurism on itself is rarely considered a crime, capturing your image without your consent often is. Broadcasting (as in sending the image around or publishing it online) is often seen as a sexual offense. This could result in jail time, few are willing to take that risk.
Then where do all those naturist pictures online come from? Many of them are stolen from an official publication. Meaning that the persons in the pictures actually did give their consent.
Our pictures get stolen all the time
. This doesn't really bother us if it's for the sake of promoting naturism, but a lot more if it's for someone's financial gain. As with the example of blackmail, it's a matter of trust. If the organizer of a naturist event asks if you're okay with having your picture taken for the website, there's nothing wrong with that. If that picture gets stolen from the website and published somewhere else, it's not your fault. Nor is it the fault of the organizer or the club. It's sad, but it does happen.
Another big chunk of the online naturist photos is fake. When we see all those "naturist" pictures passing by, perfectly clear shots of young women on the nude beach, often in a slightly suggestive pose, we can't but wonder at which beach those were taken. We rarely see those girls at the places that we visit. There's money to be made in the voyeur business, but the fines when getting caught are pretty high. It's much more convenient to hire a couple of nude models, get their consent, and sell the photos as "hidden cam".
How much should you care about all this?
Further down the Twitter conversation came the "So what?" question. So what if someone takes our picture? So what if our nude butts can be found somewhere among the thousands of other pictures on that person's phone? So what if he or she sends it to a friend or in a Whatsapp group? So what if it appears on the internet?
When Selena Gomez or Justin Bieber dare to have a skinny dip in Cannes or the Bahamas, they can be sure that their pixelated bodies will cover the tabloids the day after. But we hate to tell you, you're not Selena or Biebs. You're much better obviously, but the world just isn't that interested in seeing you naked.
During the last three years, we've spent more time on nude beaches and in naturist resorts than most naturists do in their whole life. Because we're naturist bloggers, we're looking at naturist content and naturist pictures every single day. Not once have we seen a picture of ourselves passing by. And even if that would happen, what are the odds that this content passes by the eyes of friends, colleagues, or family? And even if that would happen, so what?
---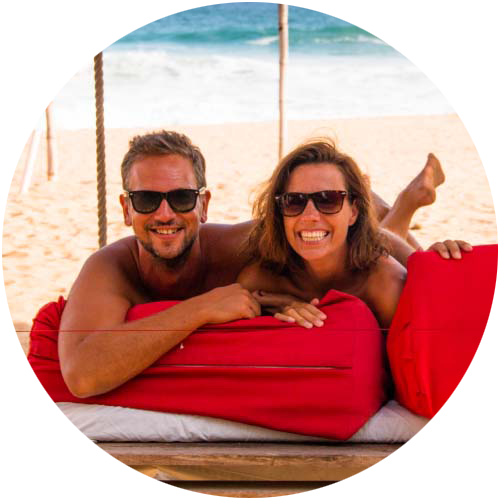 Support Naked Wanderings
Do you like what we do for naturism and naturists? Did we make you laugh or cry? Did we help you find the information you were looking for? Then definitely join our Patreon community!
---