UPDATE: There is a new (2023) version of this review, read it here.
Finally. For a very long time, we had been looking forward to coming to Thailand, especially after our issues in finding a decent spot to get naked in other parts of Asia. This was going to be a country with opportunities for naturists, a country where we would be able to spend days and days in the nude. And Barefeet Resort would be our first step.
We had planned this thing well, we would be landing in Bangkok's Don Mueang airport, and in less than an hour after getting our visa stamp we should be able to get naked at Barefeet Resort. It took us exactly an hour. What we found there was not the typical naturist resort though, it felt like arriving at a family reunion. A naked one that is. Full of long lost family members who queued in line to shake our hands, asked where we'd come from, asked how our flight was, and greeted us welcome.
We had high expectations of Thailand, but this we couldn't have dreamed of.
How to get to Barefeet Resort
There are Bangkok and Bangkok. And then there are at least five other Bangkok's as well. This city is huge, with a population of more than 8 million and an incredible number of expats and tourists. It's a maze of highways, motorways, big roads, smaller roads, dirt roads, and each other type of way, road, or path you could imagine. We bet that people who've lived in the city all their lives don't even know a fraction of it.
Barefeet is located in the northeast of the city, we have been trying to find out what the actual name of the district was, but we were never sure. We think it's called Bang Khen. But that doesn't matter, on their website you can find directions in Thai which you can just toss over to your taxi driver and he'll know the way. Or he'll ask someone who knows the way. Or he'll call the number on the sheet and reach Barefeet reception who'll definitely be able to explain the way to him.
If you're brave enough to drive in Bangkok, there are also instructions on the website to get there yourself, but we would strongly advise you to use a decent GPS.
Barefeet is located at about 20 minutes from the national and low-cost airport Don Mueang and about half an hour from the international airport Suvarnabhumi. That's excluding time in the traffic jams.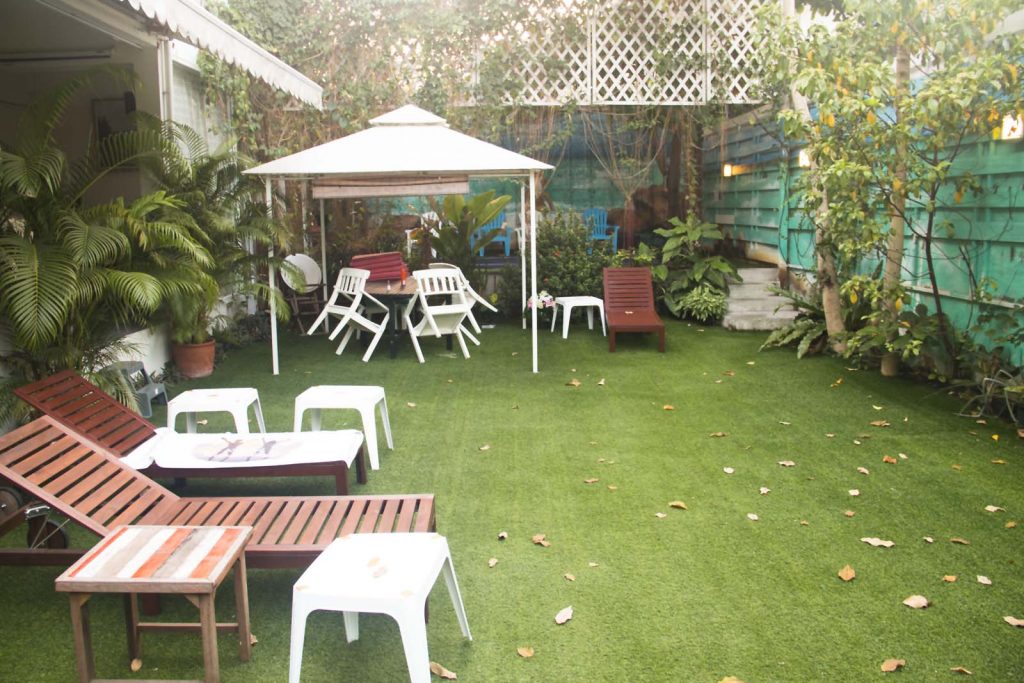 Where to stay at Barefeet Resort
Barefeet is a rather small resort with only five rooms. Don't expect penthouse luxury here, the rooms are basic but furnished in a very comfortable way. There's a TV, airco, a fan, and a nice bathroom with a toilet, a sink and a hot shower. But the top of the bill was our bed! A king-size with probably the best mattress we've slept on after we left Belgium more than half a year ago.
Although the rooms are not large, this hasn't bothered us for a moment. Just outside the room, there's a terrace with comfortable chairs in which we (and several others) could be found dozing off again after our first cup of coffee.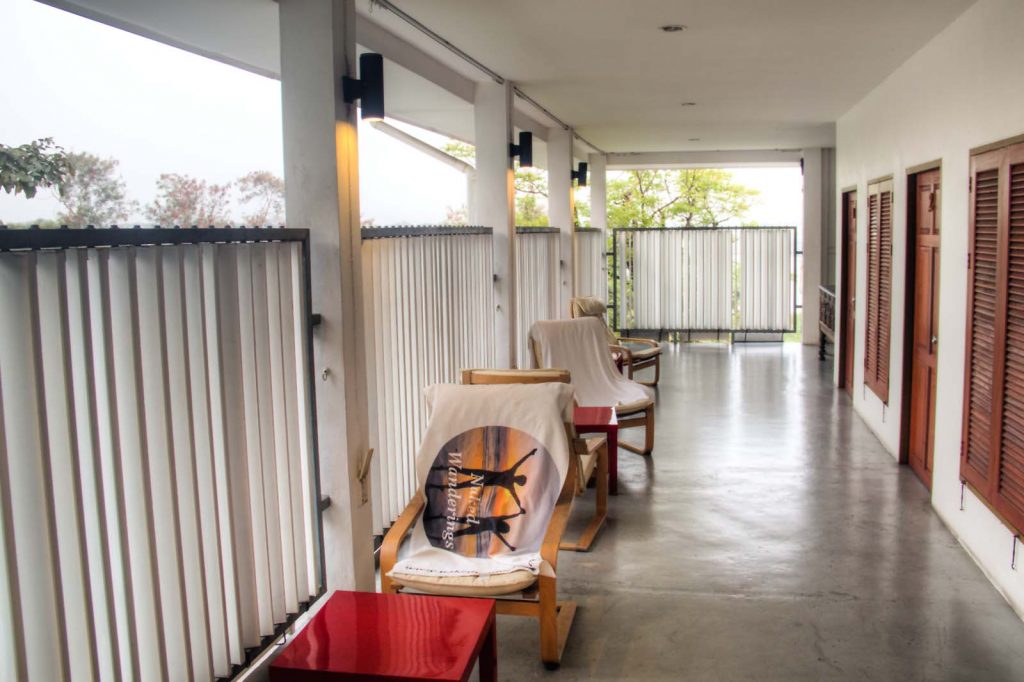 What to do at Barefeet Resort
While researching Barefeet before our arrival we had read several complaints from previous visitors about the place being too small. The garden was small, the swimming pool was small and there was very little place for relaxing. We could not believe what we saw when we arrived. The resort consists of two different properties, in the first one you find the reception, a bar slash dining area, a massage room, a hot tub, a sauna, a roof terrace, and a huge swimming pool. The second property is connected through a small hallway and has the kitchen where a very delicious breakfast is served in the morning, another smaller swimming pool, a nice relax area, and the rooms upstairs. What were those reviewers talking about? This place has more than enough space for only five rooms!
Apparently, the property with the huge swimming pool and sauna and all that had only been opened two months before our arrival. Before, only the second property was accessible for the guests and in that case, we could believe that some found it rather small. But that problem has certainly been fixed now.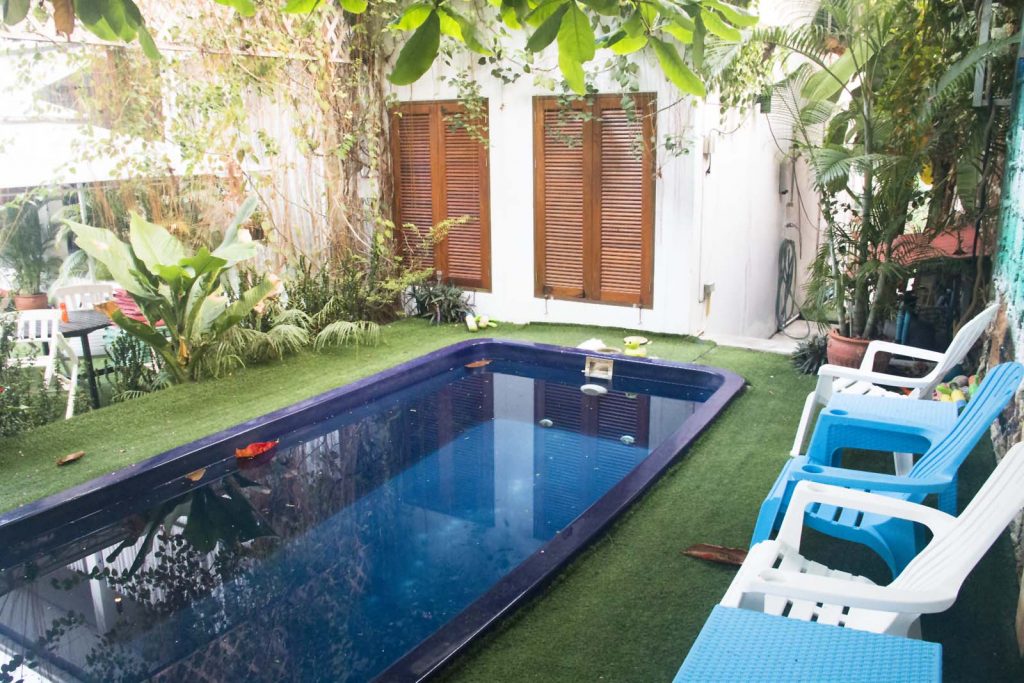 Around Barefeet Resort
Well, this is Bangkok, famous for its eye blinding temple complexes, its floating markets, its incredible shopping, and boosting nightlife. Many expats have chosen Bangkok for their base and that's not just because of its convenient location.
The area around the resort is little visited by tourists. All the necessary amenities are there, within walking distance you'll find a couple of banks, grocery stores, a seven-eleven, street food stands (although often without an English menu or pictures), an upscale bar and restaurant area, and a night market. It's a part of Bangkok you'd probably not visit if you were staying at Khao San Road or Siam.
Staff at Barefeet Resort
The owners, a Danish-Thai couple Gregers and Dao, have an impressive resume. Next to their resort they are also running a media company and have started the very successful Naturist Association Thailand. They never seem to sit still unless it's to engage in a conversation with one (or more often all) of the guests. They are full of interesting stories, a refreshing wind through the whole concept of naturism, and always interested in your opinions.
Since Gregers and Dao are often outdoors for one of their other responsibilities, Am (excuse us if his name is misspelled) takes over a lot of the daily tasks. He's the guy who will let you in, explain the facilities, show you to your room and make you feel comfortable. He'll bring you your drinks, serve your food, arrange your taxi, and answer all of your questions. There are a number of other staff who'll stay in the background, often you won't even notice them, but they always make sure that the place is spotless and the food ready to serve.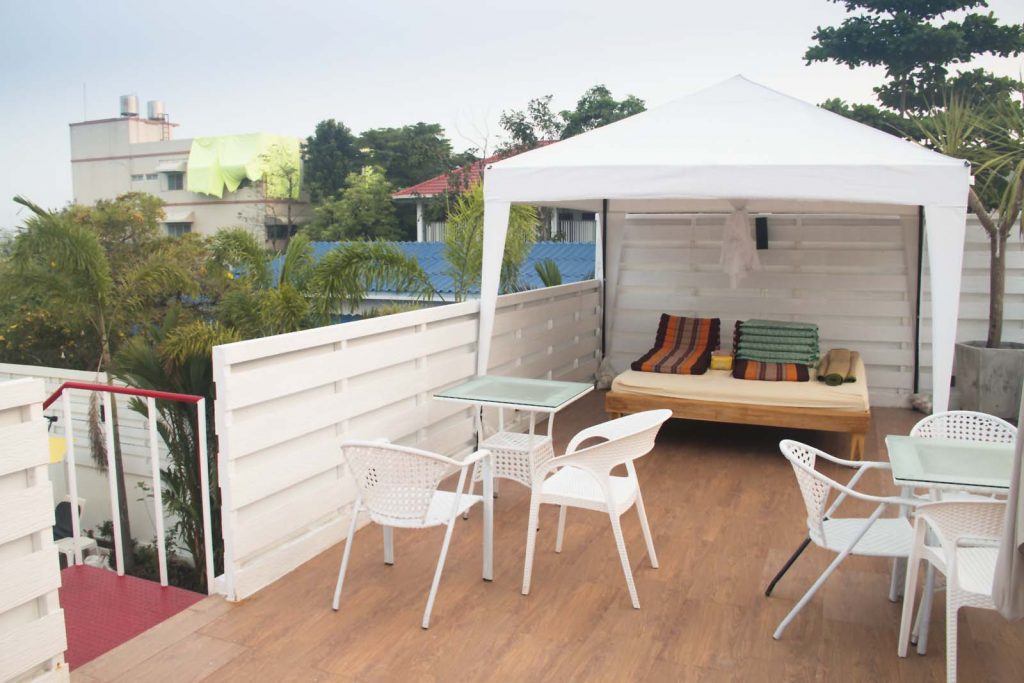 Guests of Barefeet Resort
As we said in the introduction, our arrival at Barefeet seemed more like a family reunion on which we had arrived late than like a resort. The first person we met was Robin, a talkative lady from the USA who was staying at Barefeet to relax before she would engage in volunteer work in the north of the country. After introducing herself she told us that we were just in time for happy hour. Now that happens to be exactly what we want to hear when we arrive somewhere. During our stay, we also met a Danish couple, an Australian-Thai couple, an Australian-Romanian couple, a couple from Hong Kong, a Thai couple, a Danish intern at the owner's media company, and several other guests of whom we forgot their nationalities.
Because of its location in the capital of Thailand, Barefeet also receives a number of day visitors who come over to relax for a couple of hours or to enjoy the opportunity to have lunch in the nude and a refreshing skinny dip in the pool.
Summary
Barefeet Naturist Resort hugely exceeded our expectations. Because of its location, it's not the best place to visit downtown Bangkok, but that is the sole reason why one should not stay there. It's the perfect getaway from the sprawling city, a place to relax for a couple of days, a couple of weeks, or just an hour or two before or after your next business meeting.
By the way, and this is something we've never seen before if you are new to naturism and you need a helping hand, Gregers (the owner) provides a little workshop on how to be comfortably naked for the first time, step by step. How cool is that?
Find more reviews on:


Read more about this resort on  
NUDE
Naked Wanderings' Ultimate Guide for Naturism in Thailand ebook

Are you looking for great naturist resorts in Thailand?
Are you looking for the best tips for a nude vacation in Thailand?
Then our ebook will be the perfect resource for you!

Learn More
Need help with planning your trip? Check out our Resources Page for an overview of the best companies we use during our travels
Disclaimer: We have been invited as guests of Barefeet Naturist Resort, but of course all opinions are our own. We are super confident you will love this place as much as we did!
---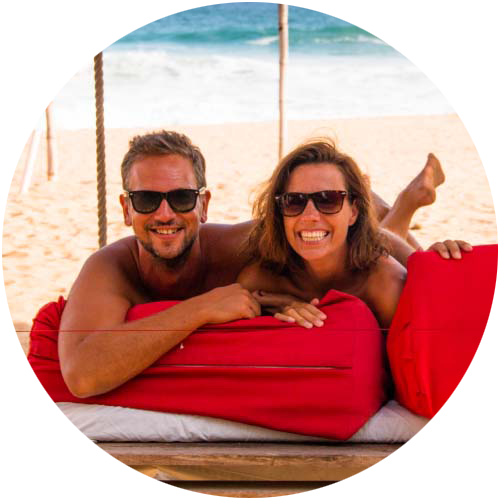 Support Naked Wanderings
Do you like what we do for naturism and naturists? Did we make you laugh or cry? Did we help you find the information you were looking for? Then definitely join our Patreon community!
---