For 3 whole months, we've travelled through South Africa in search of what the country has to offer to the naturist traveller. The least we can say is that we've been overwhelmed by the natural beauty of this country. Even if we wouldn't have had a single chance to get naked, it would definitely still have been worth every minute of the trip. But luckily, we did get opportunities to enjoy South Africa without clothes. More than we initially expected.
Naturist resorts in South Africa
Let's start with the private resorts. If you have a look on Google, it's quite likely that SunEden will pop up somewhere on your screen. It's the most famous naturist resort in the country and the easiest one to reach when you travel internationally. But there are several others. We'll only list the resorts that we personally visited and of which we can guarantee that you can have a great naturist vacation.
SunEden in Gauteng
As mentioned earlier, SunEden is the most famous naturist resort in the country and can accommodate the most guests. It's ideally located at about 1.5 hours drive from OR Tambo, the international airport of Johannesburg. Rental accommodation comes in different forms and price ranges, camping is also possible.
Highlights of SunEden:
❤️ Lively atmosphere during the weekends
❤️ Wild (not dangerous) animals roaming free around the resort
❤️ Proximity to Dinokeng Game Reserve and other tourist hot spots
❤️ High-quality accommodation
Bird or Paradise in Gauteng
Bird of Paradise is a small guesthouse just south of Johannesburg, which also makes it very easy to reach from the international airport. The owners have a landscaping business and this reflects in the domain that looks like a botanical garden. The resort can accommodate up to 15 people in guest rooms or bungalows, camping is also possible. Important to note that Bird of Paradise is only open 2 weekends per month, so plan your trip accordingly.
Highlights of Bird of Paradise:
❤️ A very social scene with communal dinners and campfires.
❤️ Staying in a beautiful garden.
❤️ Proximity to cities in the north and nature in the south.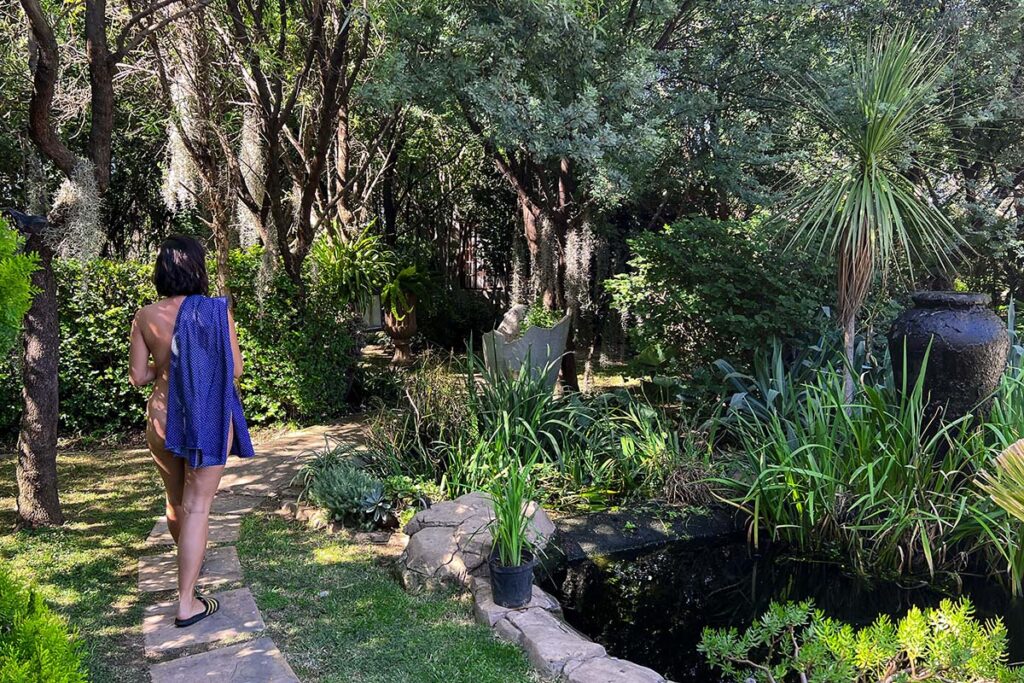 Kiepersolkloof in North West province
If you like natural beauty, be ready to be impressed. With a domain of more than 200 hectares, Kiepersolkloof is one of the world's largest naturist resorts. But don't let the size fool you, as there are only a few accommodations. Most of these belong to residents, and only a handful are being rented out. Camping is the most common way to visit Kiepersolkloof.
Highlights of Kiepersolkloof:
❤️ Endless nature with lots of naked hiking trails.
❤️ Very quiet and relaxing.
❤️ Proximity Pilanesberg National Park and Sun City.
❤️ Homely atmosphere where everyone knows everyone else.
Bare Necessities in Western Cape
In the very South of the country, you'll find the Bare Necessities guesthouse. With only 3 rental accommodations and another 3 camping pitches, this is quite a small resort. The atmosphere is very homely and guests tend to flock together from the early afternoons until the wee hours in the common area for eats, drinks, and chats. The mountain views from the resort are absolutely spectacular.
Highlights of Bare Necessities:
❤️ Because of its location in the Garden Route, the options for day trips are endless.
❤️ A very social atmosphere.
❤️ Amazing nature around the resort.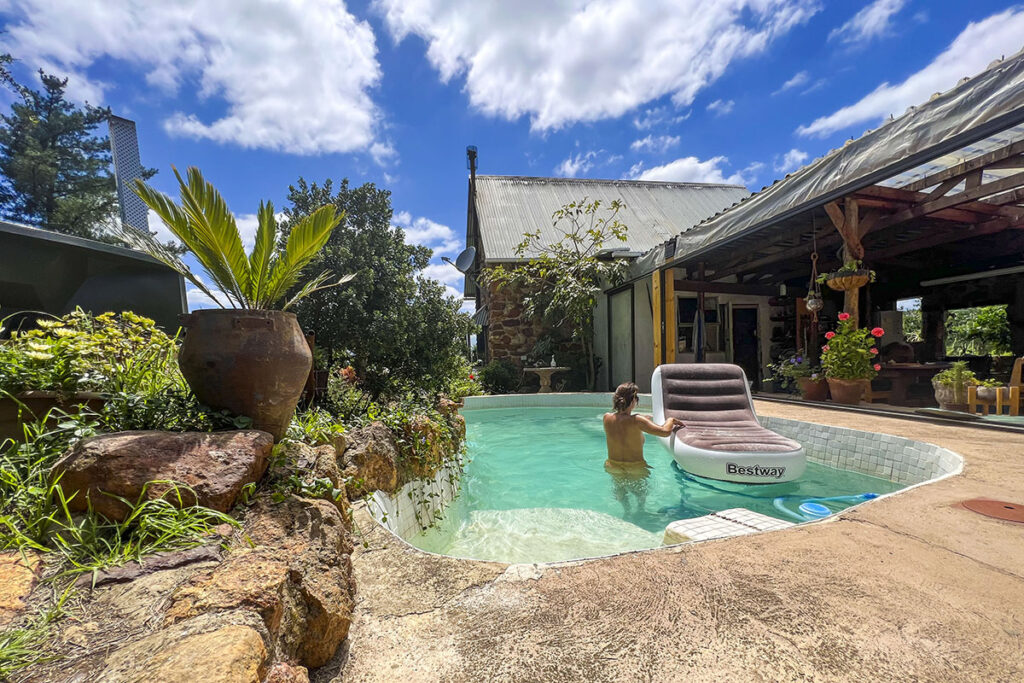 Nude beaches in South Africa
Technically, nudity in public is not allowed by South African law. But that doesn't necessarily mean that you'll get in trouble. There are several beaches that have a long history of accepting nudity and where naturism is tolerated by the authorities. Hereby is an overview of the nude beaches that we visited: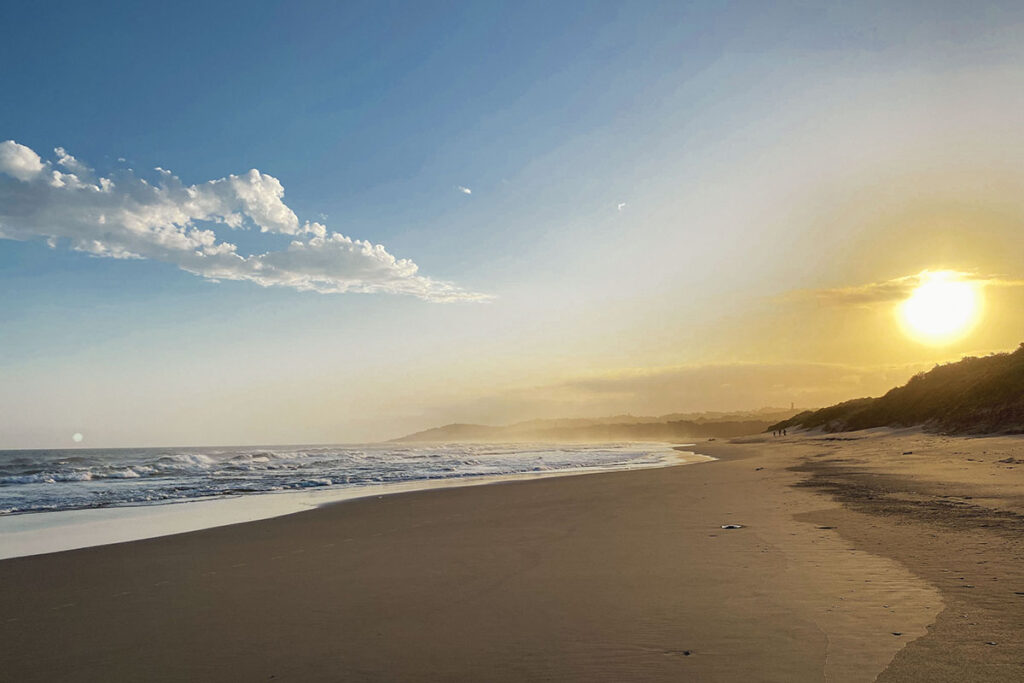 As far as we know, there are 2 other nude beaches in South Africa that we didn't visit. One just north of Durban was closed due to pollution, and one in Port Edward that we skipped because we were rushing through the area.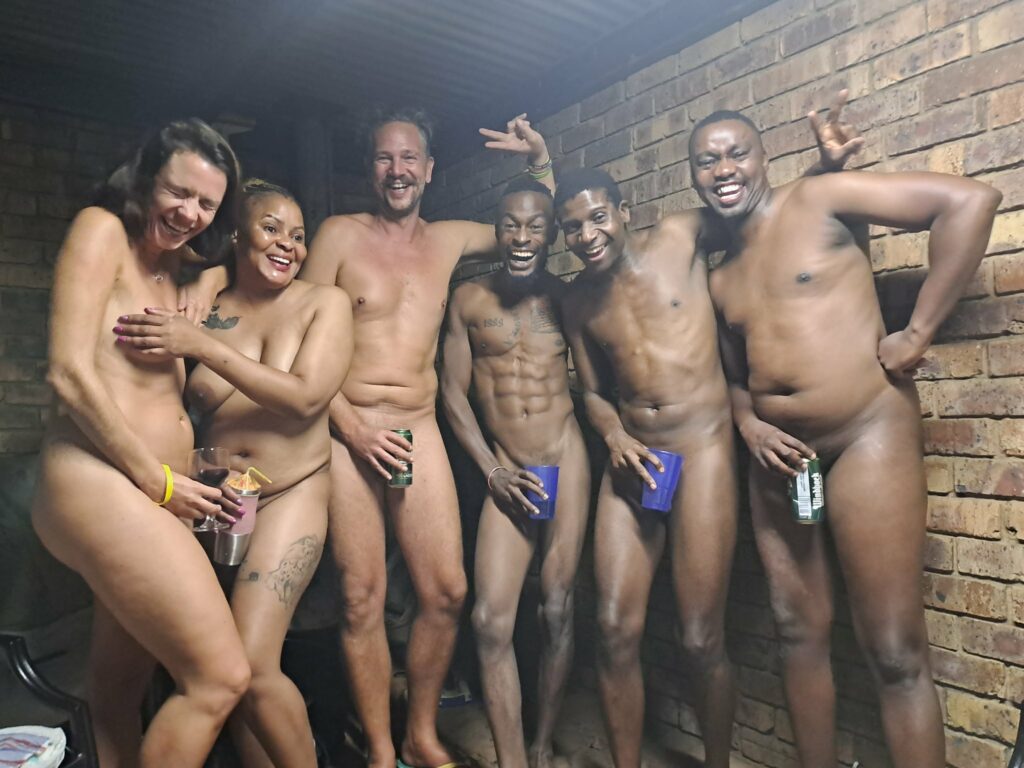 Naturist groups in South Africa
We were happily surprised by the naturist opportunities in South Africa and completely overwhelmed by the spectacular nature and wildlife that we found. But the most memorable was the people. We had such a great time meeting so many lovely South Africans. Some just on the streets or as hosts of our Airbnb, but most via naturist associations in the country.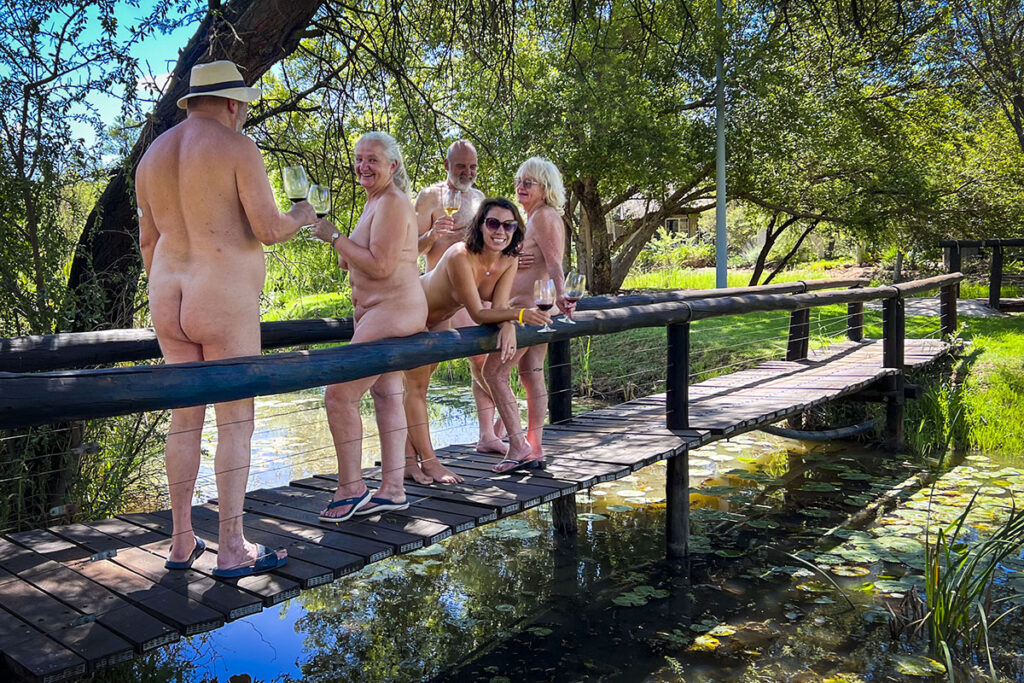 Organise your naturist vacation
We were happily surprised by the variety of nature and culture that South Africa has to offer. One day you're high in the mountains looking at a 360° landscape and the next day you're on a seemingly endless beach catching up some sun. And then there's the wildlife which exceeded all our expectations.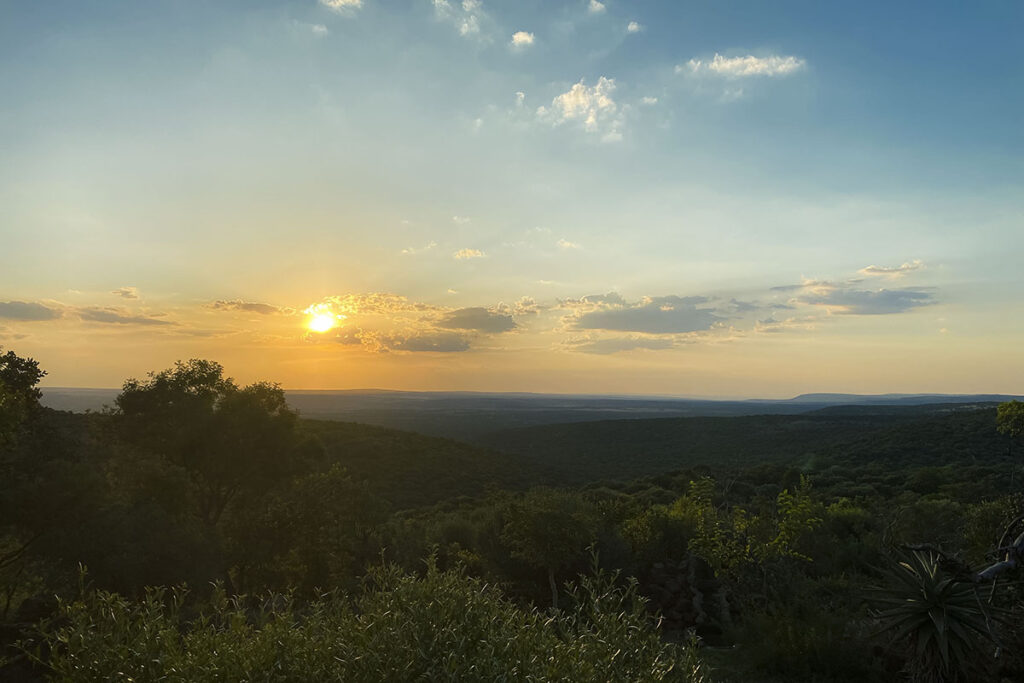 Other highlights
Although naturism isn't that big (yet) in South Africa, we hope that we've been able to show you that there's more than what most people initially think. And there are plenty of things to do in the country for which you'll happily put some clothes on.
Some of our personal highlights include the national parks Dinokeng, Pilanesberg, and Addo, the panoramic route north of Graskop, the Drakensberg mountains, the amazing beaches of the Wild Coast, the desert-like landscapes of the Little Karoo, and so much more.