Spring is in the air in the northern hemisphere. We can see it in our mailbox and on our social media, one after the other naturist campsite in Europe and the USA have started opening their doors for another season of receiving naked guests. Back in the days when we were still having day jobs in Belgium, this was the time of the year when we would head into the basement to find our camping gear. Not to use it immediately, but just to already have a good look at it. To see what still works and what needs to be replaced. And more importantly, to make it a subject for dreams for the nights to come.
This blog post is sponsored by
Riva Bella Naturist Resort
. This resort is more than just a naturist campsite. With a variety of rentals, it's a place where everyone can have an amazing naturist vacation. But the campsite part of the domain is really nice, and it's also the place where we recorded a packing video last year:
Accommodation
The number one requirement for a naturist camping trip is obviously your accommodation. There are numerous options in the form of campers, RVs, caravans, vans, cars, tents, and who knows what else. If you're a millionaire or a dreamer like us, have a look at
this video
. Luckily, there's also quite a lot for people with a slightly smaller budget.
We have always been tent people. Partly because we couldn't really afford anything larger, but also because we enjoy the proximity to nature. From a tent, you can literally hear everything. Every bird, every cricket, every frog, every raindrop. We think it's magical, at least most of the time. The
moments we got stuck in thunderstorms
, we did wish that we had something more solid. Also consider bringing a hammer and extra pegs. If you're looking into buying a tent, you can find all types and sizes
on Amazon
, and there are also plenty of specialised companies like
Canvascamp
.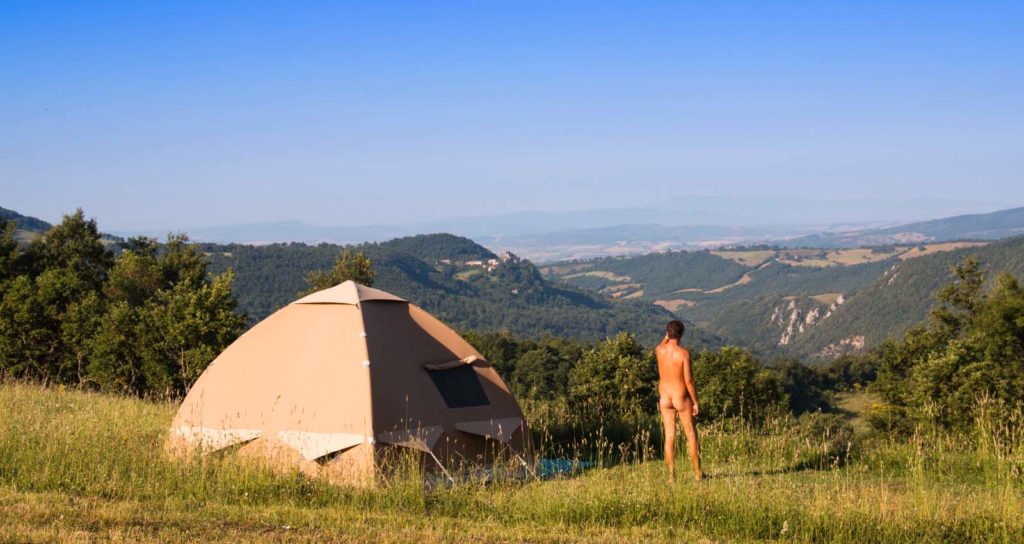 Bedding and stuff
Next up, where are you going to sleep? If you have a camper or caravan, there probably will be a bed in it (well, we hope so for you), but if you travel with a tent, bringing a bed is quite important. In our early days of naturist camping, we went die-hard with mats and sleeping bags, but those days are behind us. Even when we're camping we appreciate a bit of comfort.
Our Intex air mattress
is one of the few that has a width of 180 cm. This is like a king-size bed. It's super comfortable, but make sure it fits in your tent. Don't forget to bring an
electric pump
, preferably one with a rechargeable battery in case you're not close to an electricity source. Our sleeping bags from back in the day have been replaced by a duvet, which we can move around depending on the temperature and can steal from each other in the middle of the night.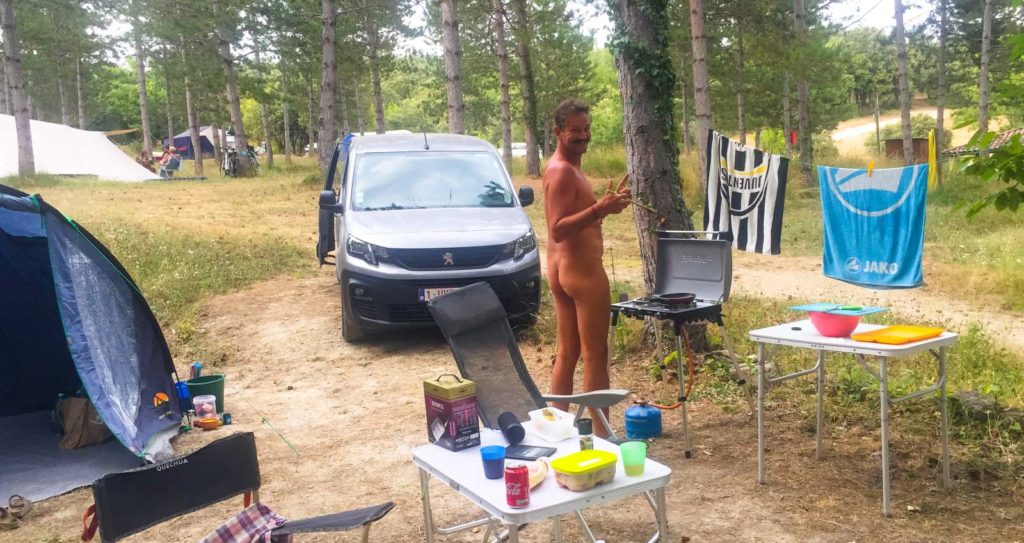 Furniture
Camping furniture is often overlooked, but we can't stress the importance of it enough. When you're camping, you're spending a lot of time on your pitch. Having a comfortable place to sit is a must. There was a time when we bought the cheapest camping chairs available, but after a summer of serious lower back pains, we decided to upgrade.
The type of chair you get is very personal. Nick very much enjoys the
foldable chair
of Quechua, Lins is more a fan of the
larger type of chairs
that fold into a sunbed. Whatever type you prefer, this is not the time to be cheap. Buy quality and your body will thank you for it. We still use the
most basic type of camping table
, because they're easy to set up and move around. We do have two of those, so we have enough space.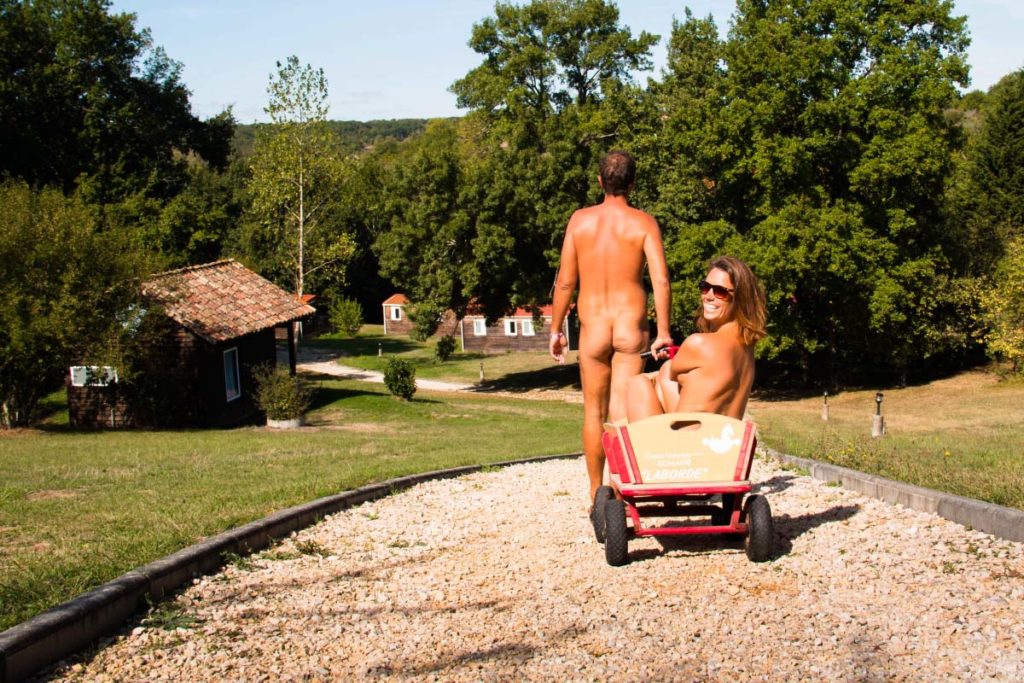 Kitchen
For kitchen appliances, you really want to make a packing list because it's so easy to forget something. For us, it's a tradition to go to the store on our second day of camping to buy whatever we forgot to bring. Pots, pans, and cutlery are easy. Pepper, salt, herbs, and olive oil are also not easily forgotten either. What we do tend to forget is a corkscrew (very important!), a sharp knife, and a can opener.
For cooking, we use the
Campingaz Xcelerate 600 SG
with two plates and we can highly recommend it to everyone. It's one of the best investments we ever made. We also love
our kettle
, especially in combination with
our French press
. And our
USB smoothy maker
is the source of our vitamins in the morning. Another live saver is an
electric cooler
. Even during heat waves, ours is able to keep our food and drinks cool during the day, and even cool them down during the night.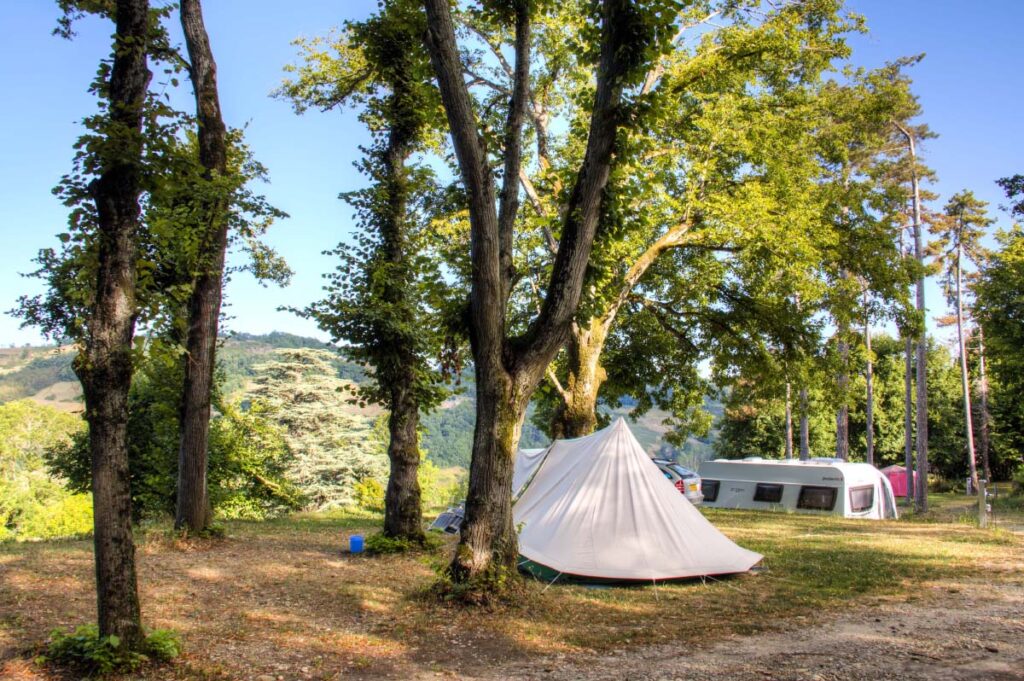 Toiletries
If you're new to camping, it's very easy to forget toiletries because they're by default available in most hotel rooms. We prefer soap bars instead of shower gel, for the simple reason that we've had a number of shampoo explosions before. Next to that, you want to bring everything you need on a more or less daily basis.
Don't forget towels too. It's advisable to bring more than one per person because whether or not they'll be dry by the time of your next shower depends a lot on the weather. On a rainy day, you will thank us for this tip. On a sunny day, however, you may not need a towel at all. One of the best things about naturism is that you can air dry.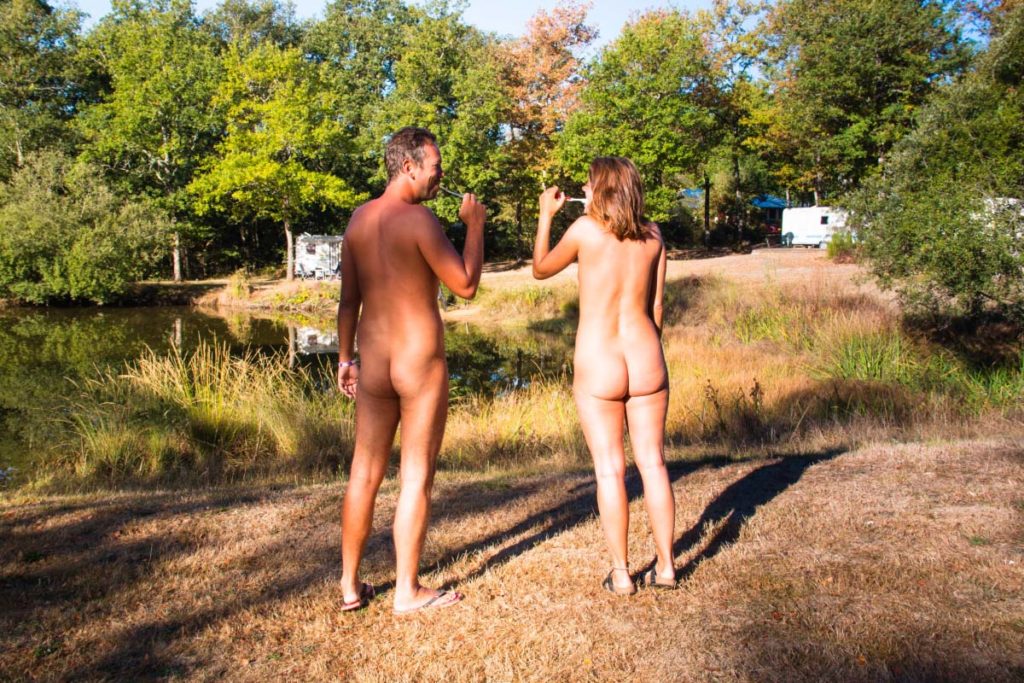 Clothes
One of the most common questions we are asked about travelling is how many clothes we pack. We have to say, we don't think that it's much different than the average textile camper. We all wish for a sunny vacation, but if the weather gods decide otherwise, it's better to be prepared. Another reason why you might want to bring clothes is if you want to do activities or excursions into the clothed world. We normally pack clothes for one textile week, which is most often good for two to three naturist weeks.
Some clothes are handy, but there's definitely no need to bring too many. Most campsites have facilities to wash your clothes in case you run out. It's always a good idea to bring a clothesline to dry them. We used our tent cords for that until a certain someone forgot the clothesline and now we don't have any cords anymore to keep our tent safe during thunderstorms.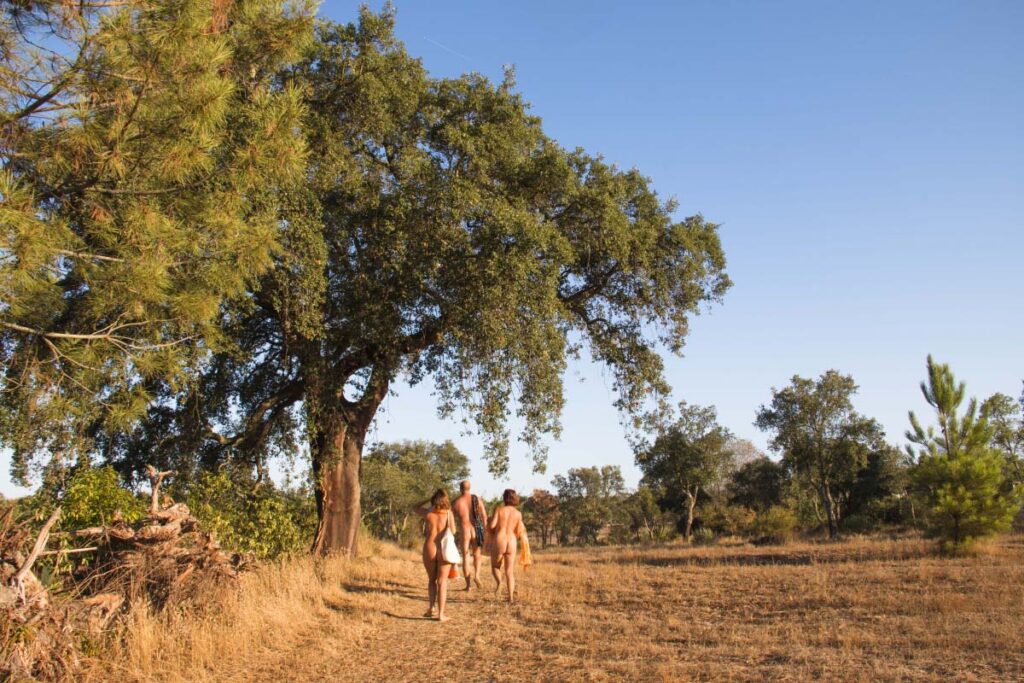 Others
We believe that we've covered the most important parts of our camping gear, but there are a number of other things that have made our lives significantly easier.
✅ Lights: When it gets dark in nature, it gets really dark. We normally bring a flashlight, several candles, and Christmas lights to decorate our tent.
✅ Boxes: Organising stuff is not one of our strengths, so we like to separate into different boxes. These boxes can also get a different purpose along the way, like for doing laundry or dishes.
✅ Water bag: Only when you're camping, you realise how many times you need water in a day. Instead of going to the shower every hour, bring a water bag.
✅ Garbage bags: Keep the world clean, bring garbage bags in different colours for recycling.
✅ Chargers: Every battery you bring will need to be charged eventually
✅ Band aids: This is another thing we always forget, and regularly need to buy along the way.
If you're preparing your first naturist camping trip, we hope that the above tips can be helpful to you. And if you're an experienced camper, we'd love to hear what other tips you have for us!
---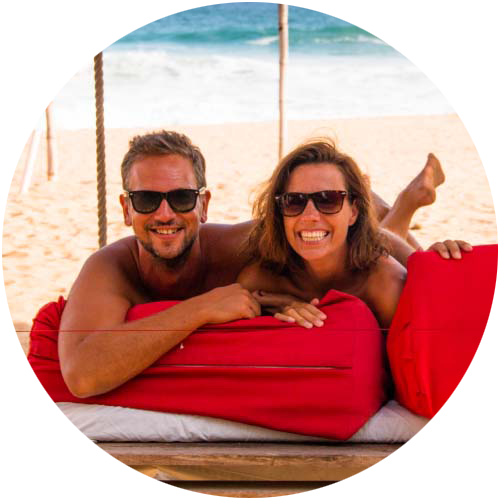 Support Naked Wanderings
Do you like what we do for naturism and naturists? Did we make you laugh or cry? Did we help you find the information you were looking for? Then definitely join our Patreon community!
---