You are not going to believe this… The other day, we received a message from a reporter at an
online magazine
, asking us to comment on a message from a reader who feels uncomfortable when his nudist girlfriend spends time naked with her dog. Even claiming that "it's something out of an illegal adult movie for her to be naked with an animal all the time".
We thought it was a joke. Until we did a bit of research and found out that there was an actual article going to be written about this topic. This is a real case, and the person in question claims not to be jealous of the dog and actually enjoys her being naked all the time because "she has a rockin bod". But the combo seems to freak him out.
View this post on Instagram
Why does she go naked?
A part of the reason for this message obviously lies in his perception of nudism. He likes that she's a nudist because "she has a rockin bod". There's no info about why she is a nudist, maybe it makes her feel better about herself, maybe it boosts her body confidence, maybe it gives her more comfort, and maybe, cuddling naked with the dog gives her a stronger sense of connection. It's obvious that although he doesn't think that there's a weird sexual relationship going on, he very much sexualises nudism and sees it as entertainment.
Luckily, this is an extreme case and the first time we hear about such a thing in all those years when we've been naturists and have been creating content about naturism. But the concept of seeing nudity as a form of personal entertainment is not new at all. There must be millions of people out there who would love their partner to be naked more often. As long as it's for their eyes only.
Strip clubs have existed since the moment that people started wearing clothes. They have the sole purpose of using nudity for entertainment and purely exist because of the sexualisation of nudity. In the arts, on the other hand, nudity is also frequently used, but much more often as a celebration of the body rather than for sexual reasons.
View this post on Instagram
Seeing naked people
Everyone will agree that the
pictures by Spencer Tunick
don't have any sexual purposes while for the dancer in the strip club it's only about that. From this, we can conclude that a lot has to do with the purpose of the "content". Spencer wants to make art and that's how people see it. The stripper wants to arouse the viewer so they would put $5 notes into the last piece of clothing being worn.
Why is it that in naturism/nudism, the purpose appears to be less clear? One reason we can come up with is that nudism is still a rather new concept, especially compared to art and strip clubs which have existed for eternity. A more important reason though is that nudism is not meant to entertain other people. In all nudity that you ever get to see, whether it's in movies, strip clubs, or museums, it's always meant to trigger a feeling or emotion in the viewer. Whereas in naturism, there is no viewer. There are no emotions to be triggered in other people, only in ourselves.
View this post on Instagram
How to change the public opinion
The easy solution to this problem is to put up fences, which is what naturist clubs have been doing for decades. Create spaces for people who understand what naturism is, and keep everyone else out. The problem here is that it becomes very hard to grow a movement. Only in the last decade or so, you can see more and more naturists coming out of the shadow and making public appearances.
Last weekend was the first
Dia al desnudo
(naked day) in Mexico City, after the success of last year in the other Mexican City Guadalajara. Local naturists get the chance to take off their clothes for a march through the city centre, with the goal to normalise nudity and celebrate the human body. From the
pictures we've seen on Twitter
, they had quite a large group and also a pretty large audience. Does everyone who came over with a phone in hand understand what naturism is? Will they all give naturism a try after this day? We very much doubt it. But that doesn't really matter. The goal is not to make the whole world naturist, but to change public opinion. And this can only be done by going wide in the open.
You can compare it to the Gay Parades that are quite common in Europe. Far from everyone who joins is gay, and we can't imagine that people become gay from going to such an event. But the visitors have a great day among gay people, have a chance to meet them and to party with them. If we look at the acceptance of non-straight relationships today, although it's still far from what it should be, there is progress.
Man vs dog
Where does this leave us with the guy who thinks his girlfriend shouldn't be naked around her dog? He probably still has quite a way to go when it comes to understanding nudism and non-sexual nudity. But the only way to get him to this point will be to keep doing what we're doing. To keep bringing naturism out of the shadows and from behind the fences.
Unlike what some people believe, we don't think that normalising nudity means that everyone should go naked. It's about making people comfortable being among nudity and making them understand why we enjoy it.
The other day, we were at a naturist resort and a couple arrived who clearly had no idea what "naturism" meant. Although they didn't show, they were probably quite surprised to see a bunch of naked people around the pool. By the evening, they joined us, both wrapped in a towel. We left the next day, so we don't know whether they eventually decided to give it a try or not, but what we do know is that they've seen what naturists do. Even if they decided not to try it after all, we're sure that they won't have a negative opinion about it, which they could have had if they never ended up at a naturist place.
---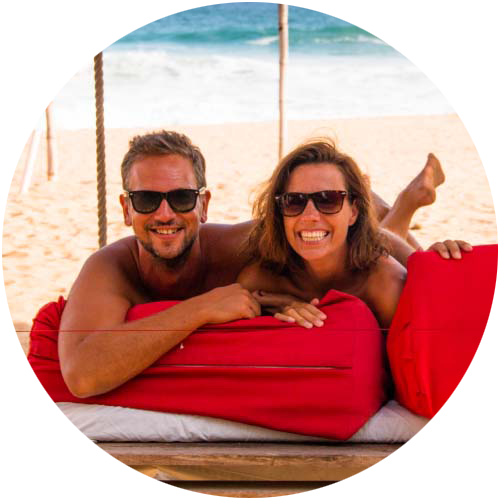 Support Naked Wanderings
Do you like what we do for naturism and naturists? Did we make you laugh or cry? Did we help you find the information you were looking for? Then definitely join our Patreon community!
---