The days when naturists didn't do much else than camping in the woods are long gone. During the last decades, more and more people became interested in nude traveling. Sharing the naturist values of respect for each other, the joy of non-sexual nudity, and the love for nature. But not necessarily very interested in sleeping in a tent. Whenever there's a certain interest, there's someone who will take care of the new gap in the market.
Naturist campings expand their offer with rental bungalows, glamping tents, and mobile homes. Bed and breakfasts dedicated to naked visitors are opening their doors around the world. Even the hotel industry started to cater to those who prefer to spend their holidays without clothes. One thing seemed to be missing in Europe though. A high-end naturist place, where guests can spend their holidays in all luxury, but where the nature aspect is not neglected.
If you've been reading this blog for a while, you probably know what's coming now… Indeed, we found exactly such a place. It's located in the French Gard region. It's called Domaine de la Quiquier. And we can't wait to tell you all about it.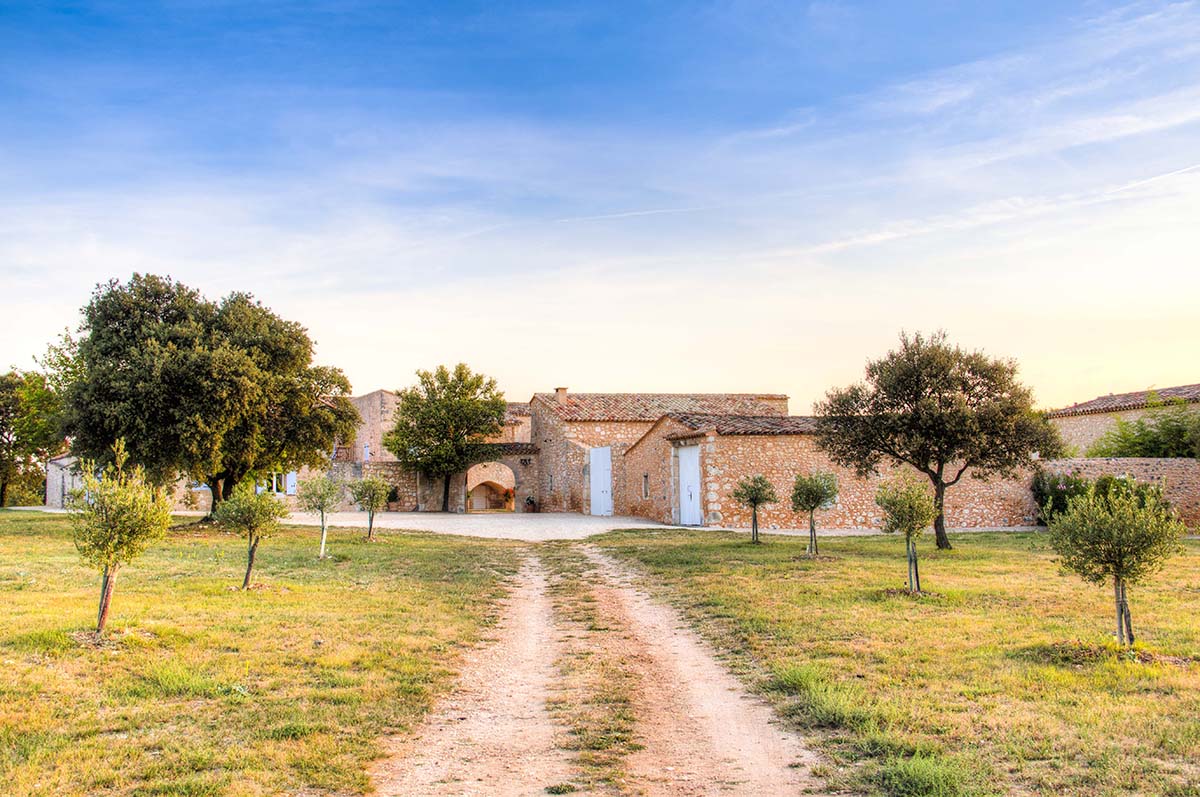 How to get to Domaine de la Quiquier
First things first, to get to Domaine de la Quiquier from the north of France or any of the northern European countries, you want to take the "route du soleil" (the highway of the sun) south. Just before Orange, in a town called Bollène, take the exit towards the N86. Just before Bagnols-sur-Cèze you then switch to the D980 towards Goudargues.
Coming from the east of France or from Spain, you take the A9 highway in the direction of Avignon, and just past Nîmes you switch to the D979 which you follow all the way towards Méjannes-le-Clap. In any case, you will end up somewhere near Méjannes-le-Clap or Goudargues. Once you're there, and this is VERY important, you turn your GPS off and start following the instructions you received from Jean-Pierre and Anna, the owners. What follows are some gravel roads and they know exactly which ones are in a decent state and which are not.
The nearest airports to Domaine de la Quiquier are Avignon (with several connections to the UK), Marseille Provence, and Montpellier Méditerranée airport. The last two connect to all over Europe. The nearest TGV (high-speed train) stations are in Orange and Avignon. It's very recommended to rent a car at the airport or train station but if you don't feel like driving it's also possible to arrange transportation at La Quiquier.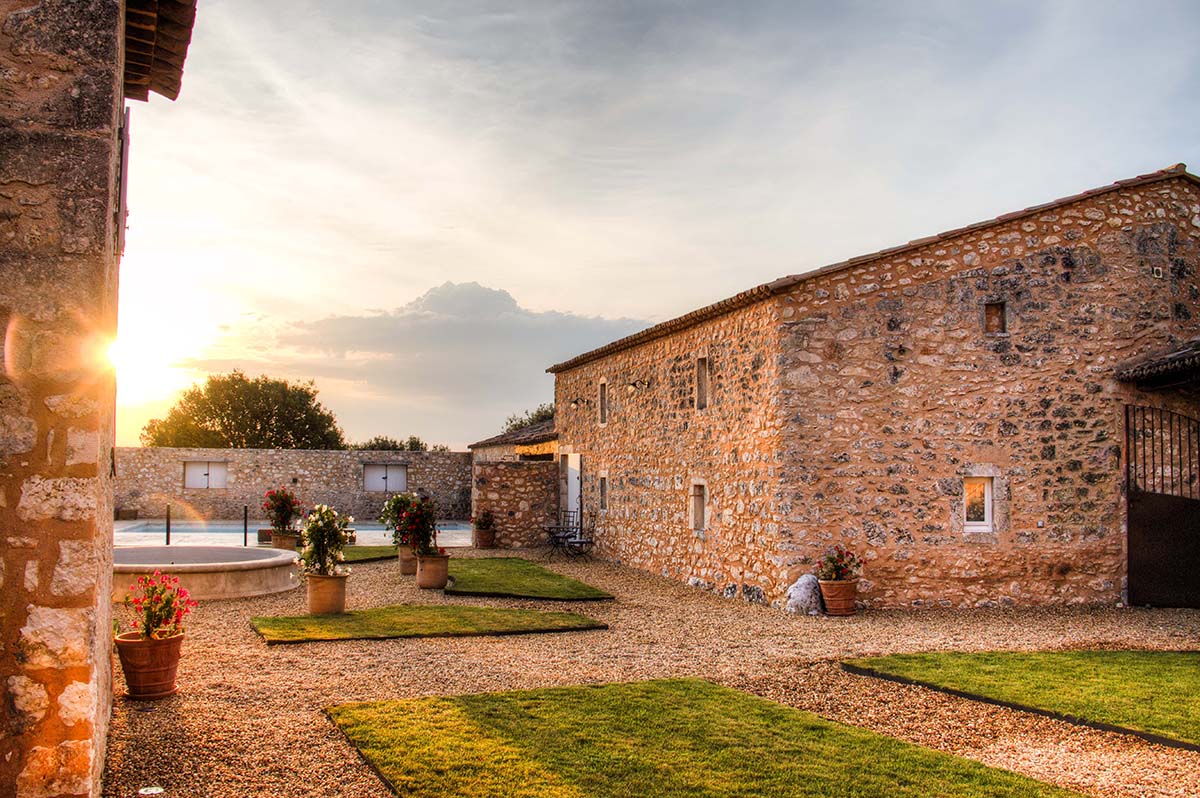 Where to stay at Domaine de la Quiquier
The guest house at Domaine de la Quiquier is a huge "mas", a typical French farmhouse, in the middle of nature. The whole house has recently been renovated without losing its authentic look. When you look at the architecture and decoration, staying here might make you feel like you've been teleported hundreds of years in the past. But once you notice all the luxury and high-tech, you realize that this is still the 21st century.
Domaine de la Quiquier has five suites, but even the word "suite" is an understatement. In most suites, the bathroom is larger than an average hotel room. We've told you that this is a full luxury place and this starts with the accommodation itself. Everything from the beds to the showerheads to even the doorknobs are of high quality.
All suites come with complementary large breakfast and free soft drinks all day. Alcoholic drinks and dinner can be separately ordered. Another important aspect of La Quiquier is that all five suites are rarely booked at the same time. Not because there's no demand, but because the owners want to make sure that your needs are always served and that you can always enjoy the most possible privacy.
In the case of large groups, Domaine de la Quiquier can also be rented in its entirety.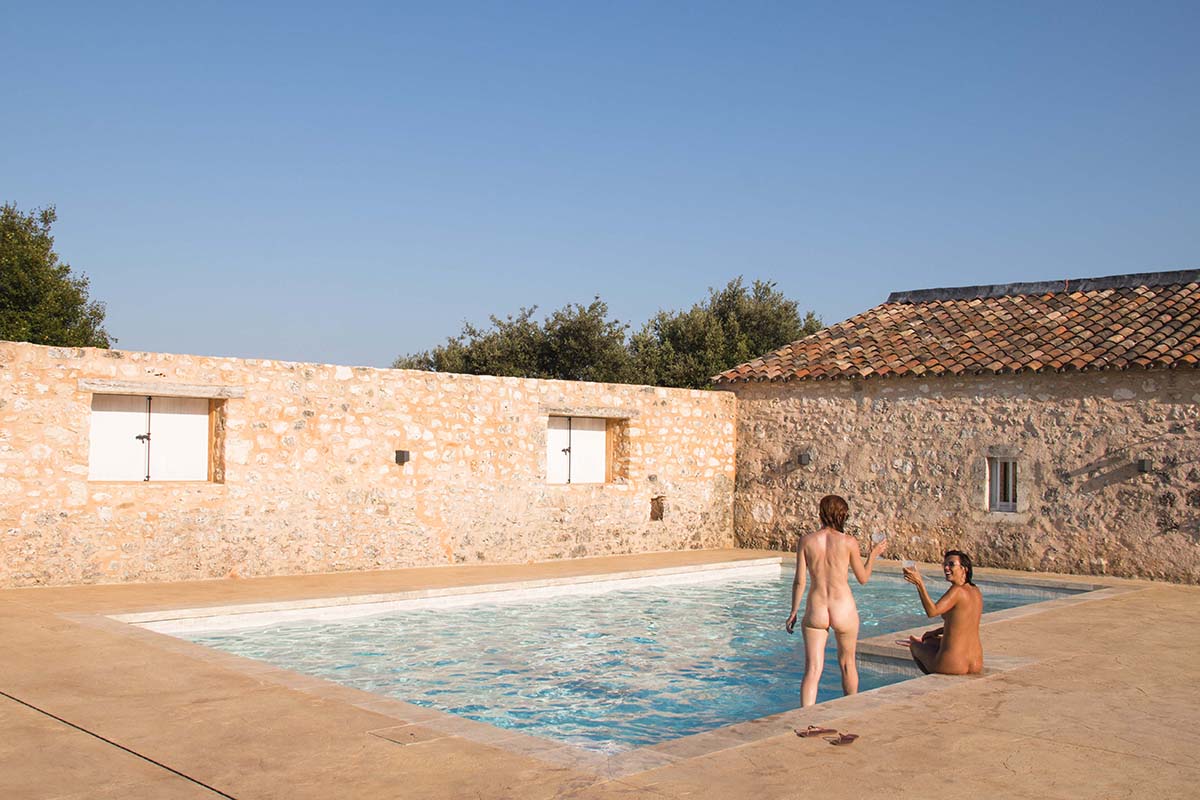 What to do at Domaine de la Quiquier
The luxury concept is not the only thing that makes Domaine de la Quiquier unique. It's also the largest naturist domain in Europe. SAY WHAT? A five-room guest house is the largest nude domain of a whole continent? Yes, you've read it correctly. The whole domain includes 425 hectares of land. That's 425 hectares privately owned orchards, forests, and valleys. And oh yes, that's 425 hectares of space where you can recreate in the nude.
We don't think that even the owners have already explored every square meter of their huge domain. But as avid
nude hikers,
they have built amazing hiking trails that take you through the woods and past cliffs and provide some amazing views. You can hike most of the trails on your own, but for the most difficult ones, you are required to take someone from the staff with you. Even if nude rock climbing is on your bucket list, search no further.
Also in the nude hikes, the luxury aspect of La Quiquier is never far away. After an amazing two hour morning hike along the cliffs of the canyon, you end up at a platform looking over the valley. Someone from the staff will be waiting for you with a refreshing aperitif. Feeling the sun on your body, drinking rosé wine, and enjoying amazing views, it's something we can definitely recommend everyone.
More nude recreation can be found inside the walls of the guest house. A beautiful swimming pool, a huge jacuzzi, and a jet stream are waiting for you. There's petanque at 5 pm and lots of space to read a book or sunbathe and get completely relaxed. Before you know it, a delicious dinner is served. While you put your feet under the table, the sunset transforms the sky over the domain in all shades of red and yellow. On a bright day, you can even see the Mont Ventoux and the Alps in the distance.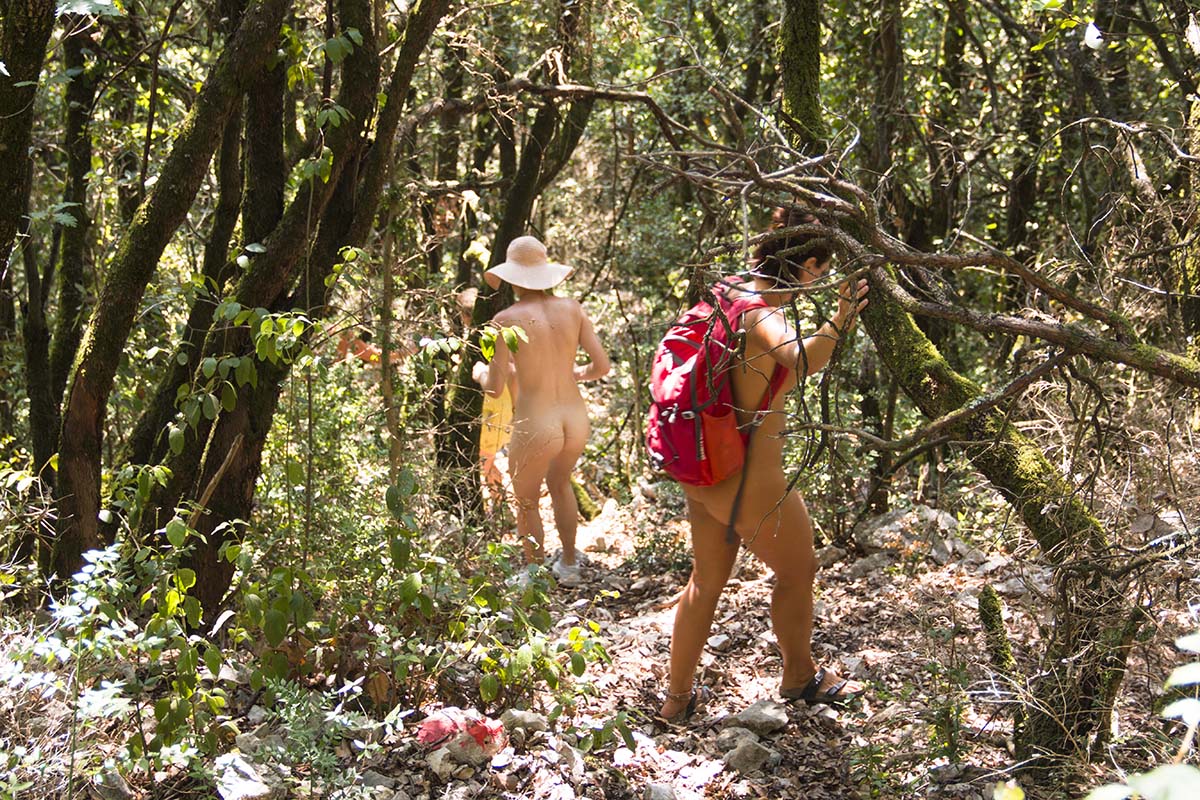 Around Domaine de la Quiquier
If lots and lots of nature are your thing, there's really little reason to put on your clothes and leave Domaine de la Quiquier. It's all just there and you can enjoy it completely nude. Nevertheless, the region is really worth some of your precious vacation time as well.
The nearest town to La Quiquier, Goudargues, is beautifully located next to a river. It's the perfect spot to do your shopping in the local supermarket and to get money from the ATM. But it's also a great place to hang around for a couple of hours, to go for a walk in the center or have lunch or dinner at one of the many riverside restaurants.
Fun cities to explore on a day trip from La Quiquier include Avignon, Orange, Uzès, Carpentras, Alès, and even Montpellier. This last one we particularly enjoyed very much, but that's personal of course. One of the highlights of the Gard region is the ancient aqueduct Pont du Gard. More to the east, in the Vaucluse region, there's the Mont Ventoux. A top favorite for everyone who likes to climb mountains on a bicycle. But it's also possible to drive up if you want to have a great view without the effort that comes with cycling uphill.
The near region of Domaine de la Quiquier is also famous for its many caves of which there are several you can visit. And those who are looking for adventure will find themselves kayaking, canoeing, rafting, canyoning, rappelling, and doing lots of other sports that will get your adrenaline pumping.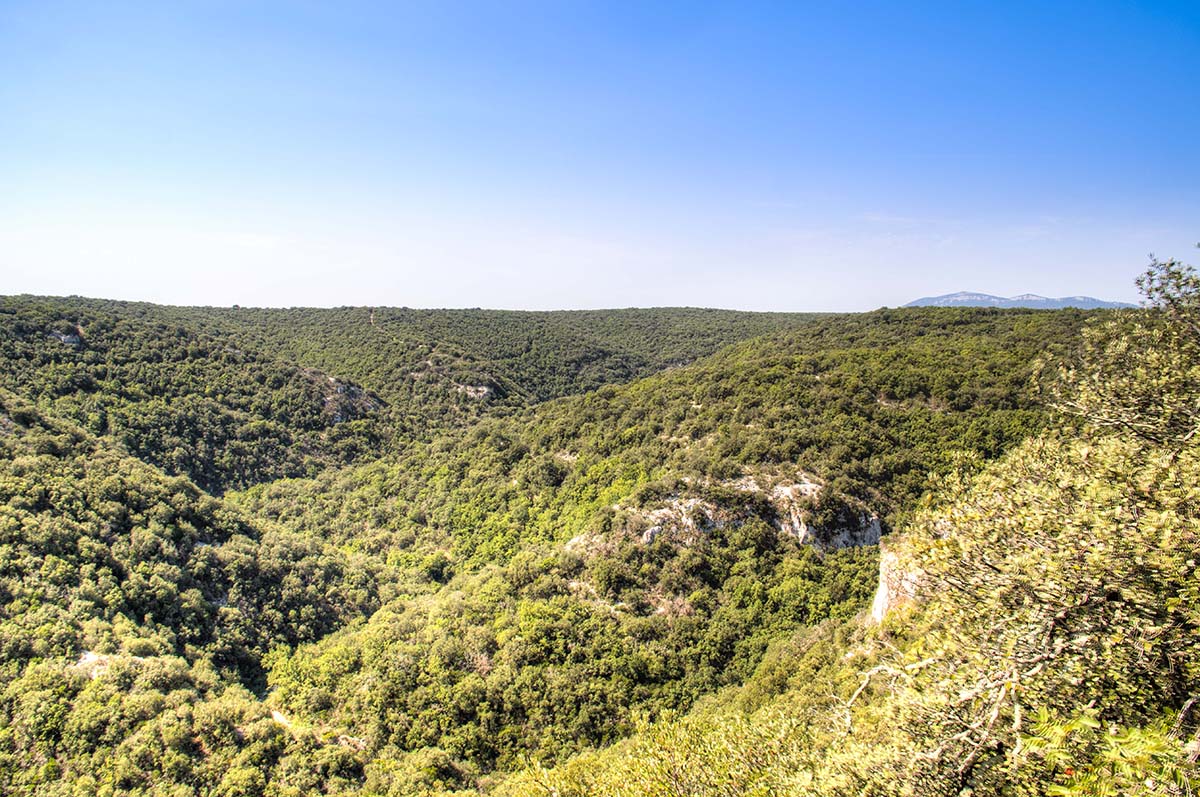 Staff of Domaine de la Quiquier
The whole organization of Domaine de la Quiquier runs through four hands only. First, there are Anna and Jean-Pierre, the owners of the domain. Several years ago they bought this huge property with two main goals in mind. They want a place where they could be separated from the rest of the world and spend their days naked in nature. And they want to meet likeminded people, naturists with whom they could have great conversations.
This is yet another unique aspect of Domaine de la Quiquier. It's not a money machine like most other luxury naturist destinations. It's not an impersonal place where you're treated like a customer or a number. Visiting La Quiquier gives you the feeling to be invited by friends. Friends who happen to own one of the most impressive naturist places in the world.
The other two hands are Rosie and Jos. They earned their stars by managing a successful naturist camping and brought their knowledge and their care for people down to Domaine de la Quiquier. Rosie and Jos are always around to make your breakfast, fill your glass, open the gate, give information about the domain and the region, and most of all to make sure that your stay at La Quiquier is the most memorable.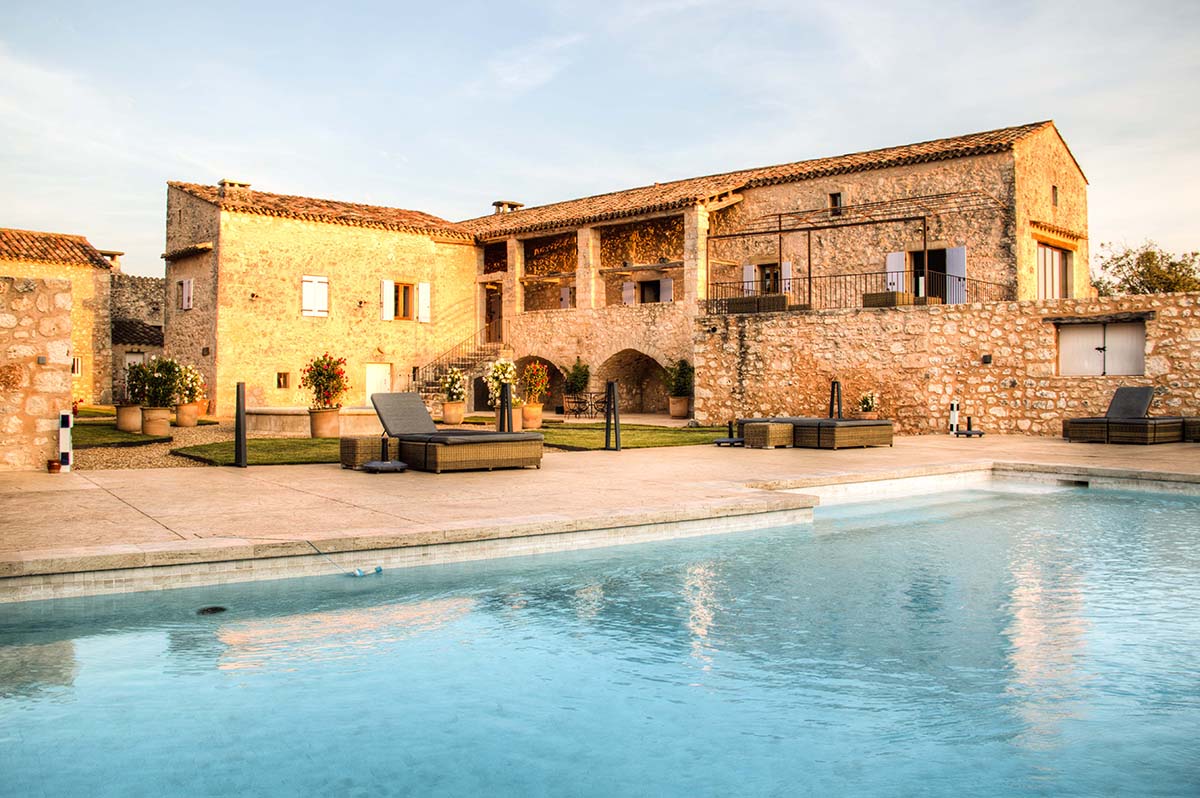 Guests at Domaine de la Quiquier
Even though Domaine de la Quiquier is a very specific and exclusive concept, it's hard to define a certain type of visitor. It's a great place to stay if you want to explore the beautiful Gard region or the Provence, but also if you just want to spend your days naked next to the pool. Or if you're a fan of
nude hiking
. Or if your favorite nude vacation means having lots of space and privacy.
La Quiquier provides more than a naturist vacation. It's a unique experience. It's a naturist experience which you just can't find anywhere else. And that may well be the best definition we can give about guests of La Quiquier. Naturists who are looking for something they've never experienced before. Or who wants to celebrate. Needless to say that this domain is also perfect for honeymoons, anniversaries, or any other memorable events.
Lastly, because of comfort and privacy, Domaine de la Quiquier is also the perfect place for beginning naturists. This is something we can tell you from experience. We took our non-naturist friend to La Quiquier for her first time socially nude. Within moments she felt comfortable enough to bare it all and didn't get dressed again until the day we had to leave. Of course, also this can be counted as a memorable moment.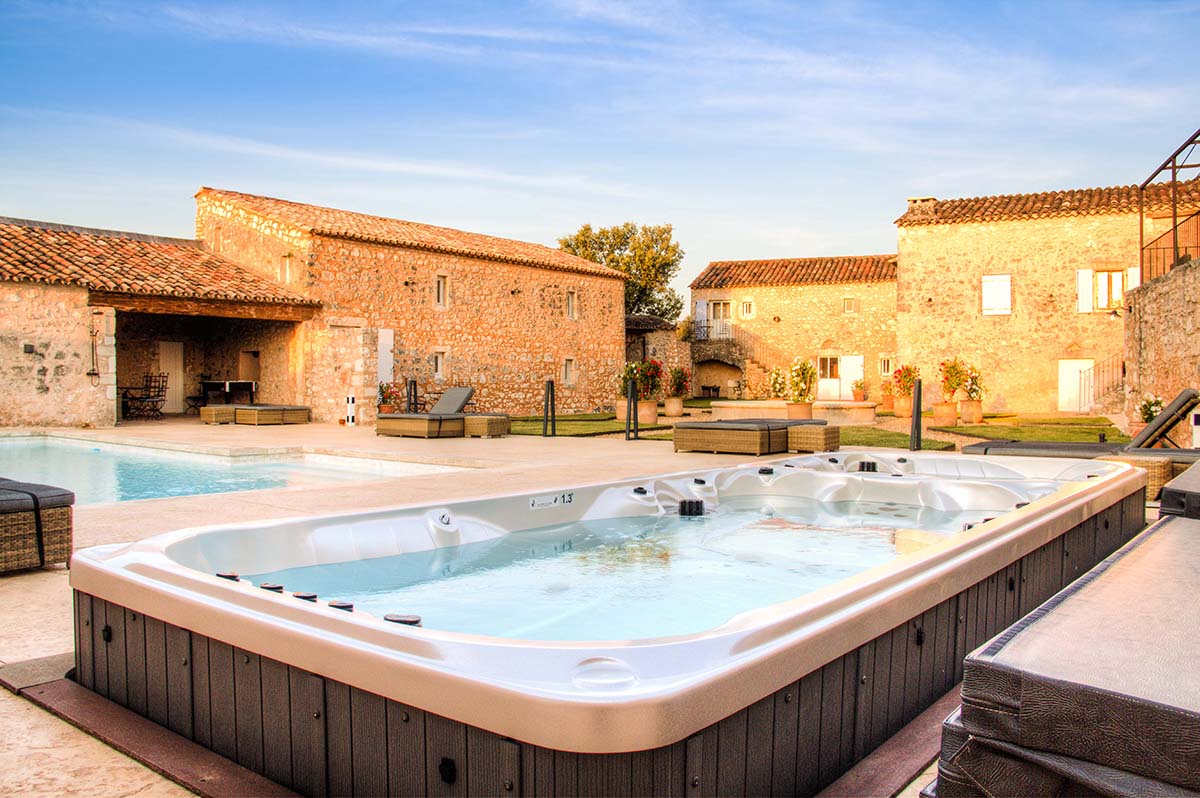 Reservations & Contact
Reservations at Domaine de la Quiquier are preferably made via:
✅ Website: https://www.domainedelaquiquier.com
✅ E-mail: [email protected]
✅ Phone: +32 (0)489 065 515
It's possible to communicate in French, Dutch, English, German, Spanish, Portuguese or Russian.
Domaine de la Quiquier is open from the 15th of May until the 21st of September.
For groups, it's possible to make reservations in other periods as well.
Summary
We've used the words "luxury", "unique" and "experience" a lot in this review. That's also how we would summarise our stay at Domaine de la Quiquier: An exclusive naturist experience in a unique and luxurious environment. One you will only find at one place in the world.
Naked Wanderings' Ultimate Guide for Naturism in France: Occitanie ebook

Are you looking for great nudist resorts and nude beaches in Occitanie?
Are you looking for the best tips for a nude vacation in Occitanie?
Then our ebook will be the perfect resource for you!

Learn More
Need help with planning your trip? Check out our Resources Page for an overview of the best companies we use during our travels
Disclaimer: We have been invited as guests of Domaine de la Quiquier, but of course all opinions are our own. We are super confident you will love this place as much as we did!
---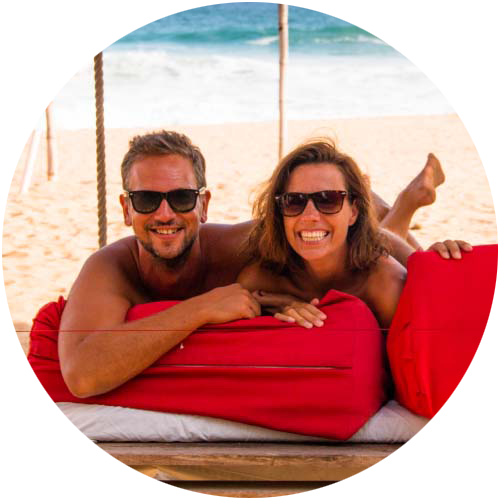 Support Naked Wanderings
Do you like what we do for naturism and naturists? Did we make you laugh or cry? Did we help you find the information you were looking for? Then definitely join our Patreon community!
---