One of the things we've noticed during our trip to America is that the word "resort" is used in a different way than in Europe. In the states, every type of accommodation can be called a resort, even
campgrounds
. In Europe, resorts are the type of accommodation where the visitors rarely leave the place because everything is available inside. There are often different swimming pools, bars, restaurants, and lots of organized activities to keep guests busy.
They are little islands of pure vacation pleasure at a holiday destination.
Nudist resort Desert Sun in Palm Springs has everything to complete our European idea of a "resort". This is the perfect place for those who love the Palm Springs weather but have no further intention to experience anything which requires wearing clothes. Or at least not during the first week of their stay.
How to get to Desert Sun Resort
The Desert Sun couldn't have been located more conveniently, right on the corner of Indian Canyon Drive and the 111. If you're coming from the west, it's pretty impossible to miss. Shops, supermarkets, bars, and restaurants are right around the corner, but why would you bother? We've told you before, this place has everything onsite! Well, except for a supermarket that is. If you like to prepare your own snacks or drink your favorite wine you may have to put those pants back on and walk those couple of hundred meters to the shop.
Even though there are two big roads right next to the resort, you barely notice anything about this because the buildings are taking away all of the noise. It's impressive how a place can be this serene on such a busy corner.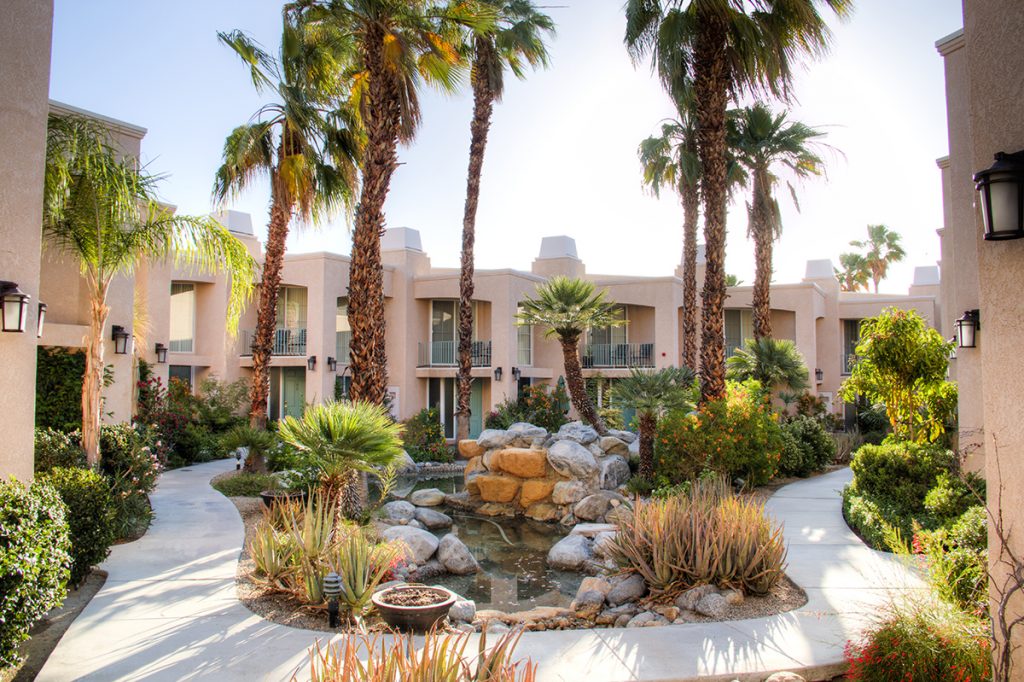 Where to stay at Desert Sun Resort
The resort has about thirty rooms which are divided into two main categories: the Chapparal rooms and the Courtyard rooms. The Chapparal Lodge was once famous among movie stars and is now the main building of the Desert Sun Resort. All rooms have a king-size bed (or two twins), a mini-fridge, and a terrace with a view over the main pool. The Courtyard on the other hand is an oasis of silence inside the Desert Sun. The rooms and suites around the Courtyard are more spacious than those at the Chapparal and provide a nice hideaway for those who prefer to get away from the crowds. The Courtyard is located next to the spa and the Quiet Pool.
Then there are also about 50 privately owned villas and condos that are available for rent as well. We had the opportunity to stay in one of the one-bedroom villas and it kind of felt as if we were staying in our own apartment in the naked city Desert Sun. A fully equipped kitchen, a nice living room, a huge balcony, and a bathroom with its own jacuzzi… This was better than just an apartment.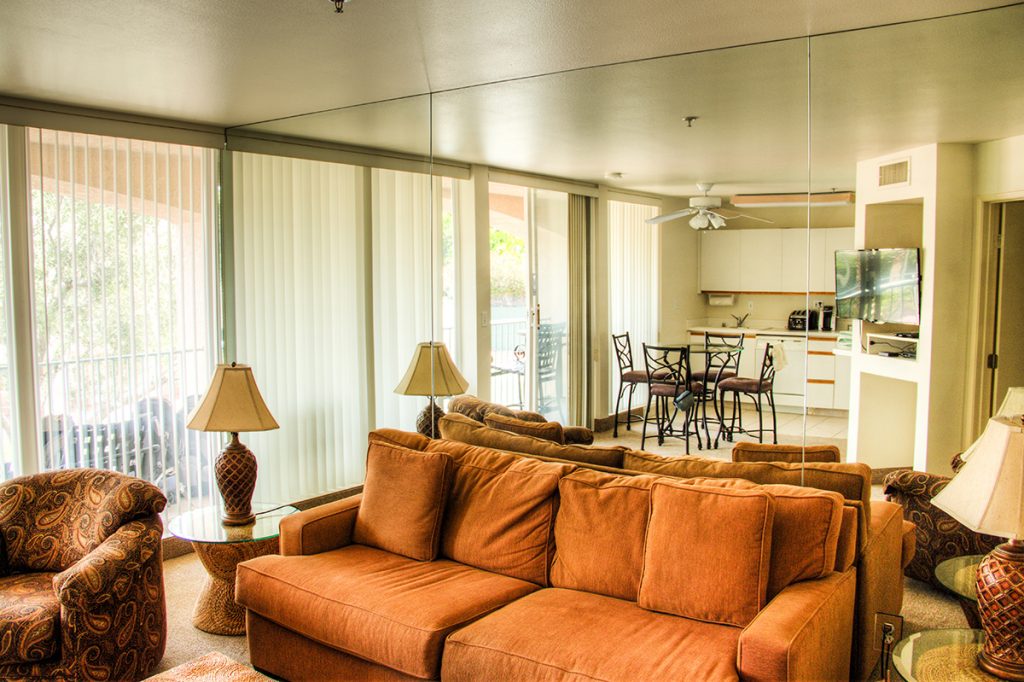 What to do at Desert Sun Resort
The major advantage of staying at a place like Desert Sun is that the facilities are endless. We'll try to list the most important ones, but excuse us if we forgot something.
First of all, there are three large swimming pools, the main pool is also called the "activity pool", has a volleyball net, and is the place where most visitors hang out during the day. Then there's the quiet pool next to the spa. The comfortable couches next to this pool are ideal for reading a book or dozing away after lunch and the third pool is the saltwater pool. This one is tucked away between the rows of villas and is often even quieter than the Quiet pool. Next to the saltwater pool and the Quiet pool are two jacuzzis for those who like it more hot and bubbly.
Several patches of lawn are spread over the property and provide even more spots for sunbathing, there's a massage service, there are BBQ areas, there's a gift shop, an outdoor fire pit for chilly evenings or mornings, a tennis court, a gym, a gift shop, a meeting room, a bar/restaurant, and this list can go on and on.
If you think that with even all these amenities you would eventually get bored, think again. Several activities are organized on a weekly basis, ranging from happy hours to karaoke nights (ask about our legendary performance of "Hotel California") to theme parties and concerts. Check the calendar for more info.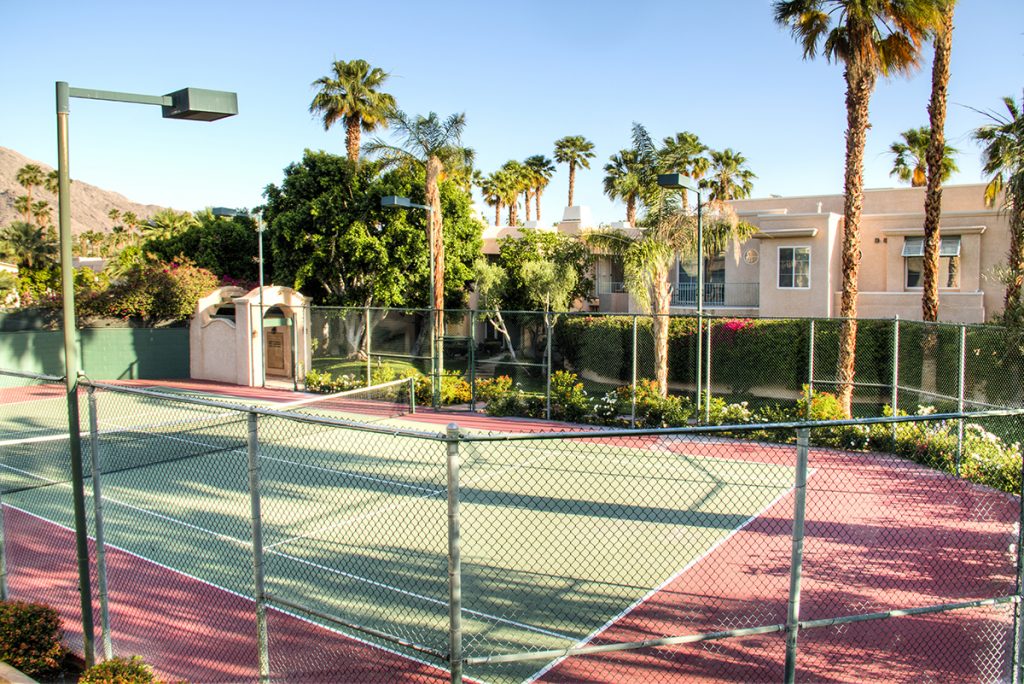 Around Desert Sun Resort
Palm Springs is an oasis in the Coachella desert, greenery inside the city, wide and desolated desert just outside of it. Several parks are nearby of which Joshua Tree National Park is the most famous. The more active among us can spend their days hiking through the desert and the different parks and gaze over magnificent landscapes, but if that's not you're thing you could as well opt for hiking up and down Palm Canyon Drive while checking out the stores and stop once in a while for a well deserved Margarita.
All of this depends of course whether you're actually planning to leave Desert Sun resort at all.
Staff of Desert Sun Resort
Our first experience of Desert Sun Resort and one that will probably stick for a long time is a warm smile that came with the name Alba. She was the receptionist on duty when we checked in and made us feel welcome from the moment we handed in our passports. And she was a reference for most of the staff. You have to keep in mind that the Desert Sun resort is a big business that has to keep running and that the staff is often very busy. But yet they take the time for a little chit chat, enquire about how you're doing and what the plans for the day were, and always greet you with a smile. The fact that in such a big place the staff does the effort to remember several of the guest's names, says a lot.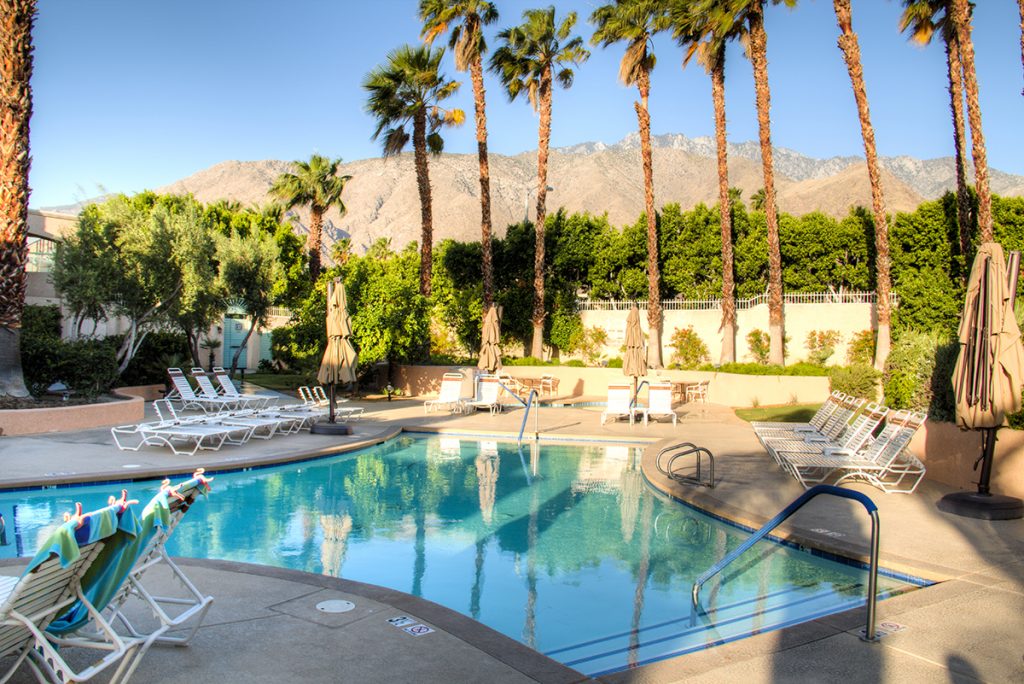 Guests at Desert Sun Resort
Although we were not at Desert Sun during peak season, the place was pretty crowded. The average visitors were couples between 40 and 60 years old (rough guess) who came over to soak up some desert sunshine. Most of the others, or at least the ones we've spoken to, were Americans but a map at the reception showed us that the Desert Sun receives guests from all over the world.
This is a big resort and you can't expect the social level that comes with the smaller ones. Visitors come for all kinds of reasons and some just want to be left alone during their week off. But most guests were friendly and talkative and created a positive social vibe.
If this would be your first time at a nudist place, do mention it during your reservation or at the reception and Michael, the manager, or one of the staff members will guide you to the more secluded areas, like the saltwater pool, so you can take your time to get comfortable.
Summary
We're not going to lie to you, a visit to Desert Sun Resort will take quite a bite out of your budget. The place is not cheap. But you certainly get what you paid for: A nice place to be naked, a great place to relax, and amazing staff who make sure that your drinks are cold, your food is hot and your stress is nowhere to be seen.
Read more about Desert Sun Resort on
NUDE
Naked Wanderings' Ultimate Guide for Nudism in California ebook

Are you looking for great nudist resorts and nude beaches in California?
Are you looking for the best tips for a nude vacation in California?
Then our ebook will be the perfect resource for you!

Learn More
Need help with planning your trip? Check out our Resources Page for an overview of the best companies we use during our travels
Disclaimer: We have been invited as guests of Desert Sun Resort, but of course all opinions are our own. We are super confident you will like this place as much as we did!
---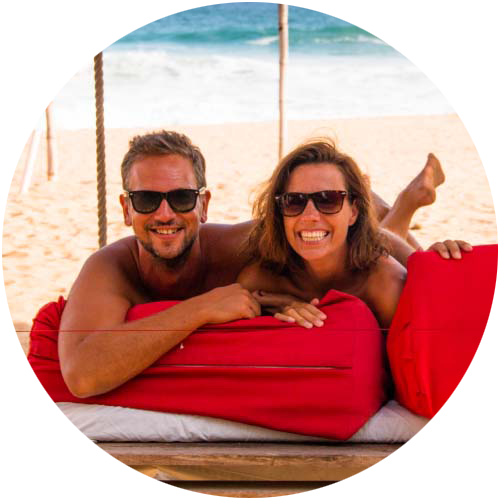 Support Naked Wanderings
Do you like what we do for naturism and naturists? Did we make you laugh or cry? Did we help you find the information you were looking for? Then definitely join our Patreon community!
---