IMPORTANT: Unfortunately Living Waters Spa closed business in September 2019!!
Palm Springs is by far the most popular city to visit in the Coachella Valley and many forget that there are eight other towns as well. One of those, Desert Hot Springs, was high on our list because… It has a place where we could get naked of course!
Living Waters Spa is not your regular nudist resort. Yes, you could come here to soak up the hot desert sun on your bare skin, yes, you could come here to spend some nude time between your hikes in the area, but most of all, you could come here to
relax
. If there's one thing we could compare Living Waters with, it would be a European nude spa center. This is the place where you come to get away from the rat race, away from your boss, away from traffic jams and deadlines and screaming kids (even your own). It's not difficult to imagine that those who have been working their ass off in Los Angeles during the week come to Living Waters to wipe off the stress on Friday evening, get zen on Saturday, and feel reborn by Sunday evening.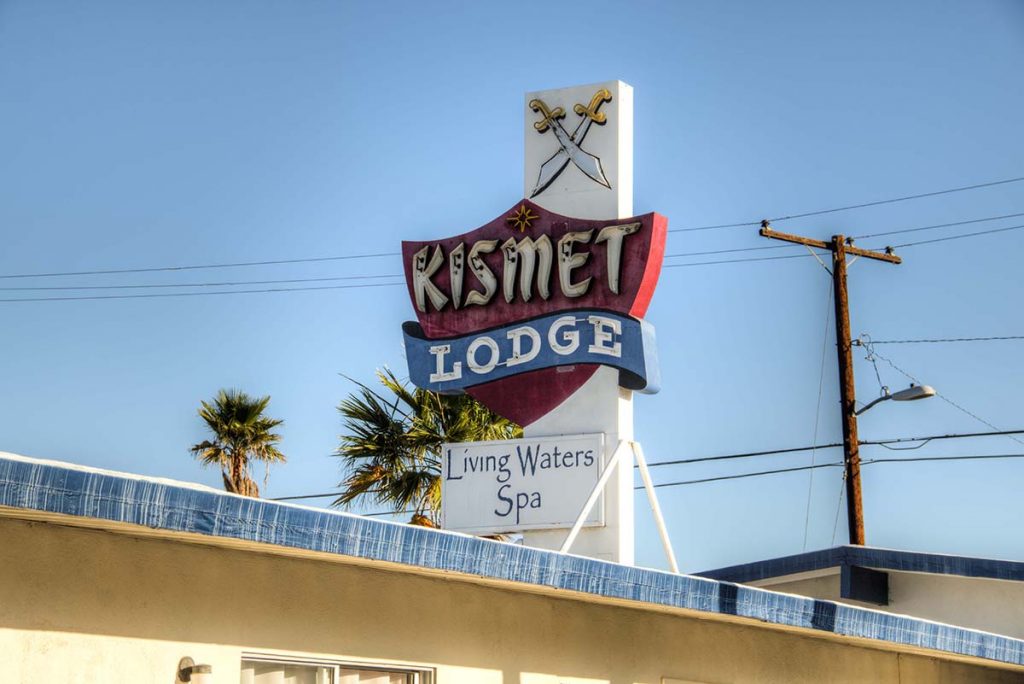 How to get to Living Waters Spa
Desert Hot Springs can hardly be compared with its neighbor Palm Springs. No party scene here, less loud billboards and expensive shops, and even more expensive restaurants. This is the sleepy desert town you've seen in the movies. All necessities are there, a couple of gas stations, a supermarket, a Seven-Eleven, and even several marijuana shops if that's your thing. Most importantly though, the town is full of hot springs and many places have taken advantage of this to build a spa resort around them. But there's only one resort where nudity is the norm.
Getting to Living Waters is not hard. Coming from freeway 10 you get off at Palm Drive, go north and take a right on Dillon, a left on Mountain Air Road and you're almost there. The tricky part is the sign outside. It's HUGE, but it says "Kismet Lodge", only the good eyes will spot the much smaller sign below saying "Living Waters Spa". The owners just loved the sign (and we can't blame them, it's a real beauty) and didn't want to take it away. It does cause some confusion, but now you know what to look for.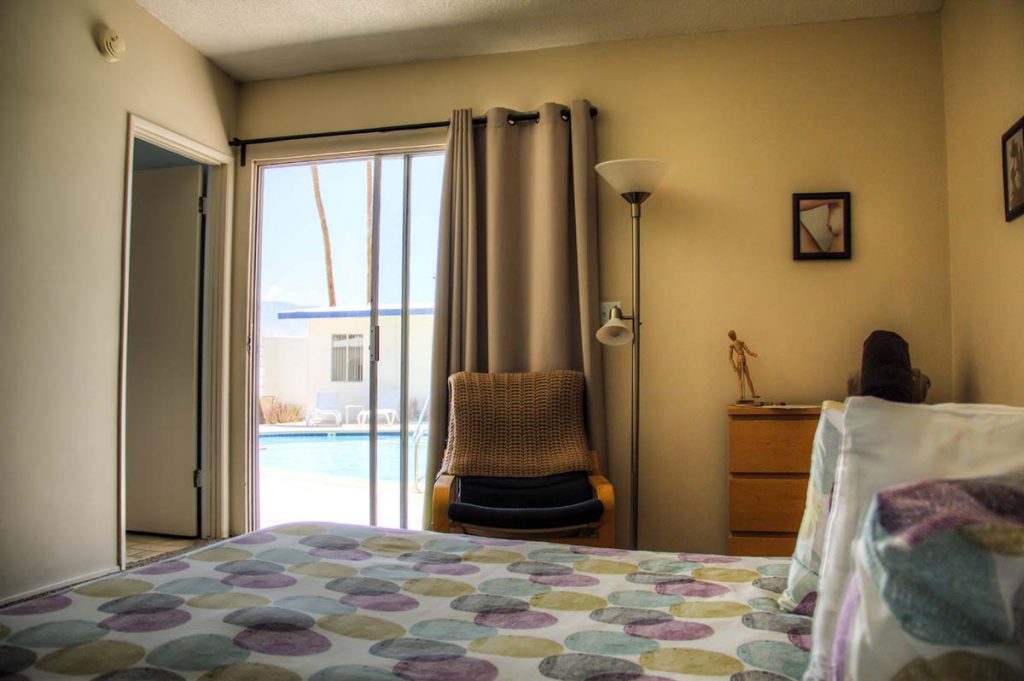 Where to stay at Living Waters Spa
You have two main options when you're staying at Living Waters. There are the poolside rooms which are (obviously) located around the pool in the resort and then there are the condos which are more luxurious, have two bedrooms, a complete kitchen, and a TV and DVD player, but are located across the street.
Why are we mentioning the TV? Well, the poolside rooms don't have them. We stayed in one of those and honestly, it was the first time in the USA when we didn't have a TV. At first, this felt a bit strange, but after all, it's part of your relaxation. Watching TV before you go to bed may feel relaxing, but it isn't. Trust us. And, yes, now that you know this you can bring your laptop and watch this or that Netflix series on the little screen, but why not get completely soaked up in the atmosphere? Why not leave TV for what it is for a couple of days? Netflix will still be there when you get home.
What to do at Living Waters Spa
This is a spa resort and spa is what you get. A very nice swimming pool, a large hot tub, and a sauna (in case the desert sun just isn't enough for you) are the main facilities at Living Waters Spa. Because they have their own source, the water comes straight from the earth and contains more minerals than a rock covered in a sauce of milk, nuts, and broccoli.
If the tub, the sauna, the pool, and the relaxing music are not yet enough to get you all chilled out, we have good news for you. Both the owners are licensed masseurs and so is one of the staff. We're pretty sure that they can rub out all the remaining stress.
Other than that a continental breakfast is included in the price and so are refreshments and three o'clock drinks.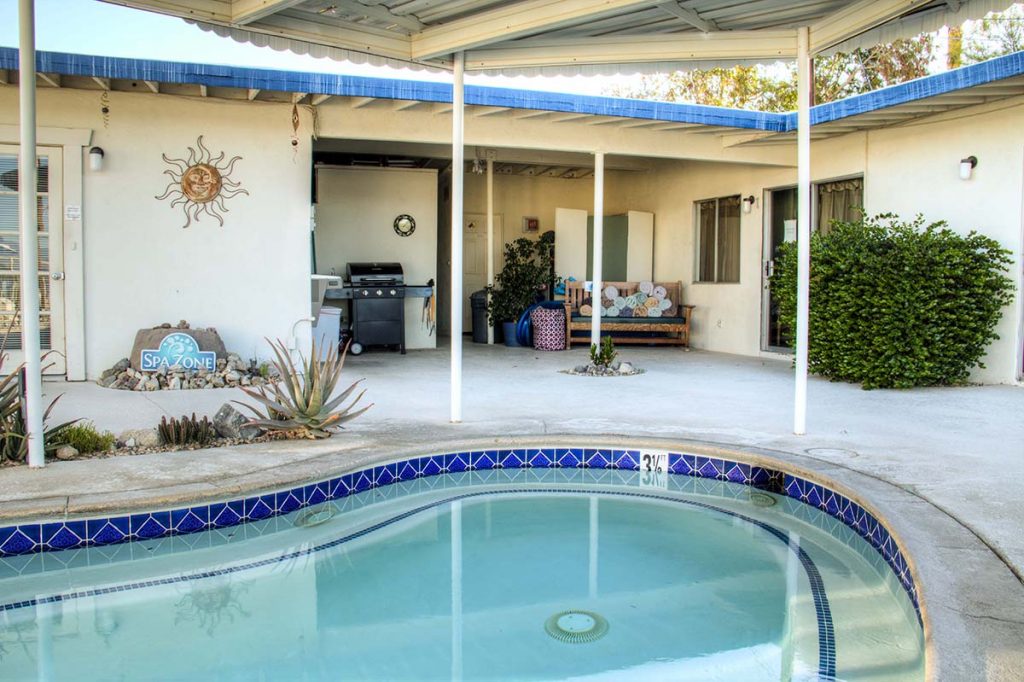 Around Living Waters Spa
If you're coming to Living Waters to get away from it all, we would strongly recommend you not to visit Palm Springs. It's a busy place full of shops, restaurants, and bars. On the other hand, a good night out in the desert may well be exactly what you need. The choice is yours, Palm Springs is a really fun city but it's certainly not relaxing. A better option might be a visit to one of the nearby parks. Joshua Tree is the most popular one and not without reason. The views you get there are just spectacular and it's pretty much around the corner from Desert Hot Springs. Another option is Indian Canyon which is way less touristy than Joshua Tree and includes an oasis of palm trees inside the desert. Magnificent scenery all around, but we understand if you just want to stay in, order some food and a bottle of wine, and get another session in the sauna.
Staff of Living Waters Spa
Jeff and Judy, the owners of Living Waters Spa, knew exactly what they wanted when they took over the place more than a decade ago. They had been part of the rat race themselves, living a high pressured life, working a lot, earning money, and then… something happened. We're no tattletales, so if you want to hear the story you'll have to ask them yourself. All we'll tell you is that they wanted a new direction in life. A direction towards mindfulness and relaxation or maybe a resort that provides these values to other guests. Living Waters Spa was born.
While we were there, we got in touch with several other members of the crew, but unfortunately, their names didn't last (in our defense, we both have a visual memory. We'll recognize your face but we'll have no idea what your name is. That's why we greet everyone with "Hi man" or "What's up girl?". But don't tell anyone).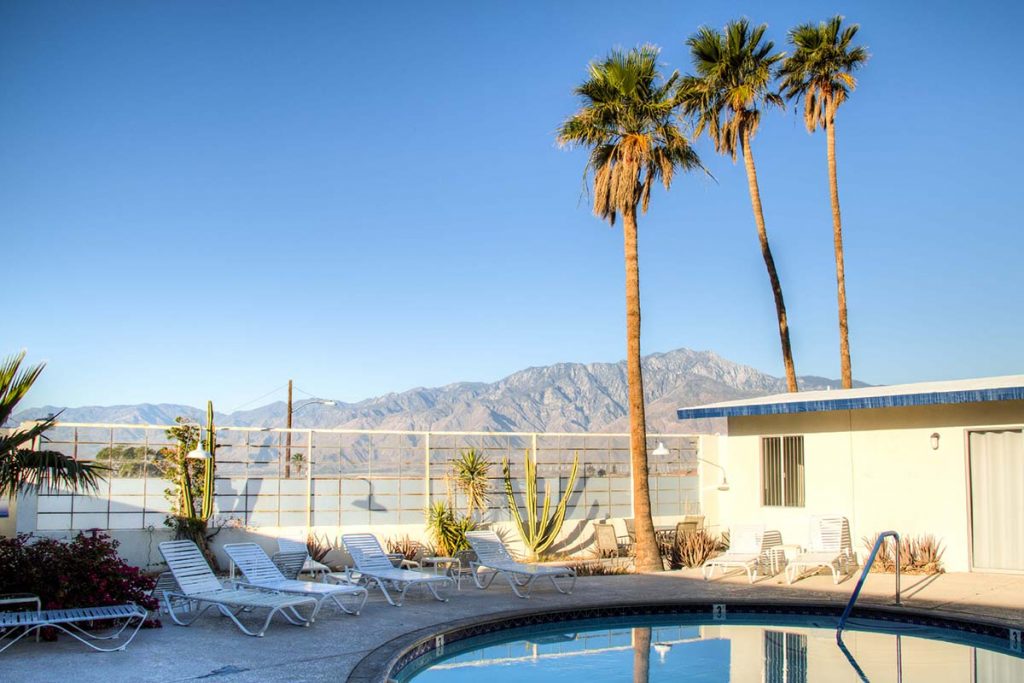 Guests at Living Waters Spa
There were several other guests while we were at Living Waters. We've spent a lot of time in the hot tub chatting with a couple from Washington who had come south to escape the cold, then there was a couple from New Jersey who wanted to escape the cold so much that they were looking for a house to buy in Desert Hot Springs and a guy from Los Angeles who came for the reason we've mentioned before: To destress. And then there were two women, and this is something we've rarely seen in the USA, two women, friends, who came for a day of relaxation. This immediately took us back to Europe where its a common thing for girls to get together to the wellness center. Apparently the states are taking over this habit. And we can only applaud.
Summary
Living Waters is a getaway from daily life. In fact, it's a getaway from life as you know it. You come here to recharge, to get rid of your stress and to become a source of refreshing ideas. Some can do this in an afternoon, some need a weekend or a week and for some even a month won't do. It doesn't matter, this is the place where you start to become the new you.
Naked Wanderings' Ultimate Guide for Nudism in California ebook

Are you looking for great nudist resorts and nude beaches in California?
Are you looking for the best tips for a nude vacation in California?
Then our ebook will be the perfect resource for you!

Learn More
Need help with planning your trip? Check out our Resources Page for an overview of the best companies we use during our travels
Disclaimer: We have been invited as guests of Living Waters Spa, but of course all opinions are our own. We are super confident you will like this place as much as we did!
---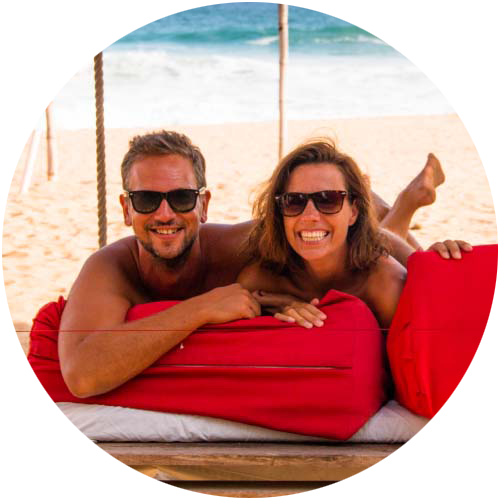 Support Naked Wanderings
Do you like what we do for naturism and naturists? Did we make you laugh or cry? Did we help you find the information you were looking for? Then definitely join our Patreon community!
---