Naturism is a wonderful lifestyle that started in Europe but is now expanding towards the whole world. Most of the time we share our own views on the different aspects of nudism but once in a while we like to pass the mic to hear about how someone else's experiences.
Our guest for today is Anna from the UK, who will tell us everything about her naturist lifestyle and experiences.
Hello Anna, tell us something about yourself
Hi, I'm a mum of 2 children, both in their early 20s. I am a Special Needs Teacher for 11 to 19 year olds. I have degrees in Geography and Teaching and Learning. I was the first person in my family to stay on at school to do A Levels (not that I passed them!) My main passion is rescuing dogs, I'm on my 7th rescue now having rescued from this country and abroad. I used to live in England in a busy city nowhere near water. I moved to the coast of Wales 2 years ago which is bliss. I have caravanned solo for years but last year traded in Katy Caravan for Dave the Motorhome. I love it! It gives me the freedom to visit my family but also just to take off and explore any place which takes my fancy.
How and at what age did you become a naturist?
I was 19 and on holiday with my partner at his sister's house in Moraira, Spain. The husband had written the location of the nearest
naturist beach
. With much giggling we took off, bought grapes and a cheap bottle of plonk from the roadside and found the beach. I was so nervous but decided that if we just took our clothes off quickly then nobody would know we were newbies. The whites of our bodies did that. I was determined to always keep my legs together too. Within 10 minutes I was hunched over a backgammon board, open crossed legs, drinking plonk and knowing this is how I always wanted my body to feel. Getting in the water, however, was the most wonderful feeling in the world. Swimming naked was and still is the most balancing feeling I ever experience.
Is naturism allowed in your country and what's the public opinion?
Yes, being naked is. Public nudity is legal in the UK as long as there is no intent to cause harm or distress. My partner and I live in different parts of coastal Wales. I used to stick to the places where naturist are known to go, however now, unless the beach is very busy I will go naked, swim in the sea and rivers . I have never had any negative comments, EVER. Only those such as "you're brave…" but that is only in the winter when other people are wrapped up. I've been a naturist for nearly 30 years now.
What do you think is the best and worst thing about naturism?
The best thing is the feeling of the natural world on your skin: wind, water, sun, rain, rocks, sand etc.
The worst thing is the
attitude of some males
which assume that because you're naturist you must absolutely want to see photos of their little button mushrooms!
This has and does put women off from coming into naturism and trying it for themselves. These are also the same men who complain that there aren't enough naturist women to meet in order to have friendships or partners… Doh! I MUST MUST stress though to other women that in the normal world of naturism, camps, BBQs, swims, etc this isn't an occurrence, this has come about with the advent of social media and we all have the power to block and report. The majority of the male community also comes down firmly on those not behaving appropriately.
Do you find it easy to make naturist friends?
Being part of a naturist club for about 15 years has given me some lifelong friends and forged many wonderful family relationships. I don't look for friends in the naturist social media world although I may invite some ladies from a women's only Facebook group I'm in to my house in the summer.
I met my current partner however on a naturist Facebook group (not a dating one). It's wonderful and it makes a massive difference to have a naturist partner.
What's the best tip you have for beginning naturists?
Think.. "what is the worst that can happen?"
If you find a nice river or beach you want to be naked by then look around, be respectful of families who may not quite be ready for the "Daddy what's that thing?" conversation and then just try it. It's not arrestable, people will look and quickly look away, just breathe…
Anything else you'd like to share with our audience?
2 comments. My children were born into the naturist world, we also played our part in nurturing other children at our campsite. Without exception. Our children are very rounded, non-judgemental young adults. Teaching them about relationships including sexual ones was easy as they didn't equate being naked with being sexual. They didn't have that misconception. They know, far more than their peers, that bodies are all shapes and sizes not just trim shaven ones which they see in the media.
My final point is that so many of the older generations of naturists put the onus on younger ones to tell their friends to join the clubs to keep them going etc. If we ALL tell our families and friends then it normalises our lifestyle, surely that's the way it should be?
Thank you so much for your participation Anna!
Do you also want to tell your story and experiences in naturism? Please get in touch via the CONTACT page! As long as we have people who like to contribute, we can keep The Naturist Talks running!
---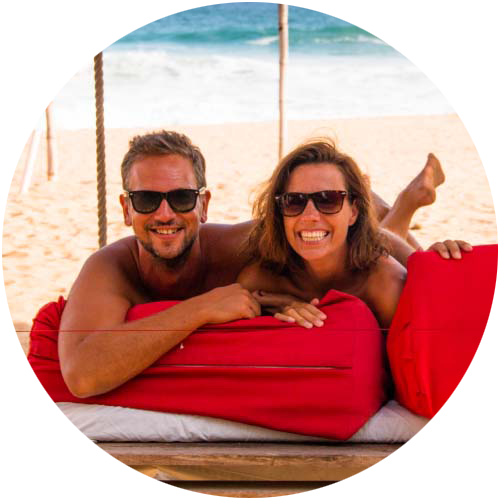 Support Naked Wanderings
Do you like what we do for naturism and naturists? Did we make you laugh or cry? Did we help you find the information you were looking for? Then definitely join our Patreon community!
---