We previously already reviewed the
FKK camping on Ada Bojana island
, and we weren't exactly raving about it. Shortly summarized, we've been to way better places than this one. But that was just about the camping. The island and its large nude beach is something else, in a good way. In a very good way.
Along our way, through Croatia and Montenegro, we had heard about this place a couple of times and the opinions seemed to differ quite a lot. Some found it one of the greatest places on earth and others found it (excuse our language but we prefer to tell you the truth) a shit hole. Needless to say that this got us pretty curious about the place, curious enough to hitchhike over there to have a look for ourselves. And we were amazed.
Normally we don't spend a whole blog post to one single place, but the fact that we make an exception for Ada Bojana should say enough.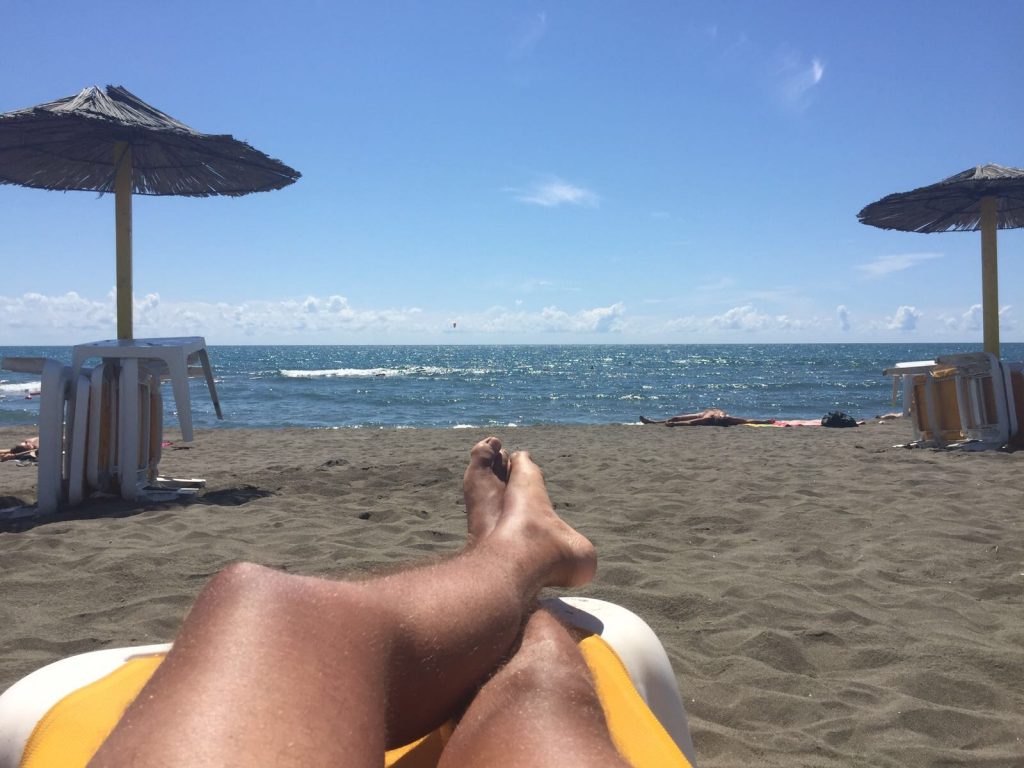 What's Ada Bojana?
The name literally means "island in the Bojana river", which is a pretty obvious choice for a name because on one side of the island there's the Adriatic sea and for the rest, it's surrounded by the river which makes for a bit of an uncommon setting. If you've been traveling the Adriatic coast in Croatia and Montenegro, you're pretty used to visiting islands by ferry, but this island is accessed by a bridge, a rather small one as the river is just a couple of tens of meters wide.
Ada Bojana is a special location for many Balkan nudists as it was the first official nudist spot in former Yugoslavia, a country which soon got one of the most popular nudist destinations of the seventies and early eighties. In 1972 the first cottages had been built and since then nudists from all over the country came over to check out the place and take off their clothes.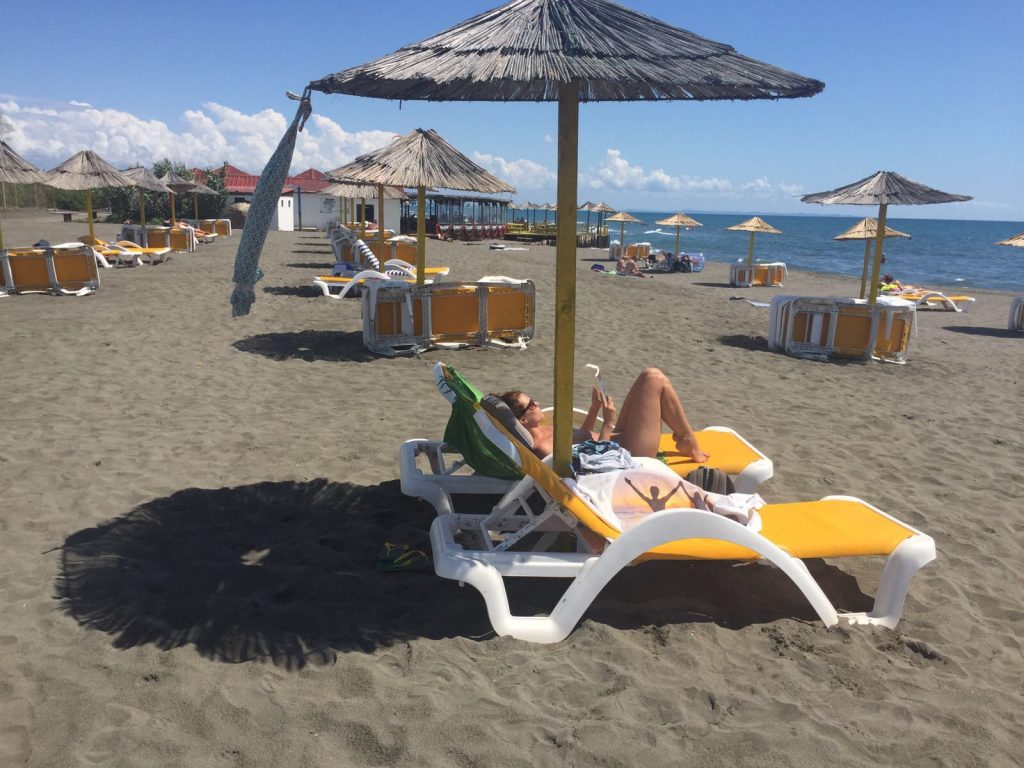 A piece of the Caribbean in Europe
This could be the slogan of any nudist resort in the south of France or Spain, but whenever you get there, especially if you had the opportunity to actually experience the Caribbean, you think "Nah… this is not really like it". Well, in Ada Bojana we really had this feeling. Actually it was the first thing that came to our minds… Somehow we ended up in the Caribbean.
The weather is of course one thing, when we were there we had a decent 30 degrees Celcius. The fact that there's a sand beach, although it's not a white one, was also pretty uncommon along the Adriatic coast, and of course, there are the crystal blue waters, but most of all it was the atmosphere. The palm trees might have added to the effect, so did the wooden beach bars and restaurants serving cold beers, cheap cocktails and seafood, and of course the surfers.
Next to being a popular nudist destination, Ada Bojana is also very known to surfers. The waves are just big enough for windsurfing and the winds go in the perfect direction for those who prefer a kite instead of a sail. And the surfers also add to the Caribbean atmosphere, we guess.
Truth to be said, we're not the kind of travelers who can spend more than three days in a row on a beach, but one way or the other we managed to do that on Ada Bojana. Just because we loved being there.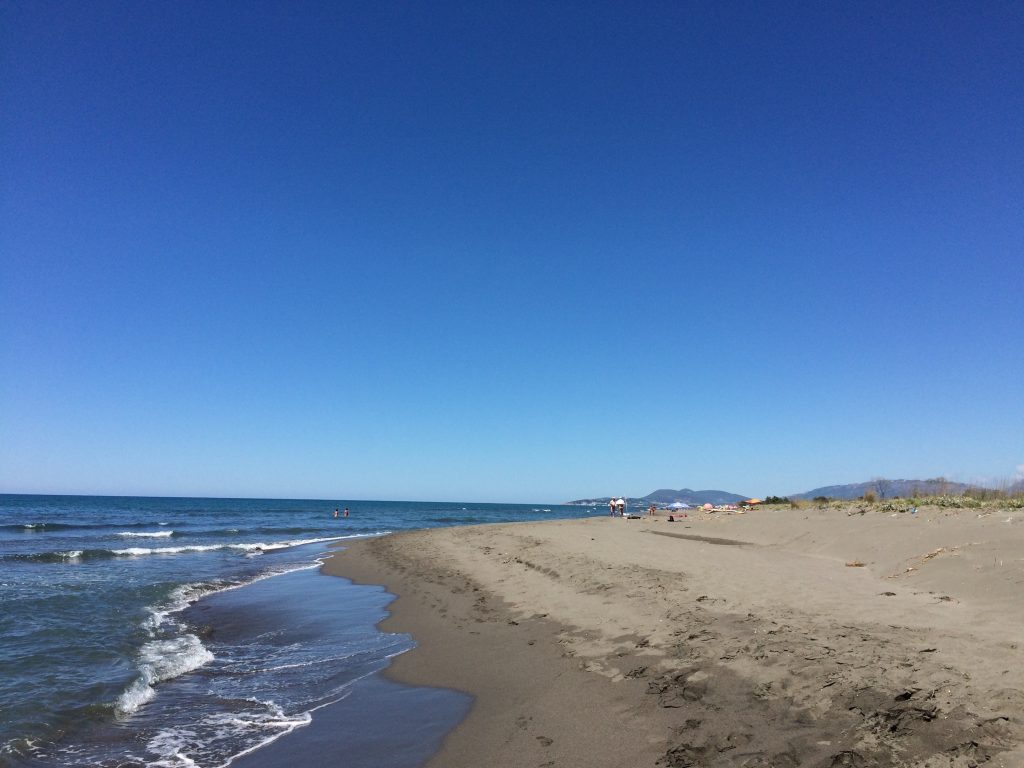 How nudism has won on Ada Bojana
We had no idea what to expect when we came to Ada Bojana, mostly because of the mixed opinions we had received before and also because we hadn't done much research upfront. We knew that there was going to be a nude beach though, but based on our previous experiences of the nude beaches near
Herceg Novi
or
the Dubrovnik Riviera
our expectations were pretty low. You have no idea how surprised we were when we found a hundreds of meters long sandy nude beach instead of the couple of meters rocks that we meanwhile got used to.
The nude beach is nudists only and has guards on both sides reminding you of the fact that you'll have to drop your pants if you want to enter. In the middle of the beach there's a restaurant/bar where clothing is allowed, but so is nudity. There are deck chairs which you can borrow for 8 euros a day per pair including an umbrella and a table, which is well-spent money if you're planning to spend the day as the sand does get pretty hot around noon.
On our first day when we arrived in Ada Bojana, as soon as we saw that amazing beach, we immediately rented the chairs because we know we wouldn't be doing anything else than enjoying the place. And that's exactly what we did.
It wasn't until the next day that we decided to explore the island a little bit further and what we found there literally blew our minds.
To give you an idea about the location, imagine a 300-400 meters long sand beach, with deck chairs and umbrellas and stuff and in the middle a bar. On both sides of the beach, there's a wooden fence with "no clothing" signs. The beach is accessed directly from the
FKK camping
, so there's really no need to get to the textile beach if you don't want to. But we wanted to have a look around.
Can you guess what we saw when we passed the fence onto the textile beach?
More nude people!
From the nude beach all the way to the river there's a stretch of about 4 kilometers of "textile" beach, but about 80% of the visitors there were nudists as well. And nobody cared at all.
Yes, we are fans of clothing optional and yes, we know it's not a contest, but you have no clue how great it felt to see that on Ada Bojana, the nudists had won. Except for the nude beach, the whole rest of the beach was clothing optional. And if you're offended by nudity, get off our island!
Find the best nudist accommodation in the area on NUDE
---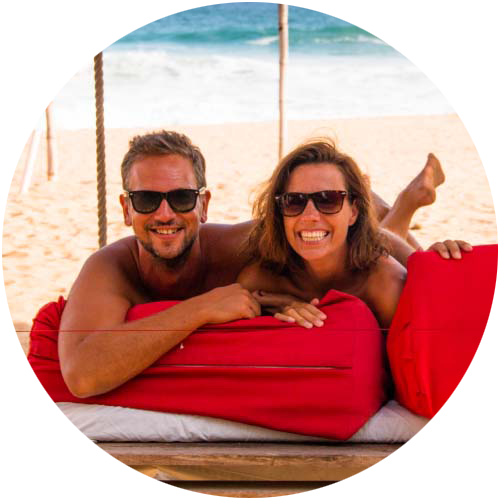 Support Naked Wanderings
Do you like what we do for naturism and naturists? Did we make you laugh or cry? Did we help you find the information you were looking for? Then definitely join our Patreon community!
---