We can consider ourselves lucky about this as we've discovered nudism together and we both enjoyed it equally. (if you want to know how, see 
here
and
here
)
But what if you're already a nudist and your significant other isn't?
Or you've been wanting to give it a shot but you don't know how to tell him/her?
The key to failure
You know the saying "Throwing a kid into the water is the best way to make him swim"? Well, we don't know how it works out for those kids, but we can assure you that it's a bad idea when it comes to nudism.
Seriously, surprising someone into nudism is really NOT done.
"We arrived at our holiday resort baby. Oh yeah, I didn't tell you before but it's clothing prohibited so please take off all your clothes"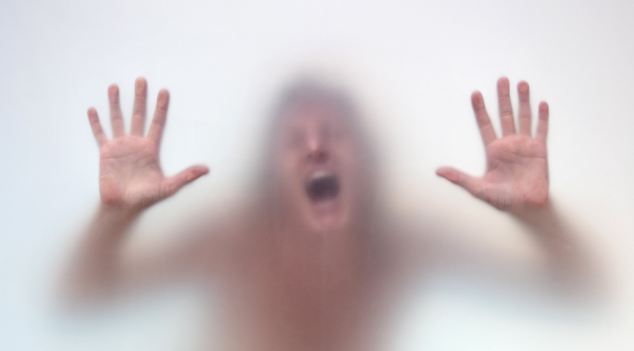 Really, we can't stress this enough, NOT done!
Going naked for the first time in front of others is a big deal and takes you way out of your comfort zone, so everything else should be as comfortable as possible. Having a husband or wife who suddenly pronounces to be a nudist doesn't add to the comfort at all.
So we'll say it again: NOT done!
A variation to this is to be naked when your husband or wife comes home. Then you have already an ice breaker for saying that you're actually a nudist and love being naked around the house.
This may sound like a good idea, and it is way better than the previous one. However, there is a big chance that when your partner comes home and sees you naked, he/she will link this immediately to sex. Because for many people who don't know about nudism nudity equals (at least a desire for) sex. And you will have serious troubles removing that link again.
The key to success
If you only remember one word of this article we want it to be "conversation".
Now say that out loud! "CONVERSATION".
Conversation, conversation, conversation!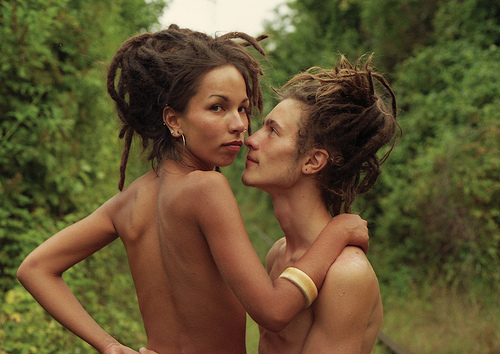 In our relationship everything can be talked about as long as there's no pressure, but things like this do need a bit of preparation.
A good way to test the water is by asking if your partner has ever gone skinny dipping. Many people have done that at least once in their life. If so, you can talk a bit about that before announcing that you would like to try it again. If not, at least the ice is broken and you can tell about your experiences.
Even before you're actually saying that you're a nudist you'll get an idea of how they stand against it.
Once the ice is broken, you'll need to address many questions, so be prepared for that. But lucky you, you can find most of the answers on this site!
It all depends on who your partner is.
If you know that he/she is not very happy with their body shape, you can tell them that there will be people of any shape and that naturist places are the only places in the world where literally nobody cares.
If he/she has been raised up conservatively, you can talk about how nudity has no direct link with sex.
And so on, we're sure you can find this out by yourself.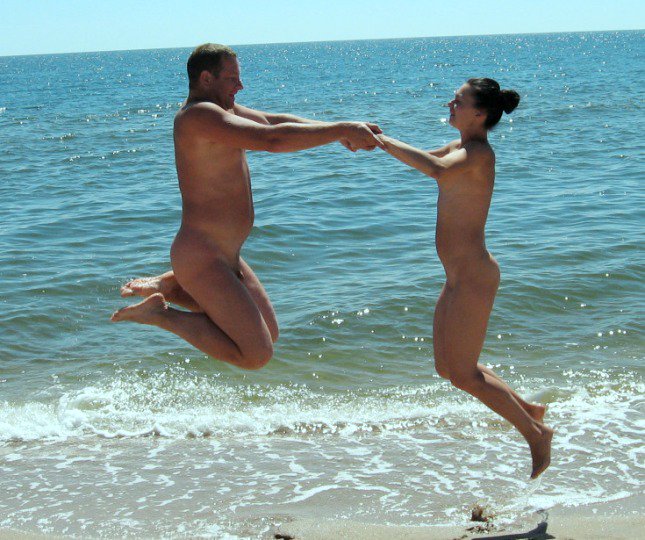 She said yes!
Congratulations! He or she wants to give it a shot!
What do you do now?
A good way to start is by being naked around the house. Don't be afraid by making some kind of event of it, pick a date when you both have nothing to do and agree to spend the day naked in and around the house together.
Or just take off all of your clothes right after the conversation if you both feel like it. It doesn't really matter.
The next step will be public nudity.
A good way to start with this is by going to a clothing optional (not clothing prohibited) beach, campground or resort. In this way your partner can first adjust to the nudity around you and then decide when he/she is ready to take off some clothes.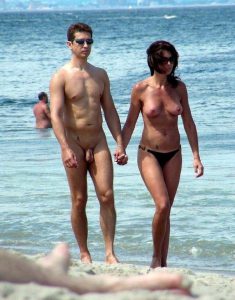 He said no!
Unfortunately there is also a chance that your partner really doesn't want to try nudism. Or did give it a shot but didn't enjoy it.
If they don't feel comfortable being seen naked by others, you could agree on only visiting clothing optional places where you can go naked but your partner can remain clothed.
If, on the other hand, your partner doesn't want YOU to be seen naked by other men or women you will have to ask about their concerns and try to address them.
Did you ever have this talk?
How did it work out for you?
Naked Wanderings' Complete Guide for the First Time Nudist ebook

Do you still have questions about nudism or naturism?
Are you looking for even more tips and tricks?
Our ebook will be the perfect resource for you!

Learn More
Picture credit: The photos in this post are coming from Google and Twitter. If you find one of yourself and you don't want it to be on our blog, let us know and we'll remove it.
---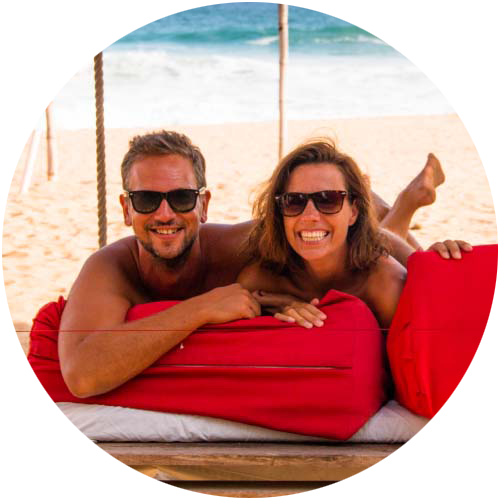 Support Naked Wanderings
Do you like what we do for naturism and naturists? Did we make you laugh or cry? Did we help you find the information you were looking for? Then definitely join our Patreon community!
---