You're probably thinking "they must be joking" right?
All your life you've been spending thousands of hours and dollars picking clothes that make you look thinner, hats that make you look larger, make-up to hide the wrinkles and jewellery to distract the attention from all the rest. Who knows, maybe you've even been to a doctor to have this or that corrected.
And now Nick and Lins are telling you to leave all that behind… and just get naked.
Maybe you already imagine yourself standing there completely in the nude, with your too much fat, too wide hips, your wrinkles, your beer belly, your too small penis, your man boobs or your lady boobs that look like man boobs.
That can't be true…
We admit, using nudity as a way to improve body confidence does sound controversial.
But still, we strongly believe it's the truth. Let us explain.
Nude is nude, there's no way back
Remember the days at school when you forgot to do your homework?
All the way to school you're considering your options…
"Should I call in sick?"
"Should I make up an excuse?"
"Which excuse?"
"Which excuse haven't I used yet?"
"Oh boy, I hope the teacher is sick"
"Maybe he forgot about the homework?"
Maybe you were a grade A student and this never happened to you, but we remember this situation as if it was yesterday. Once you got into the classroom you felt a relief. Not because you found a solution, but because there was no way back.
Another example.
When we're picking a new travel destination we often go for a country we don't really know a lot about. Like last year we decided to go to Mozambique just because years ago we heard a guy talking about it and it sounded pretty cool.
Then some days before we leave the stress kicks in. Did we forget something? How will it be like over there? Will there be public transport? What if we get robbed/raped/killed?
But the minute we get on the plane all stress disappears.
Why?
No way back.
Now back to nudity.
As long as we have something, anything to cover up what we consider our flaws, we will try to use it. The more options we have, the more stress we will have to pick the best option. Think about the hours you've spent in front the closet.
On a nude beach or at a nudist resort or so you don't have any options. Your birthday suit is the only suit you're allowed to wear. Once you accept that, you'll feel the stress flowing out of your naked body because there's no way back to hiding anything.
Nudism knows no competition
We dress to impress. That doesn't always have to do with beauty. By the way we look we try to give many signals to the world: How much we earn, how we're feeling, how much we care about the environment, which political party we support, whether or not we're up for sex. On every of these topics we'll get competition.
There will always be that guy with the nicer watch or that woman who's skirt is just a bit shorter than yours.
When everybody's naked, what can you compete about? There's no need to emphasise our strengths or hide our flaws and we realise that everyone has both.
Maybe if miss universe suddenly appears next to you, you may be thinking "Damn I wish I…". But what are the odds you'll ever see her naked? You better enjoy the moment! And even with her you'll notice that certain parts of her body have been nicely photoshopped in the magazines.
Every body is different and yet when everyone is nude you feel like you're all similar.
No false comparisons
How do we measure beauty?
All the time we are looking at others to be able to give ourselves a certain degree. That's nothing abnormal, everybody does it. What's abnormal is who we compare ourselves with.
Every day we are so much overwhelmed with images of perfect bodies in commercials, magazines, news papers and the internet that we start to use these bodies as our reference. That's exactly where it goes wrong.
Research has shown that 80% of women in the US are not satisfied with their bodies and 58% of college-aged girls feel pressured to have a certain weight.
Men are not different, although they tend to focus on other body parts. A study in London showed that 30% of the men are dissatisfied about the size or shape of their penis and 35% was neither dissatisfied nor satisfied.
This is quite funny actually. Show a man 20 documentaries about bodybuilding and not a single time he will think that his muscles are too small. But show him one porn movie…
When you're going to any nudist resort, you get the chance to compare your body with "real" people, everyday people, people like yourself. You'll notice that bodies literally come in all sizes and that you're actually looking pretty much alright.
Picture credit: The photos in this post are coming from Google and Twitter. If you find one of yourself and you don't want it to be on our blog, let us know and we'll remove it.
---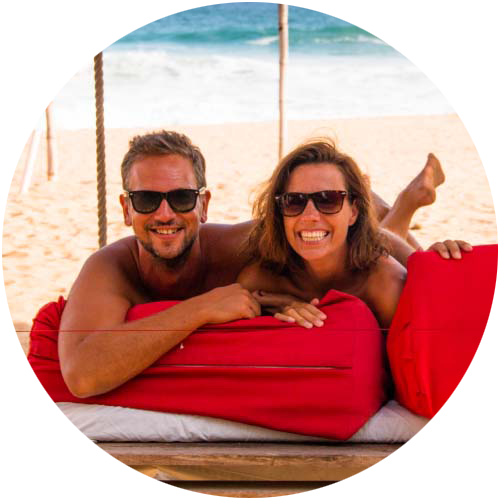 Support Naked Wanderings
Do you like what we do for naturism and naturists? Did we make you laugh or cry? Did we help you find the information you were looking for? Then definitely join our Patreon community!
---