Maybe it's wishful thinking, or maybe it's because we're meeting so many naturists around the world, but we truly have the feeling that naturism is growing. Within naturism, especially naked hiking seems to become more and more popular.
This doesn't really come as a surprise to us. Many naturists we talk to like to be active, and the options are often a bit limited. Hiking or walking is an activity that can be enjoyed by all ages, can be adjusted to your physique, and is one of the best ways to enjoy nature.
View this post on Instagram
Naked hiking on private property
The downside of naked hiking is that it exists in some kind of grey zone of the law. Technically, it's considered illegal in most countries, although the law is rarely clear about this. On the other hand, we're all smart enough to not pick crowded places for our naked hikes. If a nude person walks around in the forest and nobody's there to notice… Does it matter?
If you want to be certain that you're not doing something illegal, there are quite some naked hiking options on private properties like naturist resorts. Many resorts around the world have huge domains and often you'll find well-maintained hiking trails. We've hiked naked in French forests, along the Spanish coast,
next to a lake in Canada
, in the Californian desert and in the Argentinan highlands. All on domains where nudity is legally accepted.
Of course, visiting private properties comes at a price and then you may wonder if it's worth paying tens of dollars or euros just for a refreshing afternoon walk. Additionally, not every resort allows day visitors, so you may even have to stay overnight.
View this post on Instagram
Naked hiking and the law
As mentioned earlier, in many countries naked hiking is illegal. Exceptions to this rule are the UK and Spain, where non-sexual public nudity is not considered an offence, and the Netherlands, where it's legal to be naked in natural places. In most other countries, the law isn't as clear. In fact, we dare to say that simple nudity is allowed in many places because most often the law only talks about about things like "indecent exposure", "lewd behaviour", and "disturbing the public order". All things that are definitely not our purpose. Unfortunately, this is not how the authorities see it.
If you want to go on a naked hike in a public space, the best tip we can give you is to contact a local naturist federation or association. Most often they will know the law inside out, and tell you what is legal and what not, and which risks you're taking if you do it anyway. More importantly though, they can probably tell you about hiking trails that are known for naked hiking.
View this post on Instagram
Naked hiking and people
The law is one thing, the people are something else. Take Spain as an example, where it's not illegal to be naked anywhere. We can assure you that if you get naked on a very crowded beach, some people will feel offended or disgusted and will start making a fuss. Totally unrightfully, of course, but it will happen. If downtown Madrid is on your naked hiking route, most probably the same will happen. To the authorities, it may then become a public disturbance, which is an offence.
We found
this survey
that concludes that 25% of Americans believe that naked hiking should not be allowed anywhere, and another 30% think that it should only be allowed in specific places. Mathematically, this means that if you're hiking naked in a public (non-designated) space, every other person you encounter will think that your nudity is wrong. Of course, these are just numbers…
The survey doesn't say anything about the surveyees. What is their background? Do they represent Americans in general? And most important: Do they hike? We've noticed that people who are into hiking, not strolling, but actually hiking, tend to be quite open-minded. The reactions you'll get on a strenuous 10-mile hiking trail are likely to be different from those in your local park. But it's always a guess.
View this post on Instagram
Tips for naked hikes
We're confident that we don't need to tell you anymore to take bug spray and sunscreen and that shoes may be a good idea, even for naked hikes. The best tip we can give you is to hike in a group. This doesn't need to be a large group, two or three people may already be enough. Single naked people are just easier seen as a threat than a group of naked people.
Another tip is to strike up a conversation when you would encounter clothed people. A natural reaction might be to run away or go hide, but this will only make you look creepy. It's much better to say hello or at least acknowledge their presence. We like to pretend that there's nothing strange about our nudity and just talk to people as if we were all clothed (or all naked). Others prefer to immediately explain their nudity and how it shouldn't be seen as threatening.
Our last tip is to plan your hikes carefully. With tools like Google Earth and Google Street View, you get an idea of how private your trail will be. Because even if the map says that you'll be walking on a dirt road, it could still pass by people's backyards.
EDIT: Someone gave a great tip in the comments and we want to make sure that you don't miss it: The Strava Heatmap can show you how busy trails are, this is great for determining whether they are suitable for naked hiking.
---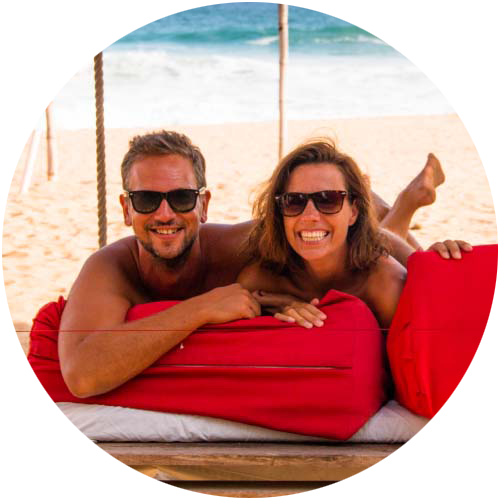 Support Naked Wanderings
Do you like what we do for naturism and naturists? Did we make you laugh or cry? Did we help you find the information you were looking for? Then definitely join our Patreon community!
---