Humans are social animals. Since the very beginning of our existence, we've been living in tribes and we are known to be at our best wherever our tribe is. As naturist bloggers, obviously our tribe consists of naturists and we should seek for them at naturist places. But one place is not the other. Meanwhile, we've gotten used to being recognised when we visit naturist resorts, but at Bare Oaks, it seemed like almost everyone knew who we were.
The fact that we have visited Bare Oaks before might have something to do with this. That was more than 5 years ago though. So we couldn't let go of the idea that people who enjoy our Naked Wanderings are the same people who enjoy spending time at Bare Oaks. In any case, thanks to all those "fans", you made revisiting Bare Oaks feel like coming home. But now that we're thinking about it, Bare Oaks also felt like home 5 years ago, when barely anyone knew who we were…
How to get to Bare Oaks
One of the big advantages of Bare Oaks and no doubt a reason for its fame is that it's located just outside of Toronto. A city with almost 3 million inhabitants and more importantly, a well-connected international airport. The best way to get from the airport (or anywhere in Toronto) to Bare Oaks is by car. There are a number of car rental agencies at the airport to choose from, we used the
Orbit Car Hire website
to find the best deal.
From Toronto, you head on the 404 highway north and after about half an hour you should start seeing the signs saying "Bare Oaks Family Naturist Park". You could follow these, or use your GPS to be sure. Getting to Bare Oaks by public transport is possible, but includes taking an on-demand bus. If you want to take this option, it's best to check with the Bare Oaks office how this works.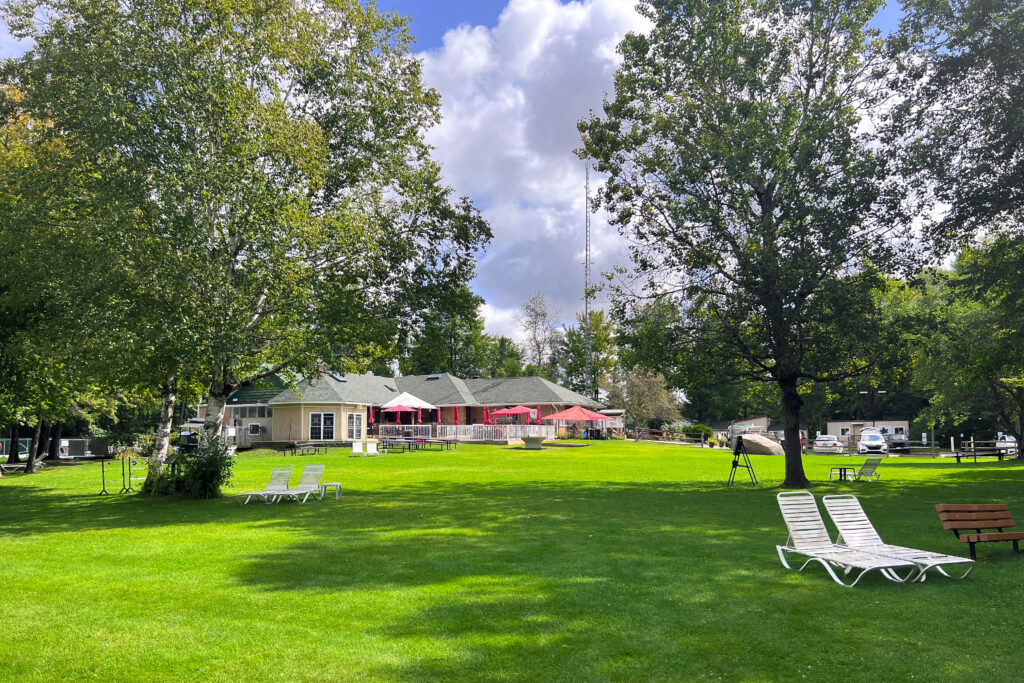 Where to stay at Bare Oaks
As Bare Oaks is a campground, the most obvious type of accommodation is the one you bring. One of the big differences with last time was that there seemed to be many more RVs and mobile homes than 5 years ago. Especially the kind that never seems to leave (you know, when people start building porches and planting flowers). It's quite obvious that more and more local naturists start considering Bare Oaks their second home. Or probably even their first one.
Rumour has it that Bare Oaks could be completely full with these semi-residents who book for the whole season or even the whole year, but that the management especially keeps a number of spots free for travellers. Lucky for us. There are serviced and non-serviced sites, which in Europe would mean pitches with or without electricity and water. For tent campers, the non-serviced sites are much more idylic. We came with a tent, but as bloggers, we really need electricity. So we found ourselves between the RVs.
As we arrived quite late in Toronto, we booked a Cozy Cabin for our first night. These are small bungalows that come with a little kitchen and can accommodate 4 people in 2 bunks. Probably even 6, as the lower bunks are about 1.5 times the size of a one-person bed. As we were exhausted from a day in airports and airplanes, we decided to each have one of the larger beds. There are also a number of rooms for rent.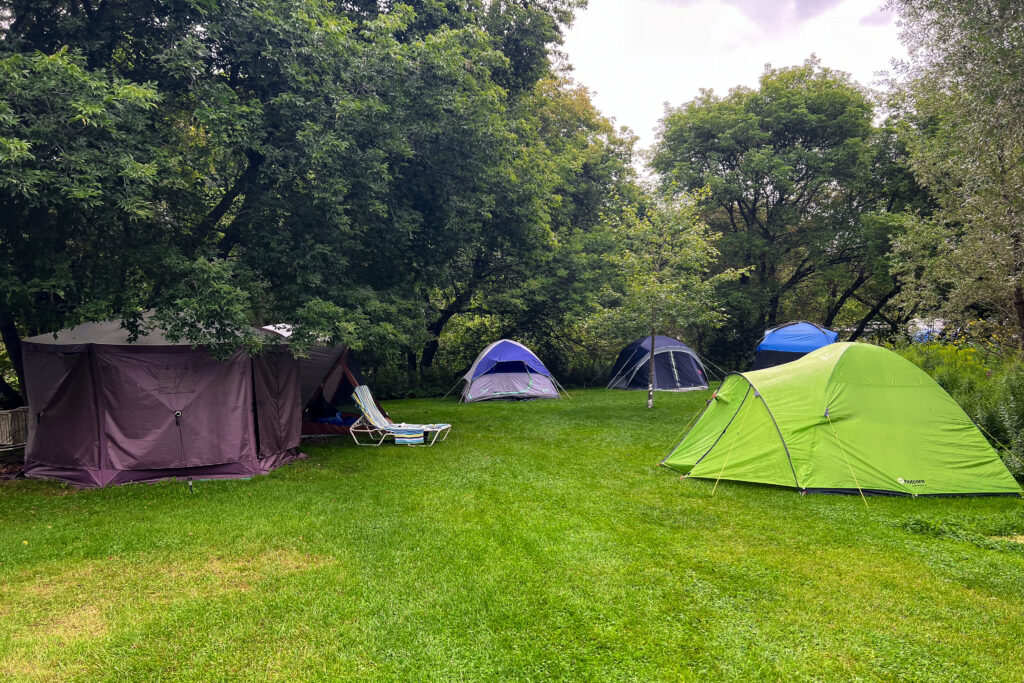 What to do at Bare Oaks
Bare Oaks looks a lot like many French naturist campsites we've visited. They even have petanque courts to make the image complete. Yet, it's in Canadian nature and having 3 lakes on your property is something French resort owners can only dream of. One of the lakes has its own beach and is swimmable. Something the average Canadian naturist seems to appreciate a lot more than the swimming pool.
Other than options to swim, there are quite a lot of things to do at Bare Oaks and we're certain that we'll miss some in this review. Volleyball is very popular among North American naturists and in the resort, you'll find 2 courts. There's also mini golf, a playground, and several other games. For the hungry and thirsty, there is the Bare Bistro which is open year-round, just like the resort. There's a sauna and jacuzzi as well as several indoor spaces for you to use when the Canadian weather decides to turn non-naturist.
The power of Bare Oaks is its social aspect though. It's a place where people come together, where strangers become friends, where friends become neighbours. This is the reason why, after only visiting the resort twice, it kinda feels like home. The way Bare Oaks is being run has something to do with this because social interactions are encouraged a lot. During the high season, there are weekly events, meetups, potlucks, concerts, you name it. And probably the best example is the firewood. If you want some for yourself, you have to pay for it. If it's for one of the communal fire pits, you get it for free.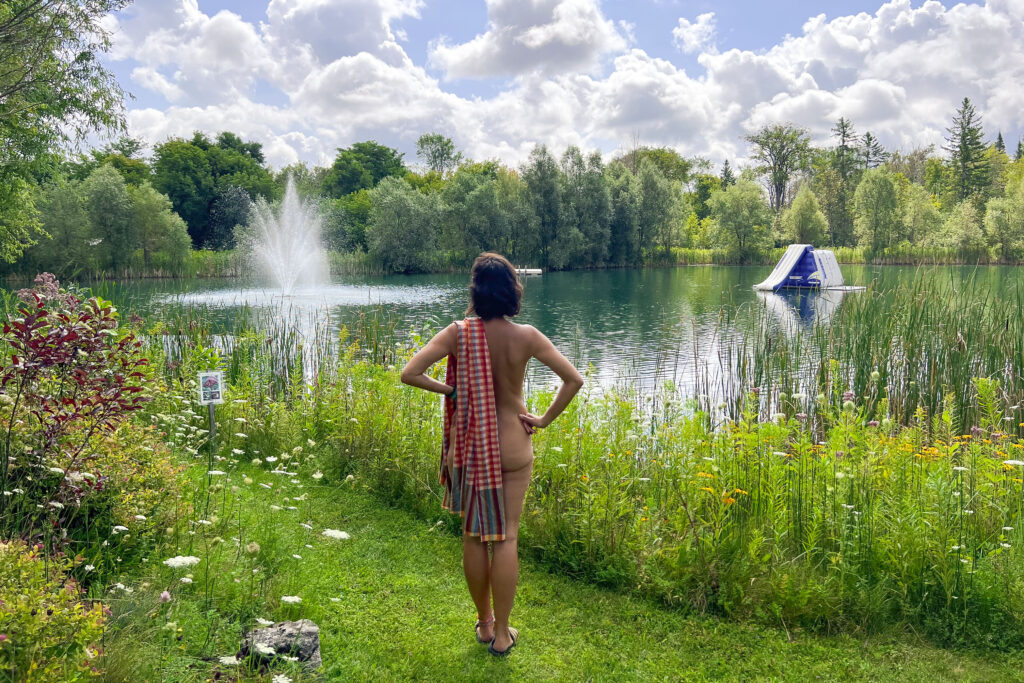 Around Bare Oaks
The first time we visited Bare Oaks, we hardly ever left the property. This time, we had plans to do a lot more, but… you know… We told you that we're social animals, right? One sunny Sunday, we decided to hit the road early to visit the famous Hanlan's Point clothing-optional beach in Toronto. The beach had been in the news lately because of the possibility that it would disappear, but that issue has been solved by now. What we found was a really nice beach where the naked and the clothed just mingled and had a good time.
If you're looking for more spectacular highlights during your visit, you can get to downtown Toronto in less than an hour. In a good 2 hours, you can even get to Niagara Falls. Up north, you'll find the town Barrie, as well as Wasaga beach (the name may not ring a bell, but it's the world's longest freshwater beach) from where you can enjoy Lake Huron, the world's 4th largest lake. If lakes are your thing, you'll find thousands in the area of Bare Oaks.
Staff & Guests of Bare Oaks
It's hard to put a label on the staff of Bare Oaks. They're all super friendly, that much is sure, but so is pretty much every Canadian we ever met. They're also everywhere, which we personally find a huge advantage. Quite regularly (at naturist and non-naturist places) we have a question and it takes forever to find someone. At Bare Oaks, there's always staff at the Front Office (reception) and most often you'll already run into one of them on your way to there.
One last noticeable point about the staff is that they have different age groups. We spend a lot of time at naturist places, and we don't really care whether an 18 or 81 year-old person sits in front of us. But we imagine that when this is your first time, having someone who's in about the same age group will create more of a connection. This theory can be proven when you look at the guests at Bare Oaks.
We've met people of all ages and backgrounds during our visit. Of course, we were there in late August, which is still the holiday season. Most of them are Canadians, seeking refuge from the busy life and the big cities. On weekdays, there's a very laid-back atmosphere created by visitors planning to spend quite some time at Bare Oaks. During the weekends, the resort gets busier and chances for a late-night campfire (including obligatory Bare Naked Ladies songs) highly increase.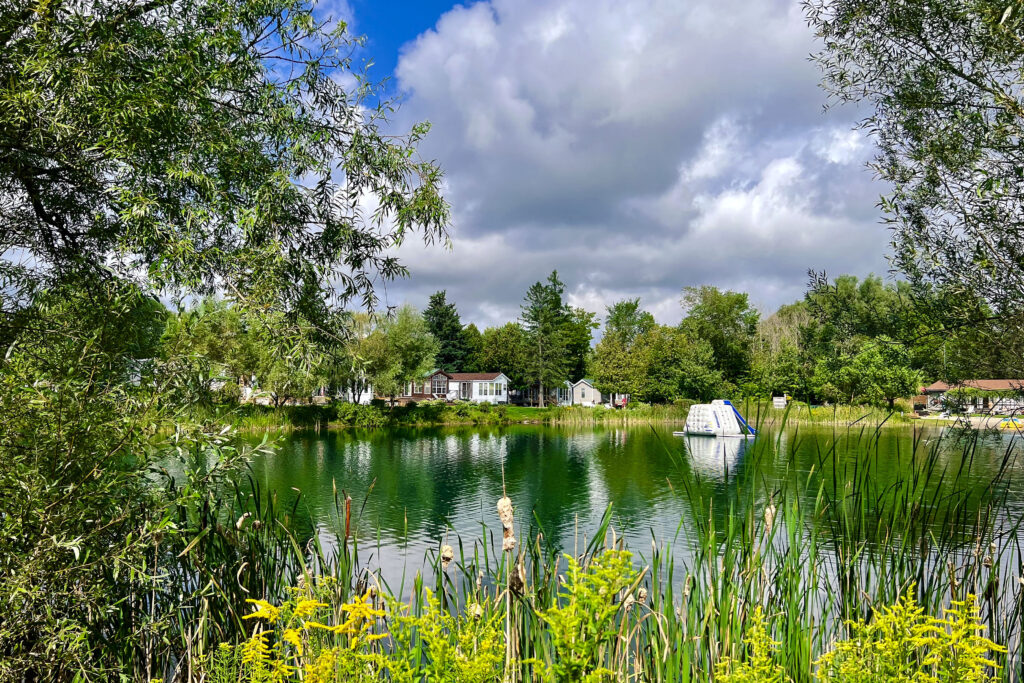 Book at Bare Oaks
The best ways to book at Bare Oaks are:
English and French are fluently spoken
Summary
Is it because of Bare Oaks? Is it because of the people at Bare Oaks? Or is it because of the vibe and the mentality? We don't really know and don't really care either. What we do know is that we decided to add this resort again to our itinerary while there are so many other places in Canada that we yet need to explore. Those are for next time… After we revisited Bare Oaks once again.
---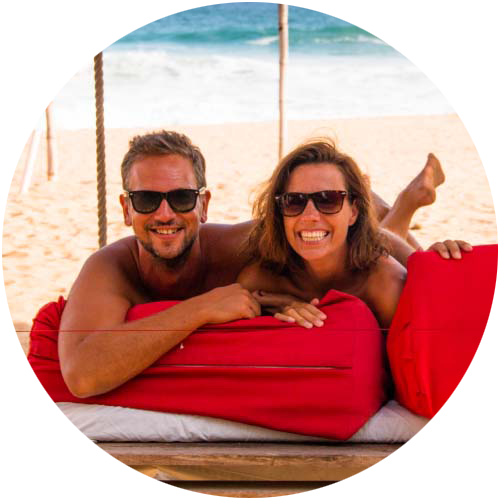 Support Naked Wanderings
Do you like what we do for naturism and naturists? Did we make you laugh or cry? Did we help you find the information you were looking for? Then definitely join our Patreon community!
---