What do you do when you found the perfect naturist resort and you don't ever want to leave again? More and more resorts have started to offer the option to buy your own place at the domain or to rent a piece of land on a yearly basis where you can put down your camper or caravan. Your own place at a naturist resort, where you can come to live or that you can retreat to during weekends and holidays.
At New Cambium, it started the other way around. The idea behind this naturist domain is to create a community where people can live naked year-round. You could create your own little farm and live off the land, but with the rise of remote working, the options to live at this resort while generating an income have grown a lot. Because some of the owners have decided to only spend a part of their time at New Cambium, there are always places for rent if you just want to go on a holiday.
How to get to New Cambium
New Cambium is located in the north of the Dominican Republic, about an hour east of the popular beach town Puerta Plata. This is also where you can find the nearest international airport. Other international airports can be found in Santo Domingo (3 hours away) and Punta Cana (5 hours away).
As New Cambium is located in quite a remote part of the island, the very best option is to rent a car and drive to the resort. This will also give you the opportunity to explore some of the surroundings. Plenty of car rental offices can be found at the airports.
Our goal was mostly to experience the resort itself, so we chose a pickup service from Puerto Plata airport arranged by the resort for $60 USD one way. It is also possible to reach the resort by public transport, there are minibuses running on the north coast between Puerto Plata and Rio San Juan that can drop you off at Villa Magante. Between Rio San Juan and Santo Domingo, you can travel with large buses. From Villa Magante, it's still about 1 kilometre uphill hike, or you could take a taxi from there.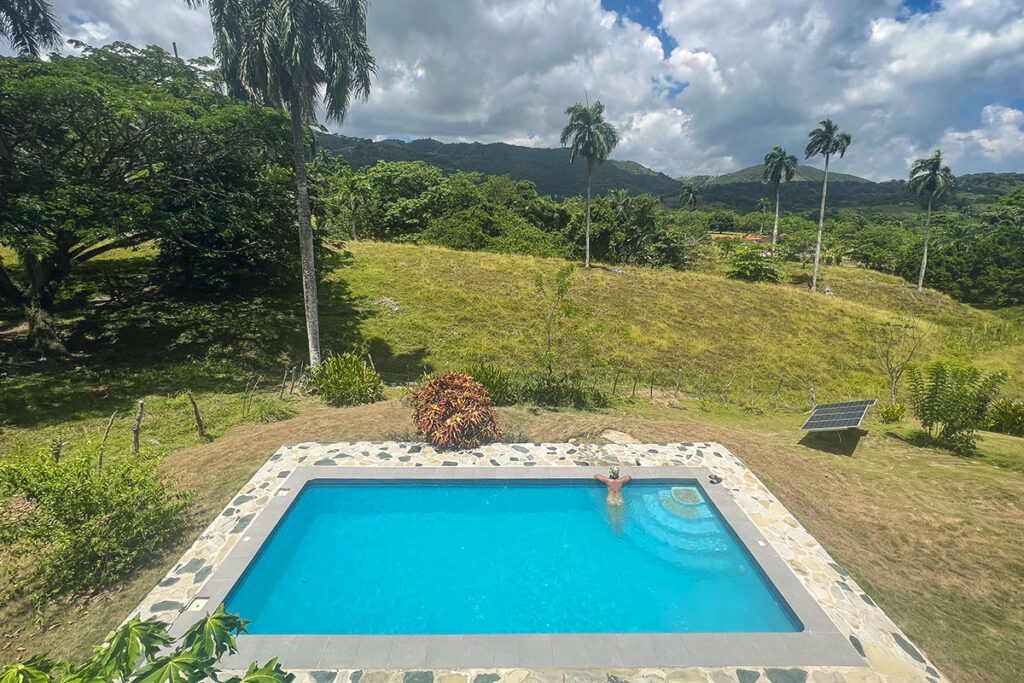 Where to stay at New Cambium
All the properties at New Cambium are privately owned, but many can be rented for a holiday. There is a choice between 1, 2, and 3-bedroom houses. Some have more amenities than others, like a barbecue, a private pool, wifi, or a great view. It's best to check the
rentals page
on the website to get an idea of the different options.
We stayed in
Mango 8
, which has 2 bedrooms and bathrooms, a large kitchen and living room, and a private swimming pool. The very best part of the villa (for us) was the huge terrace that gave spectacular views over the domain and beautiful sunsets.
It is important to mention that New Cambium is a self-sustainable community that depends on solar power and water supply from the surrounding mountains. If you're not used to relying on solar power, it's best to ask the staff for tips on what the best times are to charge batteries or use things that need a lot of power (like a hair dryer or water cooker). During periods of drought, you may not always have continuous water. That's the price you pay for living off the grid in the middle of nature.
In this review, we are mostly focusing on visiting New Cambium as a guest, but if you are looking to move to a naturist community, Mango 8 (where we stayed) is for sale as well as other ready-built homes and plots where you can build your own place.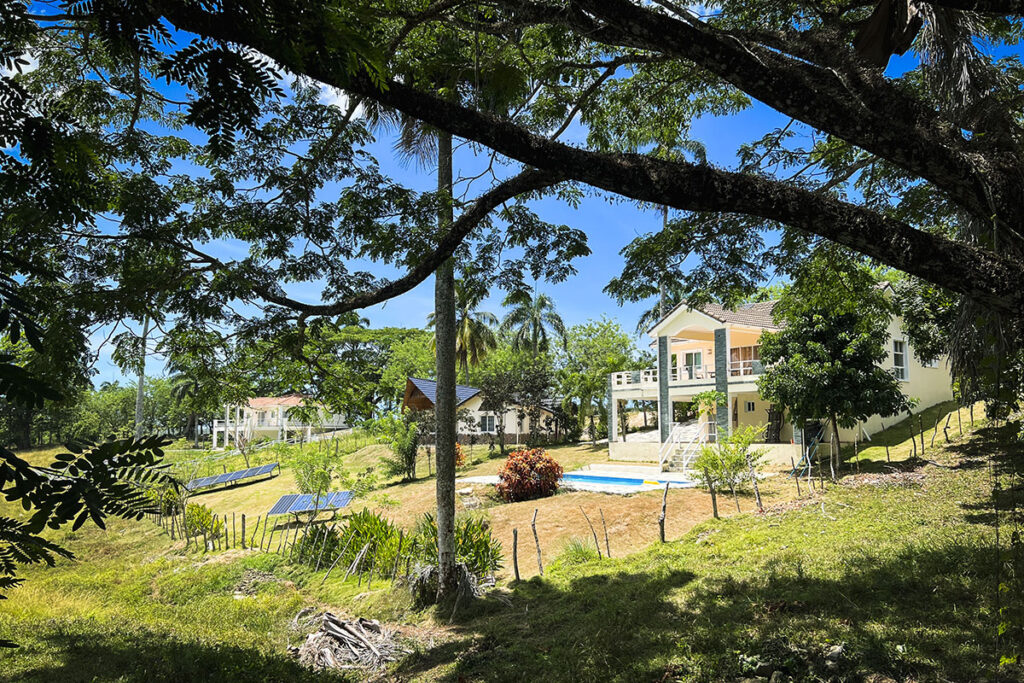 What to do at New Cambium
The very best aspect of New Cambium is its natural environment and we've spent many hours just gazing in the distance and looking at the birds. As our villa had its private pool, this was our favourite spot to cool down. But there is also a communal pool for the guests to use. Because we visited in the low season, it was not possible to buy drinks at the resort, but we heard that there is an honesty bar during the high season (roughly from November to March).
There are several hiking trails on the domain that will take you through the hilly landscape past viewpoints and different fruit trees. As none of the roads are concrete, also the main roads kind of looked like hiking trails to us. It might be important to mention here that the distances between the villas and the communal area can be quite long if you're not staying in the Palm Gardens neighbourhood. This is another advantage of having a rental car.
There is no restaurant at New Cambium, so it's recommended to stop along the way from the airport to buy groceries in a supermarket. The taxi driver who picked us up was happy to make this stop for us. Actual restaurants can be found in town and at the beach. If you don't want to go out, it's also possible to ask for delivery at your doorstep.
Around New Cambium
As this was the first time that we visited the Dominican Republic, we only knew the country from travel shows and airline magazines and we didn't have the highest expectations. It all mostly seemed very touristy with big hotels and instagramable restaurants. That's why we had made few plans to ever leave the domain.
When we did decide to go to the beach for a day, we were literally blown away. We found the most relaxed beaches with a very hippy vibe and a handful of shacks selling drinks and seafood. Exactly the kind of beaches that we love the most. What's even better is that there are several remote parts where it's perfectly fine to skinny dip.
Apparently, there are many other relaxed places around the north coast of the Dominican Republic and once we figured that out, we very much regretted that we didn't have a rental car. What we later regretted even more is that Diogene, who partly does the management at New Cambium, has cars for rent, but we only got to know this on our last day.
The walk to the nearest beaches is downhill and takes about half an hour. To get back, it's better to get a moto-taxi from Villa Magenta because the road gets pretty steep. In Villa Magenta, you'll also find some small shops for daily groceries but don't expect anything like a supermarket.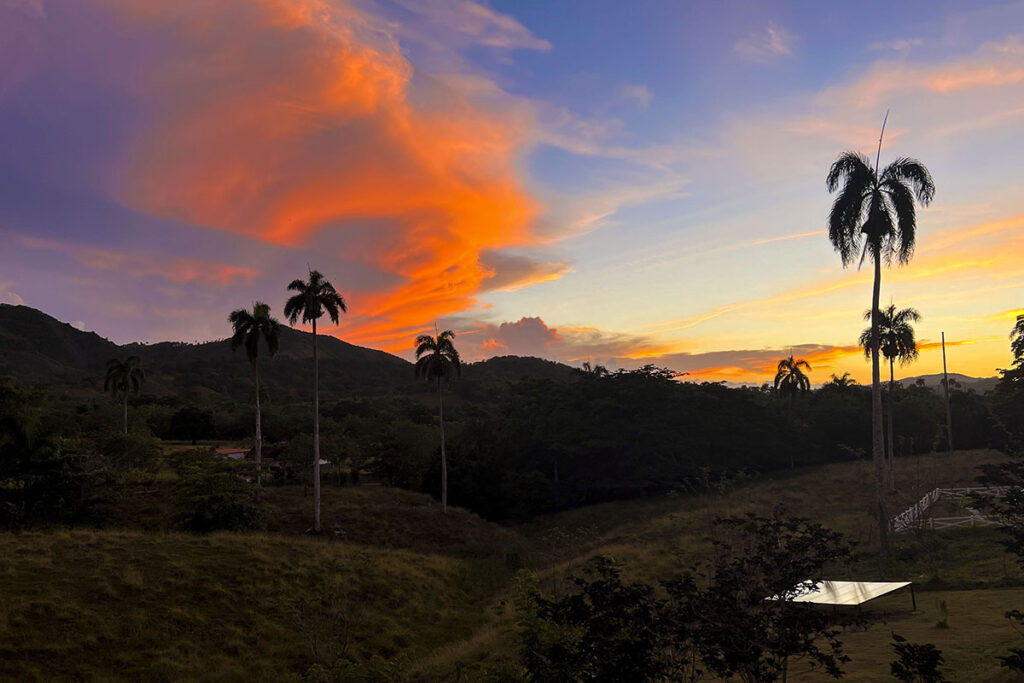 Staff & Guests of New Cambium
Our main point of contact was Diogene, who was pretty much 24/7 reachable via WhatApp and very quick to answer all our questions. Then there is the maintenance staff who does quite a spectacular job with maintaining the domain (in this part of the world, nature is very fast in taking back what humans are neglecting). The other people we got in touch with were mostly residents who are helping out on a volunteer basis.
Since we visited during the low season, there were few other guests. But we imagine that the typical visitors to New Cambium are people who enjoy being in splendid nature, who are interested in off-the-grid living, and who care about creating sustainable places. If you're more of a 5-star luxury resort kind of person, New Cambium may not be the best option for you.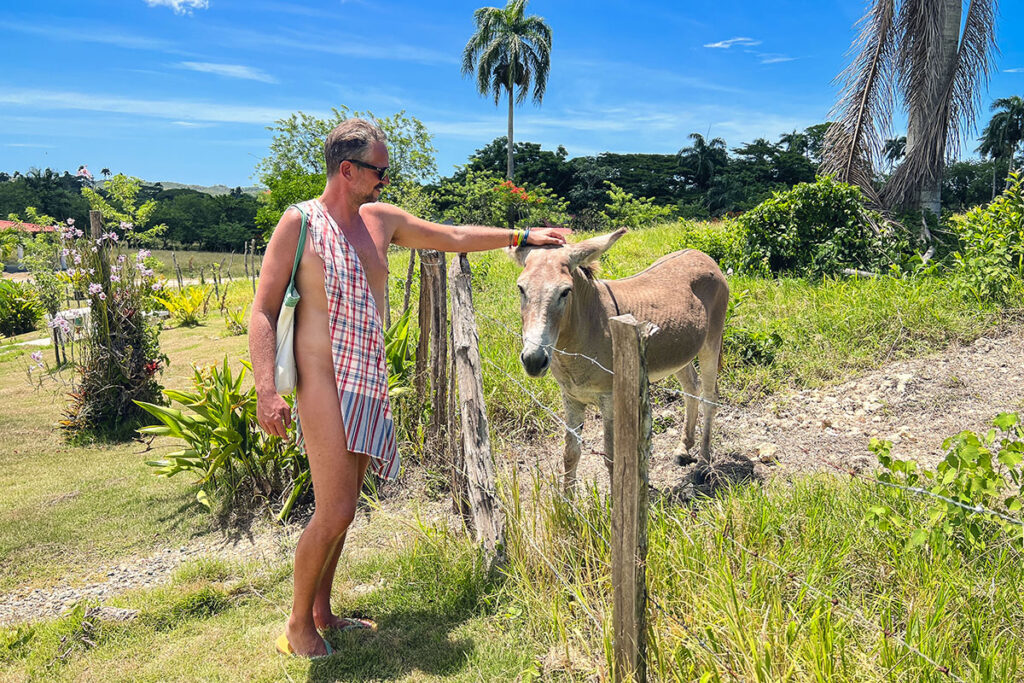 Book at New Cambium
The best ways to book at New Cambium are:
English and Spanish are fluently spoken
Summary
Before we visited New Cambium, we heard contradictory opinions. Some previous visitors couldn't praise the place more while others weren't all that convinced. Now we understand why. The combination of naturism with sustainable and off-the-grid living is something we very much enjoy, but we also realise that it's not for everybody. Nevertheless, we highly recommend that you try to see if it's something for you.
---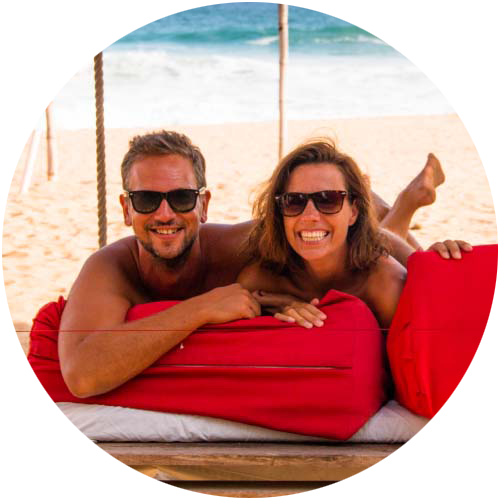 Support Naked Wanderings
Do you like what we do for naturism and naturists? Did we make you laugh or cry? Did we help you find the information you were looking for? Then definitely join our Patreon community!
---