Athens… It had been on our to-go list for such a long time, but somehow we always managed to go somewhere else instead.  Except for this time, of course, a couple of days ago we finally dived into the city.
And it met all expectations, Athens is an amazing place which can cover everybody's likes. Whether you're interested in politics (it's the birthplace of democracy), economics (the first use of currency), or philosophy (you literally walk in the footsteps of Socrates and many other ancient philosophers), it's given to you on a plate. If you're interested in history, it's probably one of the most important places you've ever been to. And then we're not talking about the food, the wines, the coffee, the great weather… even fashionistas will enjoy themselves.
And if like ourselves, your interests are a combination of everything above, you can imagine how much we enjoyed the city.
And of course, you probably guessed it, we planned to check out the Athens nude beaches as well. Although that didn't exactly work out as planned…
We have to admit, it was mostly our own fault.
It was a Sunday, it was a beach day, so it was going to be a lazy day. Such a day had to be started with a good sleep in, a very good one. Mistake number one.
Our research wasn't exactly done perfectly. We found a list of surrounding nude beaches online, dotted them out on a map, and had huge miscalculations concerning distances and time needed to get from one place to another. Mistake number two.
Also our hitchhiking skills somehow didn't seem to work out very well in Athens. This is not really our own fault, but we could have guessed it as we've had similar issues in other places in Greece as well. It's just not the best country to hitchhike.
So in the end we only managed to visit one nude beach.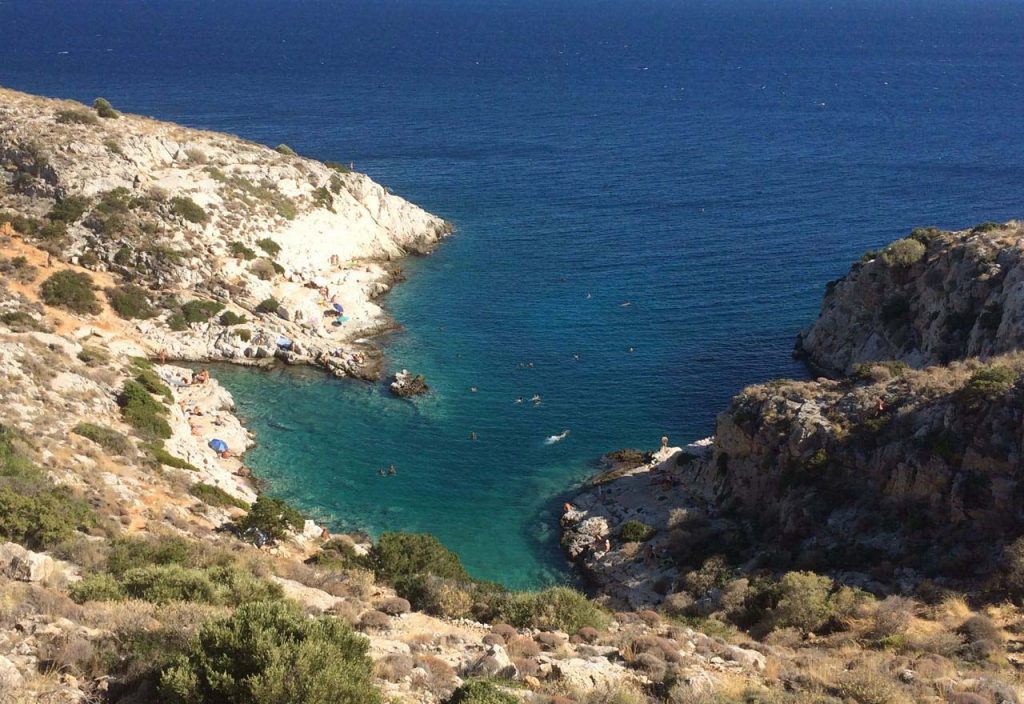 Limanakia beach
This is the nude beach closest to the city center, but don't make the same mistake as we did, it's still about 25km away. It took us more than two hours to get there: 1h15 on the tram, 30 minutes wandering around, and figuring out where to go, and another 20 minutes or so on local bus 122. The beach is actually a combination of 3 secluded beaches or coves as
the Captain
describes them, of which the northern one is textile only and the other two are for nudists. We chose the middle one as it was the closest to the bus stop and we had already lost enough time. Once you get off the bus, look around for a dirt path down and you'll soon spot the nudies.
While we were on the tram we already got the chance to see a lot of the textile beaches of Athens and they were not particularly stunning. Overly crowded, grayish sand and scattered rocks, not the most exotic place. So our expectations were pretty low when we arrived in Limanakia, but boy, what a lovely place! A beautiful cove with green-blue waters surrounded by huge flat rocks where many before us had already picked their perfect spot. But there was still enough place for us as well.
The crowd was a very diverse mix concerning age and gender and nudists and textiles. Although the nudists were clearly in the majority. An interesting fact was that we spotted several younger groups of friends where the men were nude and the women textile or monokini. We were wondering what this meant… It it still a cultural or religious inheritance? Are Greek women (most of the other visitors were Greek) still reluctant to nudism? If you know, please share your knowledge with us.
Activities in Athens which you don't want to miss:
Anyway, the combination of single men, couples, groups of friends, young and old, the loud guy selling refreshments, and Bob the fisherman (we don't know if his name is really Bob but he looked like a Bob) made for a very interesting crowd.
We're not astrologists, but we've been to many beaches before and seen from the position of the sun and the rocks when we were there, you'll probably always find a place in the sun or in the shade, whichever you prefer.
Limaniaki was proven to be a nice beach and soon a couple of hours had passed, the sun started setting and we reminded ourselves of the long way back. Realizing that we wouldn't be able to check out any other beaches.
The other beaches
But because we couldn't see the other beaches, doesn't mean you shouldn't either. They're scattered all around Athens, so we think that the best way to visit them all or most of them would be by renting a car.
For the sake of completeness of this post, we'll give you a short overview of the possibilities via below map.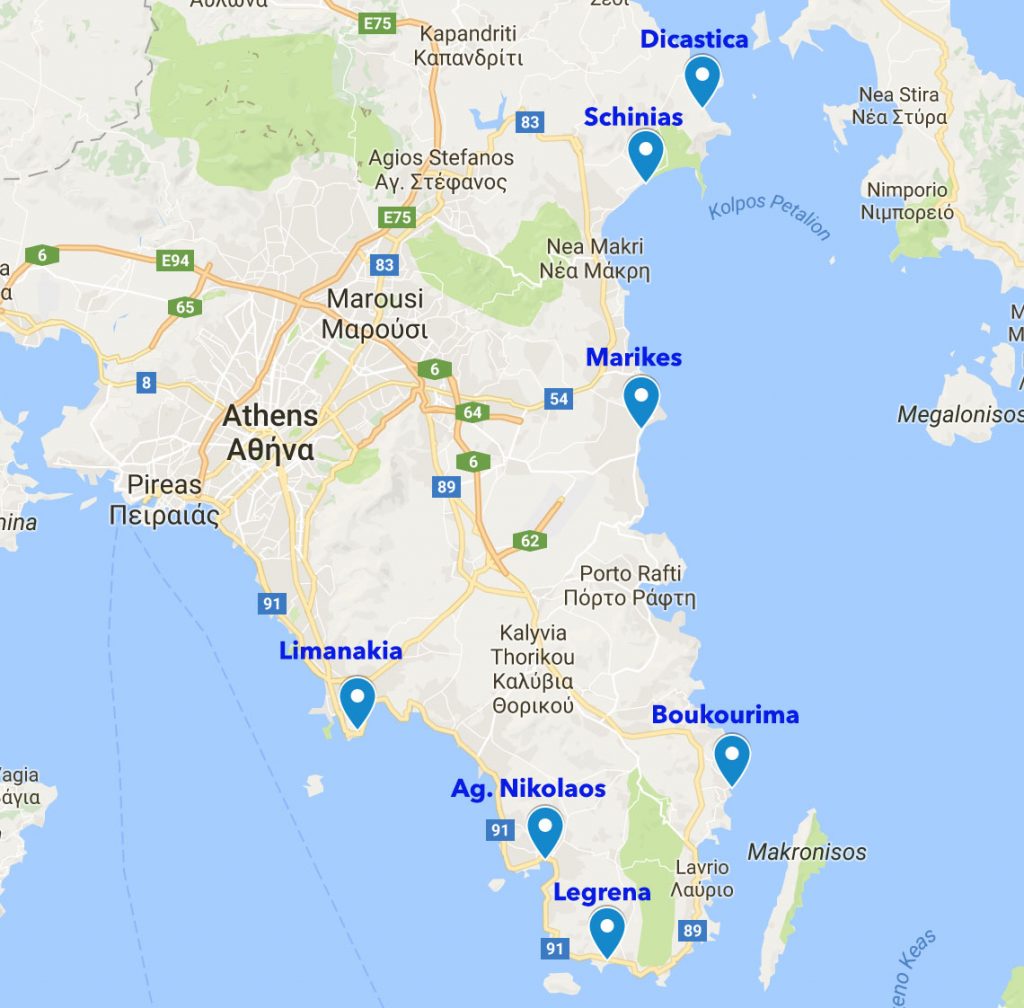 Find the best nudist accommodation in the area on NUDE
Naked Wanderings' Ultimate Guide for Naturism in Greece ebook

Are you looking for great nudist resorts and nude beaches in Greece?
Are you looking for the best tips for a nude vacation in Greece?
Then our ebook will be the perfect resource for you!

Learn More
Need help with planning your trip? Check out our Resources Page for an overview of the best companies we use during our travels
---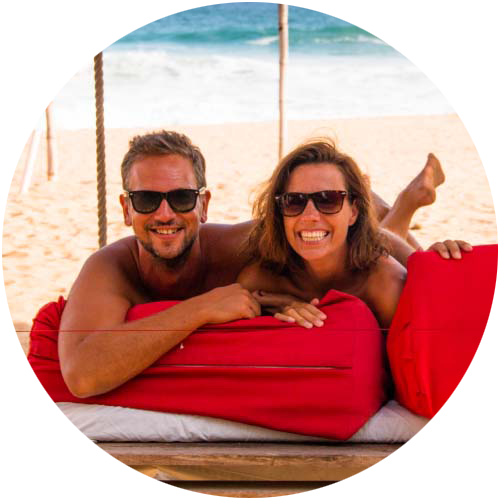 Support Naked Wanderings
Do you like what we do for naturism and naturists? Did we make you laugh or cry? Did we help you find the information you were looking for? Then definitely join our Patreon community!
---