When we say the name "Cyclades Islands", images of white and blue houses covered in Bougainvillea plants might pop into your head, as well as exotic names like Santorini, Naxos, or Mykonos.
Indeed, that's where we are at the moment!
We did however chose one of the lesser-known islands: Antiparos. A small island nearby its bigger brother
Paros
. The main reason why we picked this one was that it's one of the few official Greek nude beaches that has a campsite right next to it. Although the campsite is textile, we did figure that it must attract a lot of nudists. So maybe, if we're lucky, it might as well be a bit clothing-optional…
We weren't that lucky.
Nevertheless, it's a great camp, very relaxed, very laid back, and compared with other campsites around Greece also pretty cheap. Our cup of tea.
Of course, we didn't travel all the way to Antiparos to hang around the campsite, as always in Greece we consulted our new best friend
Captain Barefoot
for an indication of where to go nude, we rented a scooter and went on our way.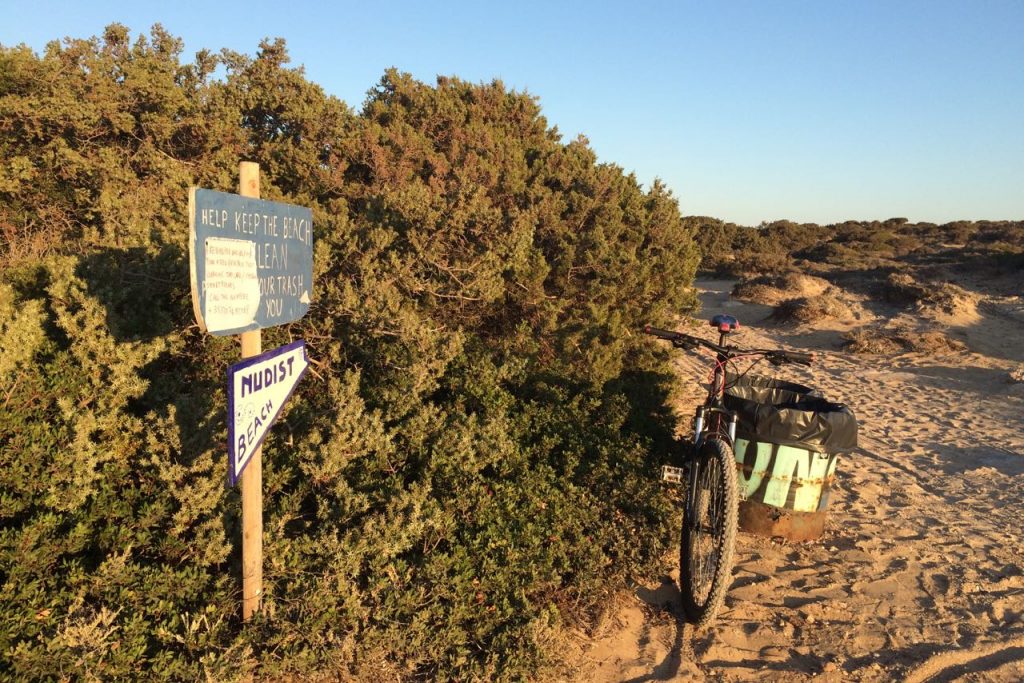 Antiparos official nudist beach
We're not sure if this beach has any other name, everywhere we look it's just referred to as "nudist beach". Given the fact that it's one of the very few official nude beaches in Greece and that it's about 2 minutes walk from the campsite, it was the first one we wanted to check out. If you've read
our last post
, that's unfortunately indeed the beach that we were talking about. So we won't go again into much detail about the visitors, there were quite a lot of textiles, also quite some nudists, but most of them flocked together at the end of the beach.
Other than the presence of textiles, the beach is a great place. Hidden in the dunes, beautifully colored shallow waters and mostly sandy. It's an ideal place to spend a day in the nude and we went back there several times during our stay on Antiparos. Sometimes in the afternoons, there will be a van selling cold drinks and snacks to make the image complete.
If you want to get more active, there's a volleyball net ready for you, but you'll have to bring your own ball. And if you really want to do something great, and this is really cool, because the waters are that shallow, you can wade all the way to the nearby island Diplo. This island is uninhabited and very few people go there, so you can actually walk around on the island nude. It'll be hard to find a better place for an evening stroll.
Keep in mind though that not all of Diplo is sand, so bring something to protect your feet from the rocks.
➡️ Click Here for great hotel deals near the official Antiparos nude beach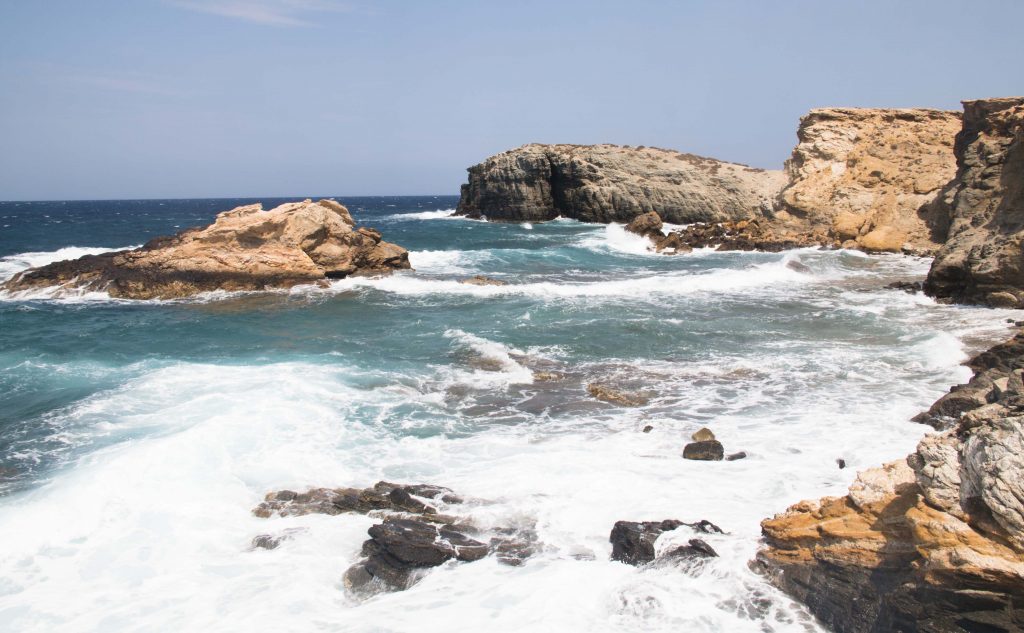 Sifnaikos (Sunset beach)
The next dot on our map was sunset beach, only a couple of minutes' walk from Antiparos town. According to the Captain, we should walk to the right of the bay and "find some small two-person sandy bays". So we started walking… until the end of the bay (and even a little bit further). We didn't find a single good place to get undressed and go for a skinny dip and neither did we spot any other nudists.
So we thought maybe it's the wrong time of the day… We were there in the early afternoon and it's called sunset bay… Maybe it was the tides… So we decided to come back in the evening. Which we did. But exactly the same story. No two-person sandy bays, a couple of rocky bays covered in driftwood and plastic, yes, but nothing good enough to make us stay.
Psaraliki beaches
Another place where the captain's information seemed a bit outdated was the Psaraliki beaches. There are two of them, the first one for textiles and on the second one, we should find nudists. When we were there, the beach was completely textile. So we started walking and walking and walking past the far end of the beach, past a rocky path until we found some beautiful empty sandy bays.
Now that's what we're talking about! After our initial disappointment, we could finally go for a swim. So if you find yourself in the same situation, when you face the sea at Psaraliki 2, just keep walking to the right, past the small surfboard rental shack, past some rocky bays and you'll find at least 3-4 small empty bays where you can relax without clothes.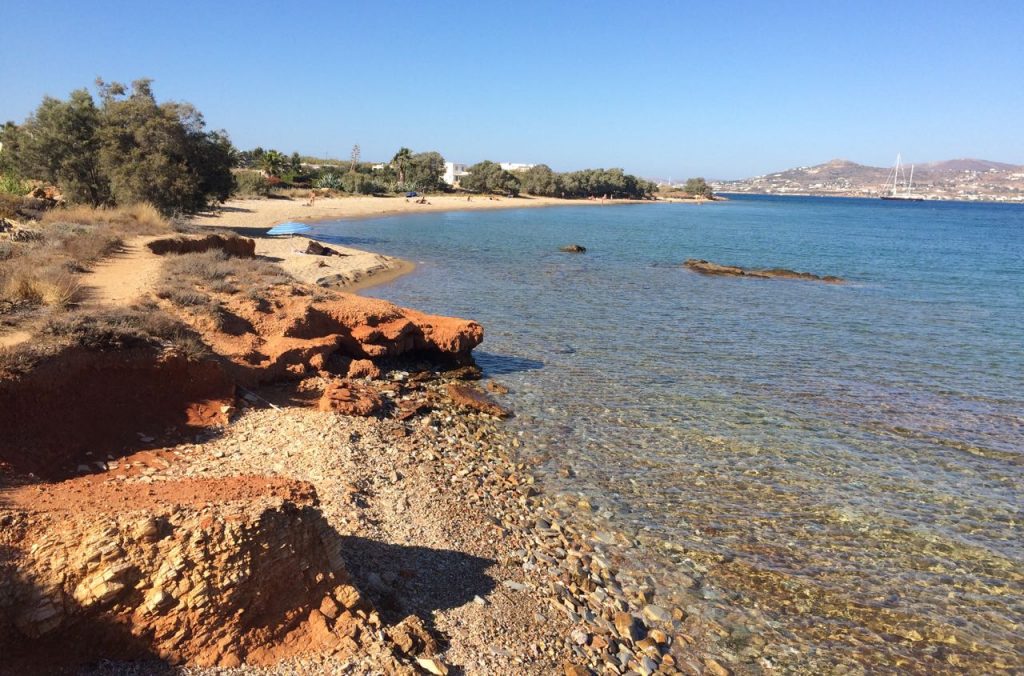 Panagia beach
This beach we actually found by accident as it was not on the Captian's list. When we were returning from a ride around the island with our scooter, we suddenly spotted a nice beach with a couple of nudies. So we hit the brakes, parked our stallion, and went over to have a look. Since it was already quite late, the whole beach was covered in shade and the sunbathers who were still left were preparing to leave.
We decided to come back the day after. Panagia beach can also be reached via a nice half-hour walk south from Antiparos town, past the Psaraliki beaches. We arrived there in the early afternoon and there wasn't a single nudie to be seen. So we did what we always do, just walked a bit further, found a very nice secluded beach for ourselves, and went for a skinny dip.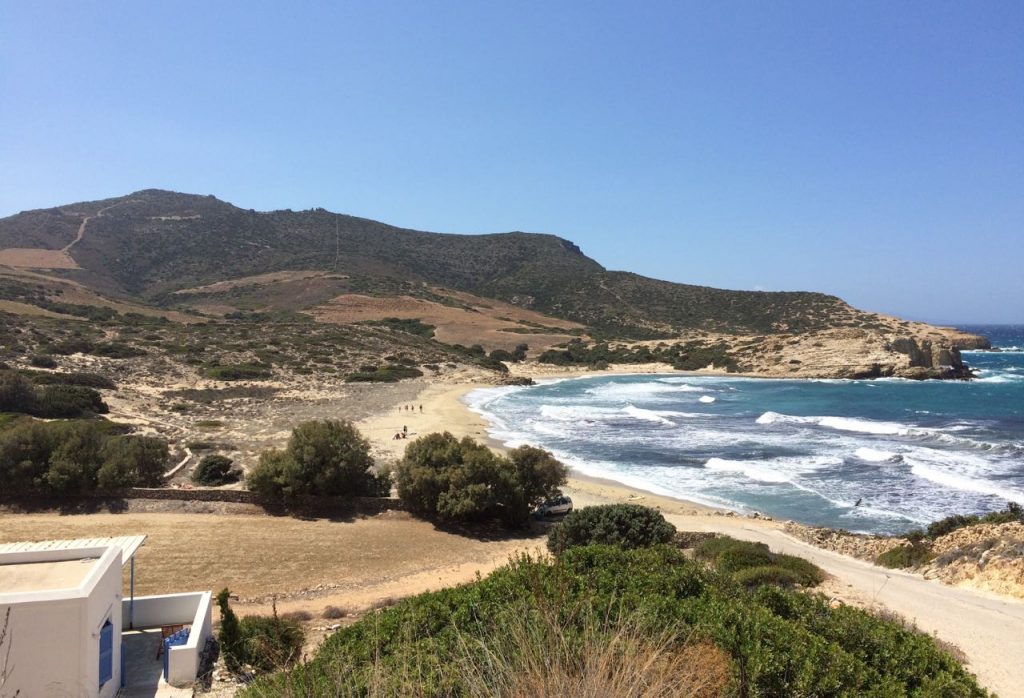 Livadia beach
All previously mentioned beaches can easily be reached on foot from Antiparos town, for this one you actually need some kind of transport (or be willing to hike several hours of course). But it's definitely worth it, Livadia is a beautiful bay with a huge sandy beach divided into two parts by some rocks. When we arrived there, the only other visitors were a textile couple. They had chosen the first part of the bay, so we chose to walk to the second part. Each their own beach and the second part was less windy anyway.
Livadia was one of the nicest beaches we had seen on the island, clear blue waters (although at the far end of the beach the shore gets a bit rocky so watch your feet), some bushes that provide shade and rocks giving you shelter from the winds. It's hard to say what the naturist scene is over there as we were basically alone. After an hour or so more visitors came, some sunbathers, some surfers but all textiles. As they all chose the first part of the beach, we couldn't be bothered less.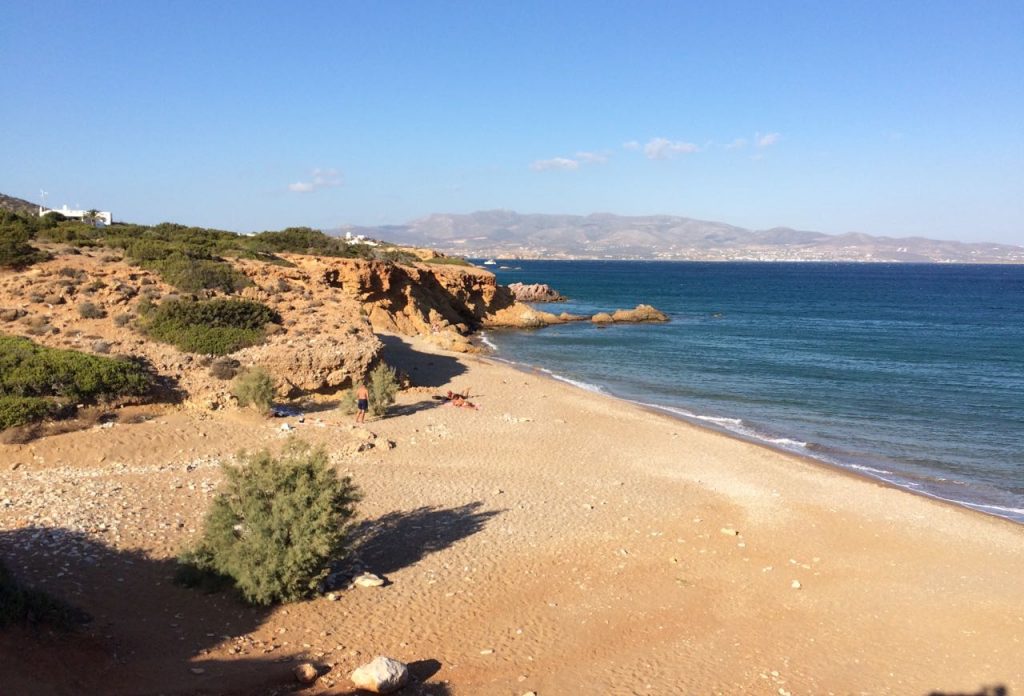 Soros beach
The instructions from the Captian were again a bit confusing. When you arrive in Soros following the signs on the main road, you actually arrive on the second beach, the main beach. But since it's divided into two parts it looks like two beaches. Especially because everyone seems to flock in the second part where the beach bar is. So we confused the first part with the first beach. Being so close to the road and many passers-by, we could hardly imagine that it was clothing optional. So we started walking. If you ever find yourself at Soros beach, better follow our instructions.
All of the beach next to the road is the main beach, textile beach. This is where you'll land. Walk away from the beach bar to the left when facing the sea, where the road turns inland you'll find a path up the rocks, that one you need to follow. Soon you'll see a long but thin stretch of beach, this is not the clothing-optional beach either, although you could probably go naked there if you find a way to get down. Just walk a little further and there's a cove with a nice beach. That's the one!
When we were there, there were several other visitors but apparently all textiles. Since it was our last beach of the day, we wanted a skinny dip anyway. So we went to the far end and got naked. It wasn't until half an hour later that we spotted another nudie couple who were hiding behind a big rock, and five minutes later one of the textiles decided to get naked as well.
Other nude beaches
Next to the above-mentioned beaches, there are a couple of other places you might want to check out when you have a spare day on Antiparos. Monasteria for example, a beach quite near to Livadia. We tried to get there, but the road is in such a bad condition that it was impossible to get to the beach with two people on a 50cc scooter.
Despotiko island at the south of Antiparos is said to have a beach that's frequented by nudists as well and like in many places in Greece if you're cruising around and find a deserted cove or an empty part of a beach, it's no problem to go naked there either. Nobody will care.
Find the best nudist accommodation in the area on NUDE
Naked Wanderings' Ultimate Guide for Naturism in Greece ebook

Are you looking for great nudist resorts and nude beaches in Greece?
Are you looking for the best tips for a nude vacation in Greece?
Then our ebook will be the perfect resource for you!

Learn More
Need help with planning your trip? Check out our Resources Page for an overview of the best companies we use during our travels
---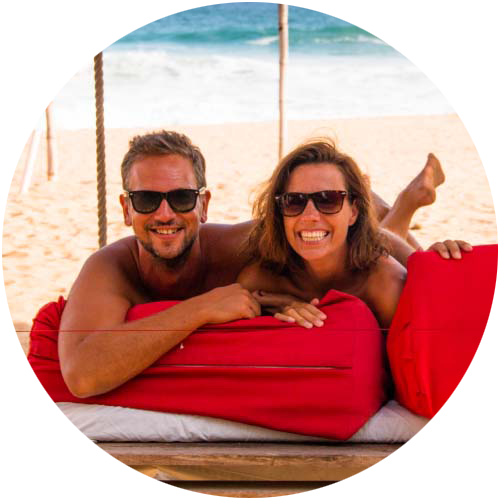 Support Naked Wanderings
Do you like what we do for naturism and naturists? Did we make you laugh or cry? Did we help you find the information you were looking for? Then definitely join our Patreon community!
---