This is probably the number one question that we are being asked (with "How do you make money?" as a close second, but that's for another blog post). Some propose their own opinions. Are we prudes? Are we not really naturists? Are we posers who are just looking for quick fame on the internet? Are we keeping the juicy stuff to put behind a paywall?
Truth to be said, as Naked Wanderings evolved over the years, we got this question less and less. People started to trust that what we do is genuine and valuable, even without nipples or genitals. Until recently, when we started making
videos on YouTube
and reached a completely new audience. Our "not so naked" presence became a hot topic again, so we figured that it was time to address the elephant in the room.
View this post on Instagram
Digestible naturism
Naked Wanderings started from the idea that we could do things differently than the (then) available naturist content. Our goal was to tell the world about naturism and hopefully inspire them to give it a try one day. We figured that we could do more than the typical naturist magazine or the old-fashioned naturist website. There were a number of things that we specifically wanted to counter: The patronizing tone, the endless list of rules, the many articles about what naturism is not, and… the frontal nudity.
We wanted to create content that just shows that naturism is fun. Not with the intention to compete with the "traditional" naturist content but rather to bring an additional perspective. Most of all, we wanted our content to be easy to digest, and not using frontal nudity was an important part of that. Few people dare to read a naturist magazine on the train, fearing that the other passengers will think that they are creeps. But they can read the Naked Wanderings blog on their iPads, because other than the occasional butt, there is hardly anything that can shock the person next to them.
View this post on Instagram
Our struggles with social media
Even though we didn't believe in the necessity of full-frontal nudity, we weren't always as careful as we are today. If you've been following Naked Wanderings from the very beginning, it's quite likely that you've seen some body parts that you won't find in our pictures today. Most of the time from a distance and surrounded by nature, but they were there. Maybe you didn't even notice it, but the social media algorithms most certainly did.
We learned about a thing called "Community Guidelines" when we received our first Facebook ban. Facebook was the first social medium we used to promote our blog and it didn't take long before it turned against us. We figured that this was just an unlucky shot and continued doing what we had been doing before. But not for long. More bans would follow and eventually we also
lost our very popular Instagram account
.
We were at a crossroads. Either we should turn away from mainstream social media (except for Twitter) or we should start studying those Community Guidelines and make sure that we comply 100%. As you probably realize, we chose the latter.
View this post on Instagram
Love/Hate relation with censorship
We chose to make sure that all our content is social media proof. On one hand, we believe that we need mainstream social media to make our words fly as far as possible. But also, because we started noticing that censorship actually did come with some advantages. SAY WHAT? We know, if you're a naturist with an online presence you probably think that we've gone bonkers. But you've also noticed the amount of crap and harassment that is happening in online naturism.
When we talked with other naturist content creators, they often complained about how the "dirty comments" regularly outnumbered the genuine comments. About how they heard "nice tits" more often than "great scenery". We didn't really have that experience. Of course, we did get some harassment and dick pics, but not to the extent that others used to get this. We realized that to those who are surfing the web to see nudity, we're probably the most boring naturist couple in the world.
Another advantage came from the traditional media. Remember that we wanted to make our content easy to digest? Newspapers and magazines want the same. They love nudity because they know that those articles typically attract a larger audience which is good for their advertising income. But they too want to make sure that you won't feel ashamed to read their paper on the train. We gave them the perfect solution and it didn't take long before our story appeared in
newspapers around the world
. Goal to spread the word about naturism as far as possible… CHECK.
View this post on Instagram
What about platforms that do allow nudity?
Whenever we explain why we censor our content, this is the obvious follow-up question. A valid question indeed. We are very active on
Twitter
and we are co-founders of
Naturist Hub
. And there are several other platforms where we shouldn't fear getting banned. So why don't we let it all out on those? The answer is "time". Writing blog posts, taking pictures, making videos, and setting up social media strategies takes a lot of time. If we need to add creating quality content that does include nudity to that list, we'll either need to work more hours or work faster (and thus decrease the quality of our other content). And for what? Would uncensored content prove that we are real naturists?
But what if we could make an income from uncensored content? What about our
Patreon Page
? It's not hard to see a profitable model here. If we would put uncensored content (or, why not all the way full frontal nudity?) on Patreon, it would definitely generate a much larger income. This means that we could cut down on other income streams and not have to sacrifice time or quality. It sounds like the perfect plan, and it's something we have considered. But then our moral comes into play. Selling our nudity just feels like prostitution.
Don't get us wrong, we're not saying that all naturist content creators on Patreon are online prostitutes. Our friend Hector Martinez, for example, puts a lot of focus on Patreon. But you don't need to get a subscription if you just want to see him naked. He's nude all over his
Twitter account
. Instead, on his Patreon, you'll just find more of the same content. This is a big difference.
View this post on Instagram
So will you never see us naked?
We think that this is a very weird question but still we get it from time to time. "If you are naturists, why are you never naked?". It blows our minds. What do you mean? Have you ever looked at our
Instagram
? We are naked in pretty much every picture! Of course, we understand where this question comes from, but if you think that we are not naked just because you can't see our genitals, you're probably not the audience we are trying to reach.
The question we are personally struggling with the most is whether what we do isn't counterproductive. By using censorship, aren't we actually sending out the wrong message? Are we in fact shaming the nude body? We truly hope that people can see through our censorship (figuratively, of course, because we've gotten damn good at it) and realize that we have our reasons to do this. And if you still don't understand why we're not just going full-frontal, please start reading this blog post again from the top.
Just kidding, we know that many naturists don't agree with our opinion and that is totally fine. We don't think that our way of doing things is the only right path. We only think that it's one of the paths. So let us know what you think!
---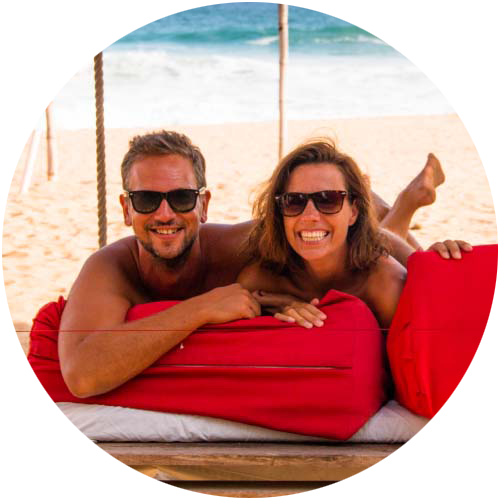 Support Naked Wanderings
Do you like what we do for naturism and naturists? Did we make you laugh or cry? Did we help you find the information you were looking for? Then definitely join our Patreon community!
---