We've been talking about how to take the first steps
as a male nudist
or
as a female nudist
, but the best way to start with nudism (at least to us because that's how we started) is as a couple. Most probably one of the two will drop the idea "honey, what about going on a nude vacation this summer?". The other half will then respond with a "Yay, I want this too" or a "I'm not so sure about that nudity" or even a "Where the hell did you get that ridiculous idea from?". It doesn't really matter, as long as you did your research about what nudism and naturism really is and know what you're talking about, your better half might give nudism a chance.
Even better is of course (lucky us!!) if you stumble into the nude lifestyle as a couple.
1. Nudist resorts are not the place to be jealous
We like to protect what's ours, it's an animal instinct which few of us can get rid of. We see others as a possible threat to our relationship and we want to avoid that. Okay, this is a very reasonable thought and we do understand your concerns but we want you to forget everything about it. Really. Drop that thought. People will see you naked, people will see your partner naked and your partner will see other naked people. Seriously, live with it. This is a whole new world you're stepping into and there is no place for jealousy when it comes to who sees who naked. It's a big step, but you'll have to take it if you want to feel comfortable.
2. Take care of each other
When we experience something new, something we like, we tend to switch into solitary mode. "Oh my god this is great, this is amazing, look at me!! All running around with my naked ass in the sun jumping from one pool into another!". That's amazing, we love that you love your new adventure, but remember that you got into this together. Don't forget to check how your partner is doing and hold a hand if necessary. After all, you will remember this as a together thing and you don't want the memory to be you doing naked water ballet while your boyfriend is sitting in a corner.
3. Let each other go
It's not because you came here together and you're taking care of each other that you have to be side by side the whole time. Although you're into this together, that doesn't mean that every single move has to be exactly the same. Give each other the necessary space to become comfortably naked and to enjoy this new experience on a personal level. When somebody asks if you are siamese twins, you know you have to leave some space.
4. Meet up
We have different interests when we get to nudie places. While Lins likes to bake in the sun, Nick prefers to spend most of the time in the shade. At a wellness, Lins prefers the saunas while Nick likes to spend his time in the hot tubs. That's totally fine, we've said it in the previous point, there's no reason to hold hands the whole time. Just make sure that you keep this a mutual experience. Meet up every hour or so at the bar for a beer or a wine and talk about what you've just done. "That infra red thing was great"… "what infra red?"… That's how you learn new things.
5. Do some nude sports
Yes, we know, it's great to have your naked body being baked in the afternoon sun, it's great to read a book while doing so and it might be even better seeing your friends on Facebook doing all those boring clothed things. But since there's the two of you, why not do something fun together. Truth has to be said, the sport options at many nudist places are often limited to jeu de boule. But even that, when it's the two of you and you're both naked (and you have a bottle of rum) jeu de boule can be quite some fun. Luckily there are often even better sports to try, how about naked pingpong, naked tennis, naked volleyball or a naked run? Only after you've tried it, you'll know how much fun it is.
6. Go to an adults only nude resort
Adults only resorts have a bad name. These days the words "naturist" and "nudist" are often used out of their context at places where sex is like…ehm… pretty much in your face. But there are others. Several nudist places have an adults only policy because either they are serving alcohol and don't want to check everyone's passport or they want their guests to have a child free holiday. Sometimes, as a couple, this is just what you need. You love your children to death, we all know that, but a weekend without them can be a wonder for your relationship. And that doesn't mean that you want to have spectators while you're celebrating your solitude.
7. Don't go too far away
For many aspiring naturists or nudists, the first step has to be taken as far away from home as possible. Hawaii maybe? Or
Thailand
? Or the Caribbean?
Yes, you could do that and no doubt that you'll have a wonderful time. But then the idea of nudism will always be related to something exotic. Why not pick a place closer to home? The nude beach at the end of the road may not be the best place to start, but pick a spot where you can get back to regularly. Your first time will be a great experience and you don't want this to be a one time only thing.
8. Treat yourself
Your first steps into nudism are a big deal, they really are. A whole new world is opening and you're about to getting a first taste of it. Congratulations. So one option is to drive all the way to that nude beach, stay there for a couple of hours and then drive all the way back. But why not make it a weekend? Why not go to a nudist resort? Or if you really want to go to the beach, get a nice hotel nearby so you can be naked on the beach, get dressed for the short ride (or not, if you dare) and get naked again in your hotel room and the day after you go back to the nude beach. Livin' the lifestyle goddammit!
9. Towel, sunscreen and a good book
If you're a regular reader of Naked Wanderings, you knew that this one was coming. Because it's so important! Make sure to bring a towel to separate your sweaty behind from any kind of furniture, make sure to bring sunscreen because some parts of your body are not reacting to the sunshine as you'd like them to and for once in a while leave Netflix behind and get soaked into a good book!
Naked Wanderings' Complete Guide for the First Time Nudist ebook

Do you still have questions about nudism or naturism?
Are you looking for even more tips and tricks?
Our ebook will be the perfect resource for you!

Learn More
---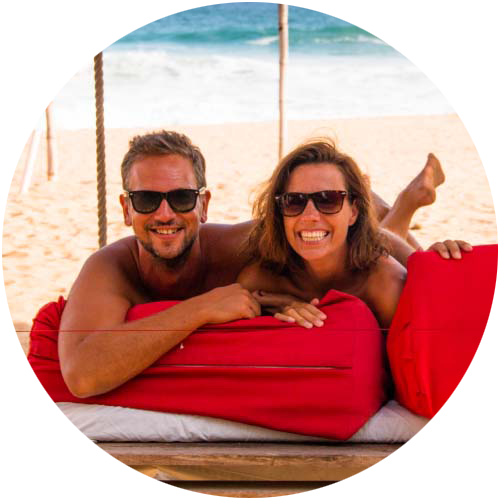 Support Naked Wanderings
Do you like what we do for naturism and naturists? Did we make you laugh or cry? Did we help you find the information you were looking for? Then definitely join our Patreon community!
---