Sorry guys, this is one for the naturist women. But that doesn't particularly mean that you have to stop reading here, some of the tips we'll be giving can certainly be applied to both genders. The reason why we decided to write this piece is because we do receive a lot of questions from our female readers who are curious about the nudist lifestyle but have several doubts about what to expect, how to take the first step and whether it would be something for them. How do things go at a
nude beach
or nudist resort? How do you act? Who will be the other people? And how will that first nude experience be?
It is a fact that the first steps into nudism can be considered more difficult for women than for men. The fashion industry, the food industry and the media have been telling us for ages that we are not good enough the way we are and we have been spending loads of money buying their clothes, their diet books and their expensive jewelry to make us feel just that little bit more beautiful.
And now you've seen this documentary on tv about nudism or you read something about it in a magazine or you've found that wonderful website called
Naked Wanderings
and it has tickled your imagination. Can you be as comfortably naked as all those other naked women out there? Are you ready to expose yourself to all those others? How does it work? And how the hell do you start with this?
1. Don't underestimate the first step, but don't overestimate it either.
Many life long nudists say that it's easy, just take off your clothes and you're done. Baloney! They've just forgotten about their first time. It's a huge leap out of your comfort zone and it could be compared to your first day at a new school, at a new job or in a city on the other side of the world where nobody speaks your language. Just keep that in mind. It is a big step, but you'll get over it and you'll be fine and afterward you'll laugh about your anxiety. There is some truth in what the life long nudists say, being naked soon becomes so comfortable that it will be hard to remember how big that first step really was.
2. Do try this at home.
Being comfortably naked comes in two phases, before you feel okay being naked among others, it's important to get used to the idea of being naked at all. So why not give it a try first somewhere where you're alone? Like at home. Just hang around an hour a day or half a day in the weekend in the nude. You'll feel more relaxed about being naked and that's already half of the way to go.
3. Look, but don't expect to be looked back at.
Most aspiring nudies have barely seen any naked body in real life except for the ones of their partner, besties and close family members. And suddenly you're in the middle of a group of naked strangers. What do you do with your eyes?
It's perfectly normal to have a good look around, this is all new to you. If all the others would be minions you'd surely look around as well. Just don't stare too much at people, that'll make them feel uncomfortable.
Many first time nudists are surprised that nobody is looking at them. There you are, in all your glory and nobody is even giving you a blink of an eye? The point is that we are used to seeing naked people. It's not that we don't think you're beautiful or attractive, it just doesn't make any difference to us whether you're naked or clothed.
4. Private or public
There are different ways to categorize nudist venues but one of the main ones is between private and public places. The most common public nude places are of course beaches but nudity is sometimes also allowed at lakes, parks or forests. The good thing about these is that they are more likely to be free. Private places, on the other hand, are
campgrounds
, clubs,
resorts
, spas or any other place with an owner.
We would advise you to pick a private place for your first time because there's more security and often a better male/female balance. Not that anything bad is likely to happen at a public place, in all those years that we have been nudists we didn't have any very
negative encounter
, but for your first time it's just better to be sure. At least that's our opinion.
5. Clothing optional or nude
Another way to categorize the nudie spots is between clothing-optional places and clothing prohibited places. As the names say, at a clothing-optional place you're still allowed to wear some clothing (although it's often expected that you take them off eventually) and at the other ones you have to go all the way.
Many nudies will advise you to pick a clothing optional place for your first time so you can take things slow, we don't believe in that. The longer you wait, the more difficult it can get. It's like slowly walking into the cold water or jumping right in.
Here an insider tip: Wearing
bathing suits
is not allowed at clothing prohibited places, but wearing a sarong is. If you're not ready to go full monty from the first minute, just get undressed and wrap a towel or sarong around you. It will make you feel more comfortable and it's much easier to take off once you're ready.
6. Towel, sunscreen and a good book
There are a couple of rules among nudies to keep things pleasant for everybody and the use of a towel to sit on is one of the most important ones. It's all about hygiene, if everyone would put down their sweaty behind where they feel like it, soon nobody would like to use the deck chairs anymore.
Another important one is sunscreen. We know that you already have this beautiful golden tan and that you won't get sunburned anymore even after a whole day of baking on the beach. But remember that now you're a nudie, you will have some white body parts again and believe us, you don't want those to get burned!
And lastly, being naked has a really relaxing and de-stressing effect (after that first adrenaline boost of course), so why not improve this even more by reading a good book instead of checking your Facebook? You know you're not going to post any photos today anyway.
7. Who to take?
It's really important to take someone you feel comfortable with. Your partner might be an obvious choice or one of your close friends. It would be a good start if you've already seen each other naked so that's one thing less to worry about.
Going alone is also an option but since this is a new experience it's just better if you can share it with someone. Having to call your friend saying "Oh my god I just had the most amazing new experience, you should have been there!" is just not the same as sharing the moment.
8. Attention from men
We know how it goes, it's Friday night, we dress up, enter the bar and soon there are a couple of guys looking at you. A smile here, a wink there and if you're lucky you're soon offered a cocktail. So what must that be when you're completely naked?
A nudist place is not a bar and men don't go there in search for a new love. Yes, romances do occur, but just like they would at the tennis club. And it's not because everyone is naked that those don't start with dinner and a movie.
9. What if you make a mistake?
This is a whole new experience, a whole new lifestyle and chances are that you will make a mistake. For example, we can promise you that one day or another you will forget to use your towel. All confident you'll be walking towards the bar, place yourself in one of the chairs and wonder what the others are frowning about. And then you notice… No worries, just a simple "sorry, still a newbie" will turn those frowns into understanding smiles.
Here's another insider tip: No matter how excited you are about your newly gained experience, doing the happy dance next to the pool is never a good idea. Falling down can be really painful and doing so with your full moon rising is just not funny. At least not for you.
Naked Wanderings' Complete Guide for the First Time Nudist ebook

Do you still have questions about nudism or naturism?
Are you looking for even more tips and tricks?
Our ebook will be the perfect resource for you!

Learn More
---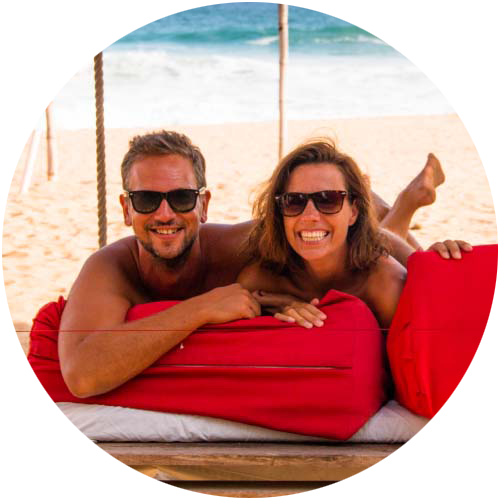 Support Naked Wanderings
Do you like what we do for naturism and naturists? Did we make you laugh or cry? Did we help you find the information you were looking for? Then definitely join our Patreon community!
---