Something about the smaller family-run naturist campings is that they always seem to be a work in progress. That's not necessarily a negative thing. Often guests return the year after curious about what has changed during the winter. Naturist camping Terme d'Astor in the south of France's Dordogne region is not such a place. When we asked the management, a bit habitually, what their plans for improvements are, they bounced the question back at us: "What do you think we should improve?". They are right. Terme d'Astor is one of the rare places which seems to have all things exactly where they should be. But let's not run too much ahead of this story.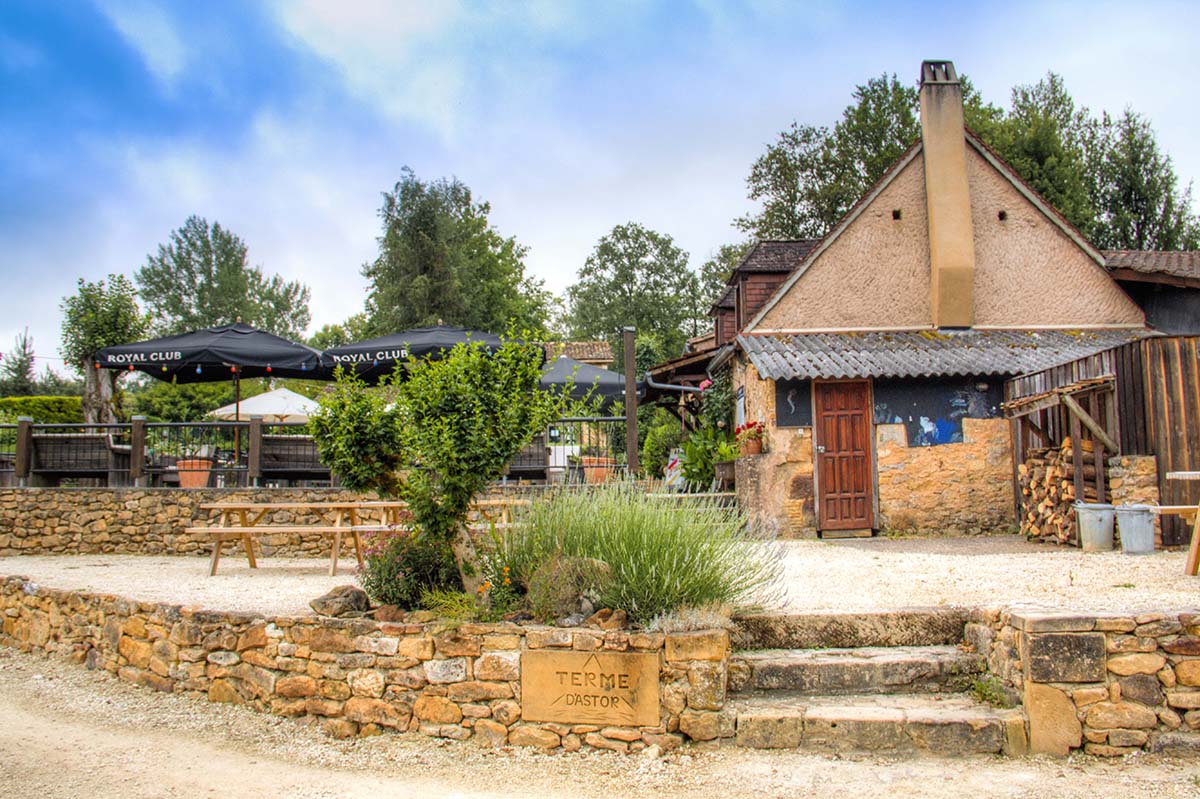 How to get to Terme d'Astor
The Dordogne region is easily accessible by car from pretty much anywhere in France. Coming from the north you can either follow the A10 from Paris to Bordeaux or the A20 going towards Toulouse. Also from the east and the south, you want to follow the road to Toulouse and drive north on the A20 in the direction of Limoges. Depending on which highway you decide to take, some scenic winding roads are waiting to bring you from the highway to Terme d'Astor.
If you're coming by train, there's a high-speed connection between Paris and Bordeaux which brings you to this part of southern France in about two hours. From Bordeaux, you can take a local train to Bergerac. You could also opt to take the slower but cheaper local train from Paris to Bergerac, which takes about five hours.
From Bergerac train station it's less than an hour's drive to Terme d'Astor.
Arriving by air is definitely also a possibility. The nearest airport to Terme d'Astor is Bergerac-Dordogne-Perigord which has several connections within France and to the UK and Rotterdam. Larger airports with connections to all over Europe can be found in Bordeaux and Toulouse.
In any case, having your own transport is pretty much a necessity. Not only to get to Terme d'Astor but also to explore the wonderful Dordogne region. Keep in mind that France is infamous for its expensive tollways. If you're visiting for a short period and not bringing your own caravan or camper, public transport in combination with a rental car might be more cost-effective than driving all the way yourself.
Car rental offices can be found in all three before-mentioned airports and in the train station of Bergerac.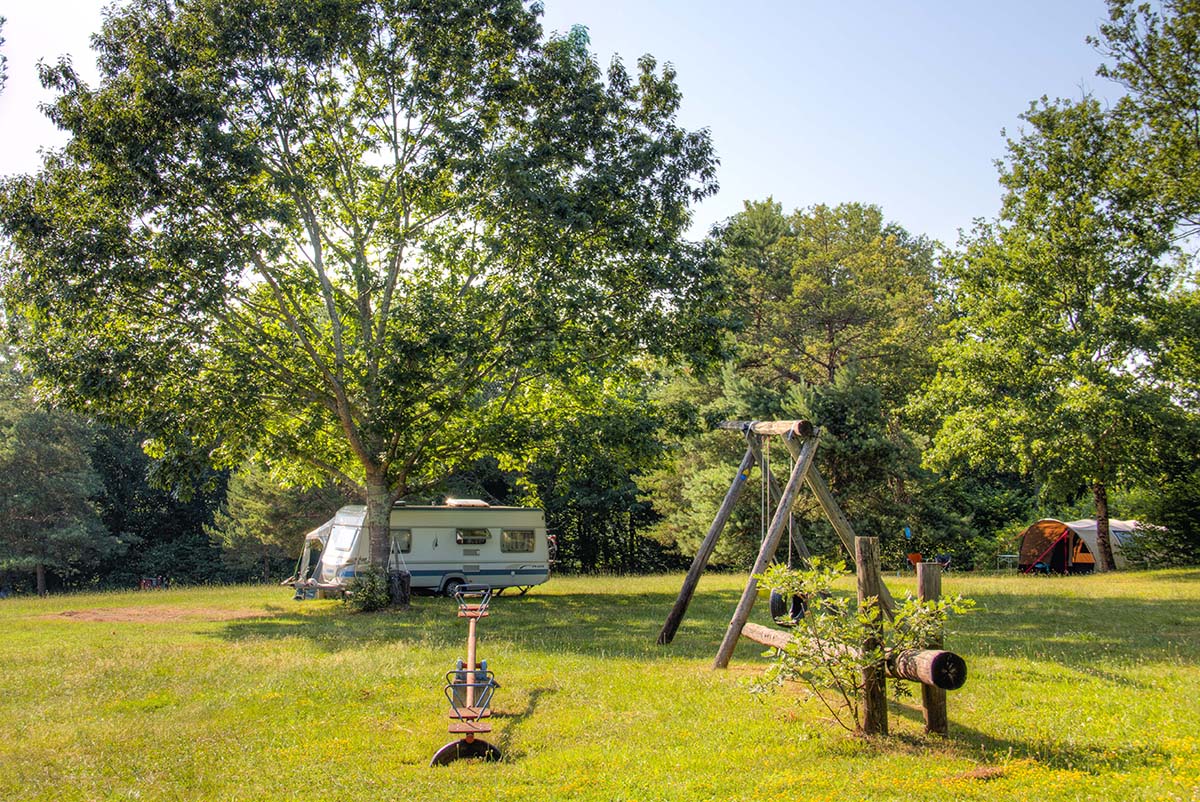 Where to stay at Terme d'Astor
Terme d'Astor is a large domain of 17.5 hectares on which there are only about 100 camping spots. So we probably don't have to tell you that private space is never an issue. Even when fully occupied. 80 of those spacious spots are for those who bring their own accommodation. You can decide on different areas to stay at the camping from close to the main building and pool to deep in the woods for the most shade. The two shower and toilet blocks are never far away.
The other 20 spots on the camping are filled with rental chalets which can accommodate a maximum of 4 to 6 guests, depending on the type of chalet. While we were at Terme d'Astor we stayed in the "Lumière", a comfortable two-story chalet with a fully equipped kitchen, large living room, private bathroom, and terrace. Probably the coolest thing about the Lumière chalet is that it's literally only a handful of steps away from the swimming pool (great to cool down from the ongoing heatwave) and less than a handful more from the bar (great to cool down from the ongoing heatwave).
Several parts of Terme d'Astor are perfectly accessible for those with reduced mobility and some of the toilet and shower facilities have been adjusted accordingly.
The whole camping is car-free, meaning that you can drive to your spot for unloading and loading but other than that your car stays at the parking. This to provide optimal tranquility on the camping.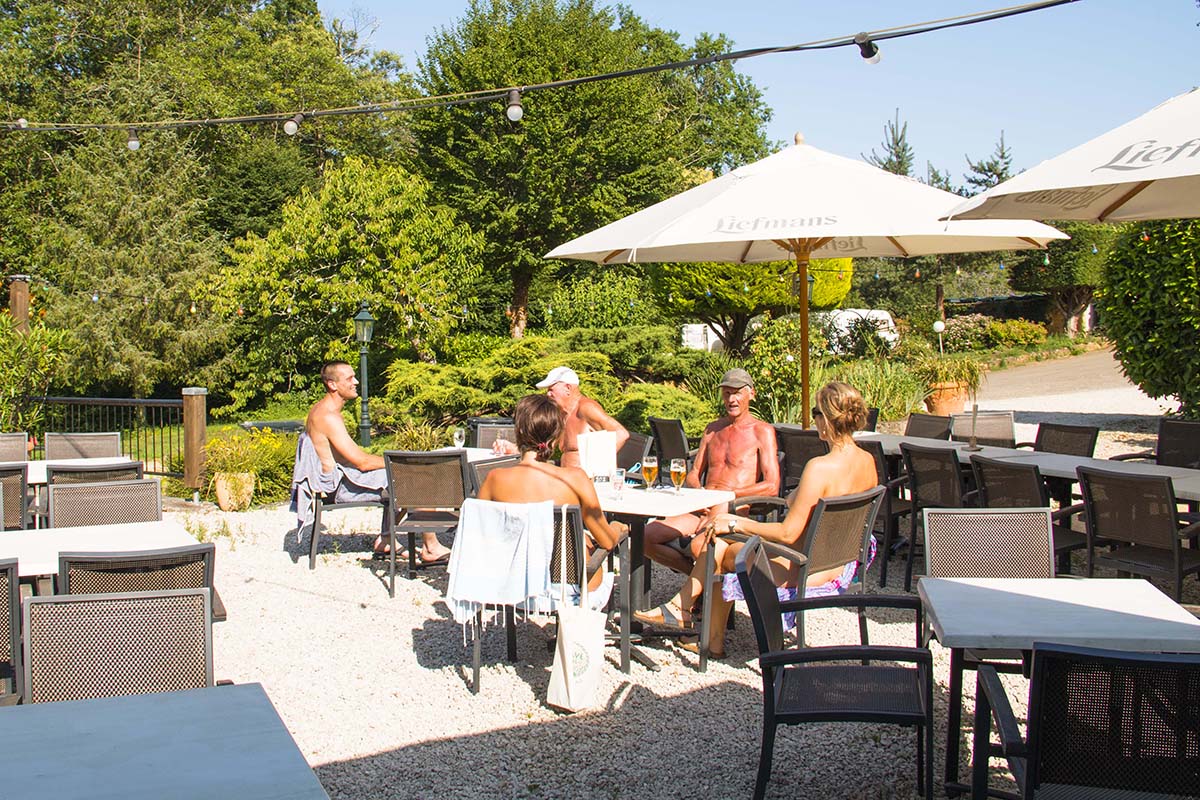 What to do at Terme d'Astor
Something we've learned a long time ago is that a huge amount of facilities is not a guarantee for a great camping. Something they also understood at Terme d'Astor. They've just made sure that all the facilities they do have are perfectly maintained and really stand out. The new swimming pool for example is wonderfully decorated with some palm trees and copies of the Lascaux rock paintings which make it all look very exotic. The perfect temperature of the water of course added to this as well.
The bar is open all day and also serves a variety of snacks to those who are reluctant to leave the camping for lunch. The cozy restaurant provides what we like to call "Burgundian meals" with excellent wines at a scenic outside terrace. And on Mondays, when the Edgar the cook takes his day off, a food truck arrives in the evening serving different styles of duck. A local delicacy of the Dordogne region.
Talking about trucks, something we really have to recommend is the truck that arrives at Terme d'Astor every Friday: The massage truck!
Mariëlle invented this wonderful concept of an authentic-looking travel/massage truck with which she arrives at the camping to give massages to the guests. She has gained experience in several massage techniques and worked out a personal style adjustable to your requirements. We can tell you that a massage from Mariëlle is in our all-time top five. And we've had many massages before.
More info (in Dutch) can be found on the
Frankrijk.nl
website.
The flexibility with which Mariëlle adjusts her massage techniques to her customer's needs is something we found in other aspects of the camping as well. In the activities and events for example. Unlike at many other campings, there isn't really a fixed schedule for activities. Except for the Monday marbles games in low season and the children animation in high season. Most of the other events are created on the spot based on the wishes and needs of the current visitors. While we were at Terme d'Astor a sudden soap slide was organized. This could well have been a petanque tournament, a communal dinner, a pool party, or a concert.
Around Terme d'Astor
The Dordogne is a much-visited region in southern France and not without reason. For many of you, it will probably don't even need an introduction but we do want to mention some of the highlights. If the copies of the Lascaux cave paintings at the Terme d'Astor swimming pool don't fulfill your need for ancient arts and history, the real ones are only an hour's drive away.
Dordogne is also famous for its wonderful castles of which Castelnaud and Beynac are probably the best known. There are numerous cozy historical towns like Monpazier, Périgueux, Sarlat or Rocamadour. And there's lots of nature which make the region perfect for hiking or cycling. Even in the very near area around Terme d'Astor are several hiking trails to be found which bring you past fields, forests, rivers, and sleepy villages. A trail that you definitely want to add to your list is the one of Terme d'Astor itself. It's not particularly large or scenic, but you're allowed to hike it completely naked.
Most of all (at least to us) the Dordogne region is one that represents the good life. The cuisine is famous for its duck and goose as well as for foie gras, truffles, cheeses, and walnuts. The local vineyards produce some of the world's finest wines which will make you forget that there's anything else than the Dordogne. If that's because of the alcohol or the taste is something we'll leave in the middle.
It's possible to rent a very cute little electric Terme d'Astor car to explore the nearby region.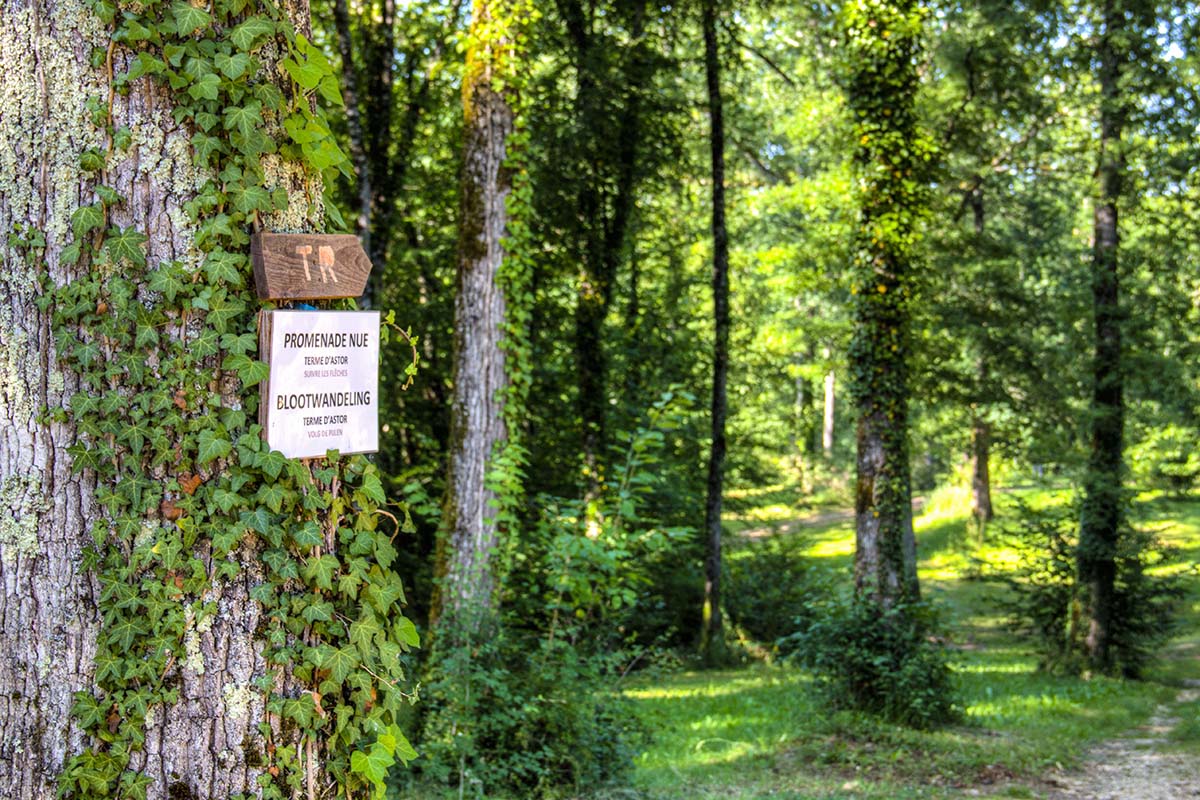 Staff of Terme d'Astor
What probably made us realize the most that everything is running smoothly at Terme d'Astor is the relaxed atmosphere among the staff. This starts with the moment of arrival. There is no rush to get your forms filled and to put you in a spot. Instead, there's Jimmy (at least in our case) who sat down with us at the terrace and talked about the camping while we were enjoying a welcome drink.
During the rest of our stay, we were treated in the exact same way. People took time for us. Whether we wanted tips for the region, the service hours of the camping shop, or just a beer, someone would serve our needs with a smile and make sure that we had everything we wanted before moving on to the next customer.
Terme d'Astor is one of those few places where you feel that all the staff really enjoys doing their jobs. And that's something they completely reflect on the customer.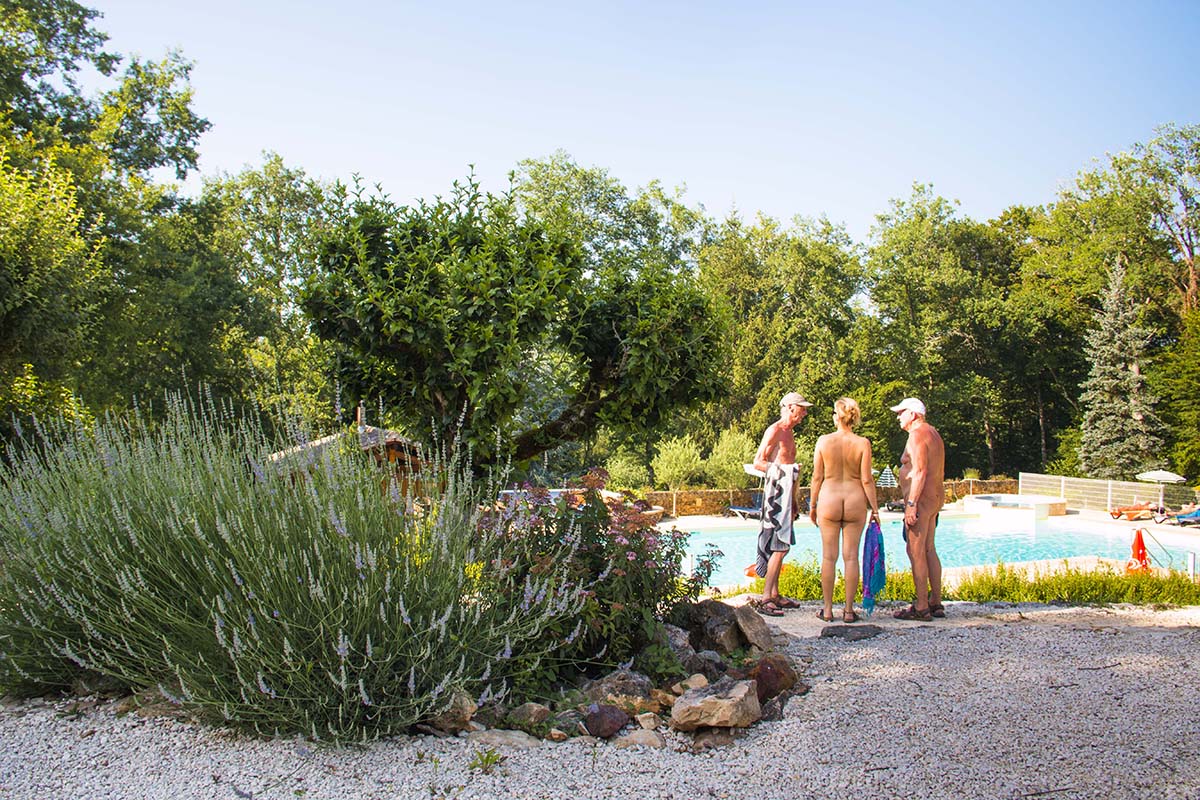 Guests at Terme d'Astor
Now and then we like to ask camping owners a couple of difficult questions. Not particularly for fun (or maybe just a little) but also to get an idea about how things are handled. When we asked Jacco, the owner of Terme d'Astor about his policy on clothing, he told us that he didn't have any. That guests are never called out about wearing clothes. He was right, nowhere in the info brochure, we found anything about a clothing policy except obviously for the pool and the sauna.
Yet pretty much all of the guests were naked most of the time. When we asked the reason for that he replied "because my strategy actually works". Very fair point Jacco. By not forcing visitors with rules they become more relaxed and take off their clothes naturally anyway.
Neither does the camping have a policy against single men and yet we found a great male/female mix at Terme d'Astor. Another point for the management that doesn't believe in discrimination and concludes that there's no specific problem with single men.
Important to add here of course is that the abundance of staff knows perfectly well how to pick out the rotten apples if they should appear.
As it always goes with campings that have Dutch management, the large majority of their guests happen to be Dutch or Belgian. Other than that Terme d'Astor also attracts a fair amount of English and Germans and sees significant growth in French visitors. That last part we love to hear the most because it proves the rumors that naturism among the French is growing fast.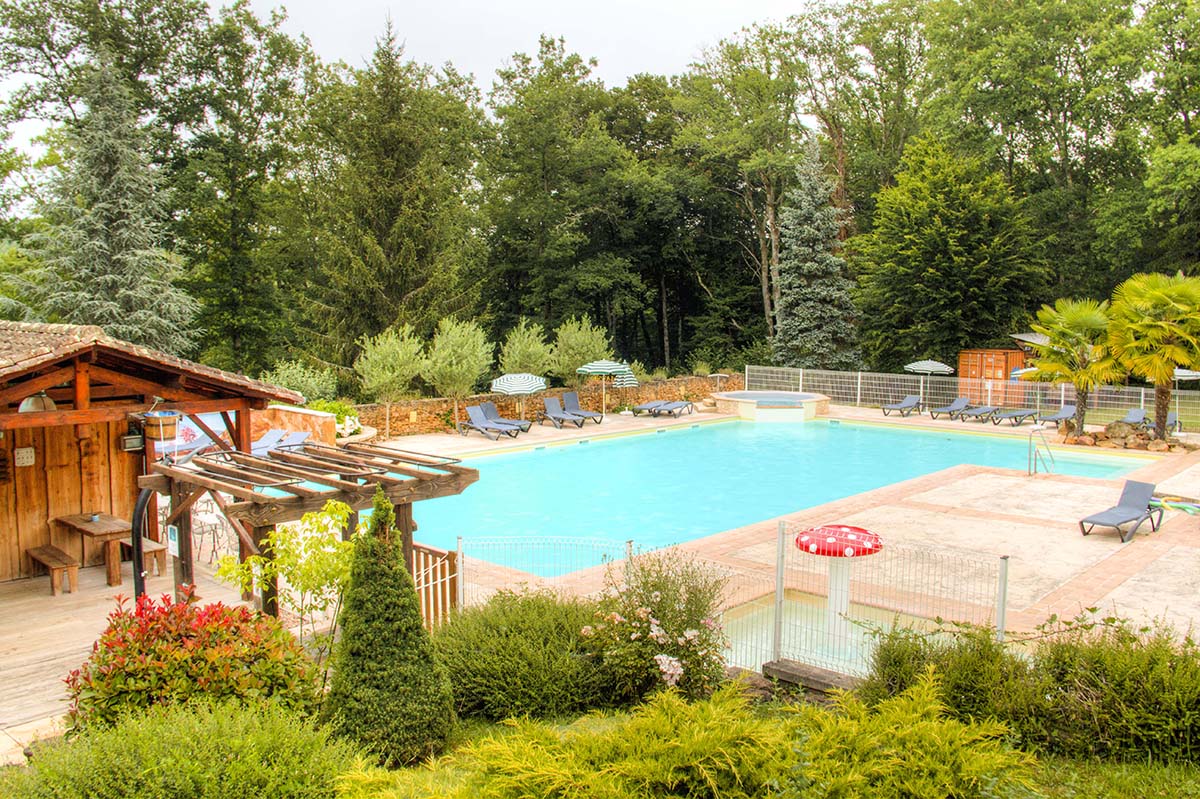 Reservations & Contact
Terme d'Astor is perfect as part of a road trip or for longer stays. Several of the visitors even stay for the whole season. Whatever your travel plans are, reservations are preferably made via:
✅ Their website: https://www.termedastor.com
✅ E-mail: [email protected]
✅ Phone: +33 (0)5 53 63 24 52
It's possible to communicate in Dutch, French, English or German.
Terme d'Astor is open from the beginning of May until the end of September.
Day visits are also possible at Terme d'Astor.
Summary
It wasn't hard to come up with a summary for this article about Terme d'Astor. One night at the bar a guest called the camping a "Paradis Perdu". A lost paradise. And that's exactly how Terme d'Astor appeared to us as well. The staff manages to run the camping as the paradise they wanted to create for themselves. And that works.
Disclaimer: We have been invited as guests of Terme d'Astor, but of course all opinions are our own. We are super confident you will love this place as much as we did!
---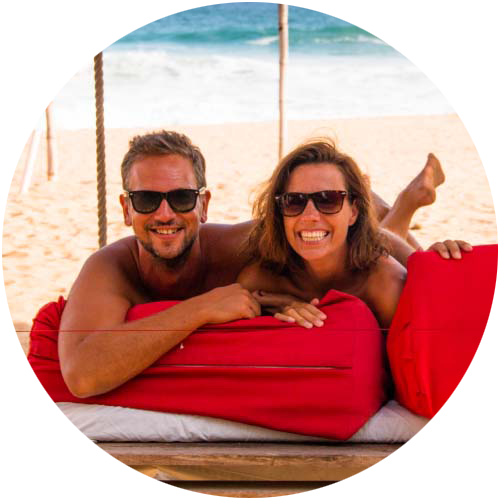 Support Naked Wanderings
Do you like what we do for naturism and naturists? Did we make you laugh or cry? Did we help you find the information you were looking for? Then definitely join our Patreon community!
---