We wanted to visit one last island before leaving Greece and running away to someplace where the winter can't get to us. We had visited an
Ionian island,
two
Cyclade islands,
and
Peloponnese
which basically is also a huge island. So our eye fell on a small group of islands in the north of Athens: The Sporades.
Skiathos is known to be the most popular island, Alonissos the least (it would probably quite deserted this time of the year), so we picked the middle one:
Skopelos
. Our home base for our visit to this island would be the Rigas Hotel in Skopelos town.
Captain Barefoot
was consulted and we found out that there are a couple of places to go nude, but unfortunately there isn't any accommodation that would allow us walking around in the bare. Well… at least not when there are others around.
Spyrou hotels
is a group of six hotels on
Skopelos island
and we had picked their
Blue Green Bay
hotel as our spot because its proximity to the beaches we wanted to visit, but because of the end of the season this hotel was already closed and we were redirected to
Rigas hotel
in Skopelos town.
All in all, this appeared to be a very good decision. In the middle of high season, it's probably great to have a beach hotel, but when there are very few other tourists on the island and most bars, restaurants, and shops are closing for the winter, Skopelos town is probably the only place where one can get a beer after 7 PM.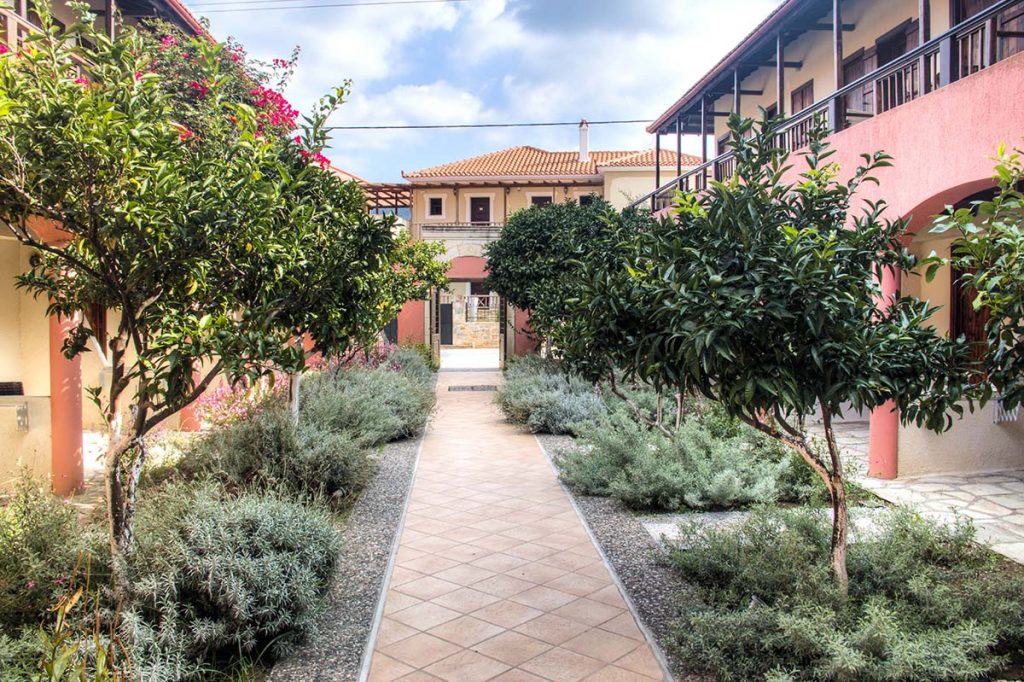 Location
Skopelos is the middle island of the Sporades, for a long time it was an off the beaten track place which was often visited by John Travolta, Robert DeNiro, and Al Pacino but most other tourists preferred the island's more popular neighbor Skiathos, which has its own airport. Things changed drastically when a Hollywood film crew invaded the island and started recording the musical Mama Mia. Since then tourism and the opportunities for tourists have grown, tour agencies shipped ugly painted minivans to the island to cater to the Mama Mia tours but other activities like diving and mountain biking popped out of the ground as well (we'll tell you more about that next time).
The only way to get to Skopelos is by ferry, either from Volos on the mainland or if you fly to Skiathos it's less than an hour boat ride.
Before you book your ferry tickets, better check out the deals of 
Spyrou hotels
as they will often give nice discounts on ferry tickets if you decide to stay in one of their hotels.
Accommodation
Seen from the street, Rigas hotel looks a lot like a small guesthouse with only ten to fifteen rooms and no facilities at all. But don't let that fool you, the beauty of the hotel only starts when you've passed through the reception. Suddenly you're in a huge garden with a magnificent swimming pool and about 70 rooms more.
Depending on your requirements, you can choose between standard rooms and different kinds of studios and apartments, some even with a small private pool. We stayed in a studio type "A", which has its own separate living room and kitchenette. The facilities were quite basic, but more than we needed as we preferred to eat out anyway and to hang around at the pool in the evening. But writing blog posts is just that little bit comfortable while sitting on a real couch instead of on a bed, which made us happy that we had the studio instead of a standard room.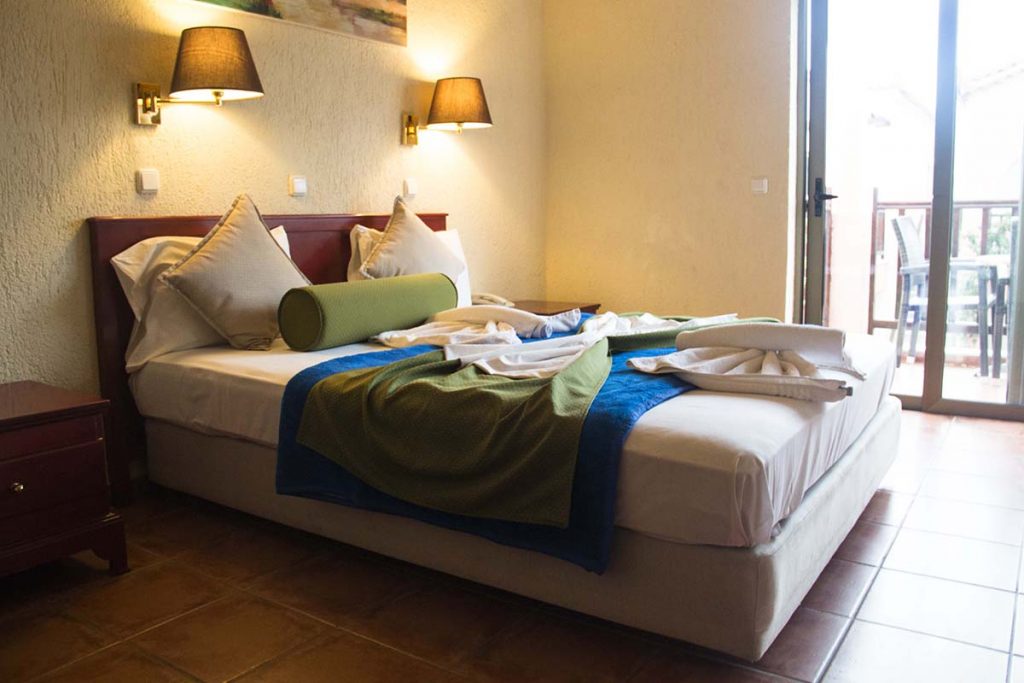 Facilities
The huge swimming pool is certainly the eye-catcher of the hotel, it's hard to be sitting on the terrace of your room, looking down and not wanting to take a refreshing dive. Even though we were not allowed to jump in there naked (trust us, we asked… well actually, we begged, but the staff is strict) it is still a great place to hang around in one of the sunbeds or to take a refreshing swim. When you get thirsty or feel for a little snack, the pool bar is only a couple of steps away.
Rigas hotel has its own restaurant where breakfast is served and if you chose for the half or full board formula you can enjoy a buffet dinner in high season or have different choices of Greek specialties at the beginning of the end of the season.
If you want to visit one of the other beaches on the island, the people of Rigas will help you arrange your transportation and if you've chosen Panormos Beach as your destination for the day (where you also can get naked by the way, but more about that next week), you can freely use the sunbeds and umbrellas of their
Blue Green bay hotel.
The hotel has very good connections with tourist centers and organizers of activities all over the island and can help you plan your day and maybe even help you get a discount here and there.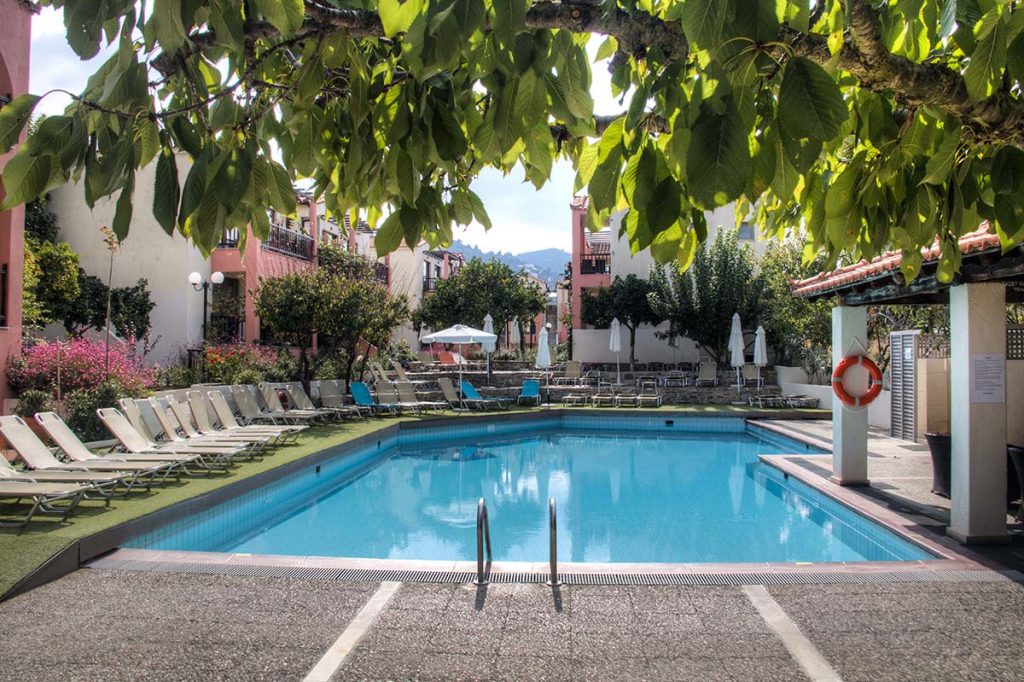 Surroundings
Skopelos island has options for every type of visitor. If you want to relax for a week at the swimming pool, you'll find everything and more in Rigas Hotel, but we strongly advise you to get out and have a glimpse of what the island has to offer.
There's only one main road on the island, which will bring you all the way from Skopelos town to Glossa past the most famous beaches like Velanio and Panormos. Because the island is rather small, everything is easily reachable with a rental scooter or car. If you don't like to drive, there's a regular bus service or you could opt for a taxi. The ride from Skopelos town to Glossa by car takes about 45 minutes or an hour by bus, but we met a guy who claimed that he could do it in 25. And he proved to be right. For the daredevils among you who want to get an idea about real Greek driving, send us a message and we'll get you in touch.
When you get enough of the beach you can visit one of the small villages on the island. Don't expect a lot of restaurants or bars there, these are authentic fishing villages. But if you smile and learn a couple of Greek words you might be invited to drink a Tsipouro with the locals.
If you're looking for something more physical you could go for a mountain bike ride, hike, or dive (more about that next time), and if you would feel a sudden urge to sing a cheesy song, Greek islands can do that to you sometimes, you can go to the Chapel of Saint George in Kastri and replay the wedding scene from Mama Mia.
Staff
The staff at hotel Rigas has always made sure that we had everything we needed and more. Because it's a rather large hotel you don't have that personal touch but unlike in many other hotels the staff seems to really care about you and your needs. Every request is treated with care and they try whatever they can to make your stay as pleasant as possible. Especially George, the maître of the restaurant and pool bar was always ready with a smile and a joke and often made our day just that little bit better.
Guests
There isn't much we can say about the other guests because there were very few as it really was the end of the season. When we were there, the others were mostly Greek and middle-aged. We've heard that Skopelos is a very popular destination among Greeks but all nationalities start to find their way to the island.
Summary
The
Spirou group
has hotels for everyone's needs, if you want to have a real beach holiday we would advise you to give Blue Green Bay a chance (although we didn't stay in this hotel, we know that the group guarantees a certain level of professionality) but if you want a mix of culture, activities and sand and sea, Rigas hotel in Skopelos town is your best pick.
More reviews on Booking.com
Naked Wanderings' Ultimate Guide for Naturism in Greece ebook

Are you looking for great nudist resorts and nude beaches in Greece?
Are you looking for the best tips for a nude vacation in Greece?
Then our ebook will be the perfect resource for you!

Learn More
Need help with planning your trip? Check out our Resources Page for an overview of the best companies we use during our travels
Disclaimer: We have been invited as guests of Rigas Hotel, but of course all opinions are our own. We are super confident you will love this place as much as we did!
---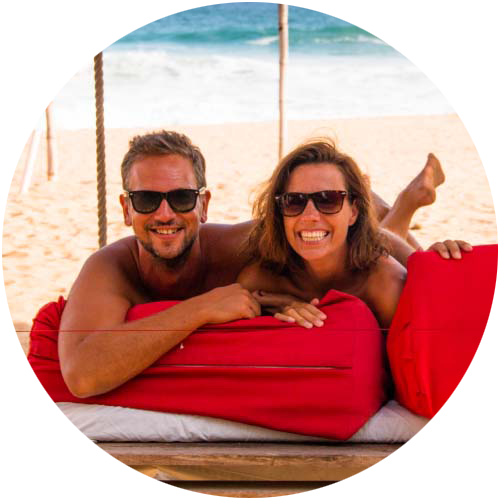 Support Naked Wanderings
Do you like what we do for naturism and naturists? Did we make you laugh or cry? Did we help you find the information you were looking for? Then definitely join our Patreon community!
---