We have been blessed over the last months, not only have we been living our dream day after day, we also had the perfect weather to do so. Temperatures switched from warm to hot to too hot to come out of the sea, but as nudists, we wouldn't have wished for anything else. We hadn't seen any rain since June, which is, for us Belgians, pretty extraordinary.
Somewhere in the back of our heads we did realize that one day this might come to an end and shit would hit the fan, our better said, rain would hit our heads. We easily managed to shove those dark rainy thoughts away, "look at that blue sky, we'll have sun forever", that was our state of mind until a couple of days ago. About an hour after we booked our ferry tickets to Skopelos, luck decided to turn its back to us, at least concerning the weather. Dark clouds came over the hills and rain started to pour in the bay.
We did manage to keep seeing things on the bright side though, we literally saw the end of the naturist season. As naturist bloggers this has some spiritual meaning, at least that's what we like to think. But we did have 2 ferry tickets to Skopelos in our pockets, an island where we were hoping to enjoy the last Greek sunshine of the year, but what was now turned into the first signs of autumn. So no nudie time for us, at least not outside, at least not for the first days.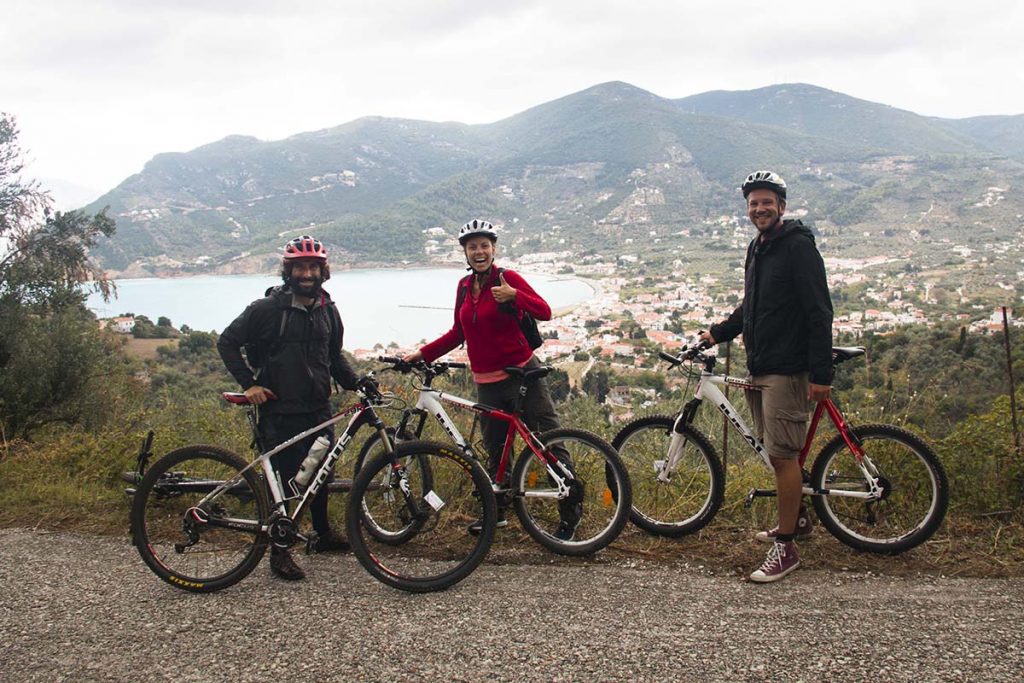 Skopelos Cycling
What do you do when it's too cold and too wet to lay with your naked ass on the beach? We could've stayed all day in our room at
Rigas hotel
, but instead, we hired a guy to take us mountain biking in the area!
Nah, not really, if fact when we arrived the day before in Skopelos the weather didn't look that rainy at all so we agreed with mister Provias (we never managed to catch his first name until the point that it felt too awkward to ask for it for the five hundred time) to take us to the outskirts of Skopelos village. And on a drizzling Sunday morning, we stood at the door of
Skopelos Cycling
in Skopelos town, wondering what had driven us to spend the whole morning on a mountain bike.
The mister himself came over with a smile and told us that it was perfect weather for mountain biking. We, meanwhile specialists in the Greek weather, didn't believe him. We were proved wrong.
Skopelos cycling
is a bicycle rental shop that also arranges mountain bike tours around the island. You can rent a bike an go exploring the area yourself, but most of the cool roads aren't even on Google maps so it's way better to get yourself an organized tour. Mister Provias smiled at us and said "You look in good shape for some heavy climbs". He didn't have the slightest clue that we had spent the last couple of months being lazy at many nude beaches and that meanwhile, our physical condition had gotten way below zero. So we smiled back and said, "Let's go for an easy ride".
We were too proud to ask whether he actually listened to our request but after about a kilometer or two we were sweating our asses off and perfectly understanding why this weather was perfect for mountain biking. From now on we were fearing for the sun to come through. Now all of this might sound like terror to us, and at some of the steep hills it actually was, but the reward was amazing. We got the most beautiful views on the island, we've ridden through places where only the locals come, we've stolen fruits along the way from overhanging trees and we had some great chats about the island and its possibilities for naturists. We had hoped we would be able to turn this tour into a naked bike ride at a certain point, but the weather just didn't allow it. Better luck next time.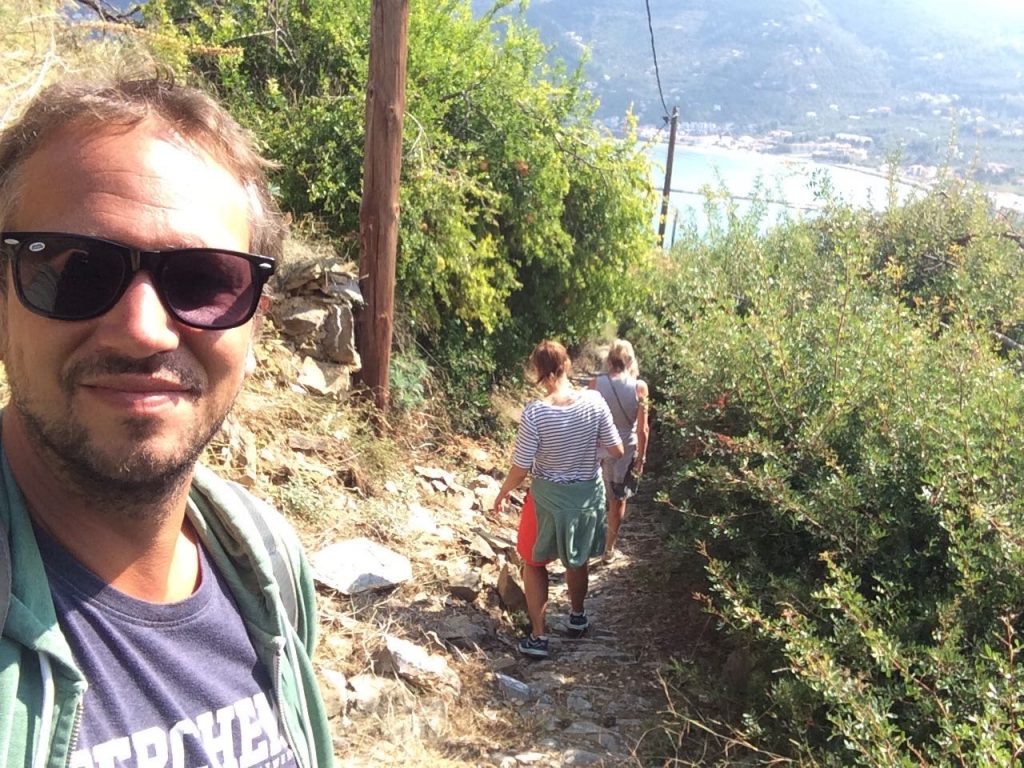 Skopelos Walks
The weather on our third day in Skopelos didn't seem to get much better, but at least it did stop raining. From our mountain bike excursion the day before we had learned that this type of weather is perfect to do something active, so we put on our walking shoes and met up with Heather, the organiser of
Skopelos Walks
. Heather is a legend on the island when it comes to walking or hiking, she has written
two books
about walking on Skopelos and the island's different tracks and she personally maintains all of the hiking tracks together with a group of volunteers. If it wasn't for Heather, the only hiking one could do on the island would be on the official roads.
All of the hiking trails are signposted and can easily be done on your own if you've bought one of Heather's books with the trail descriptions. But we would strongly advise you to tag along on one of Heather's organized hikes because not only will she take you on tracks that are not in the books, she'll also give you a lot of information about the island, its history, and the history of the tracks. Most of them have been used for ages before the asphalt roads came and for the average hiker a track might seem just an old cobbled stone road, but for Heather, it's a source of history and excitement.
As Heather knows more or less every path on the whole island, also the ones that don't get any other visitors, you might even be able to engage her into taking you on a naked hike.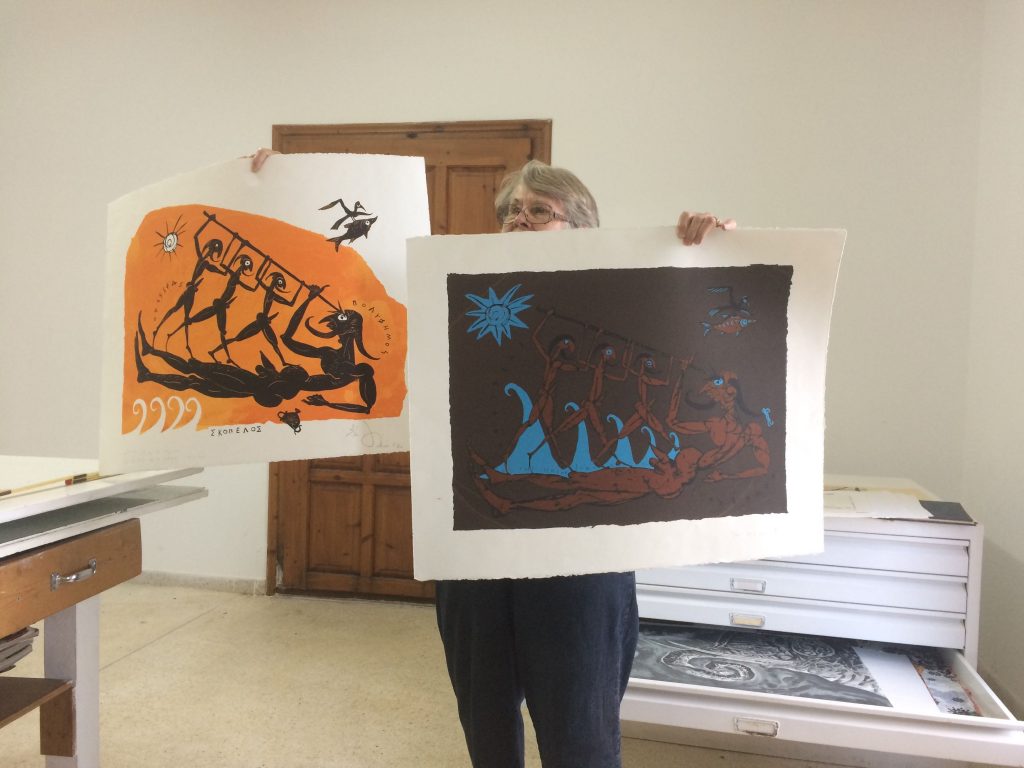 Skopelos Foundation for the Arts
Refreshed from a nice mountain hike in the morning but still too cold to try out any of the nude beaches, we figured that we might as well do something cultural in the afternoon. A visit to one of the monasteries around Skopelos town was an option, we could have gone to the Chapel of Saint George in Kastri and replay the wedding scene from Mama Mia or we could've visited the folklore museum (which, we've been told, is mostly about clothing and let's face it… what do we know about clothing?)
Instead, we decided to visit the
Skopelos Foundation for the Arts
.
Gloria Carr, an American master in printmaking decided to start her own studio where she would invite artists from all over the world to stay and work with her. Her eye fell on Skopelos island. From one thing came another and in 1999 she started the foundation. Artists from everywhere apply for a stay in the foundation which is mostly specialized in printmaking and ceramics but is visited as well for many other art forms.
The island and its relaxed atmosphere are said to have a positive effect on artists, as well as the being away from "society". The artists we met told us things like "I have no idea which day it is" and "it's been more than a month since I looked at my phone", thoughts we can much relate to the naturist lifestyle.
If you're an artist and like some time away to focus on your work, Gloria and her daughter Jill can offer you a refuge where you can explore your capabilities. We didn't particularly ask, but we're pretty sure that they would allow you to do this in the nude as well.
And if you, like us (we don't consider our way of writing as a form of art) are just interested in these things, they will be happy to give you a tour.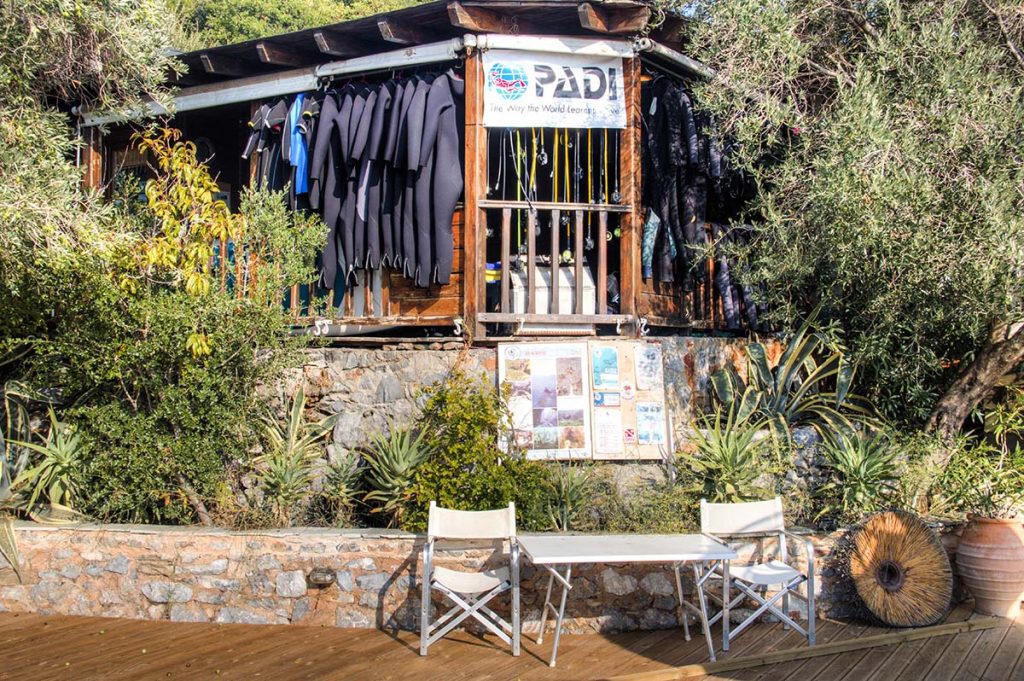 Skopelos Scuba Diving
On our fourth and last full day in Skopelos, the sun finally came through and the temperatures started rising. Time to hit the beaches, but first we wanted to try out an idea we'd been playing with the last days. We had noticed the Skopelos Scuba Diving shop in the center of Skopelos town and we wondered if they could take us on a naked dive, how cool would that be? We got in touch with Costas, one of the owners and dive instructors, and against our expectations, he said that he could take us on a nake dive, but he warned us as well… This time of the year the sea temperatures were dropping and without a wetsuit we'd probably not make it longer than ten minutes underwater. Bummer. So in the end we went for the wetsuit anyway and postponed the plan for if we'd return one day in high season.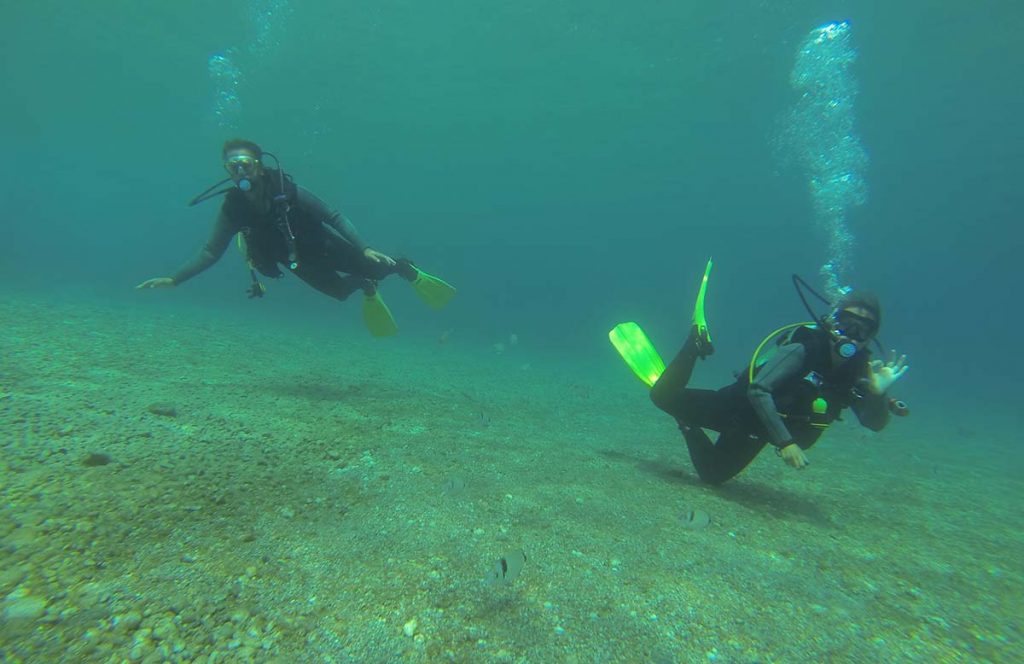 Costas proved to be an excellent dive instructor, revising some of the basic tactics for Nick first since it had been ages since he dived the last time, and then we went into the waters around the island. There are several diving spots around the island, now don't expect the Great Barrier Reef passing by but be prepared for beautiful rock formations and caves, many shipwrecks, and lots of fish.
The Greek government is also working on an underwater museum with several shipwrecks from the times of the ancient Greeks, which should open in 2018 and will become one of the major dive sites in the area.
Skopelos Scuba Diving provides fun dives, refreshment courses as well as the official PADI Open Water courses.
And if you ask nicely, they might take you on a naked dive.
Find the best nudist accommodation in the area on NUDE
Naked Wanderings' Ultimate Guide for Naturism in Greece ebook

Are you looking for great nudist resorts and nude beaches in Greece?
Are you looking for the best tips for a nude vacation in Greece?
Then our ebook will be the perfect resource for you!

Learn More
Need help with planning your trip? Check out our Resources Page for an overview of the best companies we use during our travels
---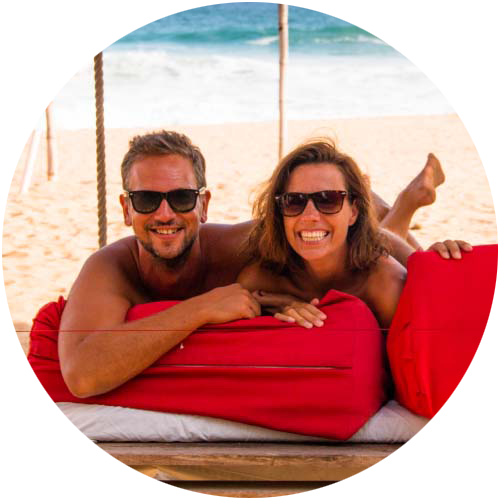 Support Naked Wanderings
Do you like what we do for naturism and naturists? Did we make you laugh or cry? Did we help you find the information you were looking for? Then definitely join our Patreon community!
---