We had very little idea about what we were going to find in
Uruguay
. When we traveled extensively through South America about 6 years ago, we somehow had forgotten about this little country. Lonely Planet doesn't mention many world-class highlights and at the time we just followed the main sights of
Argentina
, only to notice that we had skipped Uruguay when we were already enjoying the Brazilian coast.
This time we had some nude destinations in sight though. They are pretty limited in Uruguay but one spot, in particular, had caught our eye even from before we moved over to South America: Chihuahua beach, locally called Playa Chihuahua, which is supposed to be the best
nude beach in Uruguay
and one of the most beautiful ones on the continent. And there's a nudist hotel near that beach as well: El Refugio. That sounded perfect for a nude vacation so we went over to go check it out.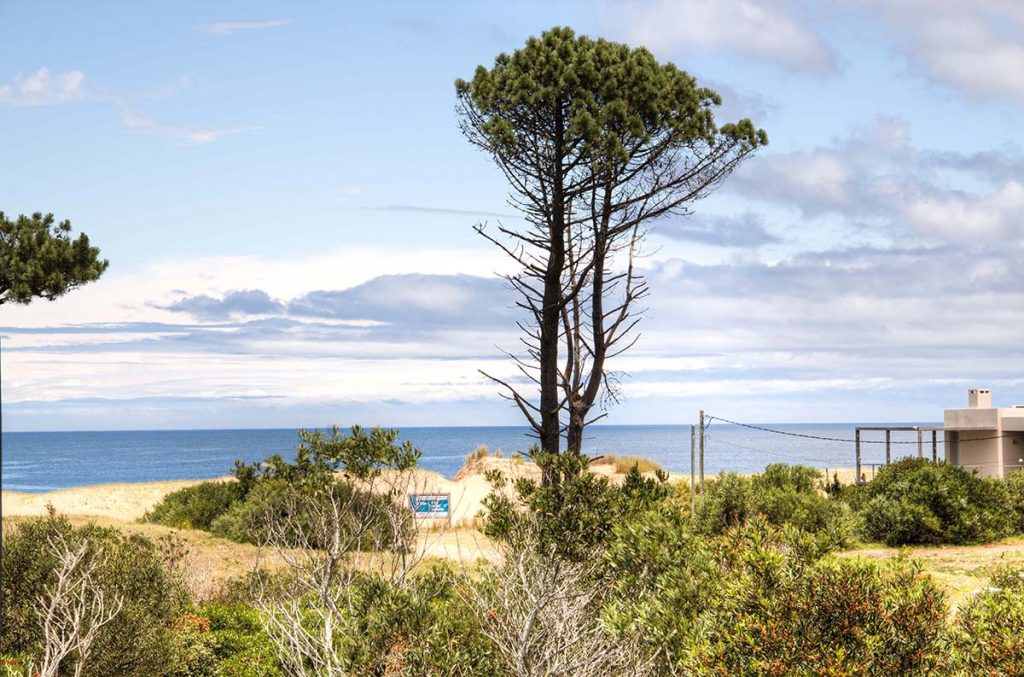 How to get to El Refugio
Playa Chihuahua is located near the popular holiday destination Punta del Este at the southern coastline of the country. Quite conveniently, Punta del Este airport is just a couple of kilometers away from Playa Chihuahua and receives
direct flights
from
Argentina
, Chile, and
Brazil
.
If you're flying in from another South American country it might be much easier to fly to Montevideo (Uruguay's capital) instead which is about an hour away from Playa Chihuahua. But except for Madrid, Spain, this airport also doesn't serve any intercontinental destinations. Do you start to get how we forgot about Uruguay years ago?
Coming from Europe, Asia, or the United States your best bet will be to fly to Buenos Aires, Argentina, which is literally just across the river, and from there take a connecting flight to Punta del Este or Montevideo or the ferry to Uruguay. The latter is often the most economical option.
Uruguay has a pretty decent bus system so if you travel by public transport you can find Playa Chihuahua on the Montevideo to Punta del Este line. Ask the driver to get off at stop "Tio Tom". From there it's a one-kilometer walk to El Refugio, but if you ask nicely Ricardo (the owner) will certainly meet you at the stop in his car.
Do note that there are few bars, shops, and restaurants in the area, so
renting a car
is certainly an option you want to consider.
Car rental options
can be found at airports and bus terminals.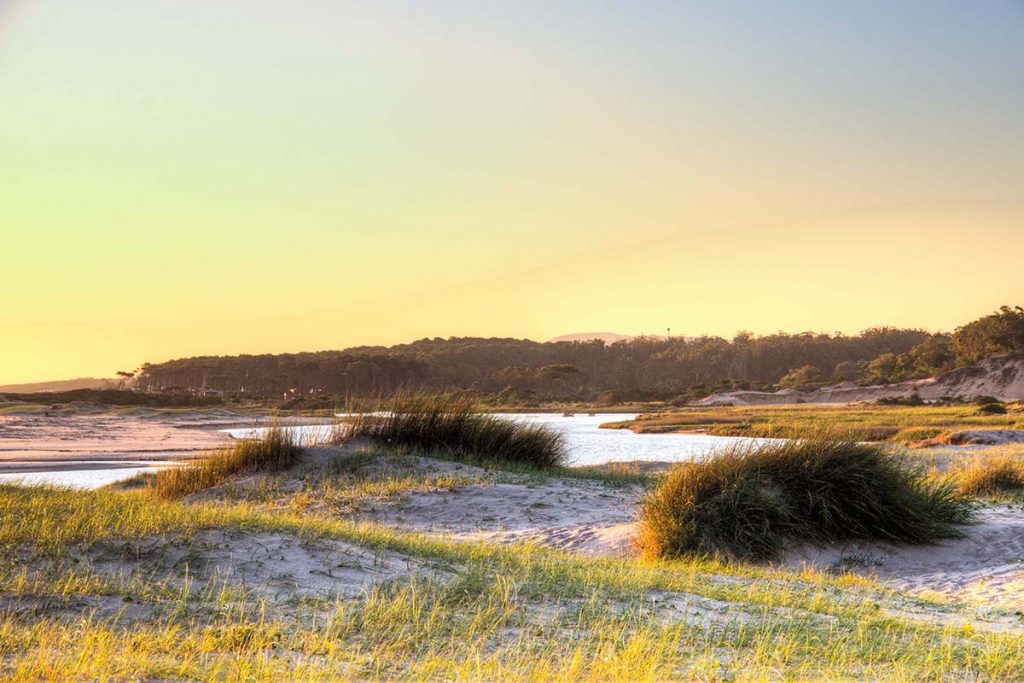 Where to stay at El Refugio
El Refugio is one of those typical South American beach guest houses. A partly wooden building that creates a certain bohemian atmosphere and invites you to just hang around and relax. The guest house has about 6 spacious rooms which all have a very comfortable bed, a fridge, air conditioning, and a private bathroom. The nice decoration only improves the feeling of being near the beach. The walkway in front of the rooms that goes all the way around the building also serves as a terrace from where you can watch the sea and the dunes in the morning or the sunset in the evening.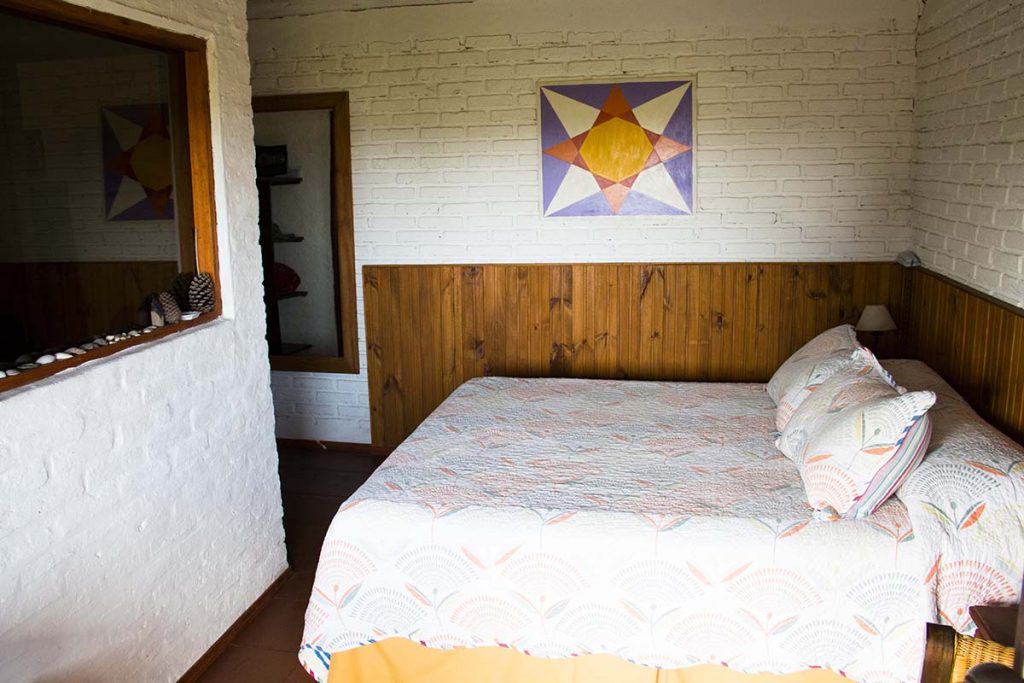 What to do at El Refugio
As Ricardo likes to say: "Playa Chihuahua is the queen and El Refugio is just her servant". Meaning that the majority of their guests are most interested in spending their days skinny dipping and getting baked on the beach. For those who prefer to have a day off from the crowds and the sand between their butt cheeks, El Refugio will serve well.
A nice swimming pool and a garden where you can relax and read a book might be all you need. There's an outdoor area with a parrilla (like a barbecue) and an indoor area with a TV and books.
You're not yet there and you're already thinking about skipping the beach for a day, right?
Breakfast is included in the room price at El Refugio and if you don't feel like going out late at night to eat (you have to know that people in Uruguay rarely eat before 10 pm and that restaurants often don't open before 9 pm) you can arrange dinner options at El Refugio.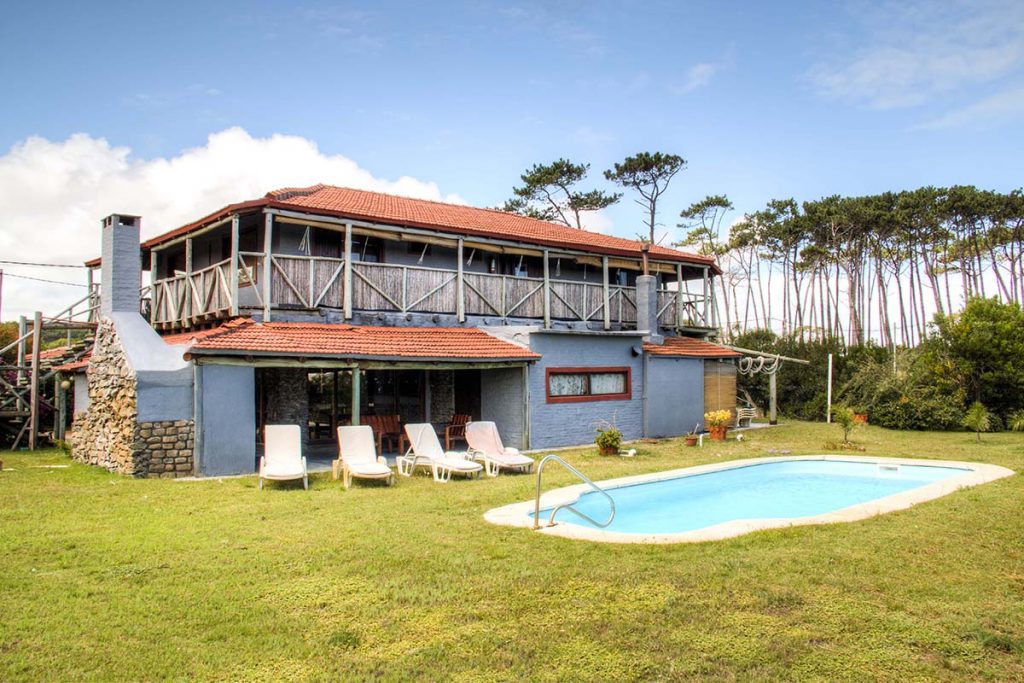 Around El Refugio
Of course, the main reason why you want to visit this region is to be with your naked behind on Playa Chihuahua. And certainly with reason. We have to say that this beach is in our top 10 list of most beautiful nude beaches we've ever visited. A 2 kilometer stretch of wide white sandy beach with dunes on one side and the Atlantic ocean on the other. While we were there around Christmas, the temperature of the ocean was just warm enough for a refreshing skinny dip.
Important notice: When facing the ocean, the part on the right of the safeguard tower is considered more gay-oriented and the part on the left more for couples. We've spent about half a day thinking that Playa Chihuahua was just one of those "men only beaches" before we found out that there were two sides…
Playa Chihuahua has two beach bars of which one is directly on the beach: Explora. The other one, Mandala, is further in the dunes but does give excellent views as well. Both bars serve food, pretty expensive but delicious. And they're great for watching the sunset while sipping on a Caipirinha.
Those will be pretty much your only food options. There is a small store on the road towards the main highway which sells beers and other alcohol (much cheaper than in the bars) and sandwiches, empanadas, chips, those things. For more food options you'll have to get to Portezuelo (about 2.5km from El Refugio) or further towards Punta del Este.
Punta del Esta is fun for a day trip to see how rich people have vacations in Uruguay. We didn't like it a single bit but maybe you do.
Also important to note: The nearest ATM is at the airport. There are no ATMs at Playa Chihuahua and beach bar Explora only allows cash. You might want to stack up on pesos before heading over to the beach.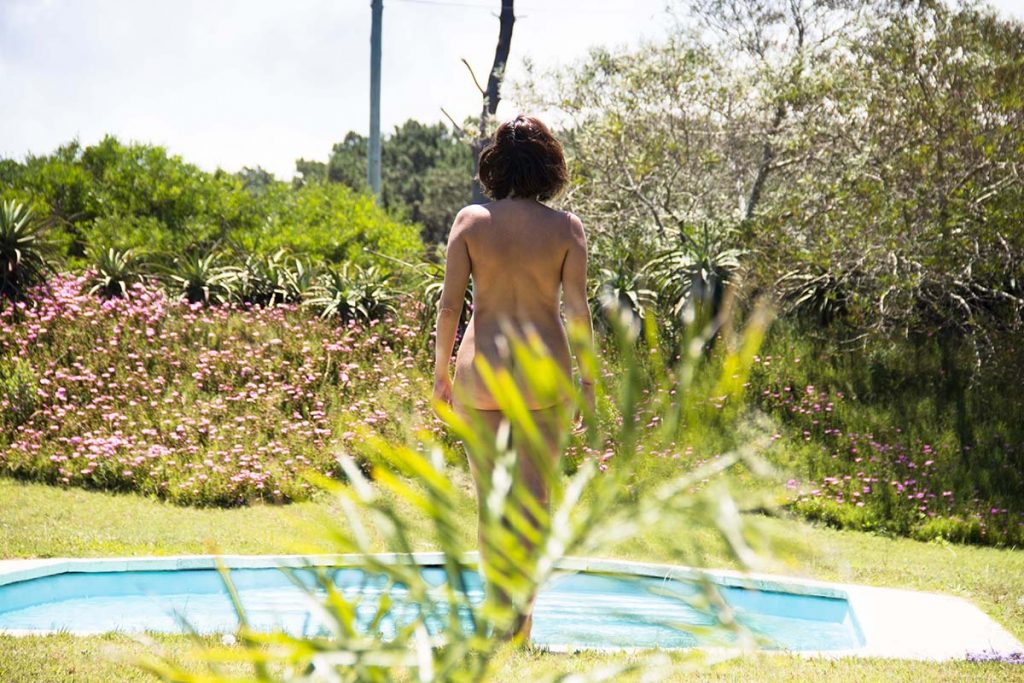 Staff of El Refugio
Ricardo and Marcela started El Refugio 18 years ago and at the moment it's still the only official naturist hotel in town. It's a lovely couple who will do everything in their power to make your stay a very comfortable one. Now and then you'll also see their daughter Camilla helping a hand around too. We jokingly called Ricardo the Don Quichote of Playa Chihuahua because he appears to be the only person in town trying to promote the beach. Often more than his own hotel although both are obviously linked. A pity that he's the only one because this beach has so much potential. But on the other hand, if a similar beach existed in Europe there would already be lots of hotels surrounding it. And the great atmosphere would pretty much be gone.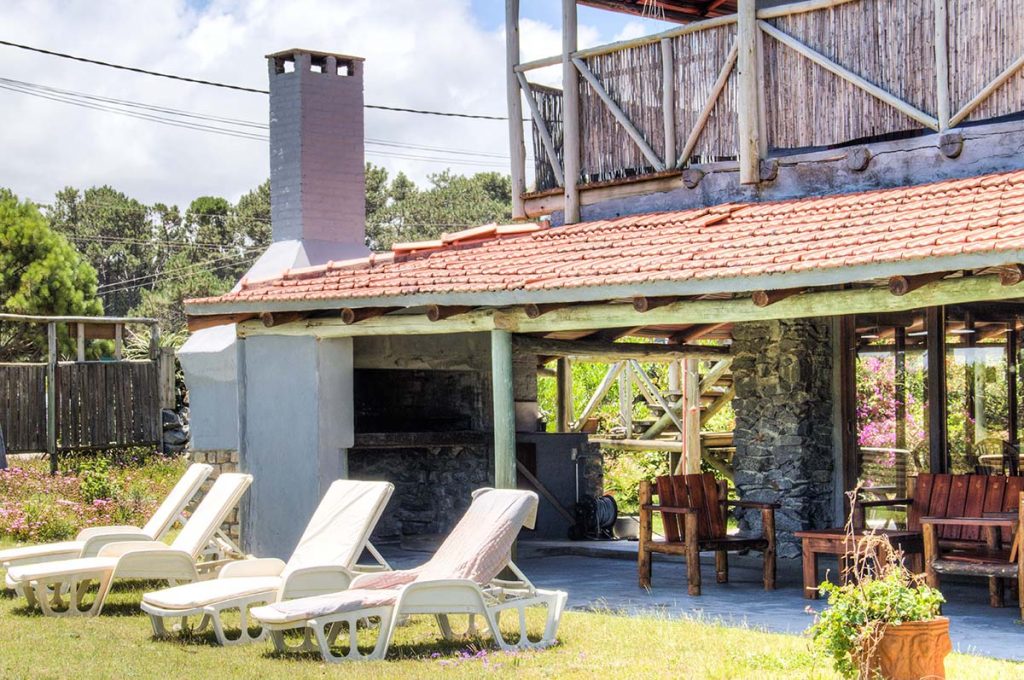 Guests at El Refugio
When we arrived around a week before Christmas, both El Refugio and Playa Chihuahua were more or less empty. The weather wasn't ideal for sunbathing and we started to fear a couple of lonely days. Day after day the sun started to win from the clouds and the crowds were arriving. What we didn't know yet was that Christmas is the day when the national vacations start in
Uruguay
, which tends to last until the end of January. During this period all of Uruguay moves towards the beaches. By the day of Christmas Eve Playa Chihuahua got already quite full and also El Refugio started receiving more guests.
We celebrated Christmas Eve at El Refugio (which we can certainly recommend, by the way, their food was awesome!) with a really fun guy from the UK, a visitor from Japan, Florencia and Alfredo from Argentina (both board members of
APANNA
, the Argentinian naturist federation) and of course Ricardo, Marcela, and Camilla. And we had an amazing time.
Guests of El Refugio come from all over the world, mostly
Argentina
and
Brazil
but also from the
USA
and Europe. And even Asia as our Japanese new friend had just proved.
Summary
Playa Chihuahua is a little paradise and we hope that it will remain like that. Even though that means that we have to walk a couple of kilometers to get to a decent supermarket. If you want to spend more time naked than just on the beach, El Refugio exactly is where you want to stay.
Read more about El Refugio on  
NUDE
Disclaimer: We have been invited as guests of El Refugio, but of course all opinions are our own. We are super confident you will love this place as much as we did!
---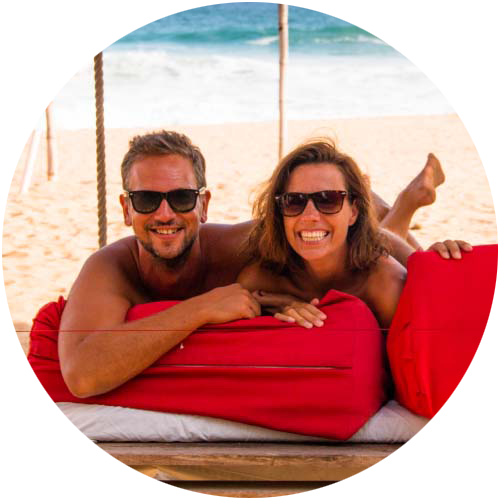 Support Naked Wanderings
Do you like what we do for naturism and naturists? Did we make you laugh or cry? Did we help you find the information you were looking for? Then definitely join our Patreon community!
---