Sometimes we use the term "naturist resort" or "naturist camp" or "naturist place" or "naturist spot" for places where life is lived at the bare essentials. At least clothing-wise. We prefer not to use "naturist colony" because we feel that it gives a bit of a negative undertone to nude recreation. And sometimes we even use "naturist domain", a pretty nice term if you ask us but after this blog post, we will, unfortunately, have to stop using that one as well. We believe that we have just reached the maximum when it comes to domains. We've just visited La Pommerie.
We believe that one of the major differences between a textile resort or campground and a naturist one is (other than the obvious nudity of course) the amount of space you're given. Space is money at any holiday accommodation and by dividing two spots into 4 one can actually double their revenue. Or at least so it seems. But that's not always true and certainly not in a naturist place. We need our space and we appreciate places better when there are more common areas. Either in the form of grass fields, forests or lakes, or in the form of a restaurant, volleyball courts, or petanque courts. Or in a mix of all before mentioned. Just like at La Pommerie.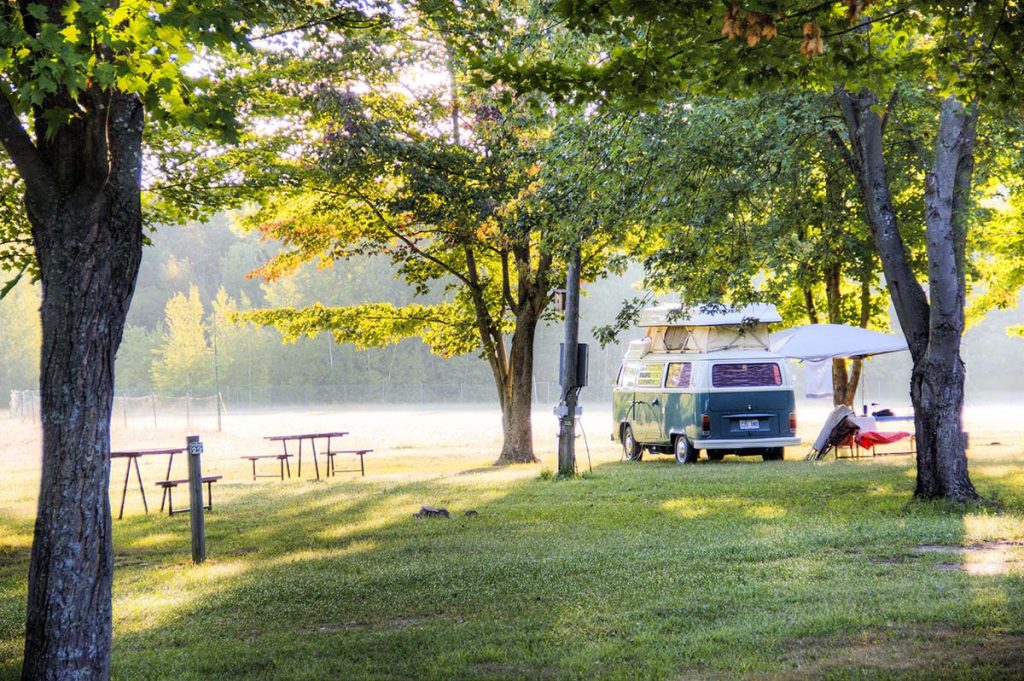 How to get to La Pommerie
La Pommerie is located south of Montreal, but don't let the Canadian maps fool you. It's actually about an hour's drive from downtown. The area is well known for its apple orchards and lush landscapes which need little imagination to make you think about certain regions in Europe. Apple trees on your left, green and yellow fields on your right, here and there some trees and tucked away between all that nature a farm rises up.
From wherever in
Canada
you're coming, you will more or less have to pass Montreal first and depending on the time of the day this could mean some serious traffic jams. Coming from Toronto it's better to switch from the 401 to the 30 before you arrive in the city.
From Montreal there are several roads towards La Pommerie, we tried a couple of them and found the combination of the 138 and the 201 work the best for us.
Oh and here's a tip: Gas prices in and around Montreal are very expensive but tend to go down again towards La Pommerie. Better to fill up before you arrive in the city or wait until after.
Given its proximity to the USA border, La Pommerie is also a perfect destination for their southern neighbors. Although we haven't tried it, the Churubusco (Vermont) – Franklin (Quebec) route seems like a good place to cross or if you're on the highway, the 87-15 might be easier.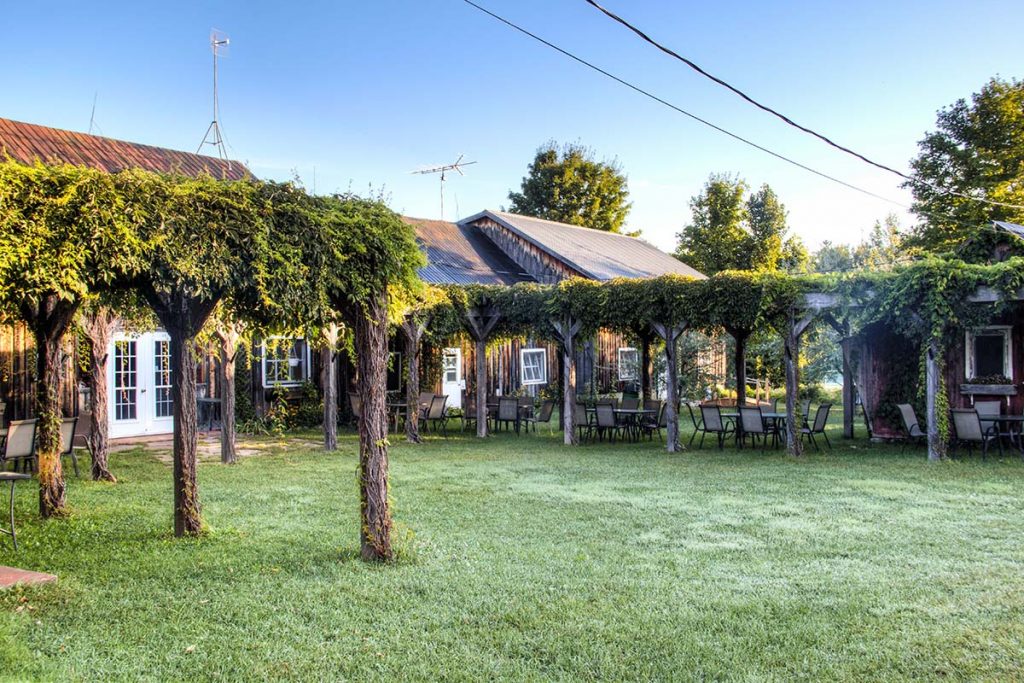 Where to stay at La Pommerie
Many different types of camping spots are available with a mix of services that can fulfill the needs of the basic backpacker to the schoolbus size campers. The camping part of the domain is divided into several smaller campgrounds which always make you feel like you're in this rustic 30 spot campground rather than on a big one. The different campgrounds also come with a different atmosphere, some are in the woods, others in the fields, some give a view on the orchards, and so on. If you're picky about your perfect holiday spot, check out the possibilities before making your choice.
Other than bringing your own home away from home, there are several options for rental accommodation as well. Whether you prefer a chalet, a trailer, or a yurt, it's all there for you. After a month of camping in a small tent, we were happy to stay in one of the trailers at the "Boisé" part. Something we can very much recommend!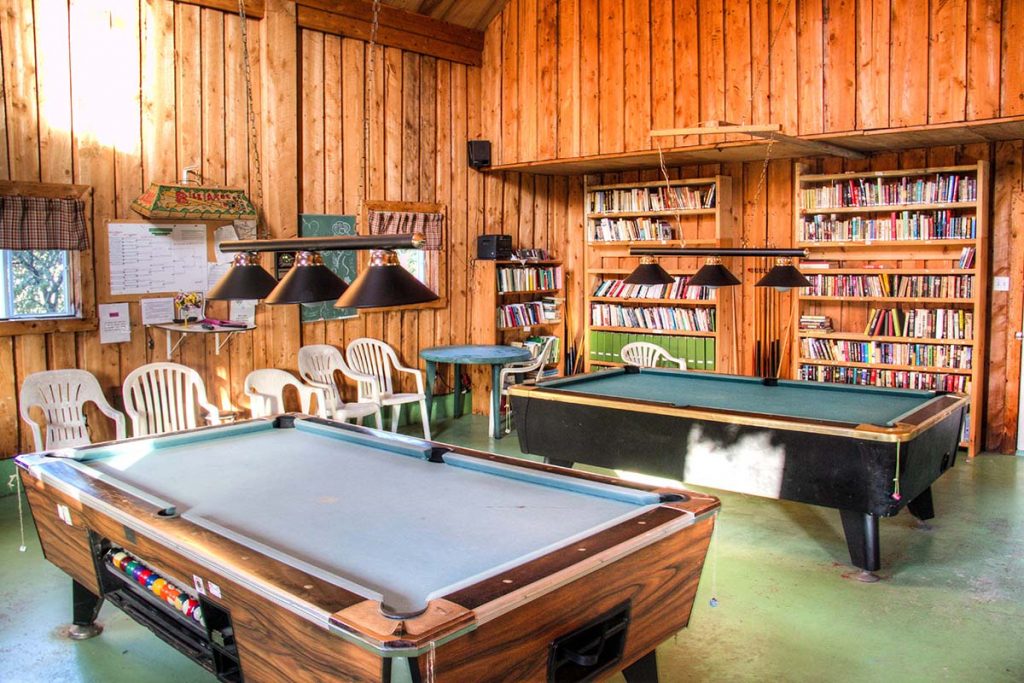 What to do at La Pommerie
One of the advantages of such a large domain is the amount of space that can be used to keep your guests busy. One of the central points at La Pommerie is the swimming pool area. With three saltwater pools for all different ages, it's not hard to imagine why many of the guests prefer to spend their days over here. A grass field with many shaded places surrounds the pools and is perfect for relaxing with a book after swimming your laps. Other sport possibilities are several tennis, volleyball, and petanque courts.
Another well-known point of interest is the lake with its own beach, ideal for working on that optimal tan or just to relax in a very green environment. More relaxing can be done at any of the large grass fields on the domain, by walking through the forests, fields, and vineyards or why not have a massage at the therapeutic center?
For us, one of the most remarkable facilities at La Pommerie was the bar/restaurant and this time not only because we like to eat and drink. We think that we can honestly say that the food we were served at La Pommerie was among the best we have ever eaten at a naturist campground. Or any campground actually. A young couple is running the place and with fresh ideas, they served us one delicious dish after another. Completely fitting the profile of an ecologic naturist campground they buy more than 70% of their ingredients local. And local here means within 15 kilometers from La Pommerie.
For us, the restaurant alone is a reason for visiting La Pommerie.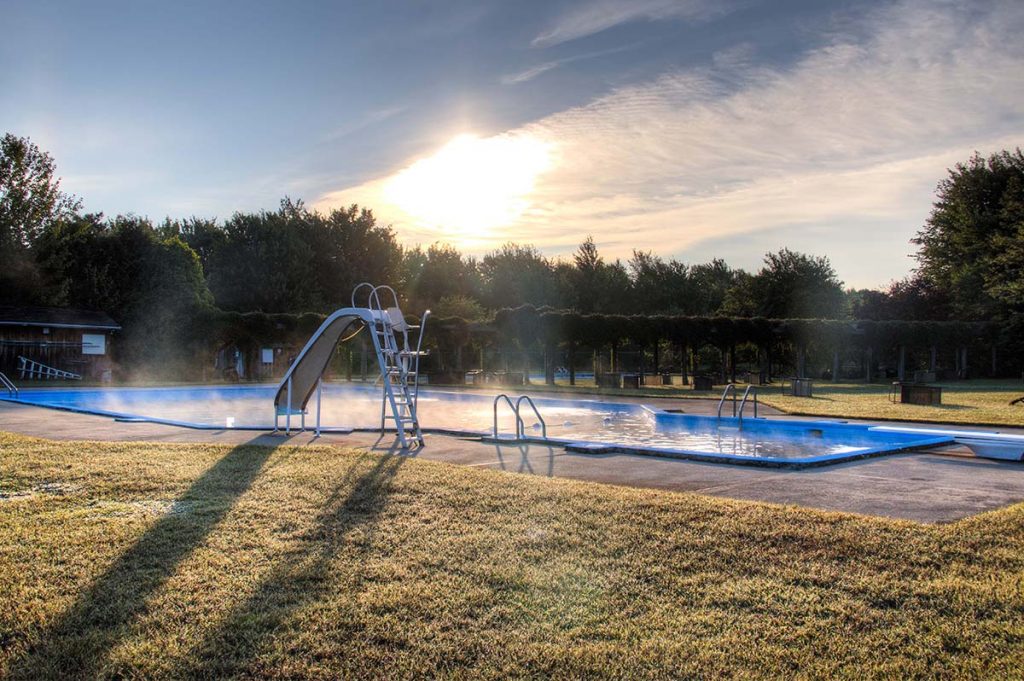 Around La Pommerie
Your number one day trip will most likely be the cosmopolitan city Montreal. With art and culture on literally every street corner, this city is a top destination for every visitor on this side of
Canada
. But of course in Montreal the options to get naked are limited. Oka beach, in the national park west of the city, does provide you this option. It's the only nude beach in the area and although we visited on a weekday in September, there was a pretty large crowd.
We can only imagine what this will be on a sunny Sunday.
As said in the introduction, the direct area around La Pommerie has some beautiful landscapes, ideal for bike tours. Several nice villages can be visited on your way to taste local cheese, wine, or beer.
On the northern side of Montreal are the Laurentides, the local mountains. Nice for walking in summer or skiing in winter.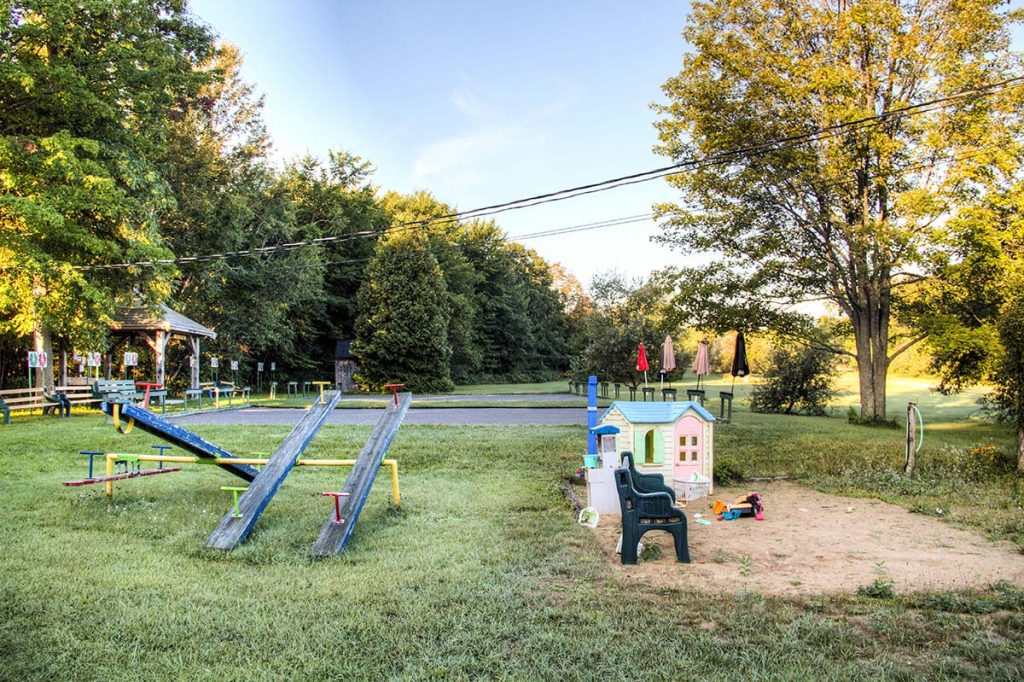 Staff of La Pommerie
The first person to welcome us was Caro at the reception. A very nice lady who gave us an introduction to the place and the facilities. After checking in we were greeted by Gilles, the manager of La Pommerie, who showed us towards our trailer and several times after made sure that everything was all right.
Gilles had been one of the 15 members who had bought La Pommerie from its previous owners and we're not sure if he's technically still the manager, but more and more of his tasks are being executed by his children lately.
Among them, we met Arnaud, who's responsible for the PR and marketing of the place although it seems that he does quite some other stuff as well. We had an interesting chat with him and are convinced that the young blood taking over the management is the perfect ingredient for a bright future for La Pommerie.
The other staff members we got in touch with were mostly working in the restaurant. A young and vibrant crew, always up for a joke.
Guests at La Pommerie
There it was again… The language barrier. It's quite a funny thing, really, we ask something in French, people completely understand us and then they give us an answer that sounds like a language we have never heard of. Quebecois truly is a weird language. But luckily, as soon as people recognized that we were not from the area, they adjusted their French more towards ours or switched to English.
La Pommerie is a naturist campground for all ages and during holidays or sunny weekends it's not hard to imagine that all ages will be present. The domain is perfect to cater for everyone. Several playgrounds are spread around for the smaller children, there are sports activities, remote spots perfect for a campfire and some music without disturbing those who prefer to go to bed after quiz night.
Summary
La Pommerie is one of the topmost beautiful naturist places we have ever visited (and this is not only because of the restaurant). It's a naturist oasis in a textile Canadian desert, a perfect getaway from the outside world to reunite with nature, naturists, and yourself.
Read more about this resort on  
NUDE
Disclaimer: We have been invited as guests of La Pommerie, but of course all opinions are our own. We are super confident you will love this place as much as we did!
---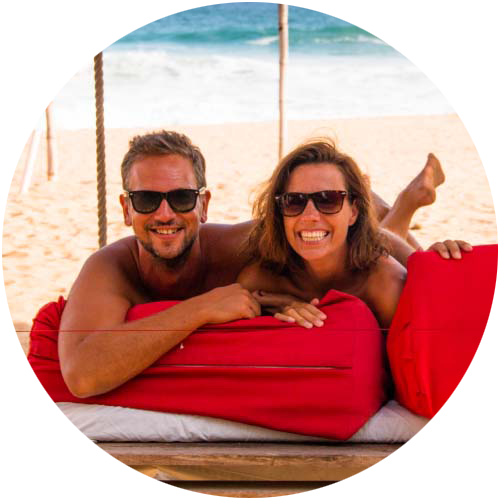 Support Naked Wanderings
Do you like what we do for naturism and naturists? Did we make you laugh or cry? Did we help you find the information you were looking for? Then definitely join our Patreon community!
---