One of the best things about naturist travelling is that no matter where you go in the world, you can always expect the same foundations. You will find places where you can be comfortably naked, friendly people who won't judge your appearance, and an overall atmosphere of community. But still, they all look different, which adds an element of surprise to every new naturist place we visit.
After spending some time at
SunEden
, South Africa's largest naturist resort, we started making our way south and arrived at Bird of Paradise. Much smaller than its northern neighbour, but definitely a hidden gem.
How to get to Bird of Paradise
If you're arriving in South Africa, it's very likely that you'll fly into the OR Tambo airport of Johannesburg, which is just an hour's drive away from Bird of Paradise. There are different roads that you can take, most GPS systems will advise you to take the R24 to Bedfordview, hop on the N3 to New Redruth and then switch to the R59 that will take you to Vanderbijlpark.
We've taken this road without any issues, but later people told us that an easier and safer option would be to take the R24 to Bedfordview, hopping on the N3 and then immediately on the M2, switch to the M1 near Selby towards Johannesburg South, from where you can take the N1 highway to Vanderbijlpark.
If you don't feel like driving in South Africa, you could also ask Lofty and Amanda from
Joxilox Naturist Tours
if they can provide a trip to Bird of Paradise.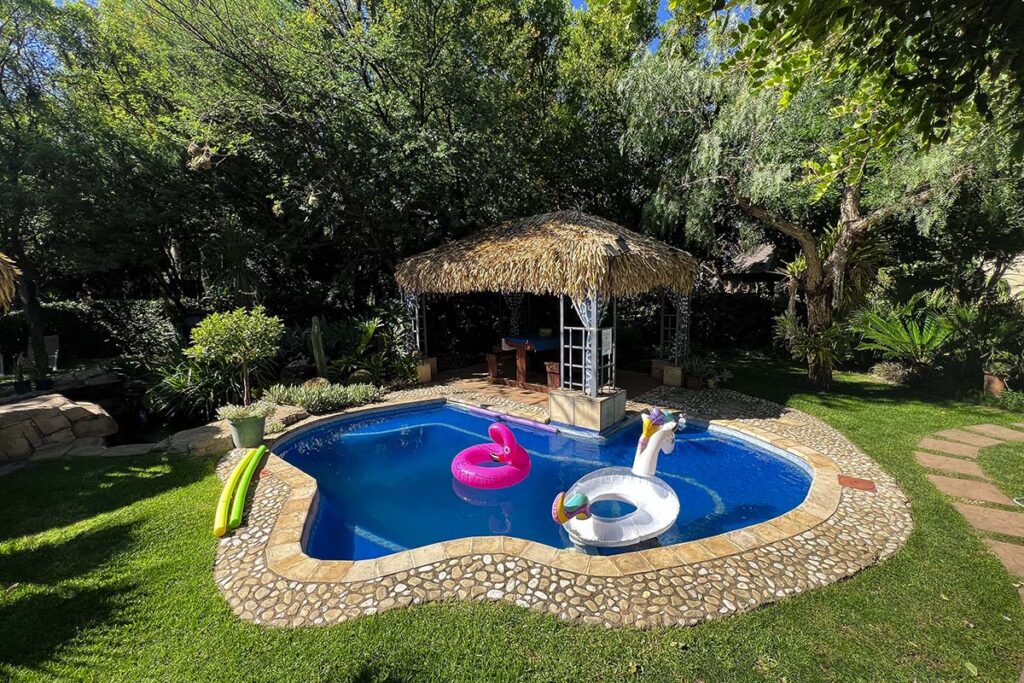 Where to stay at Bird of Paradise
Bird of Paradise can accommodate about 15 guests, divided into different guest rooms and bungalows. We stayed in their superior guest room, which has an ensuite bathroom. The other guest rooms share a bathroom inside the main building and the bungalows have a separate shared sanitary block.
No matter which accommodation you stay in, when the weather is nice, we highly recommend trying out the outdoor shower! If you like to cook your own food, there's also a shared outdoor guest kitchen available.
You don't necessarily need to stay over to experience Bird of Paradise, as day visitors are also welcome. But we heard that the number is limited to avoid the place getting overcrowded. So in any case, better call up upfront.
Also important to mention is that at the moment, Bird of Paradise only opens up two weekends per month, so you may want to plan your trip accordingly. This is because the owners also have another business, which brings us to the next part…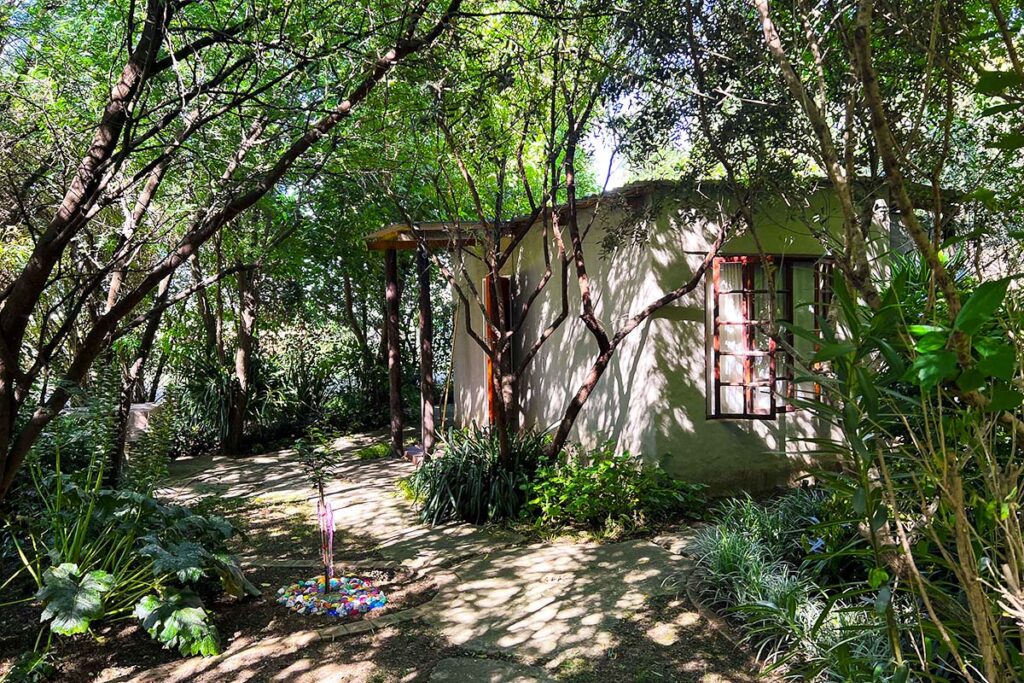 What to do at Bird of Paradise
Other than running a naturist resort two weekends per month, Dave and Deon also have a landscaping business. This will not come as a surprise once you've seen the gardens of Bird of Paradise. They have a bit of a fairytale look, with an abundance of colourful flowers and even more colourful birds.
The gardens have different sections with cosy spots where you could hang out away from the other guests, but when we were there, these were hardly ever used. Because from our experience, the social aspect seemed to be the most important asset of the resort. Most of the time, all guests would be on sun beds on the lawn, occasionally cooling down in the pool. And talking to one another over a drink.
There is also a bar, and breakfast and dinner are available on request. If you didn't guess that Dave and Deon are landscapers, you probably thought that they are chefs. Throughout our stay, numerous plates of delicious food magically appeared in front of our faces.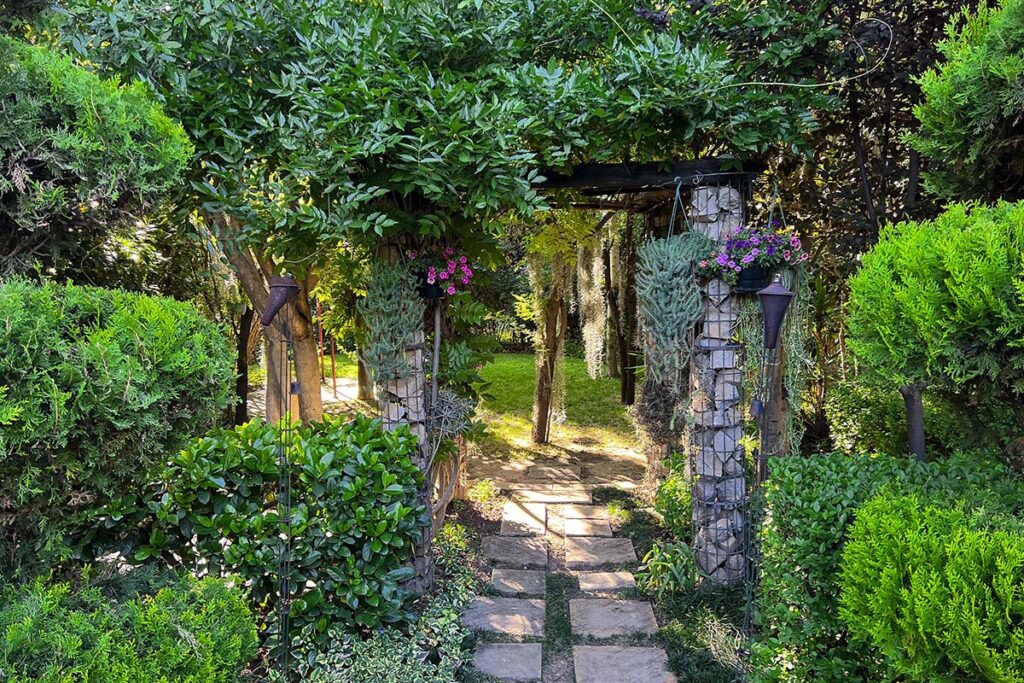 Around Bird of Paradise
Given its location, Bird of Paradise is the perfect base for sightseeing in Johannesburg and Soweto, which are both about an hour away. Also Pretoria is just 1.5 hours away and can perfectly be visited in a day trip.
If you like to learn more about your ancestors, we highly recommend visiting the Cradle of Humankind (1 hour away). In this region, they found an extraordinary number of remnants of pre-sapiens humans. The visitor centre in Maropeng has an excellent museum, and several caves can be visited in the surroundings.
For wild, South African nature, you'll have to drive a bit further. The Dinokeng reserve north of Pretoria is definitely a recommendation, as well as the Pilanesberg reserve near Rustenburg. A couple of hours driving south from Bird of Paradise will take you to the lovely mountain village of Clarence and the nearby national parks in the Drakensberg mountains.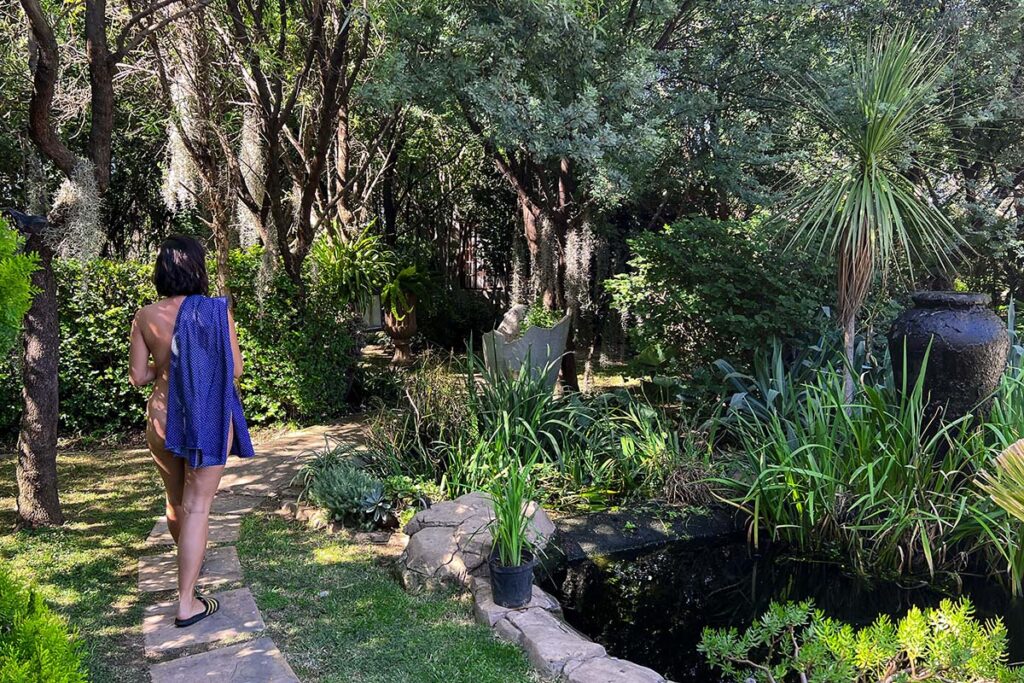 Staff & Guests of Bird of Paradise
Our impressions may not be 100% representative, because we happened to visit Bird of Paradise at the time when the
Gauteng Naturist Association
was having a meetup. So the place was fully booked and there was a very social atmosphere. From morning until sundown, there were always people to be found to share a drink and a conversation with. When the evenings got a bit chilly, a fire was lit in the Boma and everyone just moved there to continue their talks until dinner was served.
Nevertheless, we're sure that this social scene was also encouraged by Dave and Deon, the owners of Bird of Paradise. They treated us like guests in their home rather than as guests of a resort. When they were not cooking or serving drinks, we could always find them somewhere chatting with a guest.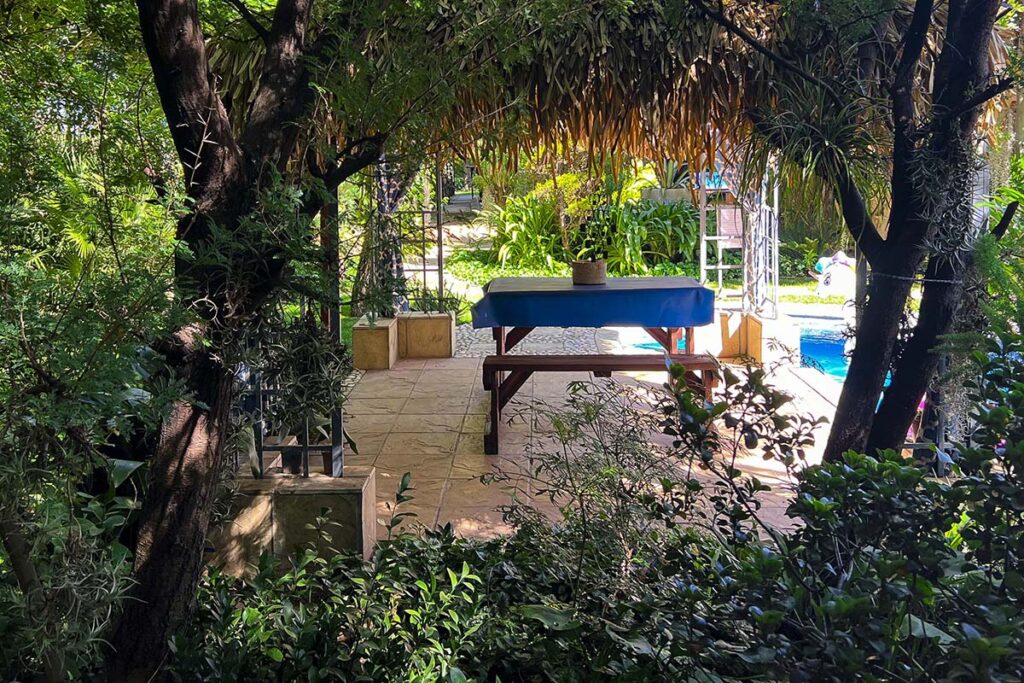 Book at Bird of Paradise
The best ways to book at Bird of Paradise are:
English and Afrikaans are fluently spoken.
Summary
If we had to put Bird of Paradise in a category, we would probably place them halfway between a resort and a homestay. We felt as if we were visiting a (quite large) South African branch of our family. But with the service and facilities that you can expect to find at a resort.
---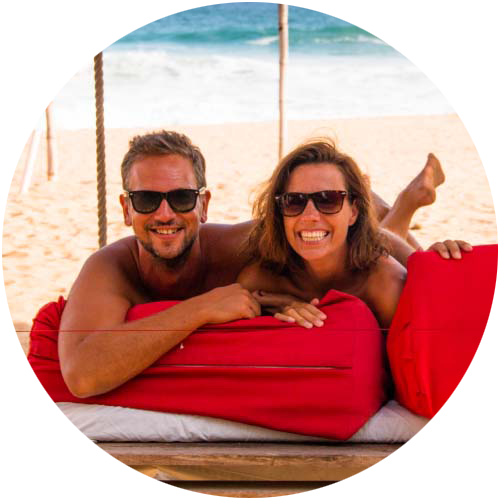 Support Naked Wanderings
Do you like what we do for naturism and naturists? Did we make you laugh or cry? Did we help you find the information you were looking for? Then definitely join our Patreon community!
---