The concerns we had about what Canada would be able to provide us when it comes to naturist opportunities were already blown away when we met Attila, our host for the first days, who showed us what everybody meant with "the Canadian friendliness". Our second day in the country we already had the opportunity to meet about 50 Canadian nudies during the
naked cruise on Lake Ontario
and we instantly knew that we were about to have a great 6 weeks. Naked Weeks.
During the cruise, we also met a friendly bunch of naturists who appeared to be all members of the world-famous nature resort Bare Oaks Family Naturist Park, one of the world's best-known nudist places, just outside of Toronto. Which happened to be our next stop. So not only did we know
quite a lot
about Bare Oaks from before our visit, we already had some friends from the moment we walked in.
How to get to Bare Oaks
One of the reasons why Bare Oaks is such a popular getaway for naturists in
Ontario
is probably its location. It's less than an hour's drive from Toronto but yet in an oasis of green forest. This makes it easily accessible for more or less everyone living in southern Ontario as well as for those from the north-eastern USA states.
As always, GPS is probably your best friend to help you get to your destination but even without it's not that difficult. From Toronto, you want to take Highway 404 north. When you're near, you'll start seeing government roadside signs to Bare Oaks. But maybe better check the
instructions on their website
first.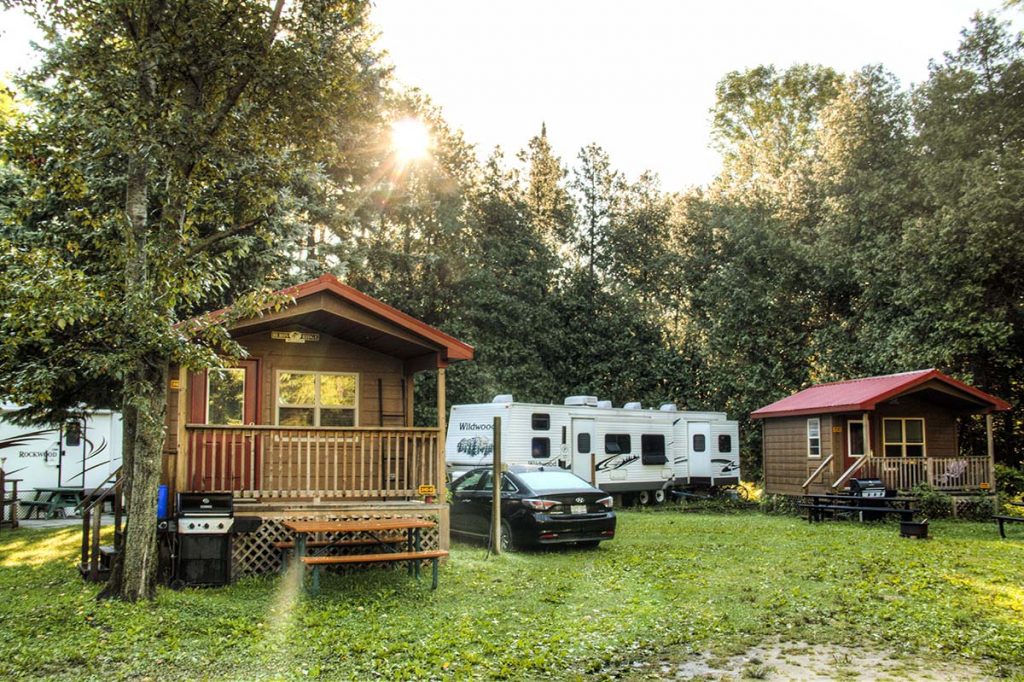 Where to stay at Bare Oaks
One of the first things we noticed when we entered Bare Oaks was the European style of the place. Really, it looked as if it had been picked up somewhere in France and dropped down in Canada. The reason why we thought so could probably be because we have been spending the last several months in tropical destinations which almost uniquely focus on the foreign naturist tourist and where empty space often equals a missed opportunity to earn more.
Although Bare Oaks is a great holiday destination as well, it leans more towards the European club idea and attracts lots of local visitors who appreciate their space because they go there on a regular basis. Some for the day, some for the weekends, and others for the whole year (or at least the summer months).
Since Bare Oaks is a campground, you'll probably bring your own accommodation. There are plenty of serviced camping spots ideal for caravans, trailers, RVs, and bloggers who need to recharge their computers and phones on a daily basis. If you're coming with a tent, you might as well opt for an unserviced spot on the lawn which will bring you much closer to nature or on the "Glen Echo" field where you can put your car next to your tent.
For those of you who prefer a real bed, there are also 5 guest rooms in the main building and several rental cabins.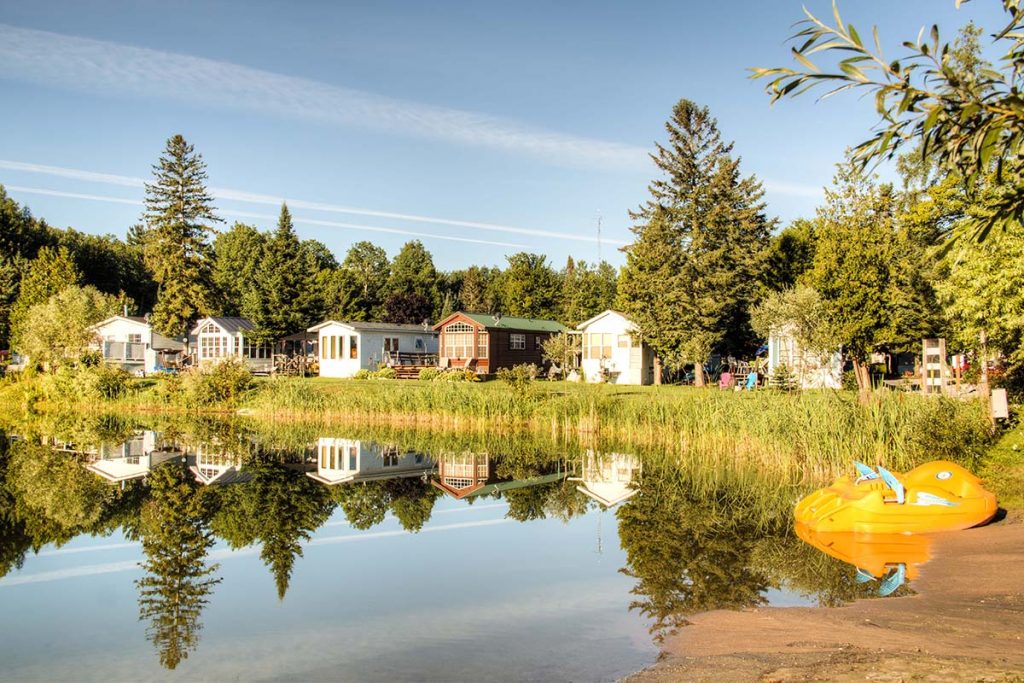 What to do at Bare Oaks
Oh boy, where do we start? Let's take off with the basics. Shower and toilet blocks are available as well as outdoor showers which we can strongly recommend you. Nothing beats freshening up under the warm morning sun.
But then… hold on because this is going to be a long list. There's a children's playground, a mini-golf court, several volleyball courts, a huge lawn ideal for sunbathing, a store where you can buy basic camping stuff and naturism related books and gadgets, an outdoor saltwater swimming pool, an indoor hot tub, two saunas, the Bare Bistro which serves a nice variety in snacks and craft beers, a lounge with TV and games for cold evenings, a huge lake suitable for swimming with its own sand beach, communal fire pits with free wood and probably lots of other things that don't immediately come to our minds. If you want the complete list, get your naked behind over there and have a look for yourself.
If that's not enough to keep you busy, there are also activities organized on a regular basis, ranging from game nights to movie nights to volleyball tournaments to yoga sessions to open mic to comedy nights among others.
Important to mention here as well is that Bare Oaks is not clothing optional and that clothing is only allowed when entering or leaving and in the proximity of your accommodation. Clothing is not allowed at the facilities or during activities. There's also a zero-tolerance policy on harassment and misbehavior will get you kicked out. So make sure to ask permission before smacking someone's butt after scoring a point in volleyball.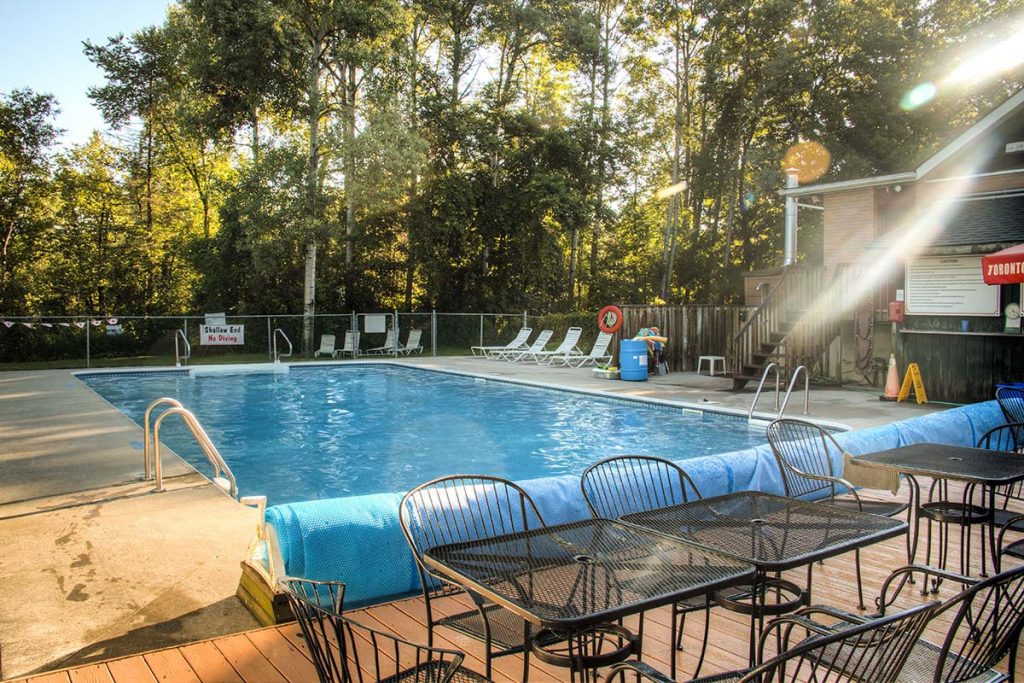 Around Bare Oaks
In total (we were there twice) we spent about 10 days at Bare Oaks and during that time we barely left the place. Why would we? Everything is right there. And you'll probably recognize the burden that comes with even thinking about clothes after several days in the nude. This actually got to a point that we asked other people to bring us stuff from the supermarket so we wouldn't have to get dressed. Our laziness and the Canadian friendliness… It's a dangerous mix.
But we did see some of the surroundings after we left. Several day trips can be put on your itinerary such as Toronto city, Niagara Falls, Barrie, or even Wasaga beach (the world's longest freshwater beach might be something you've been wanting to cross out on your bucket list. We disliked the place quite a lot though, it's muddy, crowded and you can't be naked).
Hikes, even naked, in the surrounding woods are another possibility, there's a waterpark at about a 5 minute drive away which actually got rented out to Bare Oaks while we were there so we could enjoy it naked. But that's not often the case. There are golf courts nearby and several towns and markets and whatever else you like to do when you're clothed.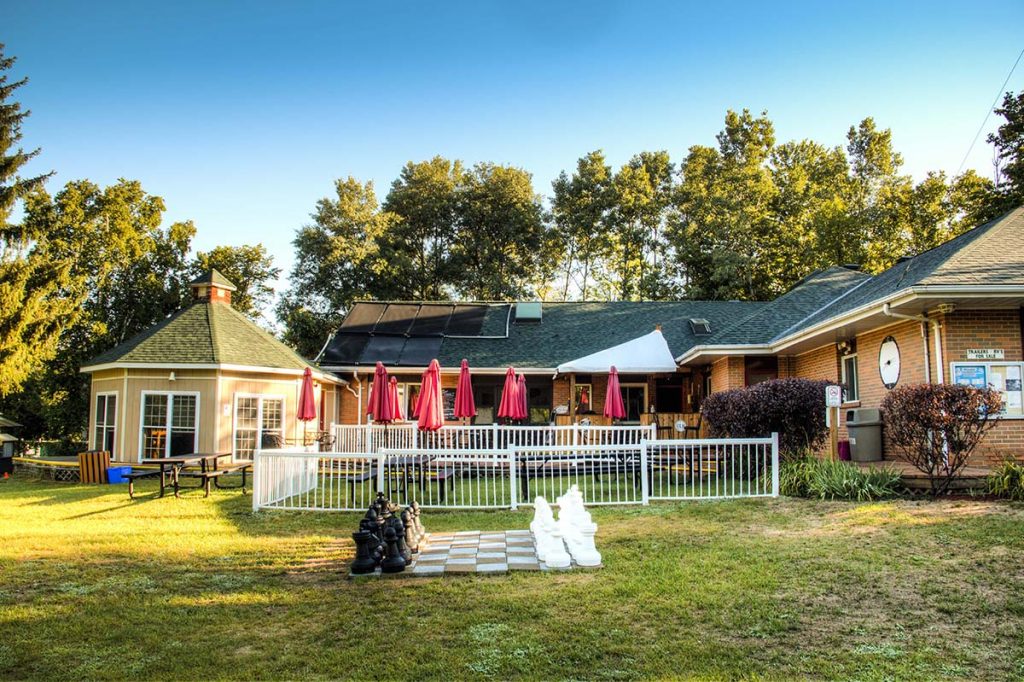 Staff & Guests at Bare Oaks
For us, what makes the difference between a great naturist place and one that we will always remember are the people we meet. In our previous reviews, the staff and the other guests have always been divided into two different paragraphs but in the case of Bare Oaks, such a division seemed impossible. Or at least a bit ridiculous because most of those who work there also hang around before and after their working hours and many of them even spend most of their nights there. This seemed to be one of the strengths at Bare Oaks, the traditional idea of "volunteering" had been replaced by paid jobs but the logic behind it remained the same. Several of the members help around in one way or another and by doing so they help to build a strong community.
Adam and Lesley, a couple we had met before on the
Naked Cruise
took us under their wings from the first minute we were there and saw it as their duty to introduce us to more names than we could possibly ever remember (and supply us with an endless range of Canadian beers, one better than the other).
Stéphane, an icon in the naturist world with a very strong vision always listened to our opinions, even though they didn't always stroke with his, and his wife Linda who has the incredible gift of being able to level a conversation again when it's going too deep. There was Chris whose face will always be next to the word "Canadian" in our mental encyclopedia, David whose macro lens we still have to try out, Kim who arranged a delicious birthday cake for Lins, Karen with the never-ending smile, Gilligan who we kept running into until a point that he invited us for dinner and plenty of others who had us over for Piña Coladas or chocolate covered almonds and who helped us form "Team Awesome". A name that might keep chasing some of us for some time to come.
It's fairly impossible to name everyone we met during our stay at Bare Oaks, some for five minutes, others until the early hours, but all equally valuable.
Summary
Bare Oaks is a family resort and not only in the way that it's very family-friendly. More often than not the "Bare Oaks people" appeared like a real family themselves, one that happily embraced their long lost Belgian cousins and will certainly do the same for that nephew, niece, aunt, or uncle from wherever you are.
Read more about this resort on  
NUDE
Disclaimer: We have been invited as guests of Bare Oaks, but of course all opinions are our own. We are super confident you will love this place as much as we did!
---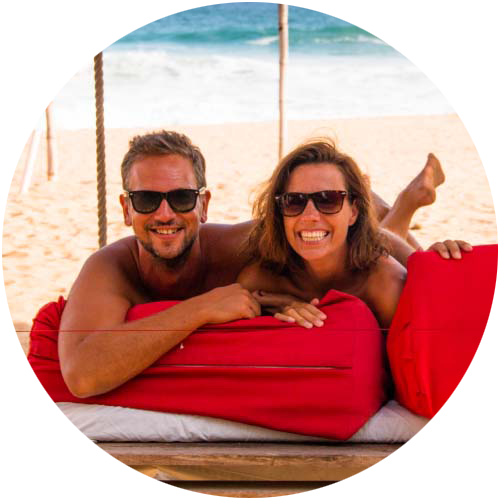 Support Naked Wanderings
Do you like what we do for naturism and naturists? Did we make you laugh or cry? Did we help you find the information you were looking for? Then definitely join our Patreon community!
---