We knew that we were going to be up for a treat when Neels sent us the instructions for how to get to Bare Necessities. It included a hand-drawn map filled with terms like "dirt road", "bus shelter turn right", "wooden farm stall turn right", and "house with green roof is not Bare Necessities". Most naturist places we visited in South Africa are tucked away in greenery, but when you get a message like that, you just know that you're going to end up far away from the clothed world.
How to get to Bare Necessities
The map only talks about the very last part of the road, from Swellendam to the resort. Swellendam is a mid-sized town located at a good 2-hour drive from Cape Town, this is also the last place where you'll find supermarkets, so it's wise to stock up on groceries while you're driving through.
If you're flying in, you'll probably arrive at Cape Town International airport which has direct connections to pretty much every other airport in South Africa, as well as to many places in Africa, Europe, Asia, and the USA. An Uber or taxi from the airport should be between 1000 and 2000 South African Rand (50-100€), but a much better choice would be to rent a car. This will allow you to make some stops along the way and explore the surroundings when you're at Bare Necessities. There are plenty of car rental offices at the airport.
Coming out of the airport, you can hop immediately on the N2 road which will take you all the way to Swellendam. Or you could take the N1 followed by the R60, which is slightly longer but more scenic as it goes straight through the wine region.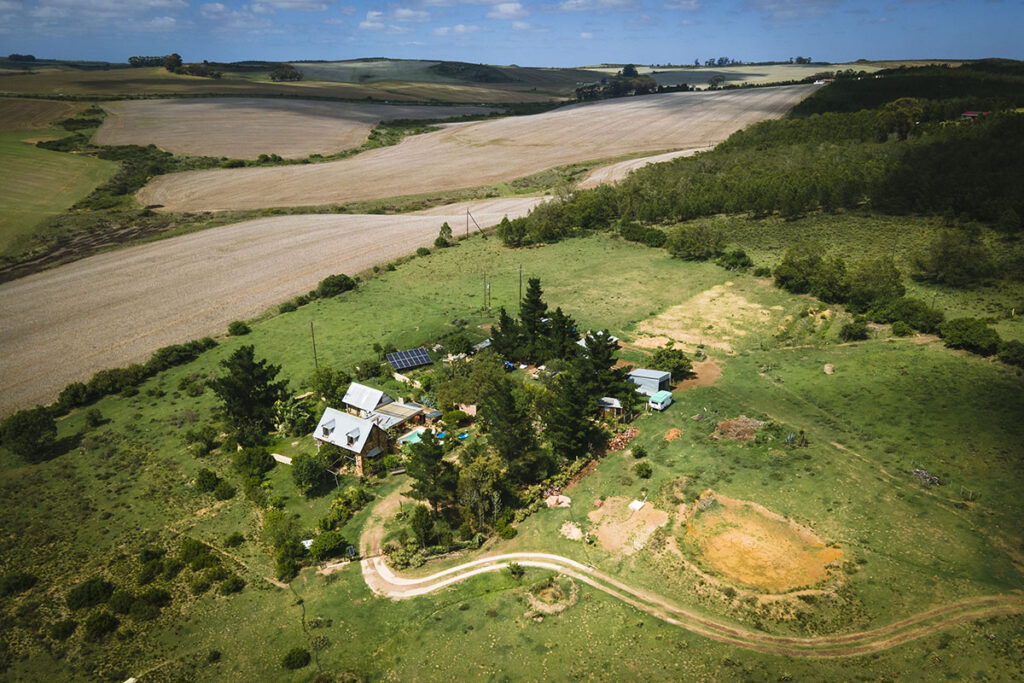 Where to stay at Bare Necessities
Bare Necessities is quite a small resort with just a handful of camping pitches and three rental accommodations. The first one is a double room connected to the main building. Then there is the cabin, where we stayed, which has an ensuite bathroom with amazing views over the surrounding mountains. The last rental is a really cool-looking old bus that has been converted into a guest room.
All accommodations, including the pitches, have access to a guest kitchen. Bringing your own food is quite a necessity if you don't like driving after dark and also because communal dinners are often organised at which everyone shares their food.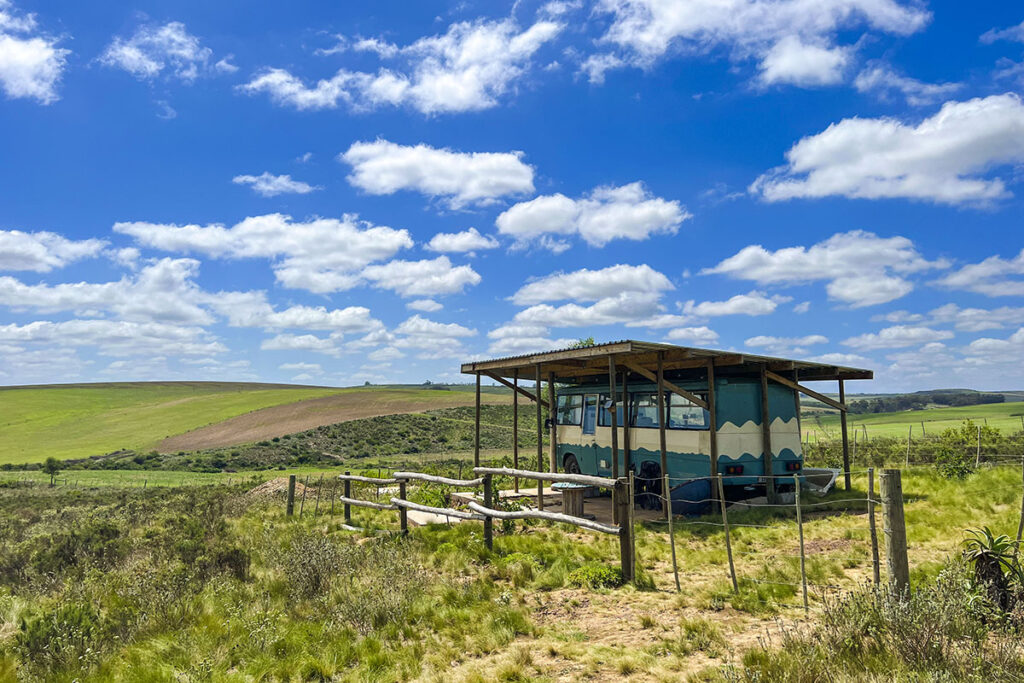 What to do at Bare Necessities
Bare Necessities is the kind of place you visit to relax, unwind, or recharge your batteries. Well, at least that's what we did. Our day usually started with sleeping in. In fact, on the first evening, Nick had promised the owners that he would help milk the cows. Only on the last morning, we were able to get out of bed in time.
Then we would make coffee and have a long breakfast that usually lasted until noon, after which we'd move to the sunbeds and read a book. Occasionally interrupted to cool down in the swimming pool or to play with one of the dogs. In the late afternoon, the guests start gathering in the common area and the first wine bottles are opened. Not much later, someone would fire the wood and preparations are made for the braai.
If it would get chilly in the evening, there's the option to warm up in the hot tub or the sauna. We didn't need that because we were blessed with excellent summer weather throughout our whole stay. And then we'd go to bed, knowing that tomorrow will be another day of exactly the same.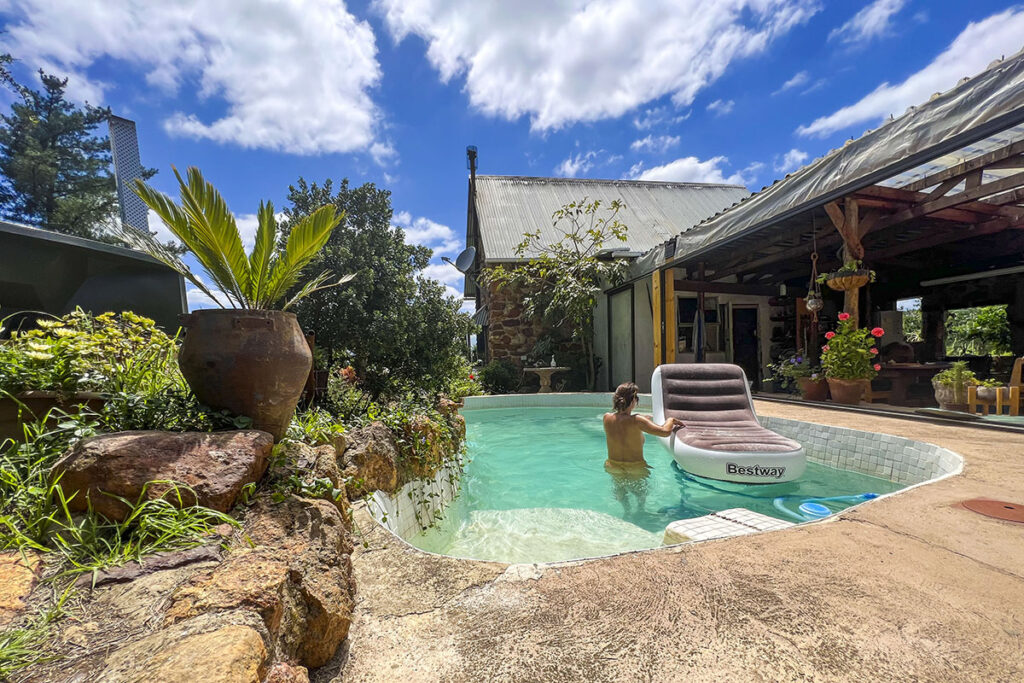 Around Bare Necessities
We have to say, one of the reasons why we barely left the resort was because we had already visited most of the area before we got to Bare Necessities. If you're new to this part of South Africa, we highly recommend you to relax a little bit less and explore some of the wonderful surroundings.
About an hour's drive will get you to the coast, but if you're willing to drive a little bit further, you can get all the way to the famous
Garden Route
that is known for its magnificent beaches and coastal mountains. To the north, you're just half an hour away from
Route 62
in the Little Karoo, where you'll find desert landscapes, cosy villages, and plenty of wineries.
More wine, and some of South Africa's best ones, can be found in the direction of Cape Town, especially in the areas of Paarl, Stellenbosch, and Franschhoek. Another interesting day trip is to the Agulhas National Park, which is on the most southern tip of the African continent. Even if you don't want to take out the car, you can still have beautiful hikes in the surrounding farmlands.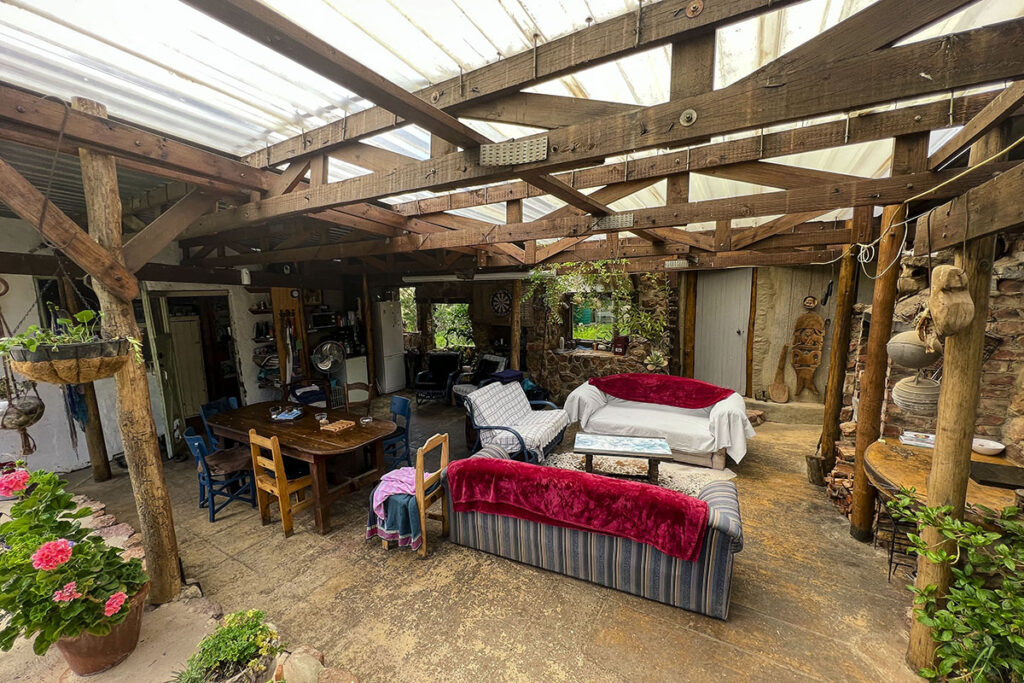 Staff & Guests of Bare Necessities
During our stay, most of the other guests were Capetonians (yes, that is what people from Cape Town are officially called) who came over for a couple of days away from the city. Nevertheless, because of its proximity to Cape Town and the Garden Route, the resort is definitely an interesting stop for international visitors doing a road trip in the Western Cape.
The resort is owned and managed by a lovely couple called Neels and Petro, who made us feel welcome from the first moment and with whom we've spent several long evenings filled with stories about South Africa. They are always around when you need anything, and very often join the social gatherings at the end of the day.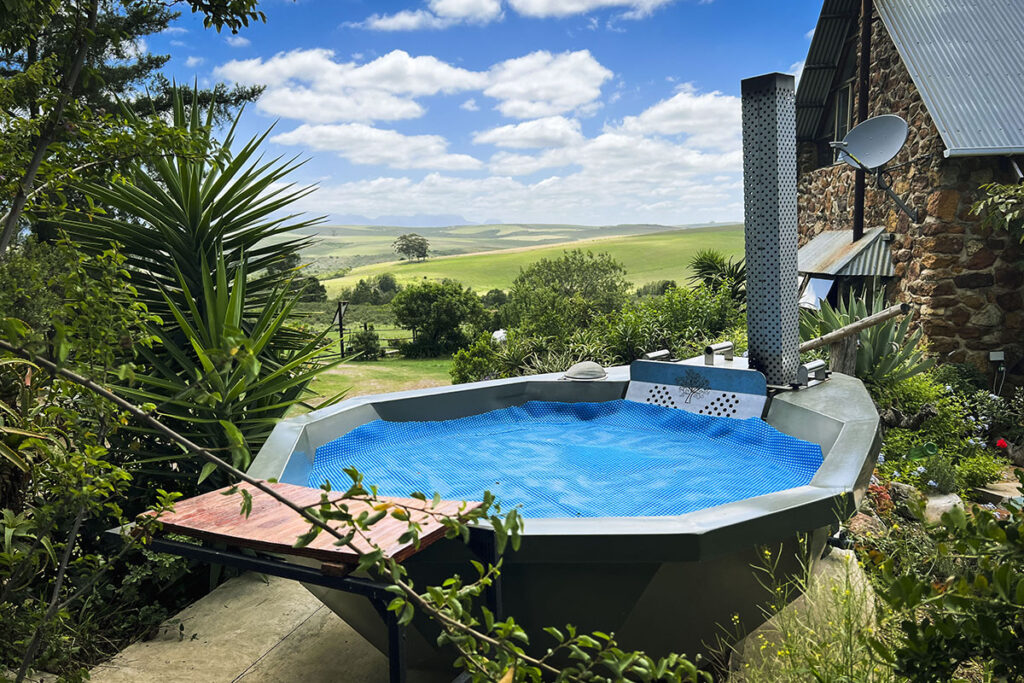 Book at Bare Necessities
The best ways to book at Bare Necessities are:
English and Afrikaans are fluently spoken.
Summary
If you're looking for a getaway from busy Cape Town, for a cool spot to stop while travelling in the Garden Route or the Little Karoo, or you just like relaxing in nature among friendly people, Bare Necessities is definitely a place that you want to put on your bucket list!
---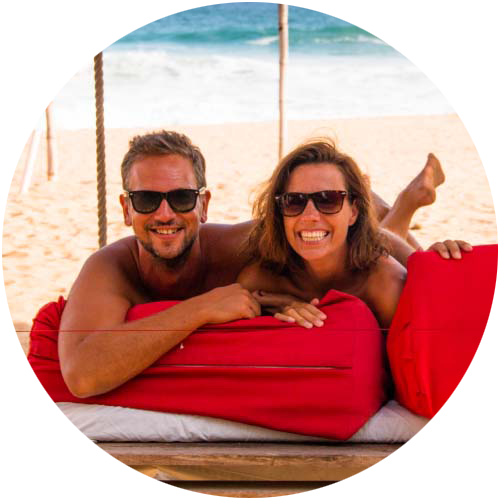 Support Naked Wanderings
Do you like what we do for naturism and naturists? Did we make you laugh or cry? Did we help you find the information you were looking for? Then definitely join our Patreon community!
---