When we started this blog, back in 2016, we had been naturists for several years but had never heard of a thing called "the single men issue in naturism". Only when we entered the online naturist world we suddenly got overwhelmed by this phenomenon. What single men issue? What gender imbalance? We had never experienced any of this in the naturist places we had visited before. Not that we counted the number of men and women, but it always seemed pretty balanced to us.
The more we read about this, the more horror stories came up. From several different angles. Women feeling insecure at nude beaches. Men being approached by other men with indecent proposals. But also stories about pure discrimination, single men not being allowed at naturist places just because they didn't have a female companion. One of the most striking stories was about a long time naturist couple of which the woman passed away. Suddenly the widower was not welcome anymore at his favorite naturist spots.
The difficulty in forming an opinion
We have been musing a lot about this subject and wrote several blog post drafts that never made it online. Somehow we thought that we had to take a stand in this. That we had to tell you who we think is right and who isn't. But we can't. After talking about this with women, men, couples and resort owners, we noticed that this isn't just one issue. It's a bunch of issues all being more or less related to each other.
When looking through the eyes of the single male naturist, the story couldn't be any sadder. Gender discrimination typically is something from a century ago and lots of people had very long struggles to get rid of this. And then it pops up in 21st-century naturism, a lifestyle in which equality is being promoted as one of its highest values.
I'll show you mine…
Talking with couples gave us a whole other story, which relates to the beginnings of naturism. Before clothing-optional became a thing, most naturist places where nude obligatory. Some of them even enforce these rules until today. It's all about vulnerability. Here we are, completely naked, there's no way that we can hide our flaws and insecurities. In order to keep the balance, we expect you to do the same thing. If you are allowed to wear clothes, we will feel naked instead of nude.
This also reflects on relationships. If I allow you to see my partner nude, I should be allowed to see your partner nude as well. Show me yours and I'll show you mine. It's definitely not a mentality we stand behind, but it does occur pretty often. It's being said that there's no place for jealousy within naturism, but jealousy isn't something you can just turn off when you undress. You can definitely work on it, but this takes a lot of time. So if you don't have a partner and I do, the balance feels disturbed.
Running a naturist business
Also for us, it has taken quite some time to become used to being naked among the clothed or to be nude as a couple in a gender imbalanced setting. Today, we would say that we got over this completely. That we feel 100% comfortable being the only couple in a male-dominated naturist setting. But even that comes with a sidenote. If we would visit a naturist resort and end up being the only couple, we would not run away or even feel awkward. But if the resort next door does have a gender balance, we'll probably visit that one the next time.
Does that make us hypocrites? On one hand, we're raving about the open mindset of naturists and how everyone is treated equally, but on the other hand, we would also prefer a resort with enforced gender-equality. Knowing that maybe the person from the introduction who had just lost his wife would not be allowed in there. We rather believe that it makes us human. In the end, the principles of naturism are an ideology. Something we strive to, but can't always reach.
Of course, naturist businesses understand this as well. Their goal is to make money and to run a business of which they can be proud. What would happen if there was a sudden gender-imbalance? Would the remaining couples keep coming or move towards the resort next door? Would the resort suddenly become men-only? Will the single men keep coming to a men-only resort?
What's wrong with men-only?
Although we strongly regret the discrimination of single men, now and then we also see their dark side. The other day we got into an online discussion about a person not being allowed at a naturist resort for being a single man. We talked about the discrimination, about how "real" naturists should not make a difference in whether someone happens to be male or female and happens to have a partner or not. About how quota on singles is completely against the philosophy of naturism. We completely get that, but it's not something we can change. So we proposed that the person would visit a men-only resort.
He didn't want to do that. Because there wouldn't be any women. We don't doubt the genuineness of this person and we're pretty sure that he wasn't a gawker or exhibitionist. But apparently, also for single men, gender balance can be important. This makes the whole situation extremely complicated of course. If couples prefer mixed-gender places, and singles prefer mixed-gender places, the only solution would be an equal amount of single naturist men and single naturist women. Which is, unfortunately, not likely to happen any time soon.
The fear of the single nude man
One of the biggest problems within the single male naturist issue is that the large majority of cases of misbehavior happen to be caused by single men. There's no denying in this. Those who frequent nude beaches will definitely agree. How many times has it happened that a woman was staring at you from the dunes? How many times did a single naturist woman get too close to you on the nude beach? Trying to block your view with her genitals? We're not saying that those cases don't happen. But the statistics will prove us right.
The very sad thing about this is that people started to link misbehavior with single men. We've just said it ourselves. Look at the stats! We bet that 80% of all cases are caused by single men. Add another 15% couples trying to get something going with an audience and maybe 5% women acting inappropriately. So it would be very easy to conclude that if we take away the single men, the nude beach would be 80% more agreeable.
The truth behind these stats is, however, that they create a completely wrong image. Imagine a popular nude beach on a nice sunny day. There are about 500 visitors. Let's create a bit of gender-imbalance and say that there are 150 couples, 150 single men and 50 single women. How many of those single men will misbehave? 2? 3? Even if it's a bit of a dodgy beach, there will probably not be more than 15. That's 10%. 15 dirty minds making 135 genuine naturists look bad.
The solution to the single male naturist issue
It's clear that the single male naturist has an image problem and the previous paragraph also makes it clear that this is largely unfair. Yet it's there. Private naturist places like resorts often take the easy road and set up a quotum. Not more than 60% of the visitors should be male at any given moment. Some resorts even aim for a 50-50 balance. This does solve their problem but makes the problem of the single male naturist even worse. Because it sends out the message that there's actually something wrong with singles in naturism.
Someone pointed out a very interesting angle on this the other day. What if the genuine single male naturists would start taking care of the security at the nude beach? In the case of our previously mentioned dodgy beach, that would mean 135 naturists who could walk over to those 15 perverts to tell them to behave. The nude beach will suddenly feel much less sexually attractive to them if they see such a bunch of angry nude men coming their way. Even if you're just by yourself, most gawkers will run off before you ever manage to reach them.
This is a theory which we really support because it could actually solve the whole image problem. Not only will the beach be more secure, but the other visitors will also be happy with the single men around. This might even make for more couples and single women feeling comfortable around single men. But it will never completely solve the gender-imbalance problem. For this, the only solution will be to get more single women into naturism. How we'll accomplish that is something we still have to muse about.
---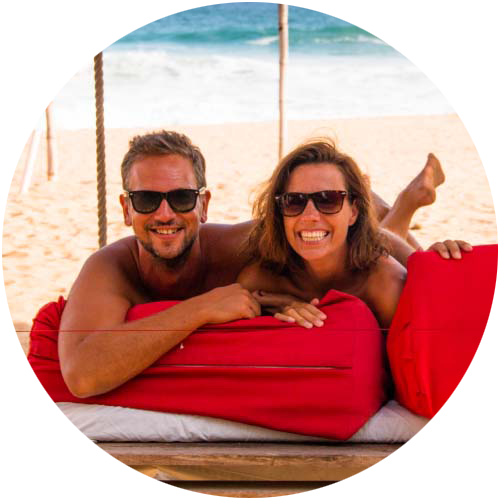 Support Naked Wanderings
Do you like what we do for naturism and naturists? Did we make you laugh or cry? Did we help you find the information you were looking for? Then definitely join our Patreon community!
---