Naturism is a wonderful lifestyle that we try to enjoy as much as possible. In as many places as possible. Most of the time we share our own views on the different aspects of nudism but once in a while, we like to pass the mic to hear about how someone else's experiences. Via this Naturist Talks interview series, we listen to naturists from all over the world. They share their experiences, tips and stories about naturism and thanks to them we keep learning about the different aspects of life in the nude.
Today we're listening to Angela and Carles, a naturist couple from Catalunia, Spain.
Hello Angela and Carles, please tell us something about yourself
Hello, we are Angela (industrial engineer) and Carles (CMO), a nudist couple who live in a privileged place. We are about 45 minutes from any of the 25 nudist beaches (official) of the Costa Brava and only 1h from the Pyrenees, where we can practice nudism and make excursions without any problem in summer. Our family knows that we are nudists and our closest friends or environment too.
We have no problem to say that we are nudists and that we promote this philosophy. We are nature lovers and whenever we can, we go for a walk, hiking or just to contemplate the landscape and if we can we do it naked. We have created a blog (at the moment in Spanish) where you can read about our excursions and the nudist sites we visited:
http://freehiking.eu
. We have a VW camper van with which we travel throughout Europe. We love dancing and now we're learning Lindy Hop.
How and at what age did you become a naturist?
Angela: I started in nudism about 15 years ago, when I arrived in Catalonia, even though I had always had the idea of practicing it, one time I had been bathing naked in a pool and I liked the feeling. When I was younger, I practiced swimming and always thought about how uncomfortable it is to wear a wet swimsuit.
Carles: In my family, nudism and nudity have always been experienced in a natural way. I could say that I have always been a nudist.
Is naturism allowed in your country and what's the public opinion?
Nudism is allowed in our country and you can practice wherever you want, without restrictions. Some municipalities have regulated nudism and have banned it in their municipality outside the authorized areas, but there are very few such municipalities.
Therefore, except for these municipalities, you can practice nudism wherever you want. People are usually tolerant and accepting of it. You should know that in our area we have about 25 recognized nude beaches on a stretch of coastline of no more than 200 km (Costa Brava).
What do you think is the best and worst thing about naturism?
We think that the best about nudism is the feeling of freedom, feeling good about your body and comfort. Also being able to meet nudist people, who are usually open-minded and tolerant.
The worst is the intolerant people and those who do not respect the nudist zones. The voyeurs on the beaches.
Do you find it easy to make naturist friends?
It has been easy for us to make nudists friends, we usually go to nudist campsites and people are open to talk and meet. In our work or among our friends, we promote nudism and more than one has already begun to practice it.
We practice social nudism, we have been in dances, karaoke, doing sports…
We also try to establish friendships through social networks such as Instagram (
@TravelNudistCouple2
) or twitter (
@nudisttravel
) and we have got to know nudist people when we have visited their area, or they have come to ours.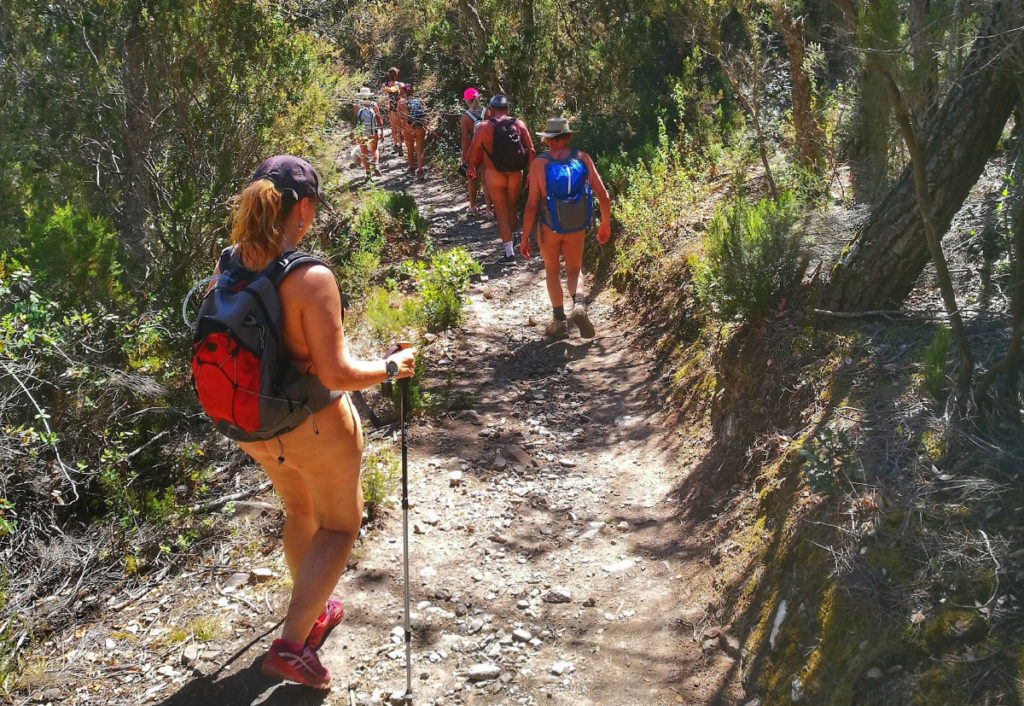 What's the best tip you have for beginning naturists?
One way to start is to get naked at home, to be naked all day to see how you feel. You can go to a lonely area to bathe naked or to a beach of nudist tradition to see how you feel. If you go with a friend or your partner you will feel better.
It is important to accept your body, once you have, it will be easier for you. Be yourself and enjoy.
Anything else you'd like to share with our audience?
When we do a naked hiking's it is curious to see the reaction of the walkers that we encounter. Some (most) are surprised, but they greet us with a smile. Others are surprised and pass without looking and saying nothing or with a shy greeting. Others (few) stop to talk and ask if we are from a club or nudist association and are interested in our excursion.
Only once have we met a group where some of them have recriminated us, but not the rest of the group. Finally, if you are doubting, try it, it will be one of the best decisions in your life. Be nude and be free.
Thank you so much for sharing your story Angela and Carles!
Do you also want to tell your story and experiences in naturism? Please get in touch via the CONTACT page! As long as we have people who like to contribute, we can keep The Naturist Talks running!
---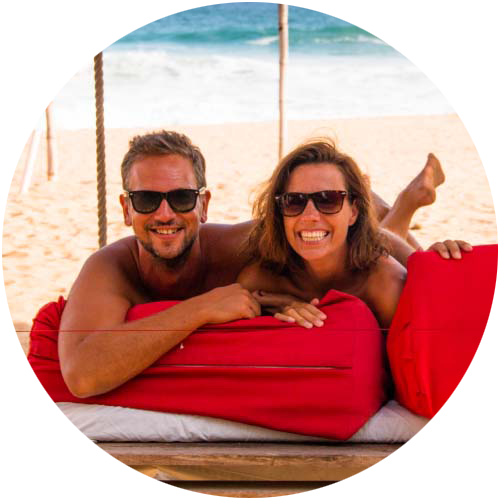 Support Naked Wanderings
Do you like what we do for naturism and naturists? Did we make you laugh or cry? Did we help you find the information you were looking for? Then definitely join our Patreon community!
---