For the 4th time in 6 years of continuous travelling, we made our way back to Zipolite. The small coastal town in Mexico that is home to the country's only official nude beach. Only when we arrived there, we realised that we haven't spent as much time in a single place as here. Not just in Zipolite, but in Casablanca Guest House.
Truth to be said, not all of that time was by choice. This is the very place where we got stuck for 3 months during the first wave of the COVID pandemic. But we can tell you, we couldn't have wished for a better place. That too is meanwhile 3 years ago, so we were very much looking forward to seeing Sherry and Kelly again, meeting their new pack of rescue dogs, and seeing if the guesthouse is still the same as how we remembered it.
How to get to Casablanca Guest House
There are 2 airports about an hour away from Zipolite. The one at Puerto Escondido connects to several cities within Mexico, while the Huatulco airport also has several destinations in Canada and the USA on its list. The easiest, but also most expensive way to get from either airport to Zipolite is by taxi. An alternative solution is via minibuses and vans, but this requires a basic level of Spanish and a certain sense of adventure.
Another option, especially if you're planning to see some of the surroundings, is to rent a car. There are different rental offices in both airports. On the website
Zipolite-Mexico.com
, you'll find extensive information about the different options to get to Zipolite, as well as lots of practical tips.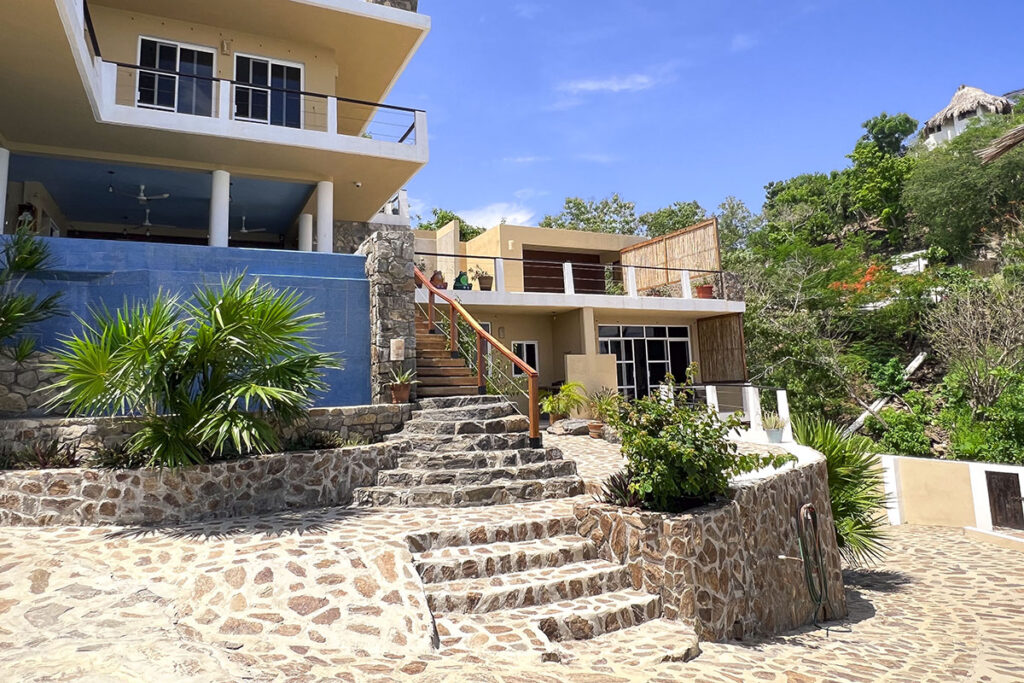 Where to stay at Casablanca Guest House
Casablanca Guest House has 4 rooms, with a 5th one currently under construction. What we always very much appreciated in the rooms is the amount of space and the level of comfort. Owned by a Canadian couple, the rooms have been designed as they were for themselves. With lots of eye for detail, a large soft bed, a large ensuite bathroom, and a fully equipped kitchen.
Although there's air conditioning, the two fans in combination with the ocean breeze have always been enough for us to cool the room down. Even this time, when we visited in the heat of the summer. All rooms have ocean views, and if you visit during the high season (November to March), you're very likely to see whales and other marine life pass by from your room or your terrace.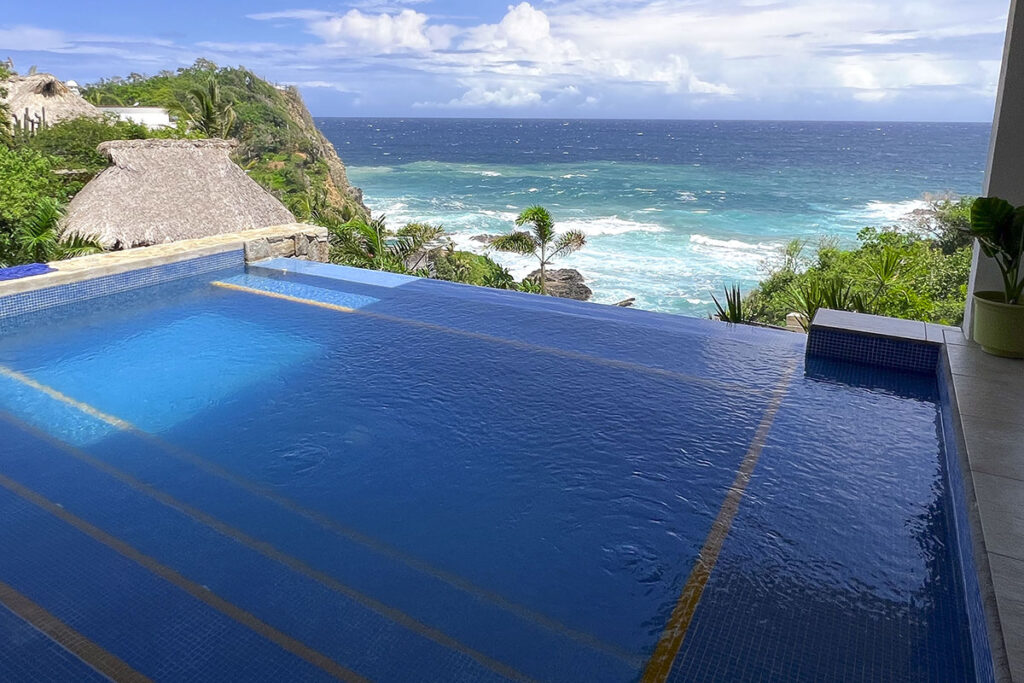 What to do at Casablanca Guest House
As this is a small guest house, there isn't an abundance of activities. The highlight is definitely the infinity pool with ocean view. One thing that has changed since our last visit is that the pool is now heated to a very comfortable 32-33°C. The common area is a place to relax and to socialise. There is an abundance of games, there are darts, and the typical North American game of corn hole. Small side note: If you manage to beat Kelly at corn hole, please let us know.
Although there's a fridge in the rooms, we store most of our drinks in the large fridge of the common kitchen, as that is where we're most likely to consume them. On the other side of the common area is a sundeck with comfortable lounge chairs that will encourage you to pick up a tan or have a nap.
Every time we visited Casablanca, we spent a huge amount of time in the common area. The owners are often there, and so are the other guests. And if you really have nobody to socialise with, there's always the dogs. Especially Selina will appreciate your company.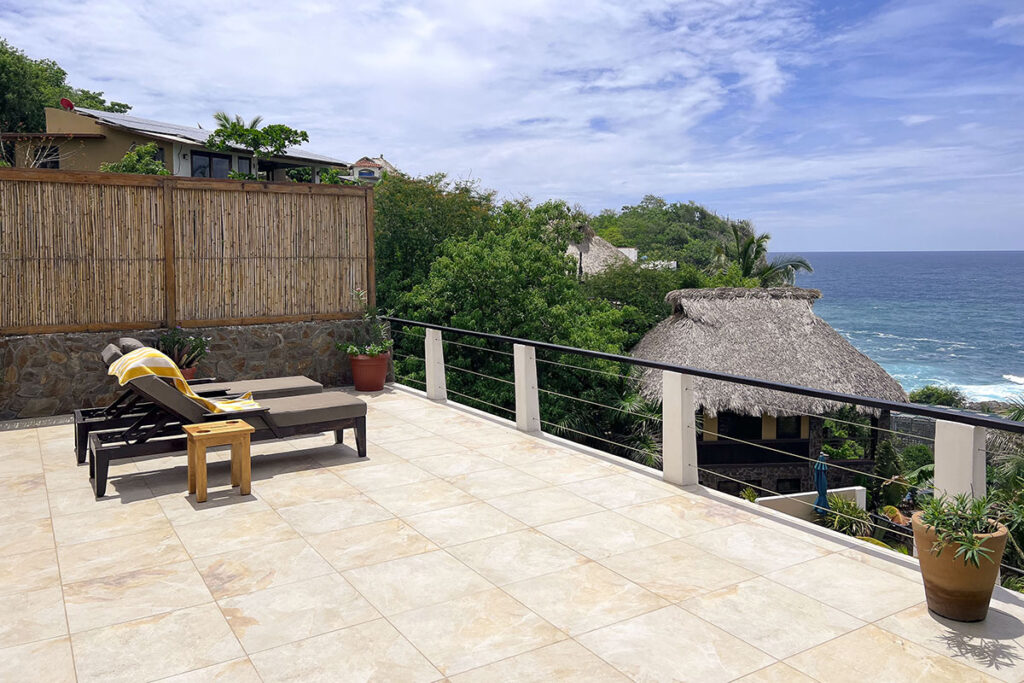 Around Casablanca Guest House
The main reason for people to visit Zipolite is obviously its famous nude beach, Accessible by two trails of about 10-15 minute walk (you can ask Kelly or Sherry for directions) or a 5-minute drive. Also recommended is nearby San Agustinillo, a charming town boasting a lovely beach. While clothing is not optional there, topless sunbathing is permitted. The area also boasts some of the finest dining establishments.
Mazunte, recognized as a "pueblo magico," a title bestowed upon unique places by the government, is renowned for yoga retreats and draws numerous foreign tourists. However, we found it less captivating than expected.
What truly left an impression was La Ventanilla Lagoon, located just beyond Mazunte. A local cooperative offers economical boat tours on the lagoon, revealing breathtaking scenery and a variety of wildlife, such as birds, iguanas, and crocodiles.
Staff & Guests of Casablanca Guest House
Meanwhile, the owners have become friends. That's probably one of the few benefits of COVID. But even before that, we loved spending time with them. They are full of stories and always up for a drink or a game. They can also give you the best tips about the latest trendy bars and restaurants.
Guests at Casablanca typically like the combination of socialising and relaxing. Because the guesthouse is not right on the beach, you don't hear much else than the breaking of the waves at night (our favourite lullaby). Yet there are always people around to have a chat with.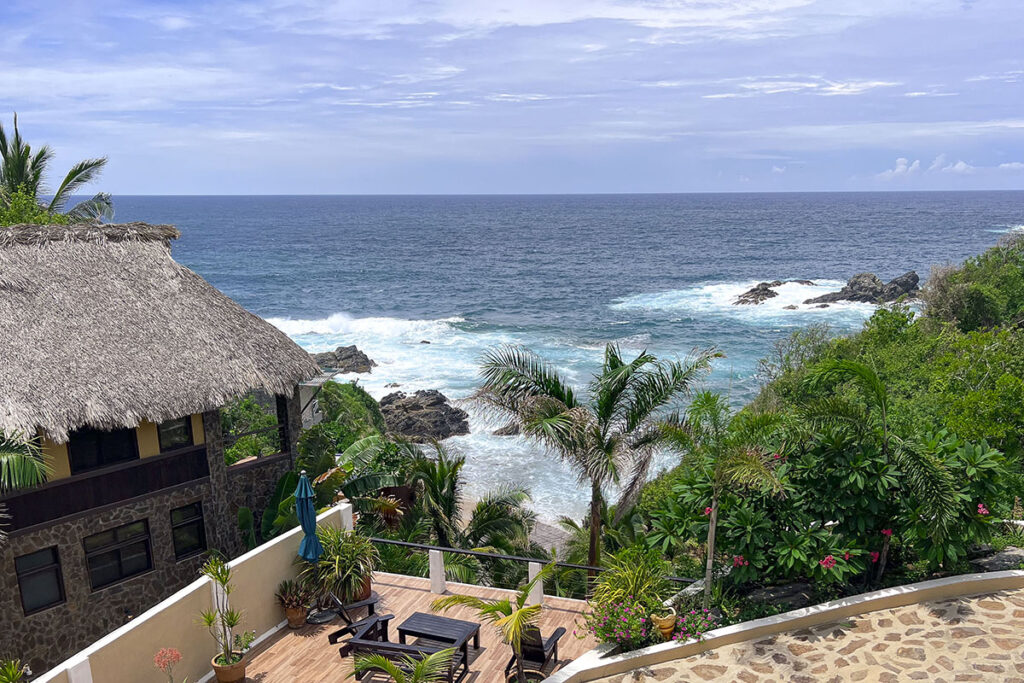 Book at Casablanca Guest House
The best ways to book at Casablanca Guest House are:
English and Spanish are fluently spoken
Summary
This time we "only" stayed for 2 weeks, which is still much more than what we spend on average in one place. What can we say… We love Zipolite and we love Casablanca. It's certain that this wasn't our last visit either. And if another future pandemic would put the world in lockdown again, you know where to find us.
---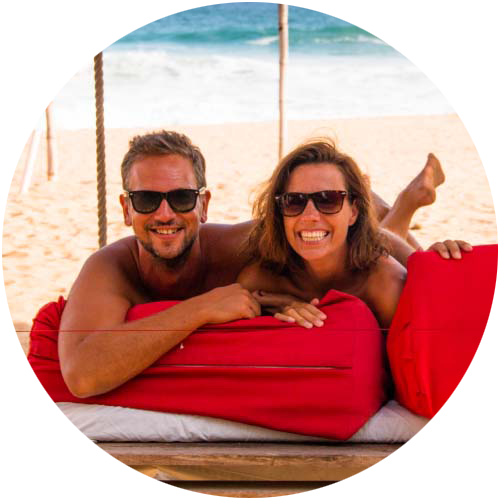 Support Naked Wanderings
Do you like what we do for naturism and naturists? Did we make you laugh or cry? Did we help you find the information you were looking for? Then definitely join our Patreon community!
---