Naturism is a wonderful lifestyle that started in Europe but is now expanding towards the whole world. Most of the time we share our own views on the different aspects of nudism but once in a while we like to pass the mic to hear about how someone else's experiences.
Our guests for today are David and Cristina from the United States.
Hello David and Cristina, tell us something about yourself
We are a couple in our mid 30s and have been together for a little over 10 years. We both grew up in the United States – David in the lower 48 and Cristina in the Caribbean. We both went to college and graduated with science/engineering degrees. We met after college, both of us have full time jobs in the engineering and project management fields, and lived in the northern United States for the first few years together but relocated to the southern US a few years ago.
We believe we'd fit the category of a quite normal young professional couple. We love to travel and have been fortunate enough to go to a number of places including New Zealand, Australia, Tahiti, Greece,
Brazil
,
France
, and Hong Kong. Eating is a passion of ours and we are lucky to have lived in a couple "foodie" cities over the years. Given the passion for eating, fortunately we also enjoy being active and frequently work out to stay in shape! Both of us are quite outgoing and enjoy spending time with others – whether it's traveling to other countries with friends or just plopping on their couch for the afternoon, we love to share experiences and laugh with others. Neither of us had any experience as nudists or with nakations before we met, but as we would eventually find out, we both enjoy all of the above with or without clothes!
How and at what age did you become a naturist?
After a few years together we were interested in adding another dimension to our relationship. We were having fun, traveling, and spending time with friends, but we just felt like we needed something else…something new, exciting, interesting. Random searching on the internet brought up the idea of a clothing optional resort, something neither of us even knew existed. David was all for it right away, and after a small bit of hesitation Cristina figured it was worth a shot too! This first place was
Desire Resort in Mexico
, which we knew catered to a lifestyle crowd, but we knew we weren't going for that anyway.
No matter how much we mentally prepared, there really isn't a simple way to describe when we finished check-in and walked to the room, encountering complete strangers in various stages of (un)dress!
Do we look?
Ignore?
Where do we look?
What do we say?
The answers to these questions came pretty quickly as we figured out a couple things – pretty much everyone willing to walk around nude with others is friendly, doesn't mind being seen (though not gawked at), and is quite welcoming of newbies (who are pretty easy to spot). David stripped off right away and Cristina stayed topless for a while, but eventually her bottoms hit the sand too. We spent our days nude on the beach, went up to the hot tub with 50 or so of our new nude friends, and followed the resort routine through dinner, the night club, and then to the next morning to do it all again. We were hooked and this would be the first of many nakations to come!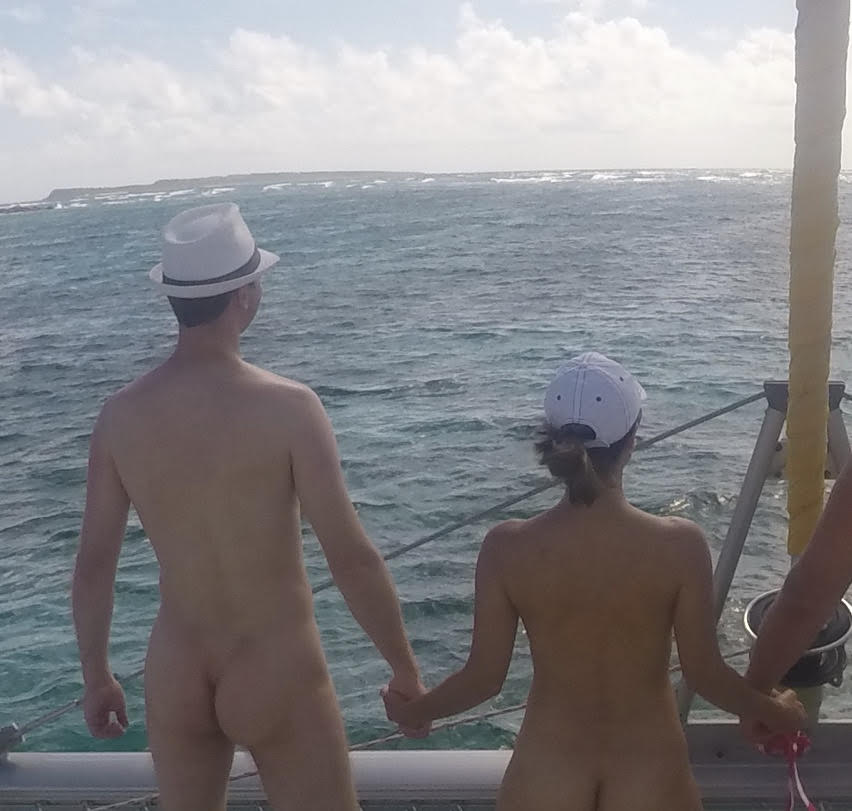 Is naturism allowed in your country and what's the public opinion?
This is quite a tricky question for the United States because legality and popular opinion varies quite a bit from one region to another. Some cities have large world naked bike ride events where public nudity is tolerated, many people participate or observe, and police do not intervene. Yet in other cities public officials and the general population would never go for such an event. Some states, Florida and California for example, have a number of naturist/nudist places that are quite well known amongst the local population. Other states have few and people may view them with suspicion. There are very few legal nude beaches. We don't know of any cities that have parks where nudity is encouraged or required like you see in many European cities. In general, Europe is far more accepting of nudity than the Unites States, though this does seem to be changing as time goes on.
What do you think is the best and worst thing about naturism?
Simply put, there is just nothing more comfortable and relaxing than being fully nude under the sun or in the water. It's something we believe everyone should try at least once. The other thing that comes to our minds first is that there are no judgments whatsoever…any of the biases that we have based on how people dress are removed and everyone is immediately on a level playing field. We're all equals, we all have something in common. It is a wonderful social experience.
Cristina would say the thing she likes least is the first arrival, when you show up and take the first nude walk to your chair on the beach or by the pool. Other folks have met already and you're new to the group…there's a bit of social anxiety and it can be compounded by the fact that you're naked, even though they are too. That being said, this feeling has always passed quite quickly and we have always had a great time!
David would add one more thing to aspects we like least. Over the years we've met an overwhelming number of great and interesting people from all walks of life, but we also have encountered a couple gawker/creeper types at a nude beach and during a world naked bike ride event. It was annoying and perhaps a bit discouraging, but we quickly realized that, just like in all aspects of life, it just happens sometimes and you move on. But the massive majority of folks are wonderful and these situations are rare.  If you do happen to be unlucky and something like this comes up on your first try, please give it another go…you'll be happy you did!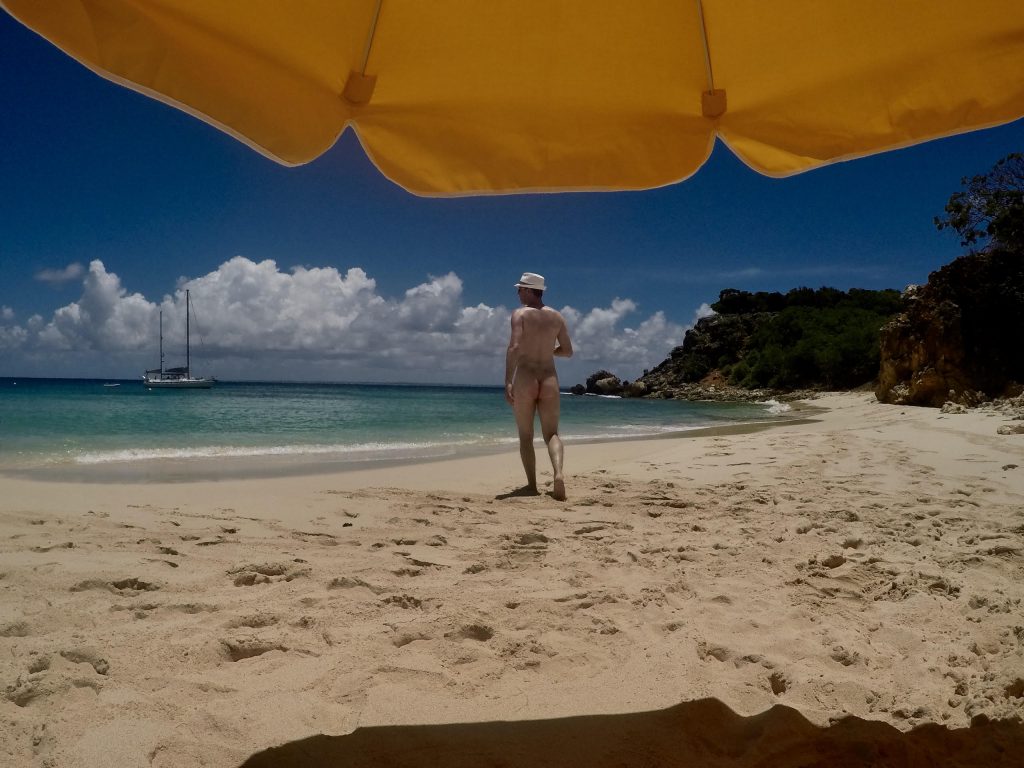 Do you find it easy to make naturist friends?
In all honesty, we have found it easier to make friends and acquaintances at naturist resorts than anywhere else. There's an immediate connection, we already know we have something in common…we are willing to be nude in the company of others. Quick introductions are remarkably easy – who you are, where you are from, how long have you been a naturist and how did you become one, etc. This breaks the ice and leads naturally into all sorts of other topics. In almost every instance we've ended up going out to dinner or local sightseeing with people we just met.
When we went to
Desert Sun Resort
for the first time we started chatting with another young couple. We ended up spending most of the trip together and stayed in touch after we all returned home. We planned a follow-up trip with them to Club Orient in St. Martin, then returned again together to Desert Sun. We stay in touch and have become great friends.
A few of our friends in our textile life know about our naturist and nakation hobby. They're our "safe" friends…the ones who know where we're really going when everyone else thinks we're at the Marriott down the street! They've never participated with us and we never push for them to do so. We're not really sure if they would. Most of our friends and family have no idea about this part of our lives and we really have no idea how they would react. It's a bit unfortunate but we have found that's a common experience among naturists. The world can be rather judgmental and people will form opinions and make decisions about something they have never tried.
What's the best tip you have for beginning naturists?
Do a bit of research then jump right in! I suggest trying out a fairly modern resort like
Hidden Beach
or
Desert Sun
first. You'll find a pretty diverse crowd and a good balance of ages and genders. We've been to a couple public nude beaches and find that, depending on the day, men can outnumber women. For women trying this out for the first time, that could be an intimidating start. Once you do decide to give it a try, we suggest the following: the longer you wait to undress the harder it will be.  Someone told us that years ago and it rings true.
No one is judgmental when everyone is naked.  You'll see all kinds of body types.
It's important that you both want to do it and are willing to try it together. Also, once you get to the place, jump right in and take your clothes off.
Research the place before you visit to make sure it's what you're looking for.  Some places are purely to be naked, which is what we like.  Other places are geared towards swingers, and that can definitely be a surprise to your system if you're not looking for that.
Anything else you'd like to share with our audience?
We cannot encourage you enough to give these experiences a try, especially if you're young. We all need to continue to grow the number of younger folks participating in naturist activities so the culture remains vibrant and the facilities continue to bring in revenue to invest in their facilities. This site run by Nick and Lins is a great resource, and we would be happy to answer any questions you have as well.
Thank you so much for your participation David and Cristina!
Do you also want to tell your story and experiences in naturism? Please get in touch via the CONTACT page! As long as we have people who like to contribute, we can keep The Naturist Talks running!
---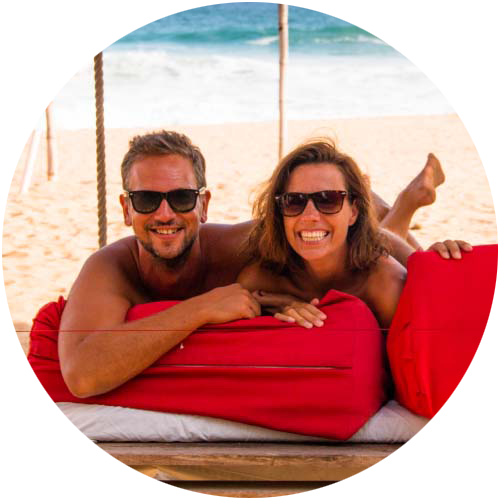 Support Naked Wanderings
Do you like what we do for naturism and naturists? Did we make you laugh or cry? Did we help you find the information you were looking for? Then definitely join our Patreon community!
---