Nudism is probably one of the easiest lifestyles to get started with. You don't need any particular skills, there's no minimum or maximum age and you don't need to be in a particular shape. Neither does nudism come with a specific diet and it only takes as much of your time as you're willing to spend. Becoming a nudist literally only takes seconds. The time needed to take off your clothes. SAY WHAT? Take off my clothes? Exactly. This simple act which we perform several times a day suddenly proves to be a hard nut to crack. A huge step to take. A reason for not giving nudism a try.
Okay, there's one little aspect of nudism which we neglected to mention in this introduction: Nudism is a social thing. This is what makes nudism different from undressing for the shower and what causes the biggest fears of aspiring nudists. There will be other people. Naked people. Naked strangers. Or… naked people you know.
Fear 1: Running into someone you know
Strangers is something you can handle. They'll see you naked, you'll see them naked, maybe you'll even have a short conversation but then it's bye bye. To never see each other again. Your secrets are safe with strangers. But what if you run into someone you know? Do you really want the mailman to see you in your birthday suit? How about the butcher, the baker or that bartender you have a secret crush on? And it gets worse, what if one of your friends is there? What if you run into family? Do you really want your boss to see you naked?
To overcome this fear you have to make a click in your head. All the time you're afraid about someone who will see you naked. But remember that the other person will be nude as well. You'll both be vulnerable on equal levels. We have to admit, running into someone you know at a nudist place can be a bit of an awkward situation at first. But that goes away quickly. And another thing, what are really the odds that your boss also happens to be a nudist and will be at exactly the same spot as you are? Certainly not enough to not give nudism a try.
Fear 2: Everyone will look at me
It's a very common nightmare: You have to give a presentation, get in front of the room facing your colleagues or class mates, you see smiles popping up on their faces and suddenly you realise that you don't have any clothes on. Next thing you know you're sitting on your bed in a puddle of sweat. How could you ever enjoy being naked in front of others?
There are two big differences between this bad dream and your first nudist experience. All the others will be just as nude as you are and there are no presentations to be given. Nobody will take the megaphone to shout "Look over here guys! It's Lins and she's naked!". In fact, the others couldn't care less about your nudity. They've seen hundreds, if not thousands of naked people before. No matter how you look, you will never stand out.
Fear 3: I will look at everyone
This is the other side of the medal. Maybe the others are used to nudity, but you are definitely not. Chances are that during your first visit to a nudist resort you'll see more naked people than you've ever seen in your whole life. How will you handle all that nudity? What will you do with your eyes? Everywhere on the internet you read that it's
impolite to stare at nudists
, but hey, you'll be in a place full of naked people. How can you NOT have a look?
Honestly, there's no way to prevent this. Luckily, there's also no need to. Have a quick look around to see what's hanging (pun intended). But don't stare at other people, that's just very annoying. If you feel the need to compliment others on their appearance, often it's better to keep that for yourself. Especially sentences starting with "Wow that's a large/small/thick/thin/cute/sexy/…" are often not really appreciated from a stranger.
Fear 4: Everyone will look better than me
The only times when you've ever seen a naked stranger before, that person was probably hired to be naked in the first place. Whether it's a magazine model, a movie actor or a stripper, being naked is their job. And so is being at a certain age and in a certain shape to appear attractive to the most variety of people. No wonder that you think that all naked strangers will look hot and sexy. Well, we can tell you, they do not. Because that's not the goal of a nudist resort at all.
We hate it when nudist resorts hire twenty-something nude models for their website pictures. Really, what are they trying to win with that? Unfortunately it still happens and even more unfortunately aspiring nudists might think that those looks are exactly what will be found at a nudist resort. We'll tell you what will be found at nudist places. Everything. A mix of all different kinds of people. The best way to imagine this is to go to Walmart on a busy Saturday and picture everyone there naked. That's what the population of a nudist resort looks like.
Fear 5: I will end up in an orgy
Non-nudists basically take off their clothes for two main reasons: To shower or to have sex. And since nudist resorts aren't bath houses… It's not difficult to make the link. Few people who have never tried nudism can understand that it's even possible to be naked together with the opposite gender without this resulting in some hanky panky. Yet it's just like that. Non-sexual nudity is plainly something that doesn't really exist in the textile world. Except in maybe communal showers, which have the very specific purpose to get cleaned up.
If you've been reading up about
the link between nudism and sex
, you probably already figured out that one doesn't have anything to do with the other. The main pillar of nudism is that it's about non-sexual nudity. You can take your kids or your grandmother to a nudist resort being 100% sure that they won't see anything even sexually related.
Fear 6: There will be creepy people around
Boy are we happy that we've tried nudism before we went online to learn more about our newly gained lifestyle. There are a lot of weird people online. If you, especially as a woman, dare to ask a question about nudism on social media or forums, it's very likely that you'll get an overflown inbox. For the next hour or so you'll be browsing through dick pics, wedding proposals and weird grammar like "Me like naked too". Suddenly the online world becomes a colony of uneducated perverted creeps. What if they would get the chance to see you naked in real life?
The difference between real life nudists and online "nudists" (note the quotes) is that 95 percent of all the creepy behaviour happens uniquely on the internet. The difference between a nudist chat room and the bar of a nudist resort couldn't be any bigger. It's like two different worlds. Unfortunately there's that five percent left who tends to move from the online dimension into the real world. You may notice one of them peeking from behind the dunes or getting just that little bit too close at the beach. These cases are rare but do exist unfortunately. Especially on public places like nude beaches. If this is one of your fears, we highly recommend to pick a private nudist place, like a resort or an event, for your first experience.
Fear 7: I will get an erection
Ladies, feel free to move on to the next part, because obviously this is one for the men. But it shouldn't be neglected because it's probably the biggest fear of all beginning nudist men. What if suddenly things start to go up? There will be no way to hide it. Everyone will think that you're just one of those creeps from the previous part. People will point at you yelling "Look! A pervert! Hang the villain!". Or something like that.
First of all, we've seen many thousands of nudist men by now and can still pretty much count the number of erections on one hand. It's really not that common as you would think. Because nudist places are non-sexual, it's rare to get aroused by seeing just another nude body. But that doesn't help you much over your fear, does it?
So here's the thing. We've never heard about someone getting kicked out of a nudist place (or hanged) just for having an erection. It can happen and everyone knows this. If you'd be the unfortunate one to whom it does happen, just handle it discretely. Turn on your stomach, jump into the pool or wrap a towel around your waist and wait until your erection goes away. If you're all like "Look what just happened to me people!", you will be hanged. Just kidding, but chances are that you won't be allowed to visit the place a second time.
Fear 8: I will do something embarrassing
It's a fear that comes with many first time experiences. The first day at your new job, the first time you meet your boyfriend's parents or the first time someone takes you to an expensive restaurant. What if I do something stupid? You try to read up on the
etiquette
and the habits but still anything can happen. You could trip, you could enthusiastically wave at someone who's not who you thought she was or you could let one go much louder than you expected. Which startles you so much that you spill your Nutella. Imagine any/all of this happening when you're butt naked.
What can we say, embarrassing things happen to people all the time. Also to nudists. Just keep in mind that for nudists it doesn't really matter whether you're naked or clothed. For us, nudity is just another (very comfortable) state of dress. So yes, whatever happens to you at the nudist resort might be embarrassing, but not more than when it would happen anywhere else.
Fear 9: I will feel uncomfortable nude
So you decided to take the step, you walked into that nudist resort, introduced yourself at the reception, got naked, wandered around and noticed that nudism is really nothing for you. Really. The only thing you can think about the whole time is the comfort of your clothes. What do you do now?
The good thing about nudism is that returning to being a non-nudist (or textile as we like to say) is just as easy as becoming a nudist. You just put your clothes back on, return to your car and drive home. And that will be the end of your nudist experience. But at least you've tried it. This being said, we have heard very few stories of people who tried nudism and hated it. Some found it "meh", some found it an interesting one time experience, but the large majority was sold within fifteen minutes. So don't worry too much about this one. Rather worry about how you'll ever feel comfortable again with clothes.
Fear 10: How will I explain this to friends and family?
You've had a lot of fears to conquer already. There you were, expecting everyone to look at you and nobody gave you a glimpse. While you did check everyone else out. You found out that the others don't really look much better than you and that they weren't humping one another. There were no creeps, no erections and other than that spilled Nutella you actually had an amazing time. You love nudism. The only remaining question is: How are you going to explain all this to your girlfriend, mom, colleagues and mailman.
The easy solution: Just don't tell them. It's none of anyone's business if you prefer to spend your free time at a nudist resort. We've met lots of nudists who never told their friends, colleagues or even children. But when nudism starts to become more than an occasional thing, you might want to consider telling some of your loved ones. So at least they know where to call when they've put the kitchen on fire. Expect from them the same misconceptions which we called "fears" in this blog post. Be prepared to answer all their questions. And most important, don't act like you're doing something wrong. Because you're not. You're living a wonderful natural lifestyle which is based on peace, harmony and respect. So what about THEIR lifestyle?
Naked Wanderings' Complete Guide for the First Time Nudist ebook

Do you still have questions about nudism or naturism?
Are you looking for even more tips and tricks?
Our ebook will be the perfect resource for you!

Learn More
---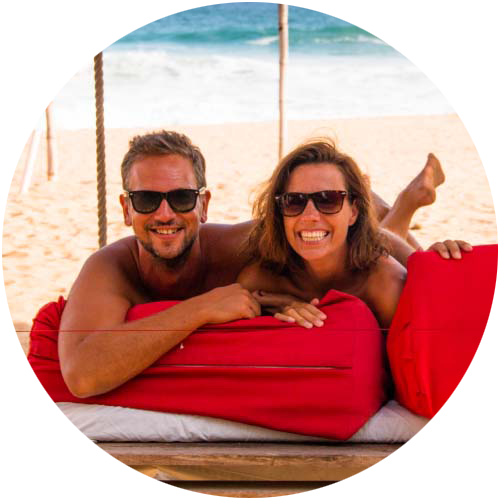 Support Naked Wanderings
Do you like what we do for naturism and naturists? Did we make you laugh or cry? Did we help you find the information you were looking for? Then definitely join our Patreon community!
---