Naturism is a wonderful lifestyle that started in Europe but is now expanding towards the whole world. Most of the time we share our own views on the different aspects of nudism but once in a while we like to pass the mic to hear about how someone else's experiences.
Our guest for today is Harrie from The Netherlands, who will tell us everything about his naturist lifestyle and experiences.
Hello Kris, tell us something about yourself
My name is Kris, a Muslim family man with wife and one daughter. I live in Jakarta, the capital city of Indonesia. I graduated from master study in Civil Engineering and currently I'm working in the construction industry.
I like to travel, especially with my family, all around the world.
How and at what age did you become a naturist?
I became a naturist since 15 years ago. At the beginning I was just being a home nudist while my parents were out. I remember my first outdoor naturist experience in 2009 at a natural hot spring in Semarang.
Since I got married, I started to introduce naturism to my wife. She accepts all my naturist activity and accompanied me to the naturist resorts in Bali and Bangkok.
Is naturism allowed in your country and what's the public opinion?
In Indonesia, naturism is strictly prohibited. Almost all the people judge naturism to be sexual activity, sin, and bad attitude.
Me and my Family are only being home nudists and sometimes we go to a naturist resort. We went to
Bali Au Naturel
2 times and
Barefeet resort
one time.
And also I went to hidden beaches and hidden hot springs in the mountains. There is no other way, because we can get in big trouble with the community. We are afraid if somebody would take our photograph and share with another people.
What do you think is the best and worst thing about naturism?
The best things about naturism in my opinion, is that we can enjoy our naked body, increase our body acceptance and relieve stress. Even my 4 year old daughter enjoys it. Recently she asked about body differences between me, my wife, and her. She asked about our private body parts. And we are easy and love to share to her about it, and she just also happy about that.
Do you find it easy to make naturist friends?
It is not easy to have a naturist friend here, I just have a few naturist friends and I'm very selective due to legal issues in Indonesia.
What's the best tip you have for beginning naturists?
Just love your body, be open about it, share it with your family. Do your first naturist activity, and don't forget to bring towel. And be careful.
Anything else you'd like to share with our audience?
Naturism is a good way to live.
Thank you so much for your participation Kris!
Do you also want to tell your story and experiences in naturism? Please get in touch via the CONTACT page! As long as we have people who like to contribute, we can keep The Naturist Talks running!
---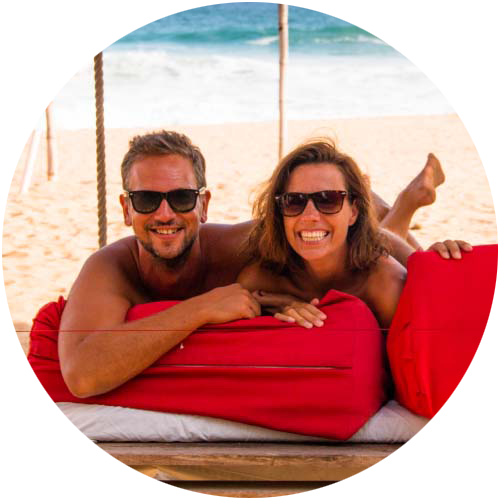 Support Naked Wanderings
Do you like what we do for naturism and naturists? Did we make you laugh or cry? Did we help you find the information you were looking for? Then definitely join our Patreon community!
---