Update September 2019: We lost contact with Kalokeri Villas and because their website is down we think that they stopped their business.
When you travel for a long time you sometimes get the feeling that you've seen it all. How you experience your 27th naturist campsite is not the same as for your first one. The location is different and so are the people, there's a difference in the politeness of the staff and cleanliness of the toilets but in the end, you're sleeping in that same old (somewhat smelly by now) tent, having daily skinny-dips together with loads of other nudies. Don't get us wrong, this is certainly not a complaint.
But as bloggers, our search for a unique angle becomes more difficult every couple of days. Our trick is to switch between both locations and types of accommodation. A campground in the mountains is different than a camp at the sea, which is different than a resort at the sea, which is different than a huge camp, small camp, local club, and so on.
While researching our next destination we were happy to see the words "Naturist Villas". Something like that was still missing on our list.
"Are you prepared for the end of the world?" asked Ralf when he and his wife Izabela and daughter Cynthia picked us up in Koroni, the last bus stop towards the south-western tip of Peloponnese. We smiled, we had heard this sentence so many times before. For people from the city, the "end of the world" often means that there's no 24/7 shop at every streetcorner and that you can't get drunk at five in the morning. But when Ralf and his family drove us further into the mountains, away from everything that even looked like a house, we figured that he might know what he's talking about.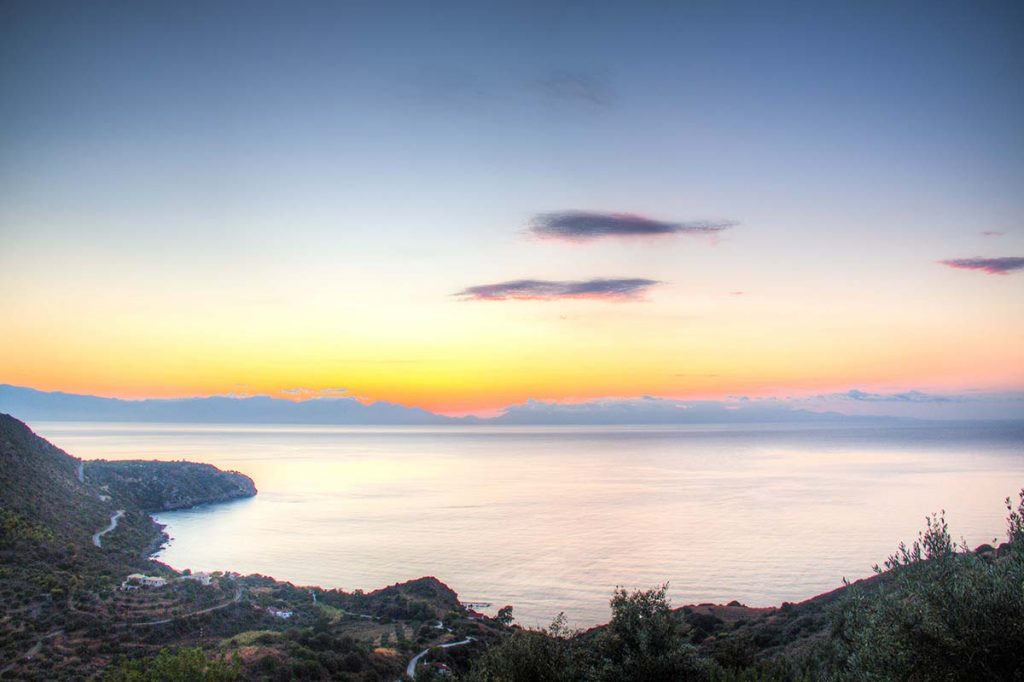 Location
When you look at the map, Peloponnese is the southern part of mainland Greece. In the north, there's Patra, the gateway to
Kefalonia
island. In the east is Korinth, a place where you'll probably end up or pass by several times when traveling through Greece and in the south there's Kalamata, this the direction you want to go for visiting Kalokeri Villas. Kalamata has its own domestic airport and a bus terminal with connections all over Peloponnese and towards
Athens
.
On our map the distance between Kalamata and Kalokeri villas was about half a fingertip, meaning somewhat 50 kilometers or less than an hour bus ride. We were right about the distance, but as Belgians, we tend to think in terms of highways instead of winding (but incredibly beautiful) roads on mountain slopes and through small colorful villages. Long story short, it took us another hour and forty five minutes to get from Kalamata to Koroni and then twenty minutes in Ralf's Range Rover until we finally arrived at the villas.
Did someone say "end of the world"?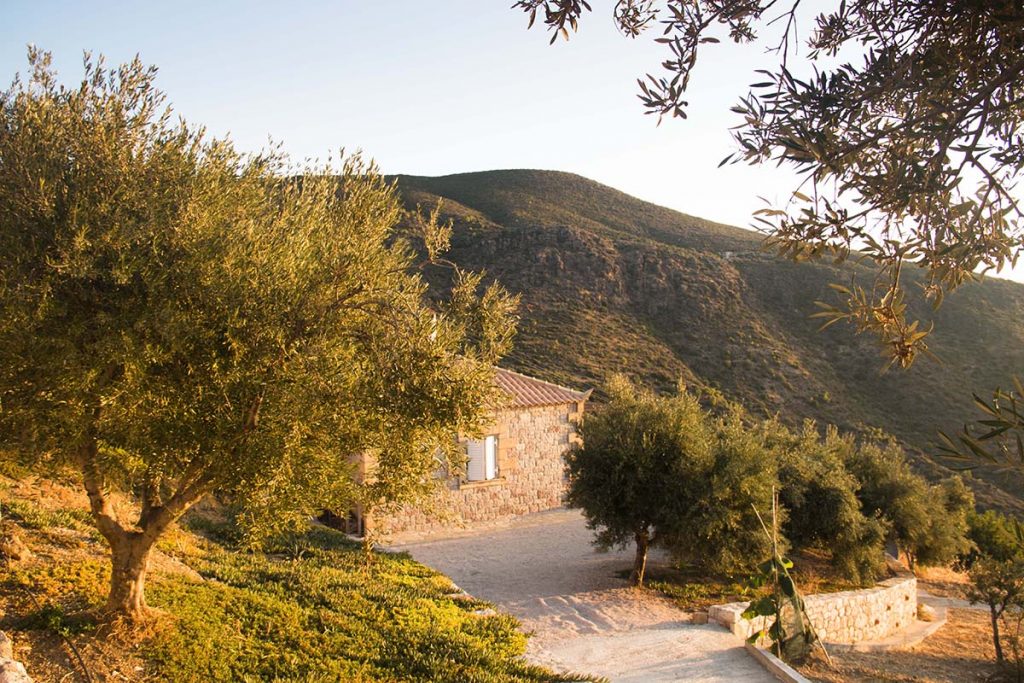 Accommodation
When we checked the website, as always we went directly to the image gallery. We like to see what a place looks like rather than read the list of facilities. But images trick us as well, from the fifty or so pictures we saw, we imagined some chalet park of about ten to fifteen houses. We were quite surprised to find only two of those houses and they were certainly not just chalets. There are a smaller, one-bedroom house and a larger one with two bedrooms. We got the "small" one, which is still a lot bigger than the average apartment in let's say London or Paris. And a lot cheaper as well.
It's the kind of house where you think "I could actually live here". Ours had four rooms: a large bedroom, a bathroom with a toilet and shower, a fully equipped kitchen, and a living room with a couch, fireplace, and big-screen TV. We've lived in worse places for much longer times. And then we haven't mentioned the huge terrace yet, with a view over the bay. Waking up in the morning, preparing yourself a tzatziki toast, and getting your naked ass in one of the deck chairs enjoying the sea view and the sound of silence… That really makes one happy.
Facilities
It's a small place, so don't expect a volleyball court, an onsite restaurant, or an Olympic swimming pool. Well, the swimming pool is there but if you aim to swim one hundred meters every morning you'll have to be prepared to take 35 turns (or something like that, we didn't actually test it). It's great though for a cool down in the morning, after lunch, before dinner, or at any other time of the day when the sun hits too hard. The pool also has a sea view, so with a bit of imagination, you find yourself floating in the bay without the sand sticking to your body or the salt making your hair look weird.
Other than that the onsite facilities are limited. The poker set in our living room kept us busy during the evenings and we did give the jeu de boule set a try but when our balls kept ending up in the swimming pool or running down the driveway we soon gave up (that might be blamed to our jeu de boule skills and wine consumption as well).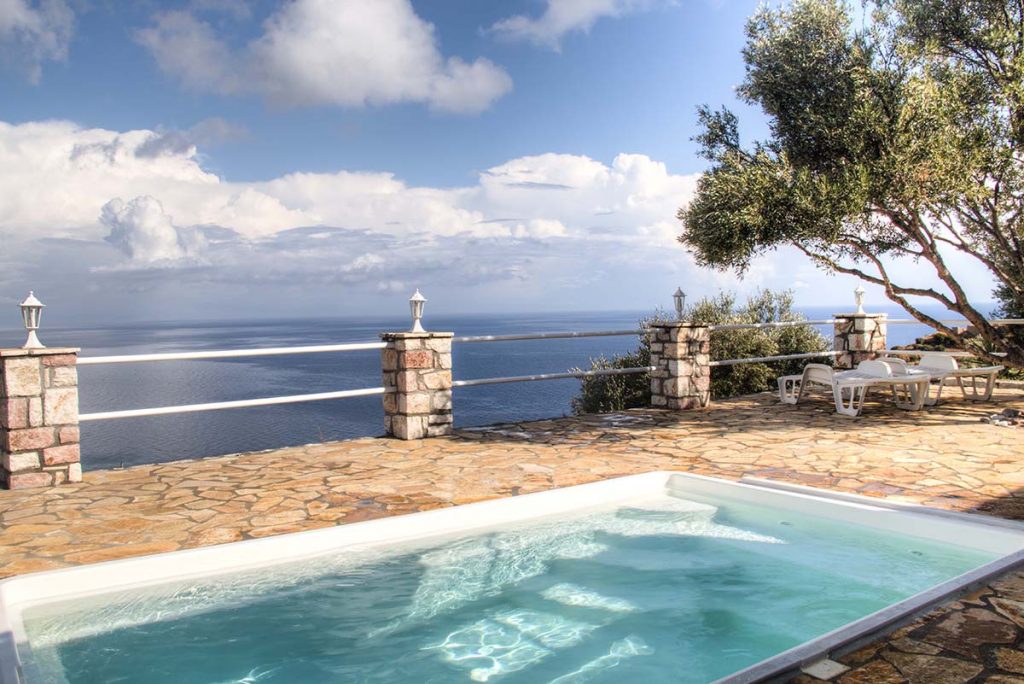 Surroundings
If the end of the world consists of a beautiful mountain range, a deep blue sea, and endless fields with olive trees, we might have actually been there. It's an emptiness you only experience in a few places in Europe these days. There are a handful of houses in the area, mostly used as vacation houses for a couple of weeks a year, there's a road on which we've never seen a single car and the rest is just plain nature. We probably don't need to mention that it's a great place for hiking.
All around the area are great beaches, none of them official for naturists but with a lot of opportunities. And within 45 minutes' drive there's a beautiful waterfall, but we'll tell you all about that in our next post.
Koroni is the nearest village that attracts some tourists, mostly because of its castle which is protected by UNESCO. But the town has more to offer, think of a Mediterranean coastal village with colorful houses, seaside restaurants, and a small port with fishermen cleaning their catch of the day and you get an idea.
There are several other small towns in the area where you can spot the local people hanging around. Most of them live from their olive harvest so about nine months each year they really don't have anything else to do than hang around and wait for the olives to ripen. You can enjoy ouzo or wine in a local taberna and watch life go by, minute after minute, hour after hour.
Staff
Although you have more in your villa than you'll ever need and the positioning of the villas gives you a great amount of privacy, we still felt like we were guests of the family. Ralf and Izabela, a couple from northern Germany stumbled upon these grounds during their travels around Greece and decided to follow a dream away from the office life, away from the rainy autumns and frozen winters towards an idyllic hilltop where they can freely be naked all day for the most of the year.
They picked up the Greek way of living but kept their German efficiency. They will make sure that you always have what you need and that whatever question or problem you might have is addressed and solved as quickly as possible. Ralf is a living guidebook when it comes to the surrounding area and is more than happy to help you plan your visits or to take you to a nearby beach.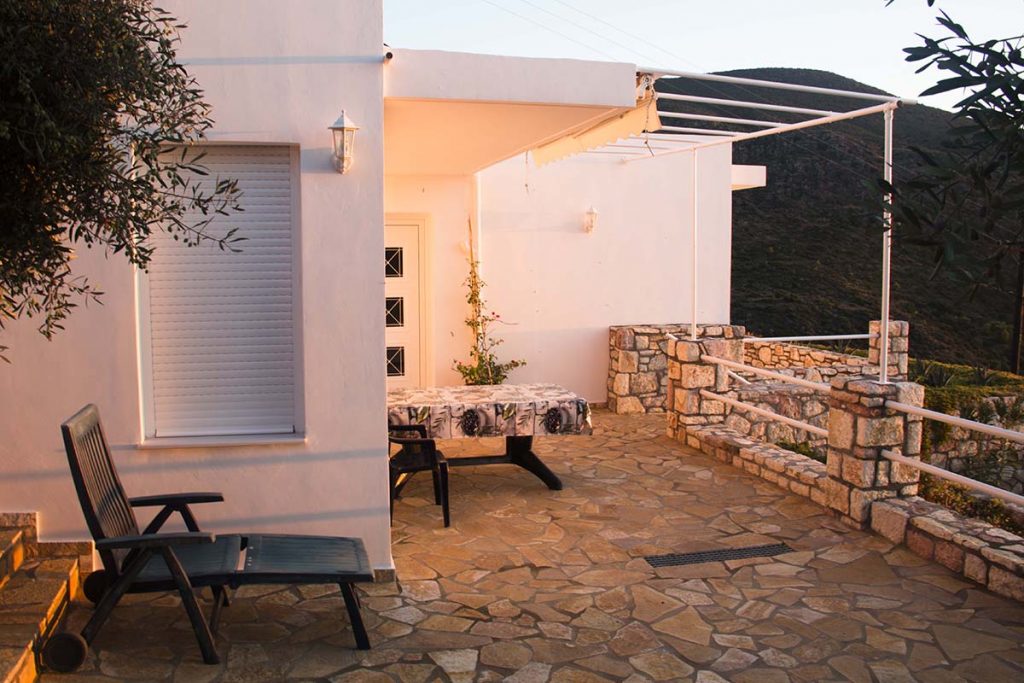 Guests
Since there are only two villas, the maximum amount of guests is six. When we were there, the other villa was occupied for a couple of days by a lovely Greek-Australian couple and for the rest of the time, we were alone.
If you're looking for a place to get social, this might not exactly be your thing, although we've learned from previous experiences that the lesser the number of people, the more interaction you often get. And also here, the evening we arrived we already had dinner together. So you can get social if you want to, but you're not expected to.
Summary
Kalokeri Villas is a place where you come to rest, to connect with nature, and to destress. It's the perfect getaway from the daily rat race and to spend your days on your terrace, reading a book, enjoying a glass of wine, and watch the sea. Because of the huge amount of privacy you get it's also an ideal place for beginning naturists or for those who are not that comfortable being naked among others. And if the pool gets too small for you, the nude beach is only five minutes' drive away.
Side note: The villas can also be rented outside of the holiday season on a monthly basis. You may not be able to spend all days naked outside (although we heard stories of skinny-dips in February) but you might enjoy the nature and the solitude even more.
Read more about this place on NUDE
More info and reservations: Kalokeri Villas
Naked Wanderings' Ultimate Guide for Naturism in Greece ebook

Are you looking for great nudist resorts and nude beaches in Greece?
Are you looking for the best tips for a nude vacation in Greece?
Then our ebook will be the perfect resource for you!

Learn More
Need help with planning your trip? Check out our Resources Page for an overview of the best companies we use during our travels
Disclaimer: We have been invited as guests of Kalokeri Villas, but of course all opinions are our own. We are super confident you will love this place as much as we did!
---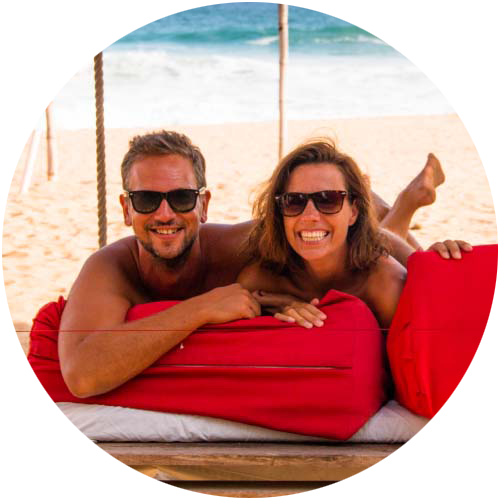 Support Naked Wanderings
Do you like what we do for naturism and naturists? Did we make you laugh or cry? Did we help you find the information you were looking for? Then definitely join our Patreon community!
---