Remember that time when we made
a video with the announcement that we were coming to America
? The move from Asia to the USA was a really huge one for us and we just wanted to make a really big deal about it. We had never imagined though how many responses we would be getting. So many of you have sent us lists with their best tips, the best spots to get naked, the best tricks to dodge the cops while naked at a place where it's not (yet) legal, and much other life-saving stuff about how not to get attacked by a bear or a snake. Without this information, our trip through
California
would certainly not be the same and maybe we wouldn't even survive, so many many many thanks for that!
One of the persons who contacted us was Ron, one of the board members of the naturist club
Naturists in the Orange County (NitOC)
, who had sent us a list of upcoming events they were organizing and the message that we were welcome to join any of them.
Visiting nudist campgrounds and resorts is, of course, a lot of fun, but during events, you get the chance to really talk and hang out with other nudists. For us, this is still the best way to learn more about the nudist lifestyle in other parts of the world. So only one day after we had landed in Los Angeles, we found ourselves at a Subway sandwich bar in a town called Hesperia, meeting up with Ron and buying food for a day at Deep Creek Hot Springs.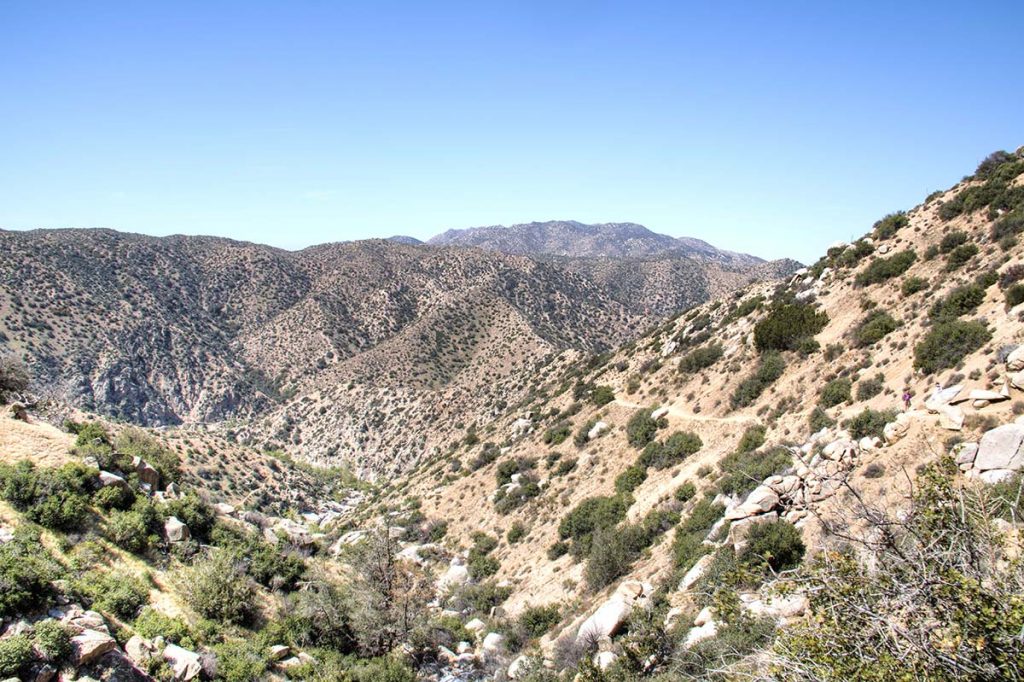 How to get to Deep Creek Hot Springs
Deep Creek Hot Springs is a two-hour ride (Californians like to describe distances in time rather than in kilometers or miles, so for the sake of convenience we follow them in this) from Los Angeles, deep into San Bernardino county. It's impossible for us to describe the way towards Deep Creek without risking you getting lost and never be found again in the desert, so we propose that you just rely on Google maps or whatever GPS system you are using. Anyway, if you follow your GPS you will find a parking spot where you have to pay ten dollars entrance and from there the hiking trail towards Deep Creek starts.
The hot springs are not some kind of amusement park that provides an elevator or a monorail to get you to the spot. You'll have to walk. This is something we like a lot and which actually relates to how we travel. No matter how amazing the destination may be, the road towards it is at least half of the experience. Especially… If you can hit the road naked.
So there we were, ourselves, Ron, and about twenty other nudies ready to go for a two-mile hike (for  Californians that's a forty-five-minute hike) down towards the hot springs.
When we arrived there, close to noon, the place was already crowded and most of the best spots around the river were already taken. But we had a trump card in the name of Claudia, who happened to be in the area and had walked down early in the morning to make sure that we had one of the best spots. Alright!
When we first waded through the river towards our beautiful spot, we wondered why this place was called "hot springs". That water was coooooooold! Our guided tour around the place would clear things up.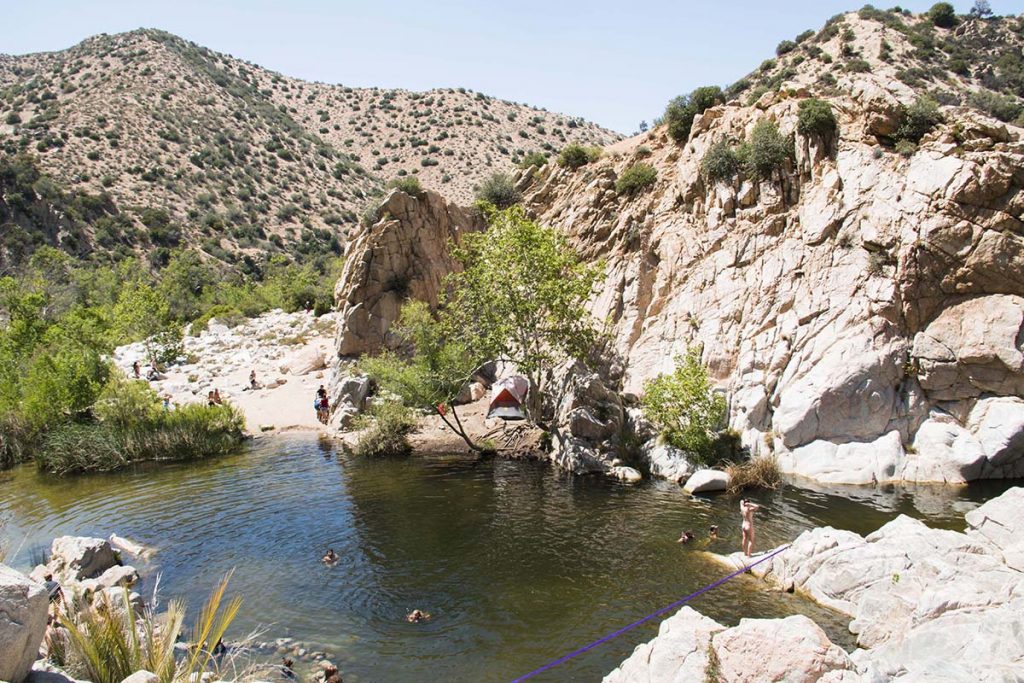 Hot & cold, clothed & nude at Deep Creek Hot Springs
Bella, one of the kids who joined our trip to Deep Creek Hot Springs,  is the self-appointed ambassador at NitOC when it comes to the younger members. We don't know whether it was because we were new or because Bella considered us as the younger generation (we like to believe the latter), but Bella was excited to give us a tour around the place. Soon we would learn that the water we had waded through before was actually the river and that there were about seven sources of hot water nearby, all with names we have already forgotten, but which had been turned into secluded baths where one could relax in hot water of about forty degrees Celsius (sorry again Californians, but we have no idea what that is in Fahrenheit… Probably a hundred degrees or so). Around us were several others, naked or clothed.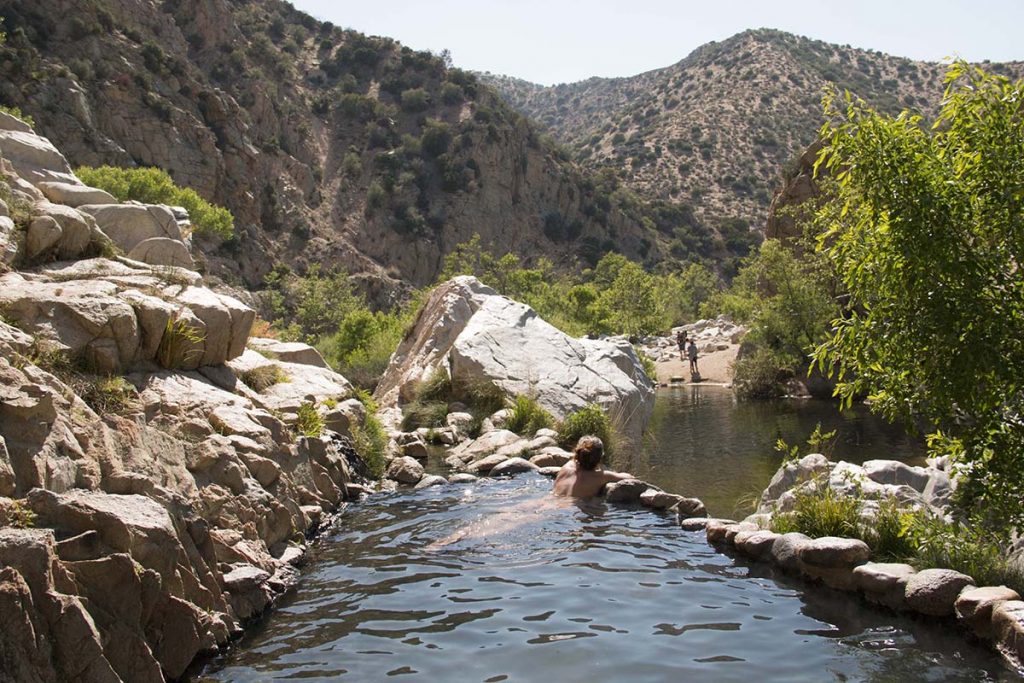 Since Deep Creek Hot Springs is a public place, nudity cannot be enforced, and from what we saw that was certainly not necessary either. Those of you who have been reading our musings on this website for some time already know that we have no issue with the clothing-optional atmosphere. In fact, we are strong believers that clothing optional is the way forward. Deep Creek was one more place that proved us right.
Since we went there with a nudist group, of course, all of our new friends got naked as soon as they got out of the cold wind (and some strong ones even before that, many kudos to them!). Because this was a sunny Sunday, there were plenty of other visitors as well. And it was amazing to see them. Some remained clothed, some went topless and some went nude. Just like that. They didn't come there as a group and we doubt that they were members of any nudist club. They just appreciated the clothing-optional atmosphere and decided to bare it all as well.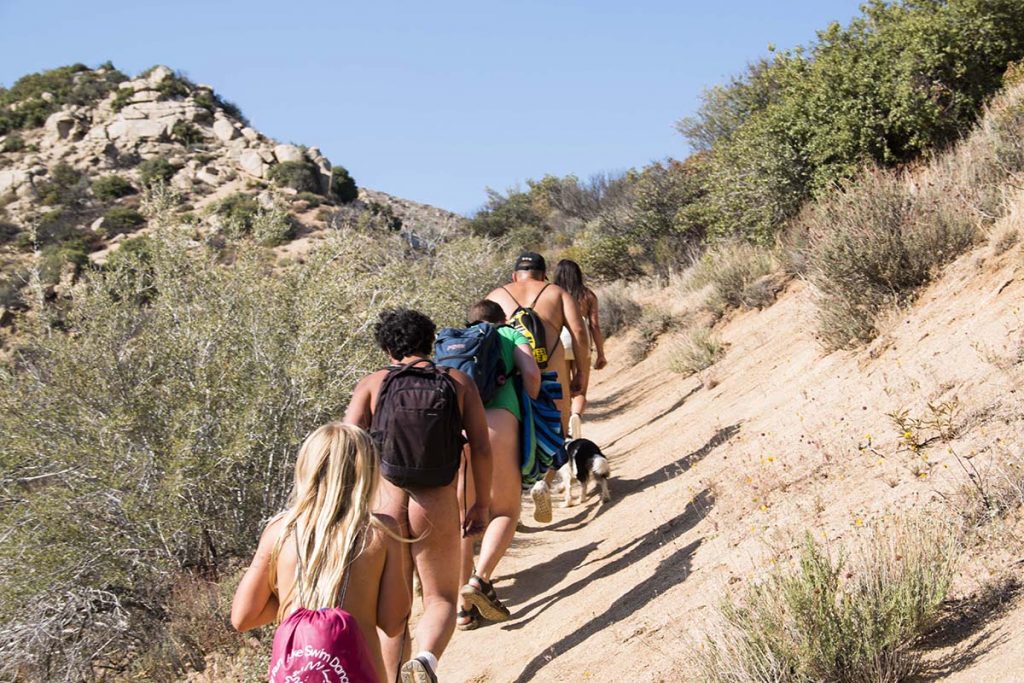 Why you really have bare it all at Deep Creek Hot Springs
If you're living in or around Los Angeles, this is probably the nearest spot where you can get naked in nature. According to the county law of LA, public nudity is illegal on beaches and in parks, so San Bernardino is the best place to go to during sunny weekends. Camping is not allowed at the hot springs themselves, but you are allowed to camp on the parking lot (which isn't anything like an LA parking lot but really a place in the desert) and yes, you'll have to walk the two miles, or forty-five minutes, up and down to the creek but that's about the only exercise you'll get that weekend except when you're one of those ice bears who actually swim in the river instead of relaxing at one of the hot springs.
Deep Creek Hot Springs is easily accessible on your own, bring a couple of friends and a couple of beers and we know you'll have an amazing time. But we would certainly advise you to go with
NitOC
as well. They are a fun group, they know the place like the back of their hand because they have been there a million times before and when you're not in the water you'll have a great time chatting with the others while enjoying the Californian sun.
Don't forget to bring sunscreen, water, lunch, and maybe dinner because chances are that you won't want to leave before the sun goes down.
Find the best nudist accommodation in the area on NUDE
Find a complete overview of hot springs in and around California on this blog post!
Naked Wanderings' Ultimate Guide for Nudism in California ebook

Are you looking for great nudist resorts and nude beaches in California?
Are you looking for the best tips for a nude vacation in California?
Then our ebook will be the perfect resource for you!

Learn More
Need help with planning your trip? Check out our Resources Page for an overview of the best companies we use during our travels
---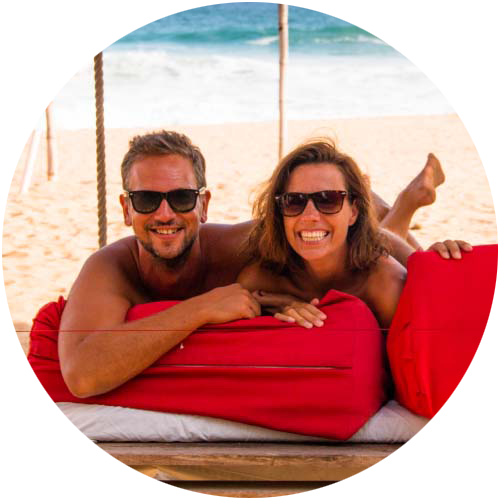 Support Naked Wanderings
Do you like what we do for naturism and naturists? Did we make you laugh or cry? Did we help you find the information you were looking for? Then definitely join our Patreon community!
---