Naturism isn't one size fits all. At least not anymore. There used to be a time when every naturist club or resort looked quite similar, at least in the way how things were done and organised. But those days are long gone. Every naturist has their preferences of what the perfect resort looks like. Some like beach and others like forest. Some like small cosy campsites and others like huge naturist villages. Some like an endless list of activities, while others prefer to do things on their own. And that's all perfectly fine. That's the whole reason why there is such a variety in resorts today.
More and more, an important factor for us is how a place is being run. Maybe it's the professional side of our travels trickling through, or because we've been spending a lot of time talking to naturist resort owners, but we often instantly like a place when we think that "this place is good, and we're sure that it will keep getting better too". This is more or less what happened at La Tuquette.
How to get to La Tuquette
La Tuquette is located in the east of the Provence-Alpes-Côte d'Azur region (often just referred to as "Provence"), near to famous coastal cities like Saint-Tropez, Cannes, and Nice. To get there from the north of the country, you want to keep following the A6, A7, and A8 highways in the direction of Nice and in Le Muy switch to local roads D54 and D562.
Coming from the west of the country, it's best to drive along the coastline on the A9 east and get to the A8 from there. Then follow the above instructions. From the direction of Italy, you can follow the coastal E80 highway and get on the A8 from there. In this case, you want to leave the A8 highway just west of Cannes and continue on the D37 and D562.
If you're travelling by public transport, Nice will probably be your most interesting hub. It has an international airport and a train station that is connected to the TGV (high-speed train) network. From Nice, it's about an hour and a half to La Tuquette by car. You may find local buses and trains to get closer to the campsite, but we recommend renting a car in Nice instead because you'll have much better options.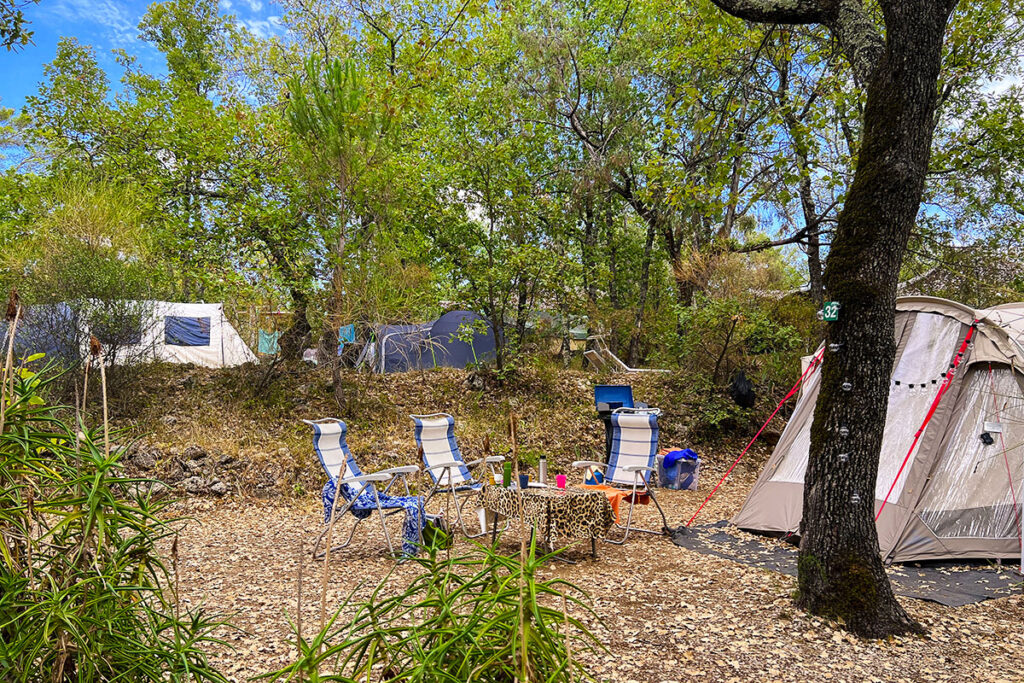 Where to stay at La Tuquette
At the moment, La Tuquette has about 50 pitches and three different types of rentals: The Cosy Lodge, the Chalet, and the Mobil-Home. We stayed in one of the Cosy Lodges, which are the most economical rentals. We have to say, after all these years of travelling and staying in an endless variety of accommodations, it was the first time that we've seen one of these. The structure resembles a typical chalet, but the roof is made of tent canvas which technically makes it more like a glamping tent.
The Cosy Lodge is definitely spacious with a fully equipped kitchen, a living room, two bedrooms, a bathroom and a terrace. The most impressive buildings on the property were the premium Mobil-homes, which look nothing like the plastic squares that you often find at other campsites. The ones here come with a "cabin in the woods" kinda look and an impressive terrace. Some of them are for sale, for those who like to spend a lot of time at La Tuquette.
And… more is to come very soon. The owners are currently finalizing the expansion plans for the campsite, which will increase its capacity by more than double of what there is now.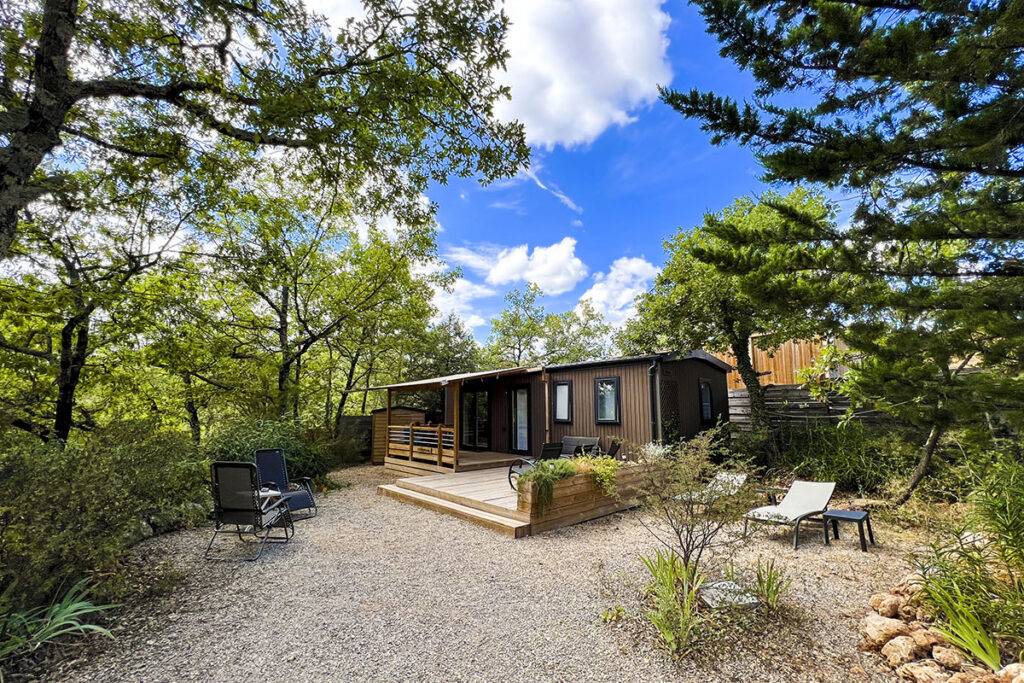 What to do at La Tuquette
Given the current size of the campsite, the facilities are obviously limited. Most of the action happens in and around the central area, where you can find the bar and restaurant, a beautiful swimming pool, and a number of petanque courts. From our own experience and from the talks that we had with the other guests, the number one activity at La Tuquette is the social scene though.
We already noticed this during our first night, when there happened to be a communal paella dinner. The restaurant was totally packed. We would be exaggerating if we said that the whole campsite was there, but it was certainly pretty close. During the following days too, we found that the guests kept flocking together for a chat and a drink, regularly joined by the owners.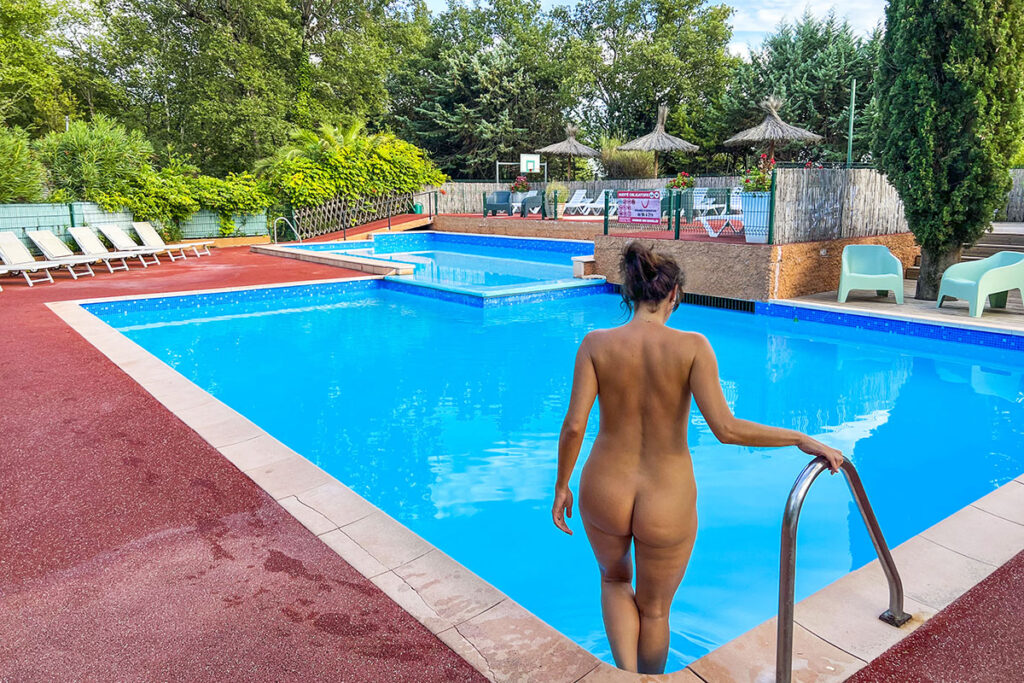 Around La Tuquette
The area around La Tuquette is known for its typical Provence villages, which all seem to be located on the top of a hill. Just around the corner is Fayence, said to be one of France's most beautiful towns. We went over to have a look around and can tell you that it's definitely one that could be stolen from the magazines. The central square with its church and clock tower on top, and then numerous downward meandering narrow streets filled with shops selling all kinds of local delicacies.
Nature lovers will certainly appreciate the Gorges du Verdon, one of the world's deepest canyons which is perfect for hiking or water sports. If you're less active, you can also enjoy a drive around the canyon and visit the many viewpoints.
And then there's the Côte d'Azur, the French Riviera. This is where the rich and famous tend to come when they're not on a stage or a film set. You may know Saint-Tropez from the movies or Cannes from the movie festival. And also Nice is well worth a visit. Don't expect to do much celebrity spotting though, they're probably hiding on their huge yachts outside of the port. West from Saint-Tropez are a number of nude beaches for those who like to refresh without a bathing suit.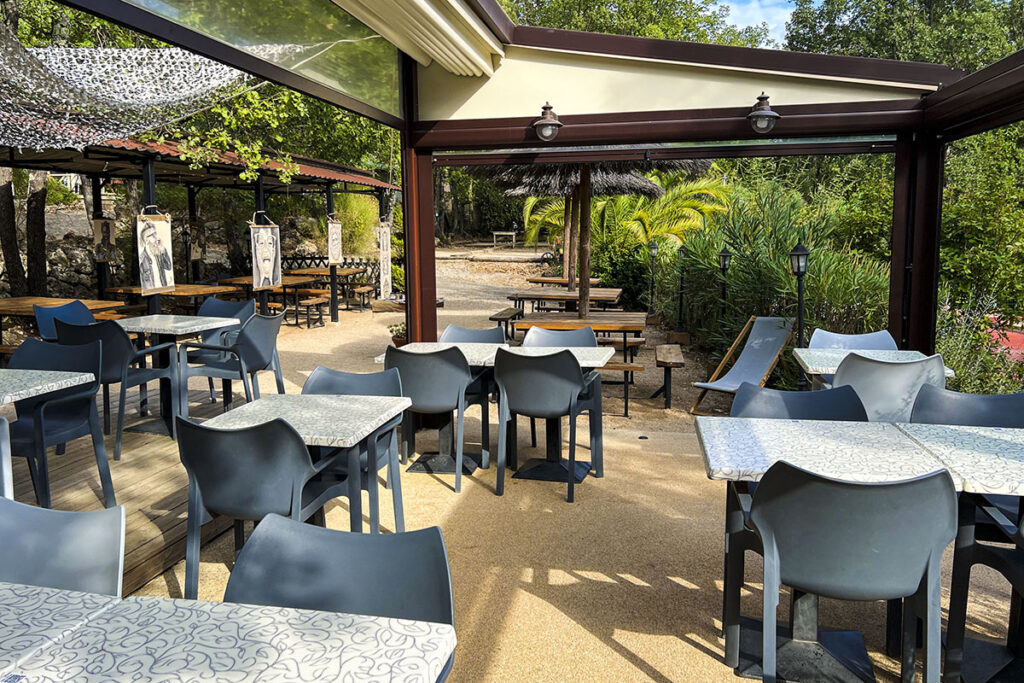 Staff & Guests of La Tuquette
La Tuquette has a long history, which actually started on the other side of the country. For several decades, Christiane and Robert had been running naturist campsite La Tuque in the Lot region, before they decided to move to Provence to give birth to La Tuquette in 2003. A couple of years ago, the time came to pass the torch to their children Brice and Caroline, and Caroline's husband Arnaud.
Brice and Caroline have spent their whole lives on a naturist campsite and learned what works from their parents while forming their own vision of what can be done differently. Every business owner will tell you that fresh ideas are a necessity for a healthy establishment, and of course, it's great when these ideas come from within the family. What we found was a perfect combination of traditional naturism with a modern vision for the future.
The guests also seem to appreciate this, which we noticed from the high rate of returners. For most of the people we met, it was not their first time at La Tuquette. Several even had a history at La Tuque. We thought that the high percentage of Dutch guests was particularly interesting. This isn't that uncommon at naturist resorts in France, but when the owners are French, it's quite an accomplishment.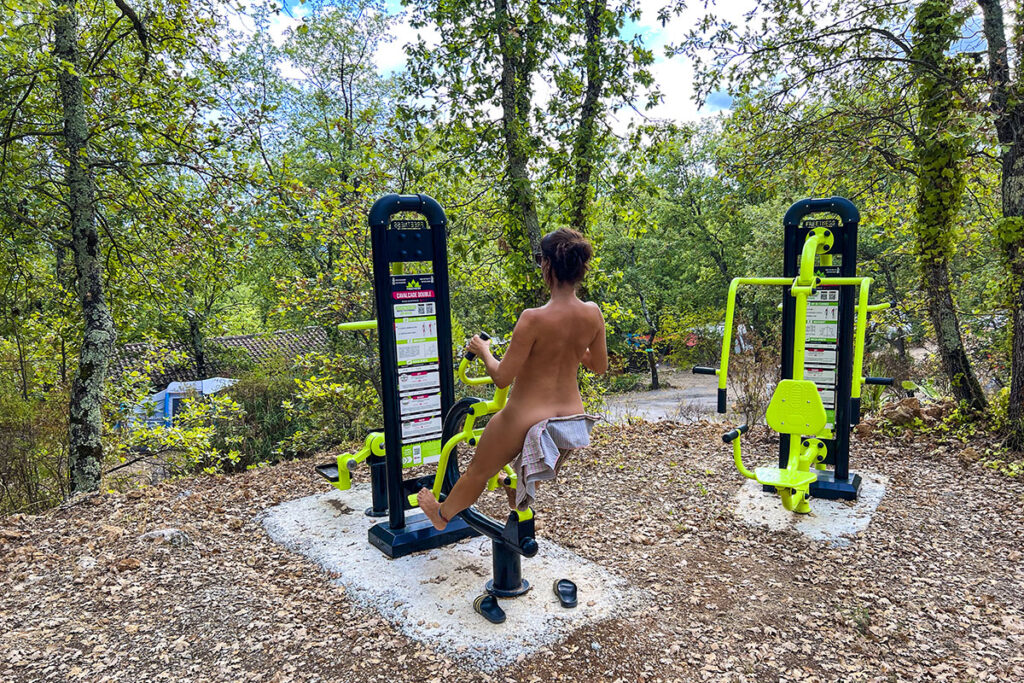 Book at La Tuquette
The best ways to book at La Tuquette are:
French and English are fluently spoken.
Summary
That La Tuquette is on the verge of expansion is for us enough reason to come back one day. But that's because we're curious and we just want to see what it will look like. Nevertheless, we're sure that they will manage to maintain the intimate atmosphere of the cosy naturist campsite.
---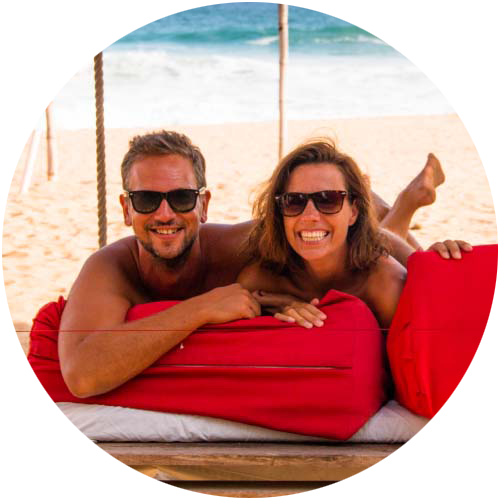 Support Naked Wanderings
Do you like what we do for naturism and naturists? Did we make you laugh or cry? Did we help you find the information you were looking for? Then definitely join our Patreon community!
---