Naturism is a wonderful lifestyle that we try to enjoy as much as possible. In as many places as possible. Most of the time we share our own views on the different aspects of nudism but once in a while we like to pass the mic to hear about how someone else's experiences. Via this Naturist Talks interview series, we listen to naturists from all over the world. They share their experiences, tips and stories about naturism and thanks to them we keep learning about the different aspects of life in the nude.
Our guests for today are the fun couple behind
Our Natural Blog
, Sam and Aleah from the USA.
Hello Sam and Aleah, please tell us something about yourself
We are Sam and Aleah, from Florida. We are a blended family of 5, plus one dog. Sam works in healthcare and Aleah works in real estate, and we stay busy every day raising our 3 boys. We love living in Florida because of the warm weather and mild winters. We love having access to nearby nude beaches and nudist resorts, but our favorite spot by far is the pool in our back yard.
We also love to travel and almost always make a far & away nudist destination part of our trip. This year we started an Instagram chronicling our naturist adventures and recently started a blog to be able to share more thoughts about the motives and philosophy of this wonderful way of life.
How and at what age did you become a naturist?
Aleah was born to naturist parents. She was visiting nudist resorts and nude beaches since before she can even remember. For much of her early adult life, she took a step away from naturism after getting into a long term relationship with somebody who was not comfortable with the idea of simple nudity. When that relationship ended she was once again free to be free in her own skin and went back to being a naturist at home. A few years later she serendipitously met a nudist named Sam and was reintroduced into the world of social nudism. Surprisingly, it's like riding a bike…hehe. She is thoroughly involved now, running workshops, moderating discussion groups, and most importantly she has met many naturist friends who she adores.
Sam was raised in a conservative household where "nudist" or "nudism" were foreign words and topics that just never came up. As a teenager he had become curious about naturism, not only because it seemed very freeing, but also because he thought it might help him with his insecurities. So at age 19, he decided to try out a nude beach called Playalinda. Naturism changed his life for the better, but he quickly became aware that young naturists didn't really exist. He spent lots of time trying to solve that imbalance in his head.
In 2006 AANR asked Sam and a few others to help redesign some of their youth programs. He helped to create Vita Nuda which was a think tank for experimenting with creating positive naturist outreach using previously untapped channels such as MySpace, Facebook, Youtube, etc. He went on to help start
Florida Young Naturists
and other young adult naturist groups. The architecture of "The Nude Revolution" , as it was nicknamed, went on to influence groups around the world, as close as
New York
and
California
, and as far as
Mexico
and Australia, etc.
Is naturism allowed in your country and what's the public opinion?
The United States….hmm. This is the country of "closets". There is a certain acceptance of minor variations of normal, as long as it fits into a mainstream TV-friendly Wal-Mart loving world. But if who you are exists outside of that, whether you are gay, or naturist, or enjoy LARPing, etc. Then you have fallen into the category of "odd" or "weird". Woven into the fabric of America are "stereotypes", derived no doubt from our rich history of racism.
So, if you happen to be "different", the way Americans deal with that is to lump you into something that they can either hate, or fear, or laugh at. Unfortunately, it's hard to guess who would be accepting of Naturism and who would not. The
misconceptions about Naturism
and the way our country automatically links skin with sex makes this a difficult place to be open about being a naturist, and even more so raising kids in a naturist home.
Is naturism legal in the USA?
Yes. We have nude beaches and nudist resorts. Thank goodness.
Is it socially acceptable in the USA?
Not so much.
What do you think is the best and worst thing about naturism?
The best thing about naturism is….the mental transformation. It's a paradigm shift that helps you to see the world differently. You also start to see yourself differently, and gain more confidence. When you learn to accept yourself more completely, you also learn to accept others more completely…and those two things feedback on each other in a positive life-changing way.
The worst thing about naturism is….the stigma attached to it. It's a difficult thing when you have something so beautiful and freeing, but you have to be guarded about sharing it because people's reactions could negatively impact their opinion of you. This is part of the reason we started an
Instagram
and
Blog
….we want the world to see naturism more accurately and more positively.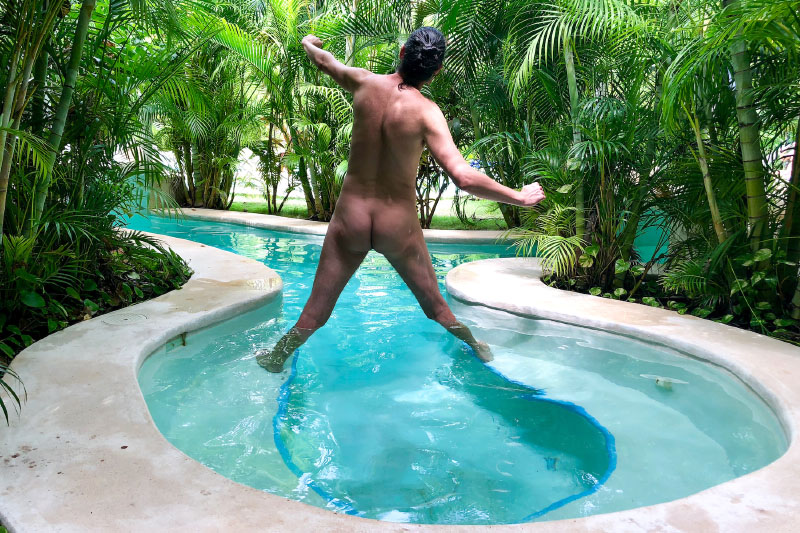 Do you find it easy to make naturist friends?
YES! Thanks to Sam's involvement with Vita Nuda and FYN we are involved with a large network of extremely talented, adventurous, creative naturist friends. Many of these people have become some of our closest friends, even with our clothes on! We travel together, we celebrate holidays, birthdays, weddings together. We love the fact that our children are growing up together and forming positive memories together. We also love going to resorts or nude beaches together, and always enjoy seeing all of our friends at the naturist gatherings we attend.
What's the best tip you have for beginning naturists?
It is literally ALL in your head. The anxiety you feel will literally melt away after you've been at a naturist resort or nude beach for just a short time. You will stop seeing people as naked and just start seeing them as people. The connections you make are more honest because you are not hiding behind any barriers. You may just make the best friends of your life. TRY IT!!
Anything else you'd like to share with our audience?
We have lots of stories and adventures! You can read all about them on our naturist blog:
https://ournaturalblog.com
Thanks Naked Wanderings for being the best naturist blog on the planet! You are a continuing inspiration to us.
Thank you so much for sharing your story Sam and Aleah!
Do you also want to tell your story and experiences in naturism? Please get in touch via the CONTACT page! As long as we have people who like to contribute, we can keep The Naturist Talks running!
---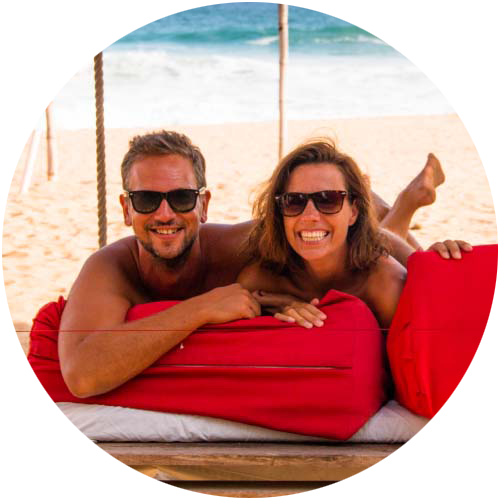 Support Naked Wanderings
Do you like what we do for naturism and naturists? Did we make you laugh or cry? Did we help you find the information you were looking for? Then definitely join our Patreon community!
---