Naturism is a wonderful lifestyle that we try to enjoy as much as possible. In as many places as possible. Most of the time we share our own views on the different aspects of nudism but once in a while, we like to pass the mic to hear about how someone else's experiences. Via this Naturist Talks interview series, we listen to naturists from all over the world. They share their experiences, tips and stories about naturism and thanks to them we keep learning about the different aspects of life in the nude.
Today we're listening to Scott and Julie, two fellow nudist bloggers from the USA.
Hello Scott and Julie, please tell us something about yourself
We are Scott and Julie, AKA the
Nomadic Nudists
. We've lived mostly in Arizona and the western U.S. but have spent the last five years roaming the country in a 34-foot motorhome. We have now been to 49 of the 50 U.S. states.
Along the way, we acquired a dog, Peanut. Peanut is a classic narcissist. He always wants to be fed or petted, or have us throw the ball so he can fetch it over and over and OVER again until the Sun goes supernova and swallows the Earth. But ask him to help out around the house, or even pick up his own poop, and he just stares at you without lifting a paw.
Anyway, Scott is a freelance writer and, among other projects, wrote the Nomadic Nudists column for the NUSA Sun magazine published out of Florida, with Julie taking many of the photos. He continues the column at
NomadicNudists.com
. Julie is an artist, specializing in abstract painting. She also loves to cook and constantly amazes Scott with the dishes she creates in a kitchen the size of a shower stall.
We love to travel and explore new places, especially if they are warm and you can get naked. Beaches are our favorite places. Since 2011 we've been part of the Burner community and renewed our vows at Burning Man in 2014.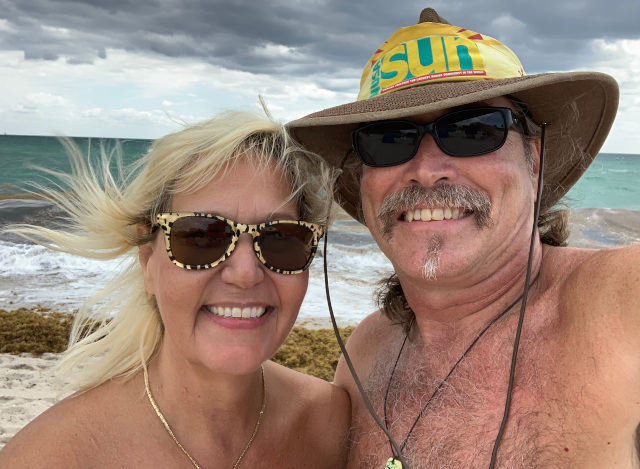 How and at what age did you become a naturist?
We've been married over 30 years and did some skinny dipping when we first met but it wasn't until we were about 40-years-old that we considered ourselves naturists. We had been spending a lot of time in Tanque Verde Canyon east of Tucson, Arizona, which in the springtime is an oasis with cool pools of water in a lovely desert gorge. We'd hike up and find a private spot to sunbathe. Scott would strip totally down, but at first, Julie usually kept her bikini bottoms on.
There was one area where local nudists would gather. They were very friendly to us and we ended up hanging out and becoming friends. Julie felt comfortable with them and was wondering why she was so scared of getting totally nude. So, one day she took off her bottoms and never looked back.
We didn't realize that there was such a community built around naturism; it wasn't just getting naked and going skinny dipping. Somebody had hauled a barbecue grill down there, and they would have picnics and play volleyball. We had started going up there for the sun and the water and the chance to get naked outdoors. We kept going back for the socializing.
When Mira Vista Resort opened in Tucson, most of the Tanque Verde crowd starting gathering there, us included. Since then, we've traveled to over 30 nudist resorts and several clothing optional beaches and hot springs.
Is naturism allowed in your country and what's the public opinion?
This country has a long way to go, but thankfully there are several places you can legally be nude in the U.S. There are nudist resorts in many states, plus non-landed clubs that often have gatherings in private homes. There are also a handful of legally recognized clothing-optional beaches on both the west and east coasts, such as Haulover, Gunnison,
Black's
and Collin's.
The U.S. isn't as conservative as some parts of the world, but we believe that naturism here is still considered an odd, fringe lifestyle by the majority of Americans. Many consider it downright perverted. Just look at how people react here to the top freedom for women, which isn't even a naturist movement.
In Utah, a woman is being prosecuted and may have to register as a sex offender, because her stepchildren saw her topless in her own home. Mormon music celebrity, Marie Osmond, publicly shamed this woman by likening her behavior to pornography. Arkansas still has a law banning any person or organization from advocating or promoting nudism. Based on that, it's possible you could be charged simply because you told a stranger on the bus that you love being a nudist and they should try it some time.
If nudity isn't allowed somewhere, or we're not sure, we just stay dressed. It isn't worth getting arrested and possibly charged as a sex offender. The prudes win.
What do you think is the best and worst thing about naturism?
What we like the most:
Julie: Freedom to live how I want and express myself any way I want, including walking the dog in a nightshirt with no undies.
Scott: The freedom of being naked. I don't like clutter and clothes are clutter on my body.
What we like the least:
Julie: Men who stare at me at the pool. It happens way too often. I also don't like how costly it can be to go to nudist resorts. I know, that's two things.
Scott: What I like the least is feeling like I have to hide being a naturist. It shouldn't be a big deal. Get over it people. Also, cold weather. Cold weather sucks. (She got two things, so I get two things.)
Do you find it easy to make naturist friends?
Now that we spend a lot of time at nudist resorts and naturist places, we don't have a problem meeting other naturists. And it's very easy to make friends with them. People just seem to open up more about themselves and their lives when they're naked.
Our textile friends know we're nudists and we've skinny dipped with many of them (typically after much wine). Some have even come to a resort with us. But really, the best way to meet other naturists is to go where they hang out and be willing to socialize.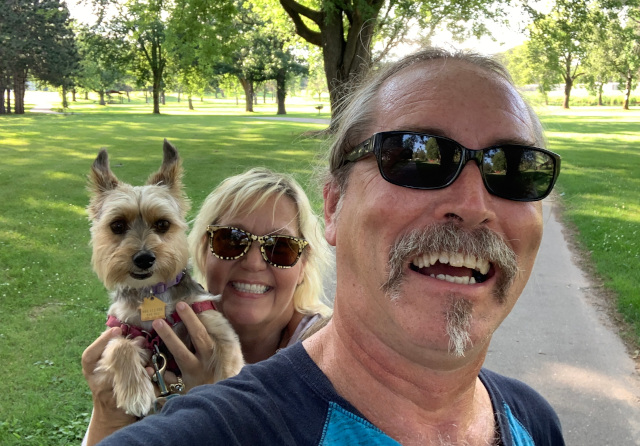 What's the best tip you have for beginning naturists?
Julie: Just own it and take it off.
Scott: Remember that naturism is just a life choice, not a cult. Do what makes you feel comfortable. Don't let others pressure you. Relax and enjoy and be respectful.
Anything else you'd like to share with our audience?
In our experience, naturists (or nudists…whatever you want to call them) are good, decent people. We may not always share the same political beliefs or interests outside of naturism, but nudists (almost) always treat each other with respect, they often volunteer in their local communities, and they help each other out in time of need. If politicians were required to be naked during their terms in office, the world would be a better place.
Thank you so much for sharing your story, Scott and Julie!
Do you also want to tell your story and experiences in naturism? Please get in touch via the CONTACT page! As long as we have people who like to contribute, we can keep The Naturist Talks running!
---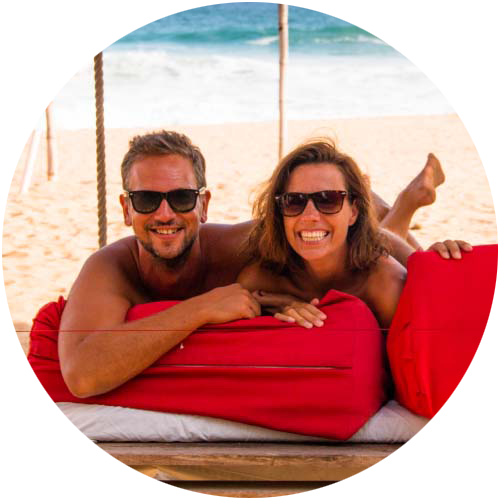 Support Naked Wanderings
Do you like what we do for naturism and naturists? Did we make you laugh or cry? Did we help you find the information you were looking for? Then definitely join our Patreon community!
---