A visit to naturist resort Grottamiranda, in the southern tip of Italy, meant quite a large detour from our original travel plan. That's the thing with Italy, it's not a particularly big country but it's long. We decided to add Grottamiranda to our itinerary anyway for two main reasons. First of all, because it's located in the Puglia region (Apulia in Italian) which is one of Italy's richest archaeological regions and the birthplace of some of the country's most delicious foods and wines. Somehow the area has remained more under the tourist radar than for example Tuscany and Umbria, which makes it an agreeable place to visit. Especially in high season.
The second reason is Grottamiranda itself. While doing our research about the naturist resort we noticed that all previous visitors seemed to love the place. That was our cue to get our naked butts to Puglia as well. We had to find out what's so special about Grottamiranda and who these guests are who write all those positive reviews.
How to get to Grottamiranda
Grottamiranda is very conveniently located at about a 20-minute drive from Brindisi International Airport, which has connections to many destinations in Italy and western Europe. If you can't find a flight to Brindisi, you could also decide to fly to Bari instead. Here the airport is slightly larger and connects to more places. From Bari, it will be about an hour and a half to drive to Grottamiranda.
Coming from outside of Europe you will most likely have to connect in Rome to a domestic flight. Because of the variety of low-cost airlines in Europe, many visitors decide to fly to Puglia instead of driving.
A much more ecological way and not that much slower (if you count the waiting times in the airport) is coming by train. There are several daily trains from Rome to Brindisi which will get you there in about five hours and meanwhile allow you to enjoy the wonderful landscape of southern Italy. Also,
Flixbus
has several daily connections between Rome and Brindisi. It's an economical option but keep in mind that you will be underway between 7 and 11 hours.
If you plan to spend your whole holiday soaking up the sun next to the pool, you can arrange a pickup service at Grottamiranda. But we would strongly advise you to rent a car instead. As we said in the introduction, Puglia is a wonderful region and it would be a shame to miss all that because you don't have your own transportation.
Getting to Grottamiranda by car from Bari or Brindisi is easy, but make sure to bring a GPS if you don't want to get lost between the olive groves.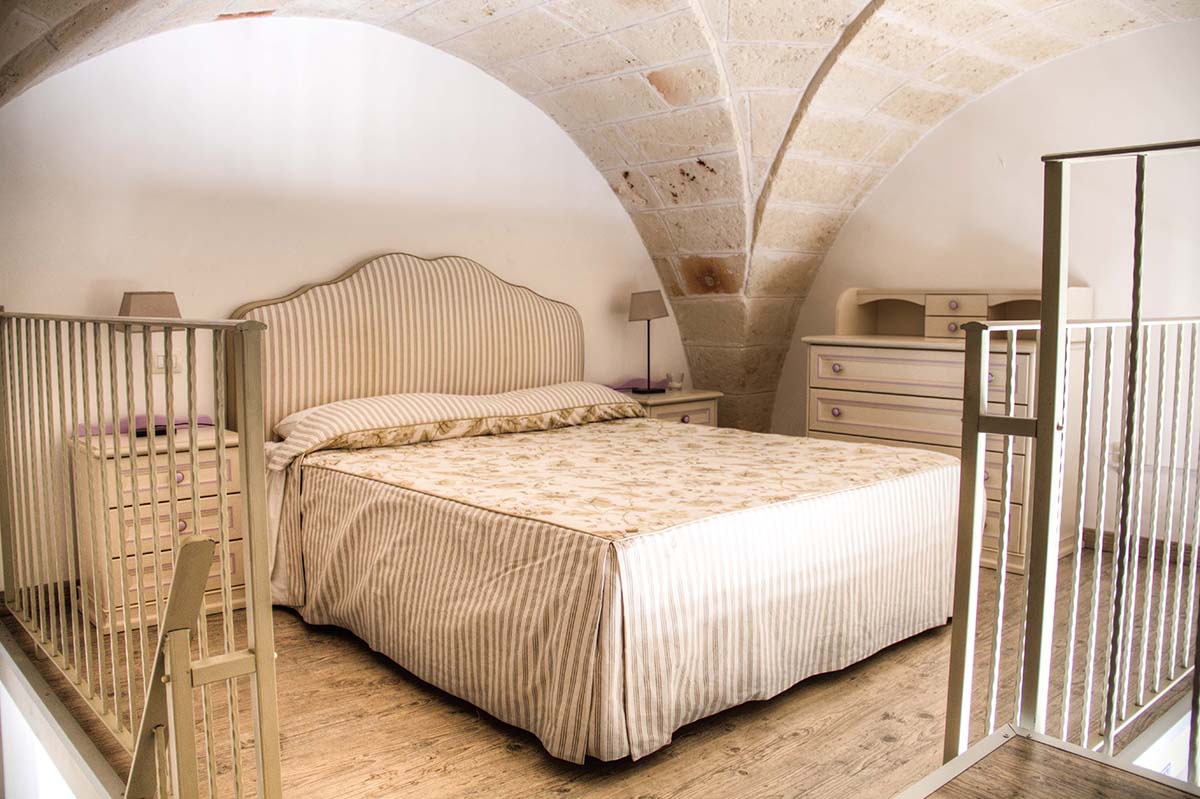 Where to stay at Grottamiranda
Grottamiranda is the perfect mix between a B&B and a small hotel, where the main focus is on comfort and space for the guests. The architecture of the main building is in the typical farm style of the Puglia region. The rooms are studio apartments with a private bathroom, a kitchenette, and airco (which comes in very handy in this part of Italy). Each room is unique and organized differently. Some of the rooms are in a modern style while others took the style of the building and have limestone accents and high ceilings.
We stayed in a "Lecce" room, which we can definitely recommend. Because the bed is up on a mezzanine there is a lot of space downstairs to do… well… at the moment we can't really think of a reason why you would want to spend our time inside your room at a place like Grottamiranda, but let's say it's nice to know that you have the option. The typical architecture of our room just adds to the experience of being in this wonderful part of Italy. When we woke up in the morning we felt like rich Italian farmers ready to go pick some olives from the trees.
With "picking olives" we of course mean hanging around nude next to the jacuzzi or the pool.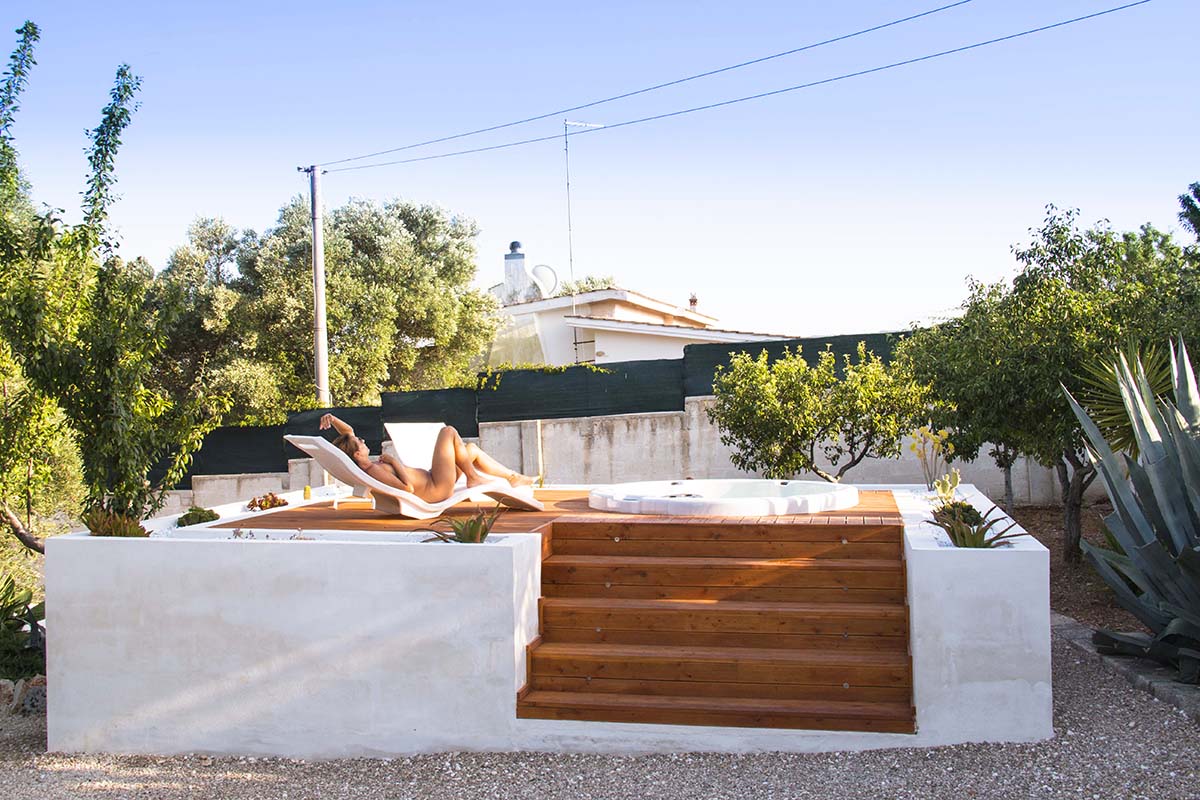 What to do at Grottamiranda
That pool is the main highlight at Grottamiranda. It's where you'll find most of the visitors who decided to take a day off from visiting historical cities and seaside villages. One is reading a book, one is taking a nap and some others are having a skinny dip to refresh from the dry heat which is typical to this region. We don't believe that we have to draw you an image, this is how things go at places where life is good.
What we love the most about Grottamiranda is that other than the main pool area, the property is divided into many different secluded parts. During our first day, we found ourselves exploring the different options. All around the property are corners with cozy seats or deck chairs where you can separate yourself from the others to completely indulge yourself in that book (or that nap). There are barbecue areas, a giant chessboard, a trampoline, a volleyball court, and a massage area, all for you to explore. Then your eye catches the platform with the hot tub, where you get the last rays of the sun for the day, and if you stay in long enough, you also get the first stars. Did we say something about how life is good?
Several days have a specific theme at Grottamiranda, which pretty much translates into a certain event. One day when we were there, the term "Watsu" was written down on the chalkboard. We bet that now you're thinking exactly the same as we did.
What on earth is Watsu?
Basically it's a Shiatsu massage but in the water. We won't go into too much detail, but if you're at Grottamiranda we can strongly recommend one of those. Guiseppe, a local masseur, is an expert in Watsu and his massages might really blow your mind.
Other events often include typical dinner nights or cooking classes. You get the chance to learn more about the local cuisine and meanwhile have some delicious food without having to go to a restaurant.
Talking about food, the staff at Grottamiranda works together with local restaurants and bakeries from whom you can have your breakfasts and lunches delivered right at your doorstep or whichever other spots you picked for the day. We told you that it's worth to visit Puglia, but we also have to tell you that it will often be hard to put on your clothes and leave Grottamiranda.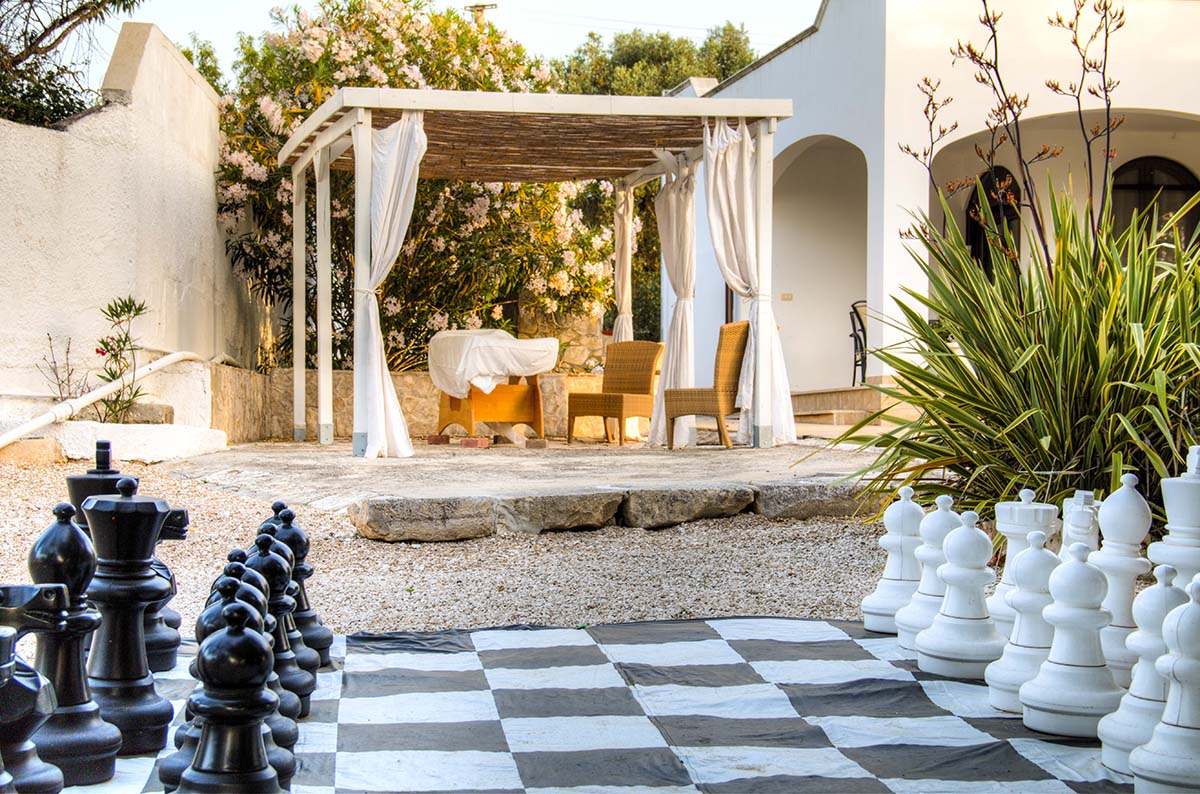 Around Grottamiranda
So we'll mention it once again: Do go out, even if it's just for one day, and explore some of the best that southern Italy has to offer.
Grottamiranda is located right in the middle of farms and olive groves which makes it a very pleasant region to walk or cycle. Most of the groves are not fenced off and the trees provide the perfect shade to rest or have a picnic. Many of the trees are several centuries old, much older than Italy itself in any case. Wars have been fought around these trees and people from different civilizations might have taken a rest exactly where you do. When the tree was much younger.
We talk about civilizations in plural, because Puglia has been part of pretty much every kingdom and empire that ever existed in Europe. The Romans, the Greeks, the Byzantines, the Normans, you name it. They've all been there and more importantly, they've all left their footmark. The Salento accent and architecture for example still have a strong Greek influence.
It's impossible to list all the sights in the region, but we can tell you that it has something for everyone. Historical cities like Bari and Lecce (which is also called the Florence of the south), cozy coastal towns like Monopoli and Otranto, there are archeological sites and beaches all filled with the typical friendliness of southern Italy.
When it comes to nudity outside of Grottamiranda, the options are unfortunately rather limited. There is one beach however which is frequented by naturists: Torre Guaceto beach. Like most naturist beaches in Italy, getting there might feel a bit like a treasure hunt. Ask for instructions at Grottamiranda and you'll certainly find your treasure nude beach.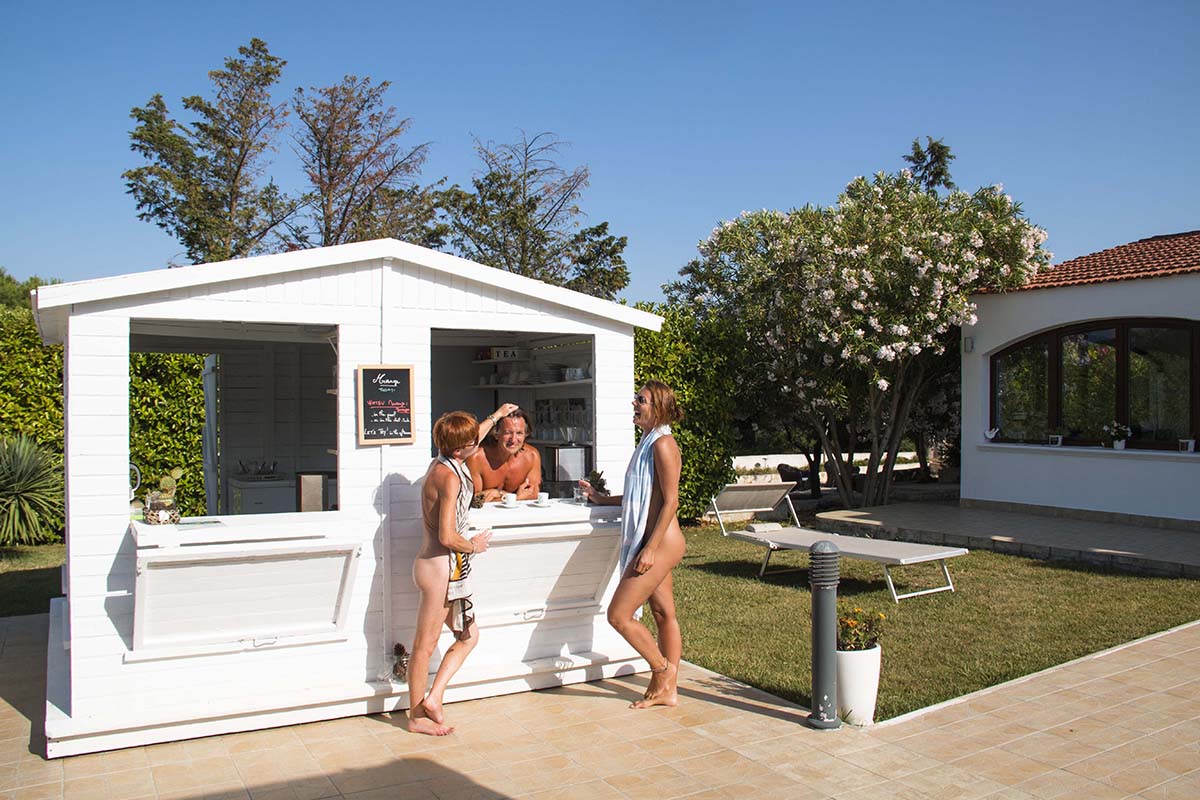 Staff of Grottamiranda
Martine and Pierre, the French couple who owns and runs Grottamiranda told us a story which never gets old because somehow it's also our own story. Except that we aren't running a naturist resort. Yet. Anyway, both former HR managers got an epiphany while visiting a nude beach in Corsica. THAT was what they really wanted. Instead of hiring and firing people, they wanted to take care of people. Take care of naked people. The idea was born and not so long after there was Grottamiranda.
An HR background is definitely a good basis because all their lives Martine and Pierre had been figuring out the wishes and needs of people. But with that alone, you don't build a successful naturist resort. They have the secret ingredient which makes the difference between "just" a resort and a great resort: Passion. Pure passion. They love what they do and you feel this in every aspect of everything they do. Grottamiranda is their big dream and as a guest, you are a significant part of that. Your happiness is their barometer for success and they do everything it takes to make sure that you have the most wonderful time.
Guests at Grottamiranda
When we arrived at Grottamiranda, we were surprised to meet several other Belgians. Surprised and proud, that also naturists of our own country have found their way to wonderful Puglia. Other than fellow Belgians we also met several Dutch, Italians, and French. But of course, we only got to see a snapshot of Grottamiranda's seasonal population. Many guests come from the Netherlands and France but we've seen pins on the visitor map in a range of different countries. From South Africa to Brazil to Australia.
Although it's always nice to get the chance to speak your own language, in the end, nationality doesn't matter. The most important was that we've met all kinds of friendly naturists who traveled to the "heel of Italy" for a comfortable and stress-free nude vacation. All of them agreeing that Grottamiranda had been an excellent choice.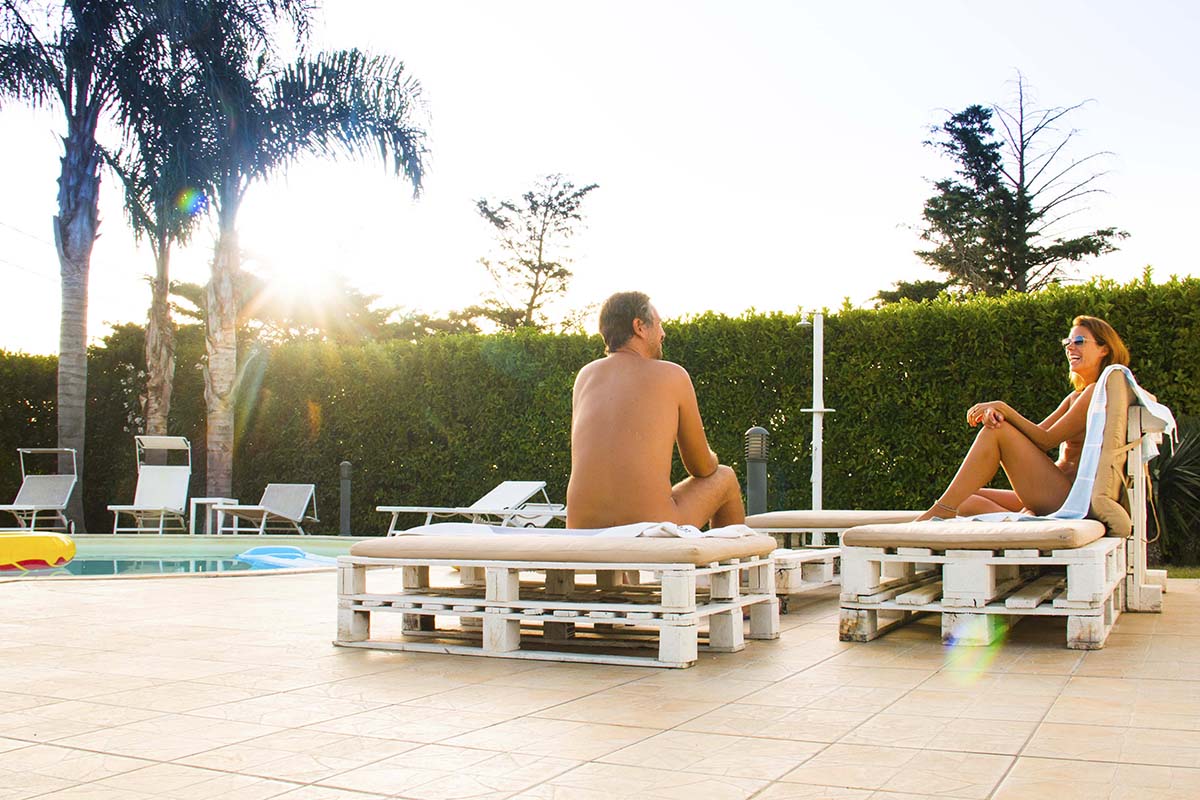 Reservations & Contact
Grottamiranda is a very popular naturist resort in Italy and often gets fully booked. Especially during high season (July & August). Even though they plan to add several new rooms in 2020, we have no doubt that the resort will come even more in demand. So make sure to book in time.
It's best to communicate in English, Italian, French, or German.
Grottamiranda is open from April 1st to November 15th.
Day visits are also possible.
Summary
Do we still need to convince you about how much we like Grottamiranda? The mix of comfortable accommodation with a relaxed atmosphere and the friendliness of the hosts definitely explain all those positive we had read about the place. All of that in the warm and beautiful Puglia region. What else could we wish for?
Disclaimer: We have been invited as guests of Grottamiranda, but of course all opinions are our own. We are super confident you will love this place as much as we did!
---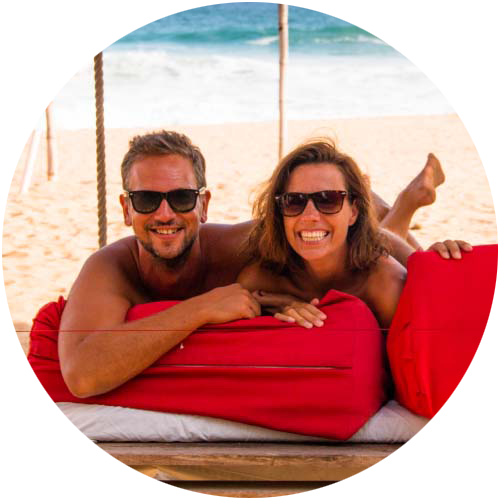 Support Naked Wanderings
Do you like what we do for naturism and naturists? Did we make you laugh or cry? Did we help you find the information you were looking for? Then definitely join our Patreon community!
---