Nude beaches in Greece
There's something important that has to be said about Greece before we go any further with this Ultimate Guide… Although this country has become a popular naturist destination during the last years, there are only a handful of official naturist beaches in the country. So if you really (like in really really) want to have the law on your side, your chances for a legit skinny dip are pretty low.
For our trip to Greece, the "Captain" has been an amazing source of beautiful Greek nude beaches and an equal source of disappointment when we found out that the place was already crowded with textiles. So if you want to be sure to have a great nude time on the beach, we've listed the best ones in this article.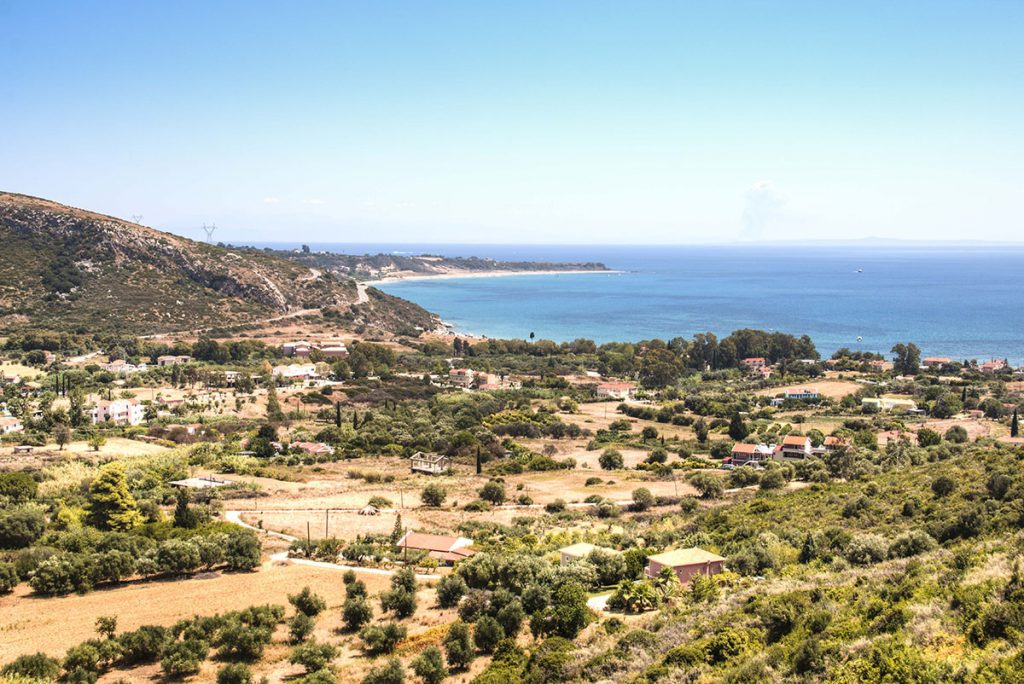 Best time to visit
Greece can be roughly divided between the mainland and the islands. And even then, one island is not the other so it's pretty hard to tell you when is the perfect timing to visit this country. But we can tell you this: From November until March Greece will be suffering from the European winter. We're not saying that you won't find a day in early March for an afternoon skinny dip, but take it or leave it this is not the time the average naturist wants to visit the country.
Which leaves you with April to October. A great timing to visit the mainland or even Crete which sometimes gets an average of 20 to 25°C during April or October. No doubt however that for al of Greece (weather wise) the best period to have an amazing nakation is between May and September. Both months included.
July and August are considered the top of high season, meaning that prices at resorts, bars and restaurants will double if not triple. Many tourists pick Greece as their favourite summer destination and those are not only the ones without clothes. For a great relaxed naked holiday we would recommend May, June and September but if you're looking forward to a good party on let's say Mykonos or Santorini you might want to go there in the heat of the summer.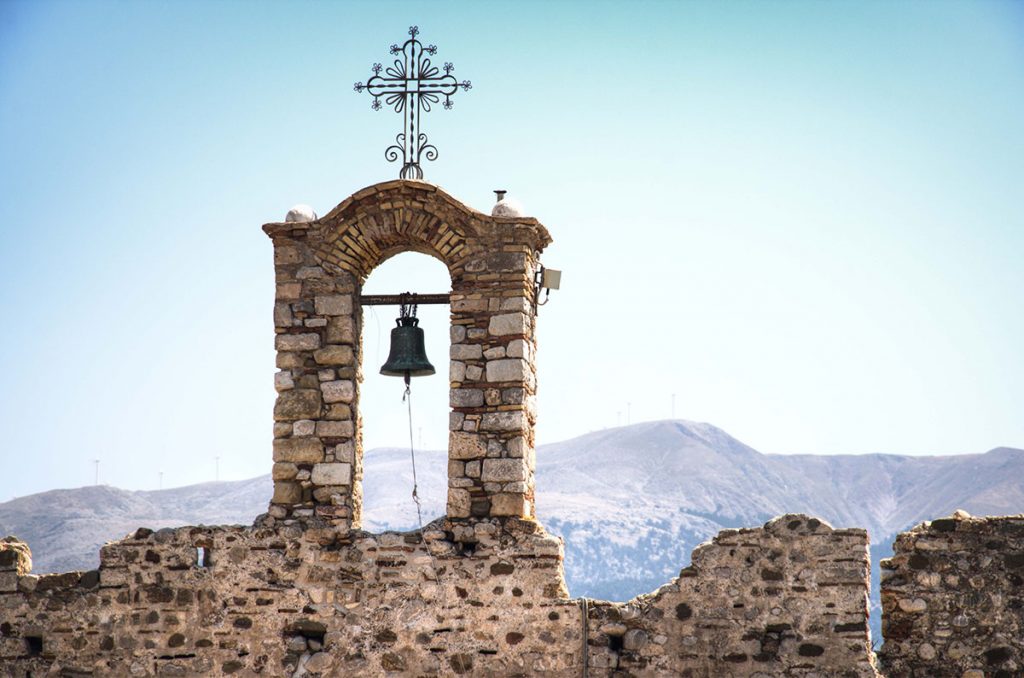 Where to go
Greece might seem like a rather small European country but because of its many islands (numbers tend to differ but the average count is about 200) it's quite a large place. To keep things more or less simple we will divide the country as follows: On one hand there's the main land which includes several areas like Peloponnese, Macedonia, Thessaly, Thrace and others. We want to stay out of a geographical war here, these are the places you can visit arriving at Athens without having to cross a sea.
And then there are the islands, divided in different groups: The Ionian, the Saronic, the Cyclades, the Sporades, the Aegean, the Dodecanese and Crete. Each group has its own specific culture, climate, geography and of course options for the nude traveler.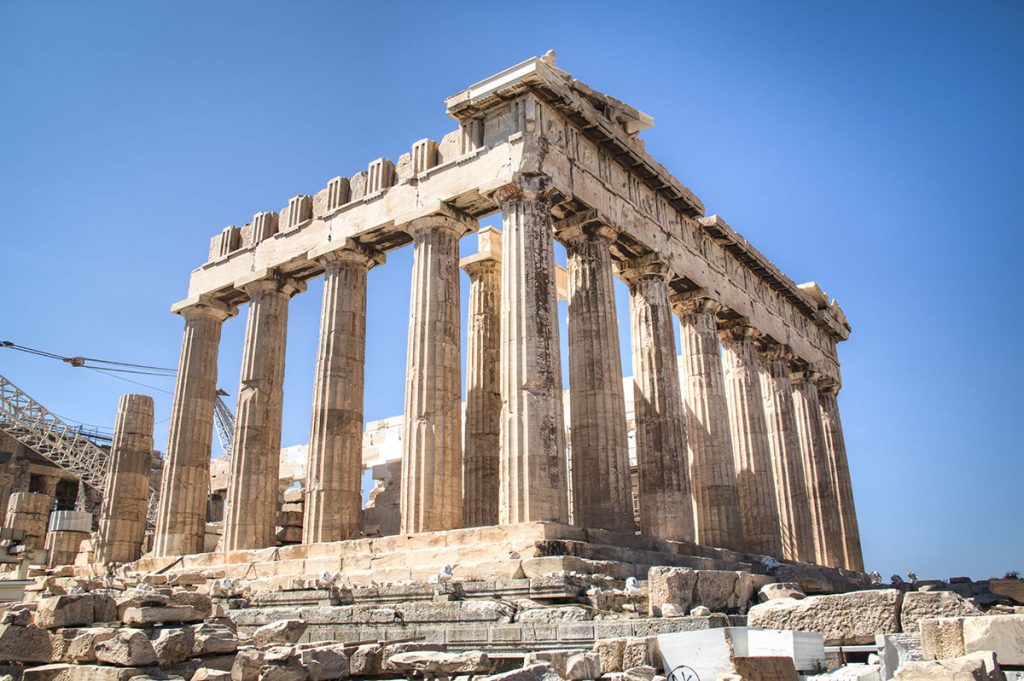 Peloponnese
As mentioned before we will include all of Greece's mainland in this chapter. Yes, it's quite a big part of the country but the options for naturist travellers really aren't that many. For example there aren't many known nude beaches in this area, but there are certainly some nice spots to find near the big cities. Also check out our blog posts Getting naked around Athens and Getting naked around Nafplio for some more tips for those regions. In southern Peloponnese there are two great places to spend a couple of naked nights as well, both located in the Messinia area.
One of the few strictly nude beaches in Greece is located in Attica, at about 65 kilometres from Athens. This pebble beach with very clear waters can be found at the sea side of the Ramnoundas archaeological site and doesn't attract many visitors. Which makes it perfect for a relaxed couple of hours of nude sunbathing.
Chiliadou beach has been considered the centre of Greek mainland nudism for many years. It's located on the Evoia (Euboea) peninsula and has a wonderful mountain background. When arriving at the beach, walk to the north until you pass the large rock. That's the nudist part.
Two fully furnished villas in the most southern tip of Messinia. The owners have also established their own naturist beach down the road which isn't listed here because it's still not very much used. This is a great place to stay if you're hoping for a quiet naked Greek holiday away from the crowds. The villas come with all the necessities like a living room, kitchen, terrace and one or more bedrooms. There's a shared swimming pool for both villas.
Three well equipped villas set in an acre of terraced gardens. There's a large communal swimming pool, a sun terrace and an outdoor shower. On special nights the hosts provide Greek and Indian dinners. Fig Leaf is close to lots of interesting spots to visit including several textile beaches, nature reserves and ancient Greek sites.
The Saronic Islands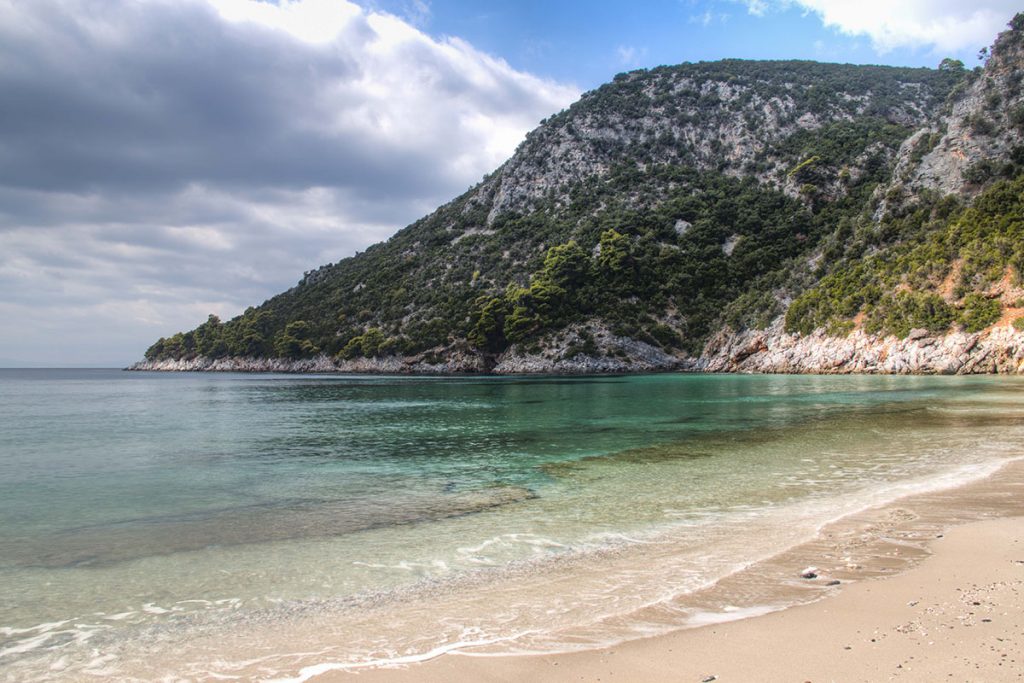 The Sporades Islands
With their proximity to Athens and more specifically to the harbour town Volos, the Sporades are a group of islands which is often visited by the traveler who wants to add a couple of island days to his or her mainland holiday. Naturist options can be found at Skiathos and Skopelos.
Skiathos
Banana beach is one of the most famous official naturist beaches in Greece and the only one in the Sporades islands. It's beautiful, it's sandy but it does tend to get overrun during high season. Visit this beach in June or September for a more relaxed atmosphere or in July and August if you're up for a naked party!
A high standard studio on Skiathos island with a lovely completely enclosed garden and hot tub suitable for naturism at all times. The rental price is quite low for this kind of accommodation so make sure to make your reservation in advance because the studio is often fully booked. Not only is its location great to visit other parts of the island, it's also quite convenient for an afternoon at Banana Beach.
Skopelos
Not yet "official" but very well known among the naturist community. Velanio beach is a favourite for those wanting to escape the heat of Banana Beach at Skiathos. Get down at Babi's Taverna and follow the signs.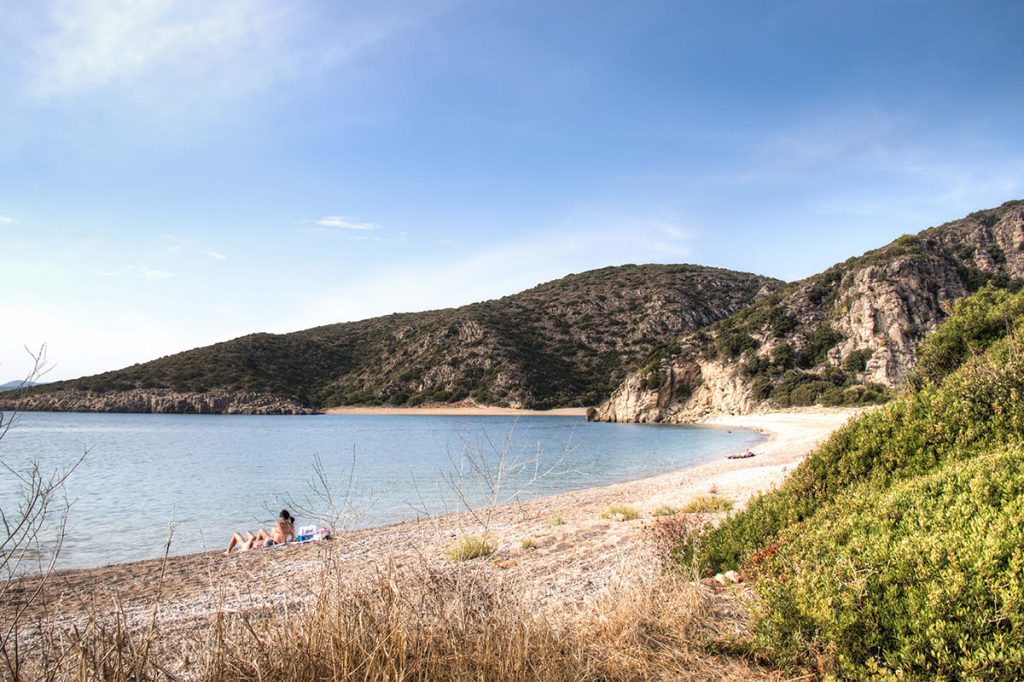 The Ionian Islands
Whether you've been driving all the way to Greece on your own or have gotten a rental car in Athens, the Ionians are probably your most nearby paradise. If you ask us the Ionians are still a bit of an underrated part of Greece, while its architecture often resembles the one at the famous islands in the Cyclades and its beaches are more pristine and often more nudity friendly as well.
Zakynthos
Zakynthos has one unofficial nude beach and it's not the most inviting one either. Reports complain about graffiti saying "kill the gays", which is not really what you're looking for during a relaxed naturist holiday in Greece. Nevertheless, this beach is often frequented by naked travelers so you'll rarely feel alone.
Tucked away in the beautiful Vassilikos area of Zakynthos you will find one of the prettiest places on the island. Have a relaxed naked holiday at the Naturist Panorama Hotel and enjoy the nearby natural marine park. The hotel has 31 rooms, 3 apartments, and a bungalow. There are a swimming pool, an outdoor jacuzzi, and a restaurant/bar.
Kefalonia
None of the nude beaches at Kefalonia island are official but several of them are well known to be frequented by the naked traveler. Kanali beach is certainly one of those. The beach is divided into the south and north part and on both sides, naturists can be found.
A huge stretch of sandy beach at a quiet corner of Kefalonia. Walk away from the town and nude sunbathing is perfectly possible.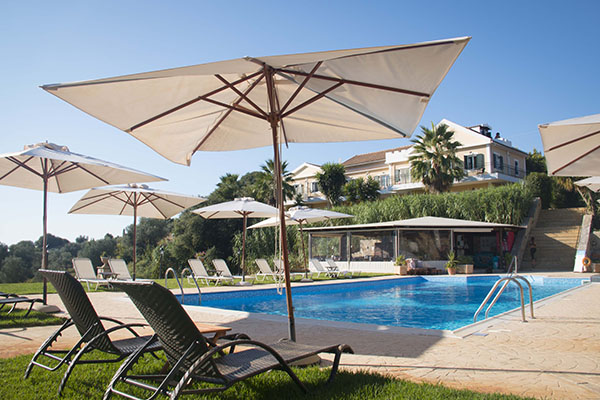 Vassaliki Naturist Club – RECOMMENDED
They are often called the number one naturist destination in Greece and not without reason. Vassaliki provides top-class apartments, an amazing swimming pool, and a great garden to get that nice tan you've been waiting for. Other than that they have a delicious restaurant serving a mix of local and foreign food and they regularly organize activities like beach barbecues, beach trips, and yoga/pilates sessions.
➡️ Click Here to check availability and rates at Vassaliki Naturist Club
➡️ Click Here to read the Naked Wanderings review of Vassaliki Naturist Club
Three amazingly beautiful villas complete with their own terrace and a private pool right at Mounda beach. Complete privacy is assured so this is a perfect place for your first naked holiday. Or your second… or your third… Its location right at Moonda nude beach also makes this place a great spot for some naked sunbathing on the coast.
Corfu
Once considered one of the most dramatic nude beaches in the world although often overcrowded during the summer months. The winter of 2017/2018 has washed away a significant part of the beach but it's still frequented a lot.
A beautiful sand beach located between the sea and the Lake of Korrision. Make sure to take food and an umbrella because there is no shelter from the sun and wind and there are no shops or bars nearby.
Set on the hillside of the picturesque Pelekas village with wonderful views of the surroundings. This is where you will find the adults-only Villa Atraides. Accommodation is in the form of several rooms within this large villa with a nice communal swimming pool. Mirtiotissa nude beach is only a 10-minute drive away.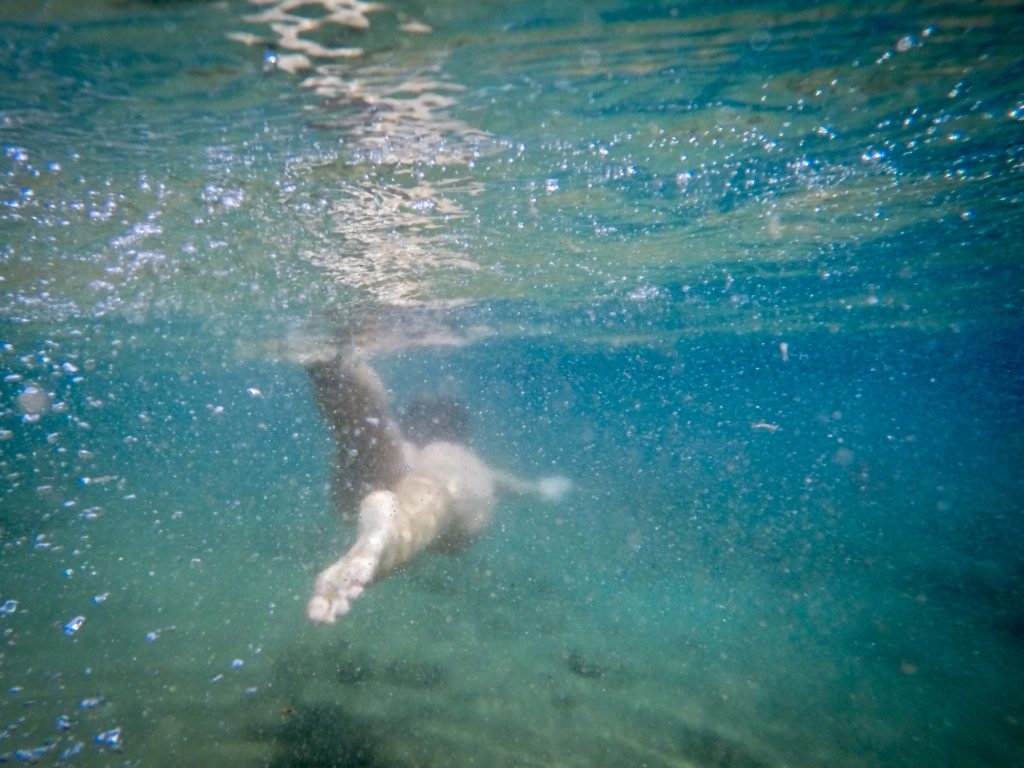 The Dodecanese islands
The Dodecanese are a group of about 150 islands in the southeastern Aegean Sea, of which Rhodes is probably the best-known one. These islands are often referred to as the sunniest corner of Greece, which makes them extremely suitable for a perfect naturist vacation. Expect to find the crystal clear waters and sandy or pebbled beaches for which Greece is famous as well as Byzantine monuments and traditional settlements. Turkey is just around the corner and on the other side, you can extend your trip with a visit to some of the Cyclades islands.
Lipsi
Lipsi is one of the smaller islands north of Paxos and pretty unknown to most visitors. Yet it's home to one of the few official naturist beaches in Greece: Monodendri beach. This beach consists of 3 separate beaches of which the northernly is the most visited. Nudism is often also possible on other beaches in Lipsi if you keep it a bit discreet.
Rhodes
On the east side of the island at 26 kilometers of Rhodes town you will find what's considered one of the best beaches on the island: Tsambika. Note that nudity is only allowed at the last 50 meters of this beach, where you will find clear signs saying "nudist beach". There are several sunbeds available and even a small kiosk.
A wonderful sandy nude beach at the southern end of Faliraki town and the only official one on the island. Due to its proximity to Rhodes town, it can get pretty busy in high season and during summer weekends.
The only naturist resort on Rhodes island is conveniently located between the old town of Rhodes and Faliraki beach. Naturism is obligatory at all common areas including the pool, the bar, the garden and the restaurant. Rooms come in different types which all have air conditioning and satellite TV, some of the rooms have sea view.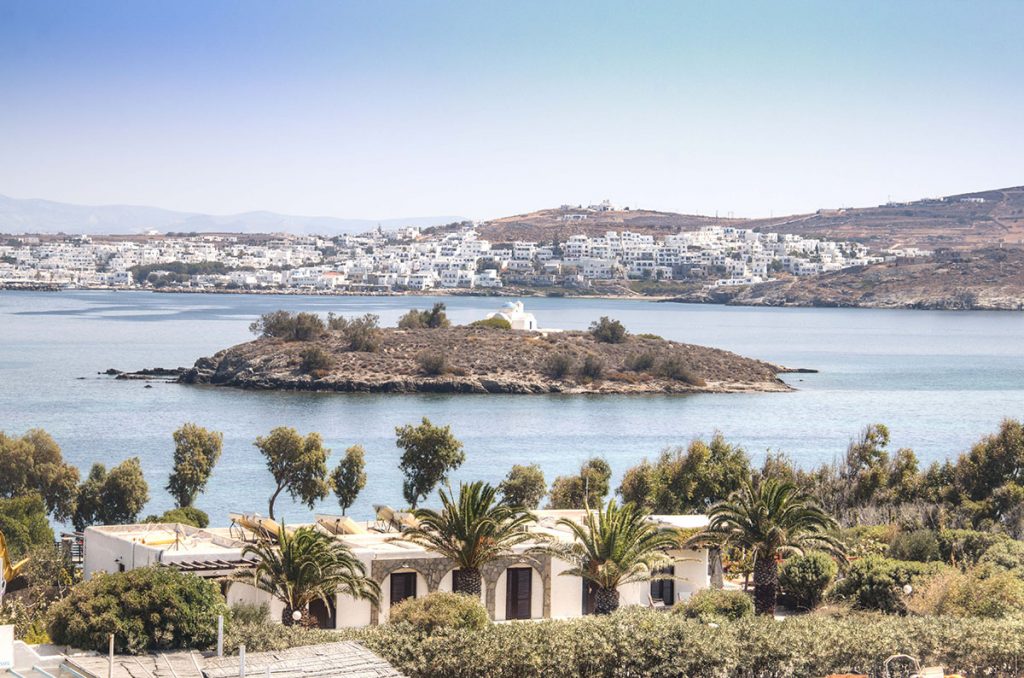 The North-East Aegean islands
This small group of islands stretches from the Greek mainland across the Aegean Sea, all the way to Turkey. Some of these islands, like Lesbos, were recently in the news because of the refugee crisis but they still are wonderful places to visit. Many foreign visitors skip this island group and aim for the more touristy Ionian or Cyclades islands. Those who do head over to this part of Greece will find wonderful deserted beaches and some excellent seafood. And of course here and there a beach suitable for a skinny dip.
Thassos
The eastern part of Paradise beach is probably the best known naturist hangout on Thassos island. During high season the sandy part of this beach is covered with sun beds and designated to the textile visitor but the rocky part is nude friendly year round.
Samos
The only official nude beach on Samos welcomes the nude sunbather year round (or at least when the weather allows it). The nudist section is about 75 meters long and consists of large pebbles. This part has its own snack bar and three more tavernas are available at the textile part. The beach gets crowded in the summer months and there's little space left for those who don't want to rent a sun bed.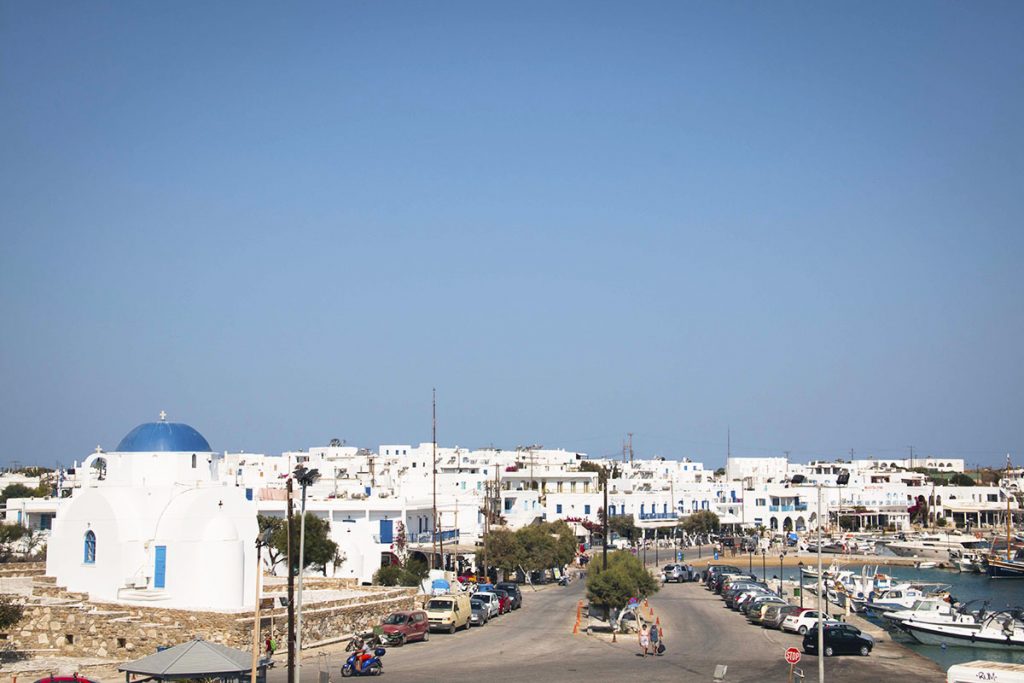 The Cyclades islands
This is the best known island group in Greece and some of its most famous islands like Mykonos or Santorini are famous world wide. These are the islands where many of those idyllic pictures of white and blue houses are taken. Millions of foreign and Greek visitors flock to these islands during the summer months. Each island provides its own experience, some are focused on culture, some on nature, some on the beaches and some attract a bunch of 20 year old Australians looking for a good party. Read up about the different islands before making your decision. What we will already tell you is that on following islands you can have a great nude time!
Naxos
An excellent wide beach in a long bay with a clear sea and very little waves. The naturist zone of the beach is between the Three Brothers Taverna and the Dolphin restaurant. It's easy accessible, has lots of room and is a great spot for skinny dipping. Plaka beach is easy to get to with public transport from Naxos Town
Just 6 kilometres outside of Naxos town is this other little nudist paradise. The nude section is behind the little hill with the chapel. The beach is mostly sand and pebbles and easy to get to with a bus from Naxos Town.
Our third recommended beach for the nude traveler to Naxos island is Aliko beach. It's a beautiful little place just south of Mikra Vigla with lots of secluded coves. Having your own transportation is recommended.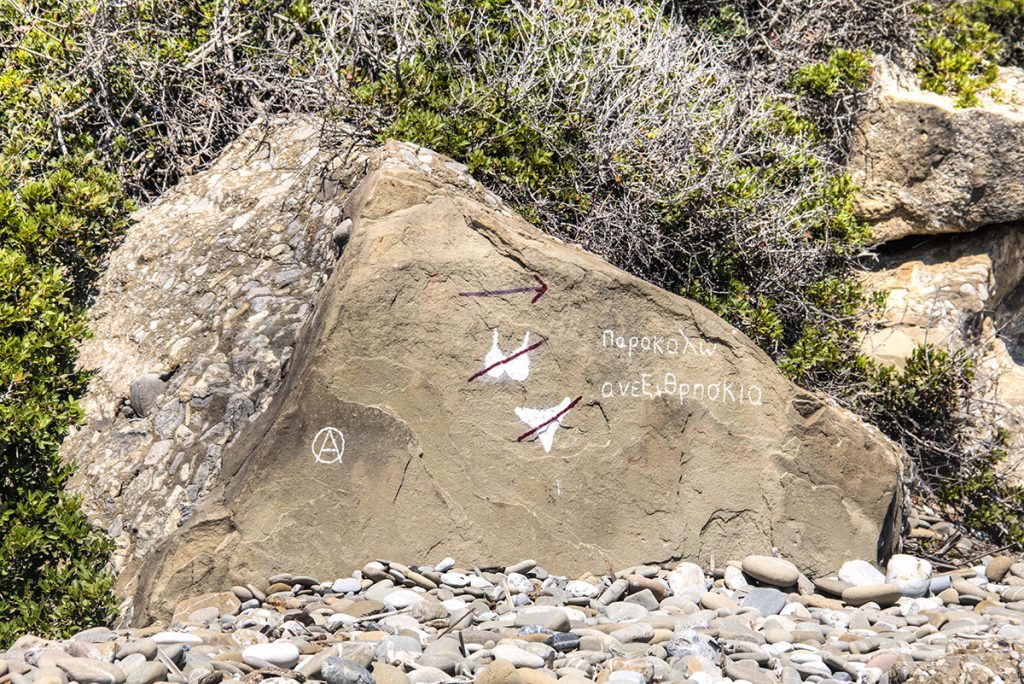 Mykonos
These were once the island's most famous nude beaches, but the uprise of a party atmosphere has attracted a lot of textiles to these sand stretches at about 6 kilometres southeast of Chora. Nudity is still not really an issue, but don't be surprised if you're the only one. The party atmosphere is known to attract celebrities like Paris Hilton and Boy George but we doubt that you'll find them dancing in the nude. If you're looking for a great naturist community, you won't find much paradise at these beaches.
One beach on Mykonos where you're pretty likely to not be the only naturist is Elia beach. It's much less crowded than before mentioned Paradise beaches. The beach can be reached by bus but the connections are said to be pretty terrible, so make sure you know when to head back. Elia has a nudist part and a mixed nude/textile part.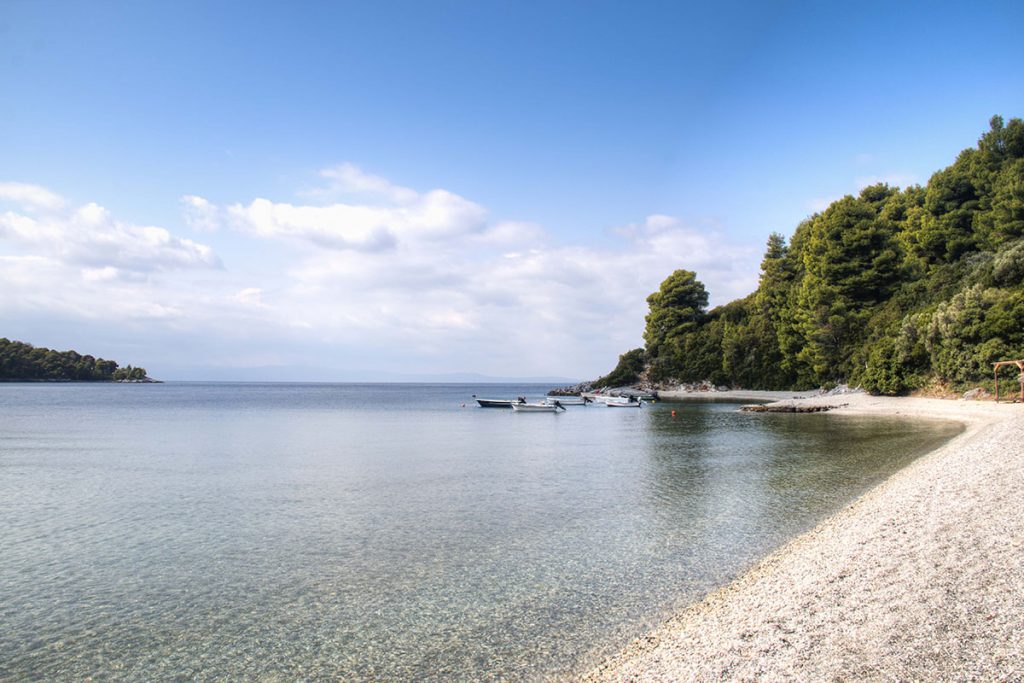 Santorini
A very nice beach on Santorini with black sand and pebbles, secluded by large cliffs. It's pretty impossible to get there with public transport, so make sure to have your own. You can park your car in front of the Hotel Soulis and take the path down. During high season it's recommended to go early if you want to avoid textiles.
A lovely nude beach and often said to be the best place for naturists in Santorini. The scenery of grey sand and the eroded cliffs in the background is simply magnificent. The sand does tend to get very hot on sunny afternoons, so make sure to bring some footwear. It's possible to reach Vlychada by bus but having your own car is certainly recommended.
Antiparos
If a beach is called like that it must be good, right? And it is, it's one of Greece's first official nude beaches and still often considered to be the most beautiful one in the country. It's easily reachable from Antiparos town (about a 15 minute walk). The emerald blue water is shallow so its actually possible to wade to the uninhabited island in front of the beach. Because of the nearby campground there might be quite some textiles on the beach during high season.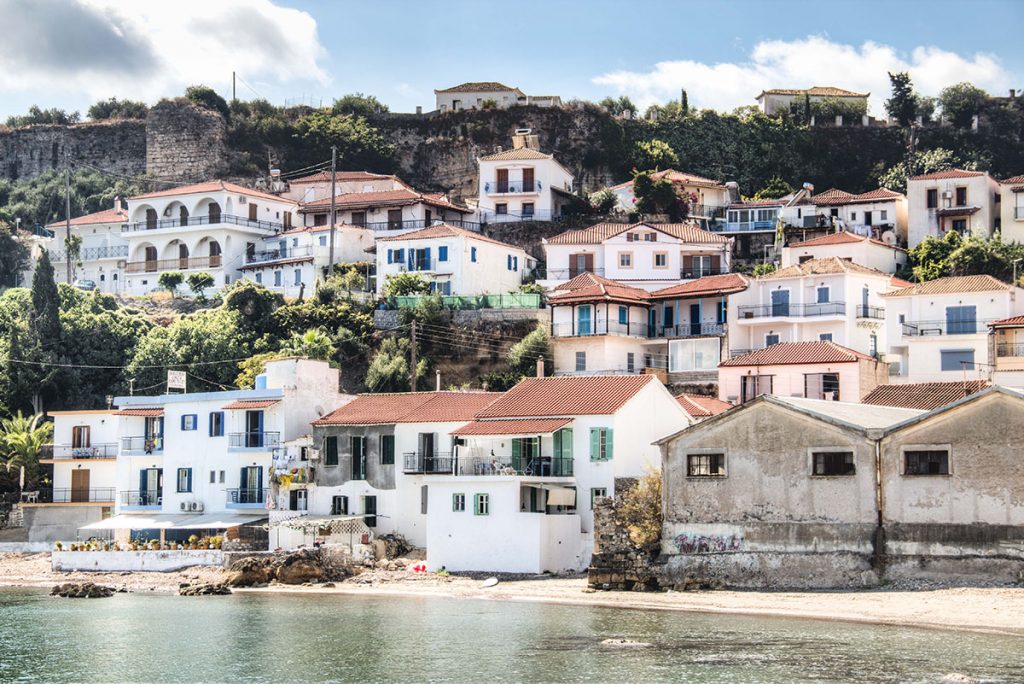 Donoussa
The main nude beach of Donoussa is located at 1 kilometre of the island's capital Stavros. The beach is mainly sand and very safe for swimming and does have its own taverna (not clothing optional). During high season there are quite some free campers who are not necessarily nudists and who have been reported to pollute the beach.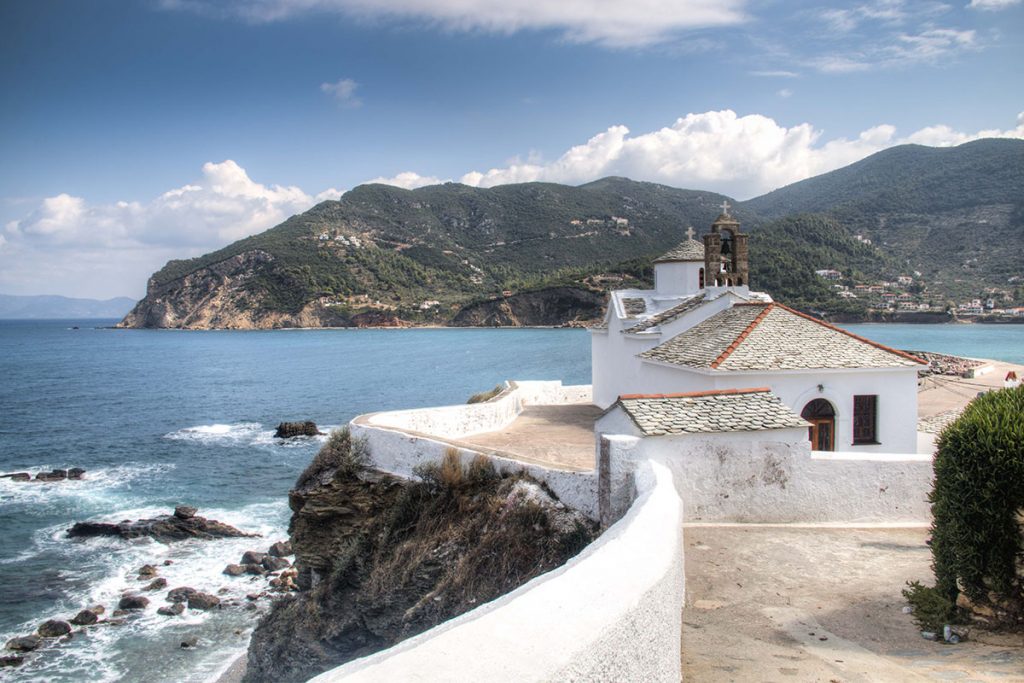 Crete
Crete is the largest and probably also the most visited of all Greek islands. This island simply just has it all: amazing landscapes, a culture that goes back thousands of years, an impressive history, and some of the best Greek cuisine. Millions of visitors from all over the world yearly come to this island to get indulged in everything it has to offer and quite a lot of them prefer to spend some time in the nude as well. If you're looking for some tanning on a nice nudist beach Crete also has several options.
This beach hasn't stolen its name, it's really red! And so are the cliffs surrounding Red Beach which has once been chosen by Fox News as one of the world's best nude beaches. The best way to reach the beach is with a boat or kayak, but there's also a fairly steep path going down. It's located at about a half hour walk from Matala.
Another simply magnificent Cretan postcard perfect beach. Many visitors agree that if you want to check out just one nude beach in Crete, it has to be this one. It's located right in between Chora Sfakion and Loutro and the best way to get there is by water taxi. Since recently this beach also has a textile section.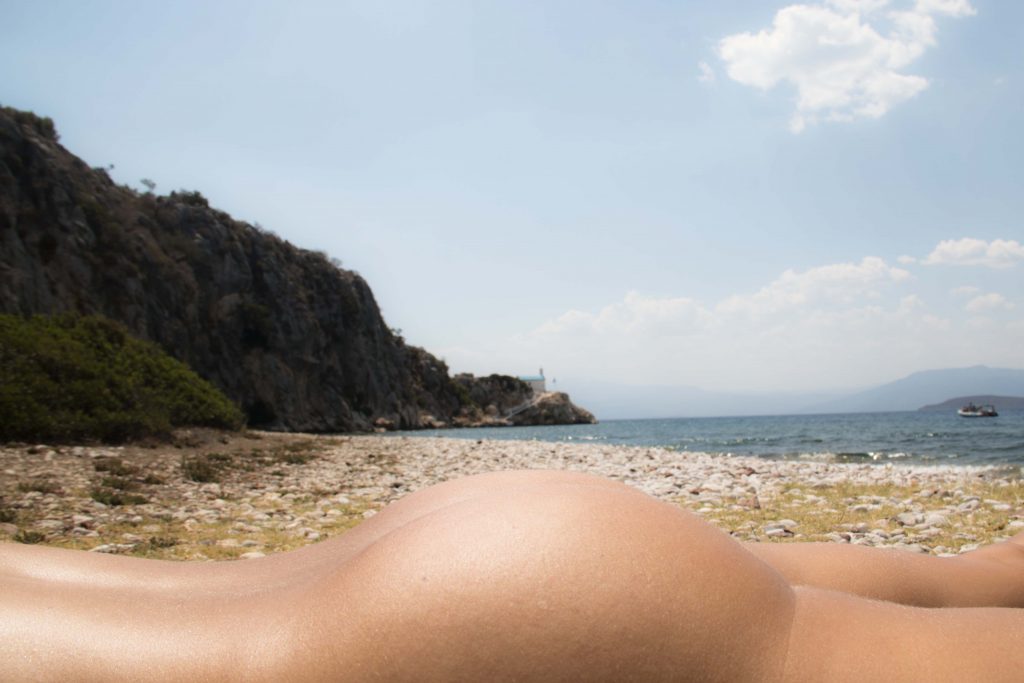 This is the only official nude beach on Crete and is conveniently located close to the naturist resort Vritomartis (see further). There are sun beds and umbrellas available and there is a clothing-optional tavern. Many guests of Vritomartis spend their days at this beach, so there's always a great naturist atmosphere.
Another wonderful nude beach can be found in the south of Crete and goes under the name Plakias beach. The naturist part is hidden from the main beach with a huge rock and has its own bar, umbrellas and deck chairs. It does tend to get packed in high season.
Located on a small peninsula in south-west Crete at about 75 kilometres from Chania you can find one of Crete's most magnificent areas which happens to have its own nude beach. There are sun beds and umbrellas and the beach rarely gets too full. For refreshments you can visit the nearby taverna but you will have to put some clothes on.
Vritomartis was the first naturist resort in Greece and is still the most popular one of the country. All areas of the hotel are clothing optional and so is the nearby Filaki beach. Several types of rooms and bungalows are available for rent of which some have sea view and others have mountain view. Vritomartis often organises trips and activities for their guests. There's a large swimming pool and an onsite restaurant with delicious local and international cuisine.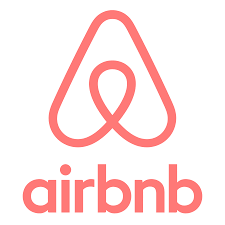 Wanna try something really local? Why not use Airbnb? Create an account and use our special €30 Airbnb Coupon Code for your first booking!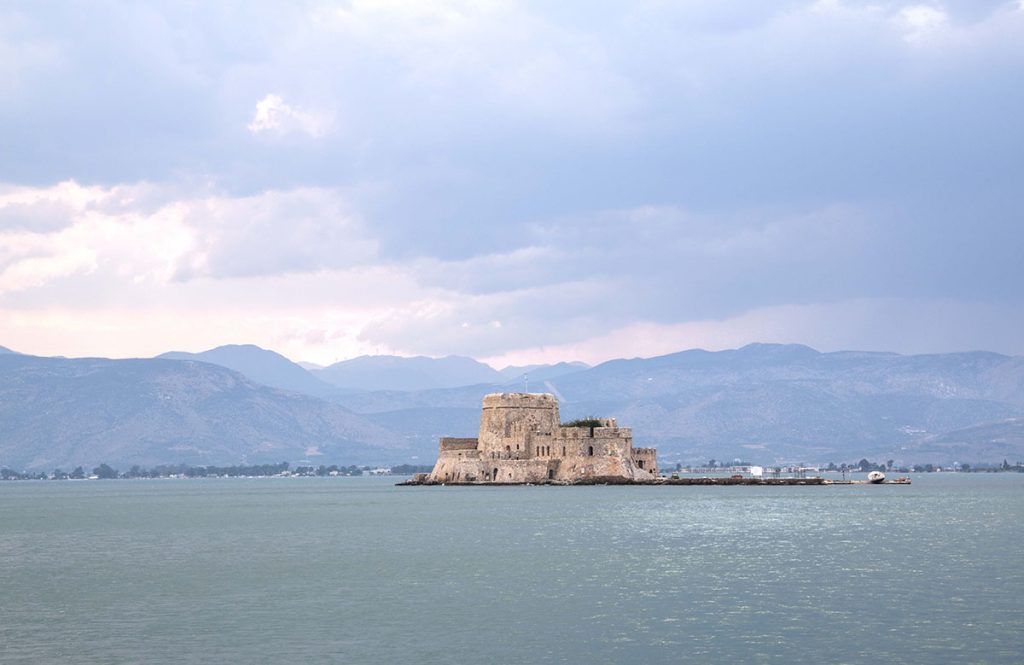 Nude cruises in Greece
Because of its abundance of islands and desolated beaches, Greece is at the top of the world's best places for a sailing holiday. Visit all the nude beaches at your own rhythm while being able to sunbathe naked on the deck of your boat. Who doesn't dream of that? Several companies provide tailor made trips among the most beautiful naturist spots in the country.
Sunatur provides you with your private sailboat including a skipper who's also a naturist. Their boats typically accommodate 6 to 10 guests. Your itinerary will be completely custom made depending on your needs and wishes and the length of your stay. The cruises mostly leave from the port of Athens but other options are possible.
The leader in private naturist sailing vacations picks you up at the port of Paros and brings you to the most wonderful naturist spots in the Cyclades islands. They know the area like the back of their hand and can show you places you'd otherwise never be able to find. You have the choice between a complete nudist trip or a combination of nude options and other activities.
Desire experiences will launch their first all inclusive luxury cruise around the Greek islands in 2020. Why is it already in this 2019 guide? Because we're pretty sure that they will get fully booked before we'll ever be able to write the next guide. Prepare for a sensual clothing optional experience under the warm Greek sun!
Do you happen to know a thing or two about managing a boat over the Greek waters? Then why not rent your own and enjoy a unique feeling of freedom? Find your own perfect spots to get naked and enjoy countless skinny dips along the way.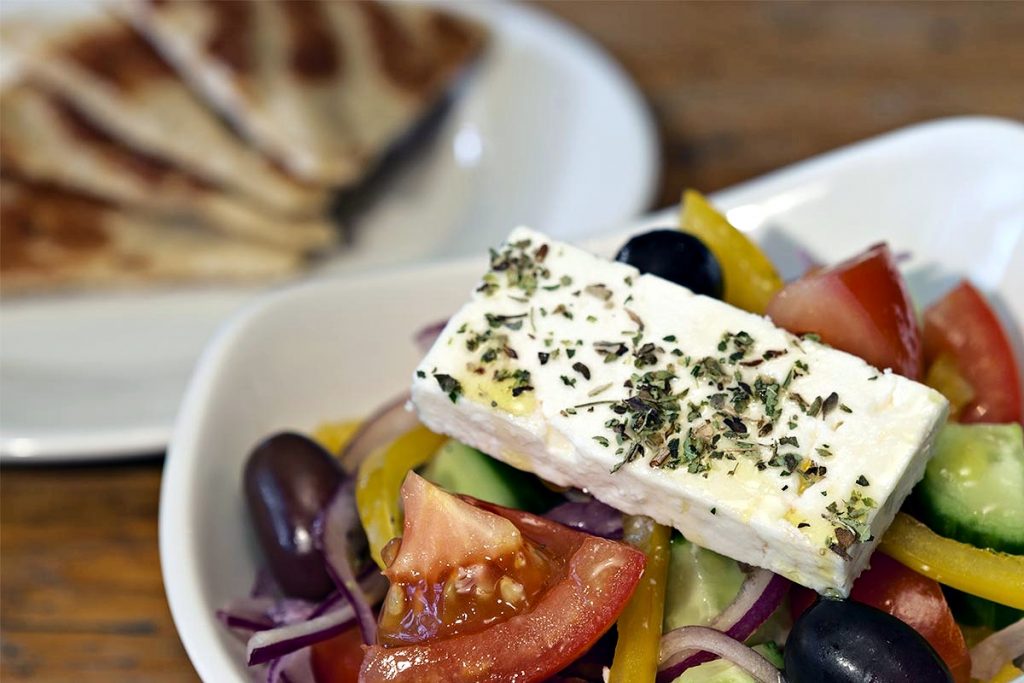 What to eat
All that time enjoying your nude holiday in Greece must certainly get you pretty hungry. Well, we have good news for you! Not only do the Greek have some of Europe's best nude beaches, some of its most splendid culture and history and a couple of magnificent naturist resorts, they also know how to cook great food!
You'll surely discover another level of the Greek culture when you indulge yourself in their typical dishes. There's way too much of the good stuff to list it all here, so we'll give you a short overview of the delicacies you just don't want to miss: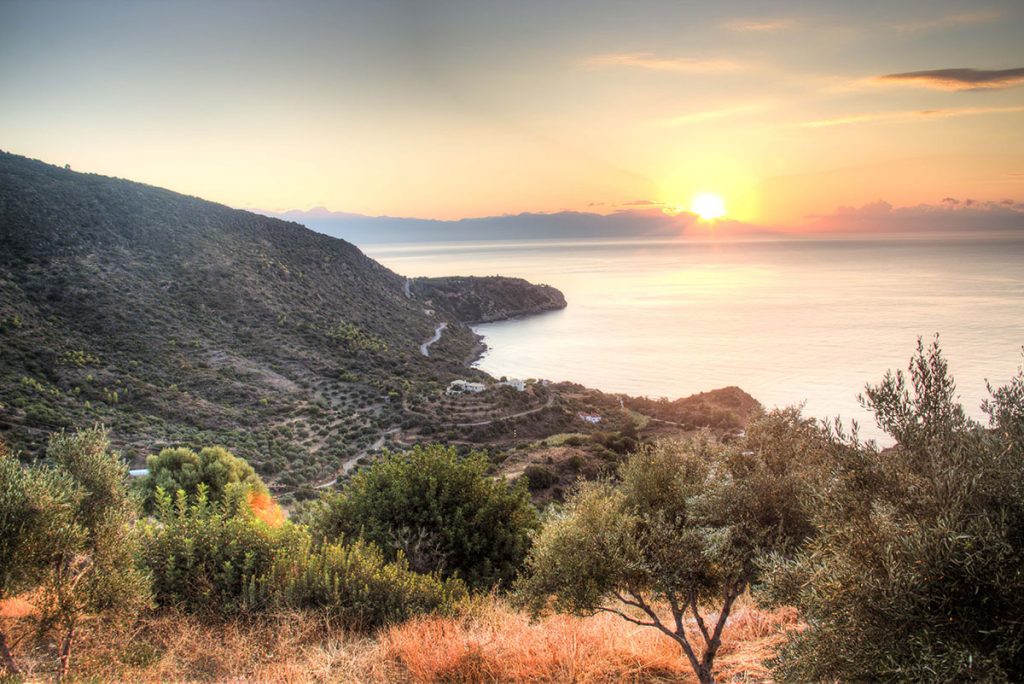 Getting there
Many visitors to Greece choose to fly in. The combination of European low cost airlines and the long time it takes to get from the mainland towards the islands makes this certainly the fastest and often also the most economical choice. When visiting the mainland, your destination will probably be Athens International Airport. This airport receives flights from almost every European country and several intercontinental ones as well.
If your destination is a specific island or a certain island group, it's often much better to fly directly to the island. None of the islands are currently connected to non-European destinations and some of them only serve a handful of European carriers. Your best bet is then to fly either to Athens or to any other big European hub and take a connecting flight from there. The most touristic islands like Crete, Kefalonia, Rhodes, Santorini and Mykonos are well connected to the European mainland. We recommend the JetRadar engine to search for the flights that suit you best:
Many European visitors also decide to drive or take public transport to Italy, Albania or Turkey and get a ferry to Greece from there. From Italy, frequent ferries leave from Ancona, Bari, Brindisi or Venice and will bring you to Corfu, Patras, Igoumenitsa, Sami or Zakynthos. From Saranda in Albania there's a couple of times a day a ferry to Corfu. From the Turkish ports Ayvalik, Bodrum, Cesme, Fethiye, Marmaris and Turgutreis you can get via the water to Kos, Rhodes, Corfu, Chois, Symi or Mytilene. Find the best ferry deals for Greece with Direct Ferries:
Until recently driving from northern Europe towards Greece was not recommended because of the poor state of the roads in Macedonia and Albania. Recently these countries have invested a lot in new infrastructure, which makes the drive less hard. But it's still a very long way.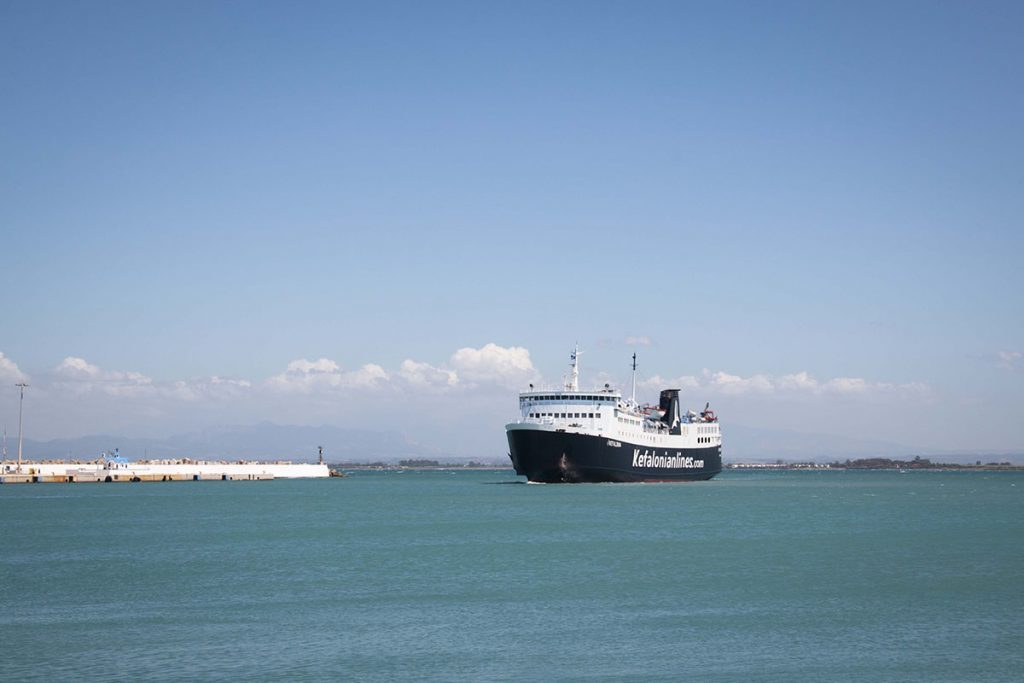 Getting around
A fly and drive holiday is probably the most preferred option for many visitors to Greece. On the mainland public transportation is still an option but the train system is very slow and rather uncomfortable and the buses are quite expensive. If you're planning to include one or more islands to your trip, taking the bus is probably completely scratched from the options list. Most islands do have one or more bus routes but they are unlikely to bring you everywhere you want to be. Especially if you're looking for nice nude beaches.
Flying or taking the ferry are certainly the best ways to get from one island to another. Make sure to plan your itinerary some time ahead because not all islands interconnect well with each other. Flying might require you to switch planes in Athens. When you get to your preferred island, the best thing to do is rent a car. In high season car rental prices tend to go up but often they're still pretty cheap.
Here's an important tip: If you want to do some island hopping, don't book one car for your whole trip. Moving your rental car by ferry can be ridiculously expensive so it's often much better to rent a new one at every island you visit.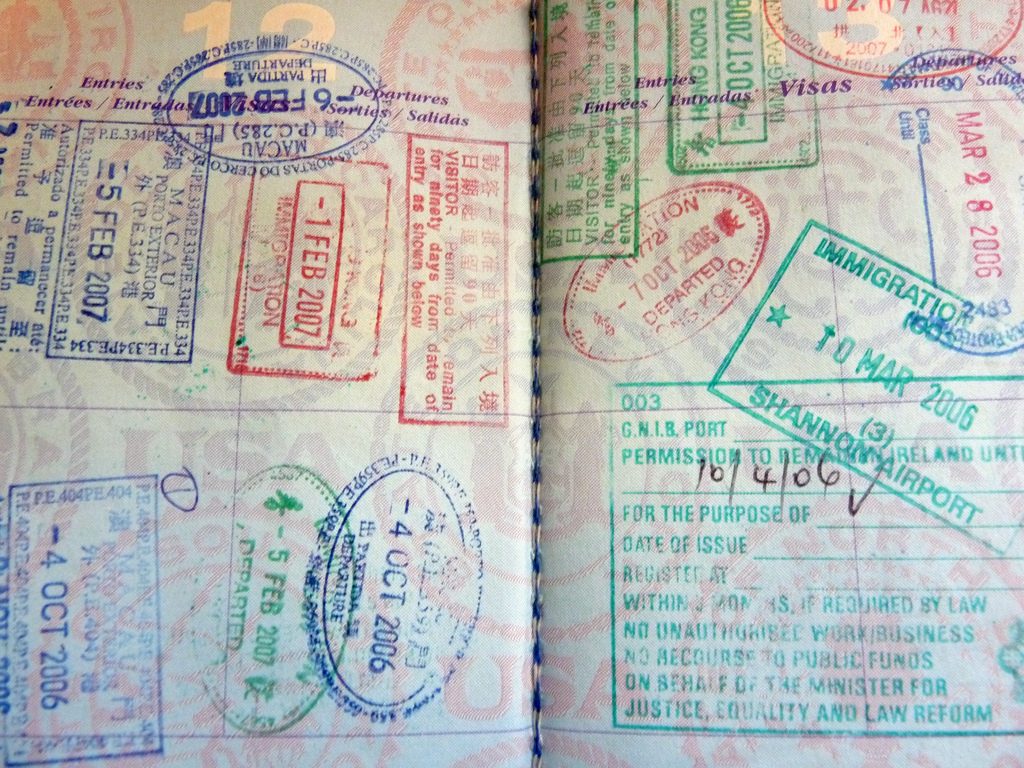 Visa regulations
Greece is part of the Schengen zone, which means that visitors from the whole European union can visit the country with just a regular identity card. Also visitors from Norway, Iceland, Switzerland and Lichtenstein are not required to get a Schengen visa to enter Greece (or any other EU country).
Visitors from every other country will have to apply for a Schengen visa. This process often takes 14 to 21 days and requires a valid passport with at least 2 empty pages, proof of accommodation, proof of outgoing flights, travel health insurance and proof of financial sufficiency. Yes, it's a lot, but in return you'll get a paper in your passport which will allow you to travel for 90 days not only in Greece but in every country which is part of the European Union.
Stay safe
Europe has been quite a lot in the news during the last couple of years because of its increased number of terrorist attacks. We don't want to say that there is no danger at all, but the risk of getting involved in such an attack is very very low. Europe is still a very safe continent to travel to and Greece is possibly even safer than many other countries.
Petty crime is quite common, especially in big cities so do take care of your valuables when wandering through Athens, on markets or on the metro. On the islands, the risk of getting pickpocketed is much lower than on the mainland.
Greece has specifically been in the media several years ago because the financial crisis has hit this country much harder than most other European countries. Protests and riots tended to happen during that period, but today those days are long gone and most of the country has returned to being its relaxed self. Again, if protests would happen they will be on the mainland and very rarely on an island.
Long story short, as a tourist you're very safe in Greece. What doesn't mean that you don't have to be prepared. A decent travel insurance will not only help you in case of theft, illness, injury or cancellations, most of all it will put your mind at ease knowing that if something would happen, you'll be covered. World Nomads is a great travel insurance company, use below form to get a free quote: