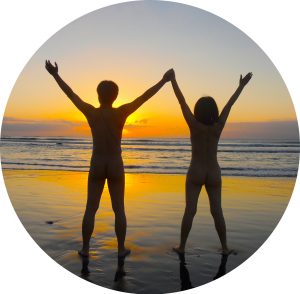 First things first…
If you came here looking for porn, you're in the wrong place. Even if you're just looking for nude pictures you'll probably end up disappointed.
But if you came here because you're interested in naturism or nudism,
please continue, you might learn a thing or two.
 About this website
The idea started in the summer of 2016 while we visited a couple of naturist campings on a trip through France and Italy. It occurred to us that many times we were the youngest visitors… by far… Not that we have anything against age differences, but we started wondering.
Is naturism something reserved for the "elder"?
What is it that keeps young people away from naturism?
Don't they know about it?
Is it because it's still some kind of a taboo?
Is it shame?
We were eager to start looking for answers, and if we're researching anyway, we can as well share our knowledge with the world. We can try to inform people about naturism and show them that it's not something for creeps or perverts but that it's actually a very cool fun to do.
As long as you give it a chance…

About us
We are Nick & Lins, a couple from Belgium in our early 30s. Most of our free time (and a lot of our money) is spent on traveling, on meeting new people, on discovering new cultures and on getting a broader view on what's going on in this world.
Somewhere in 2010 or 2011 or so we discovered naturism. For the details of how we got into this you'll have to read our blog, but we were sold immediately! The liberation of taking off our clothes was extraordinary, it was pure freedom.
And now we want to share that feeling with you, one blog post at a time.
Another milestone in our lives, especially our naked lives, was the 3rd of July 2017 when we started our quest to investigate the nudist opportunities all over the world. A journey that will take us through Europe, Asia, Australia, New Zealand, the Americas and who knows where else.
About "The Naturist Talks"
As we said before, one of the reasons why we're having this blog is to show the world that naturism is really something for everybody, no matter of age, gender, profession or location. But of course, why should you believe us? Maybe we're just that weird couple in the neighborhood…
That's why we decided to also let the other naturists talk, to share their ideas about naturism and how they practice it in their own environment.
If you're interested in having your word here, please get in touch via the Contact page
About "Naked Travels"
We are real travel addicts, we used to travel several times a year and at the moment we're traveling full time. Sometimes to far off places and sometimes as close as our own backyard. Our curiosity has gotten us into so many great adventures and has given us so many good memories that it's safe to say that we have the best addiction in the world.
In this part of the website we revise some of the nudist locations we've visited. This can be anything: beaches, campgrounds, resorts, spas, you name it. As long as it's clothing optional or prohibited.
Important to know here is that even though we accept promotions and discounts, all opinions are our own.