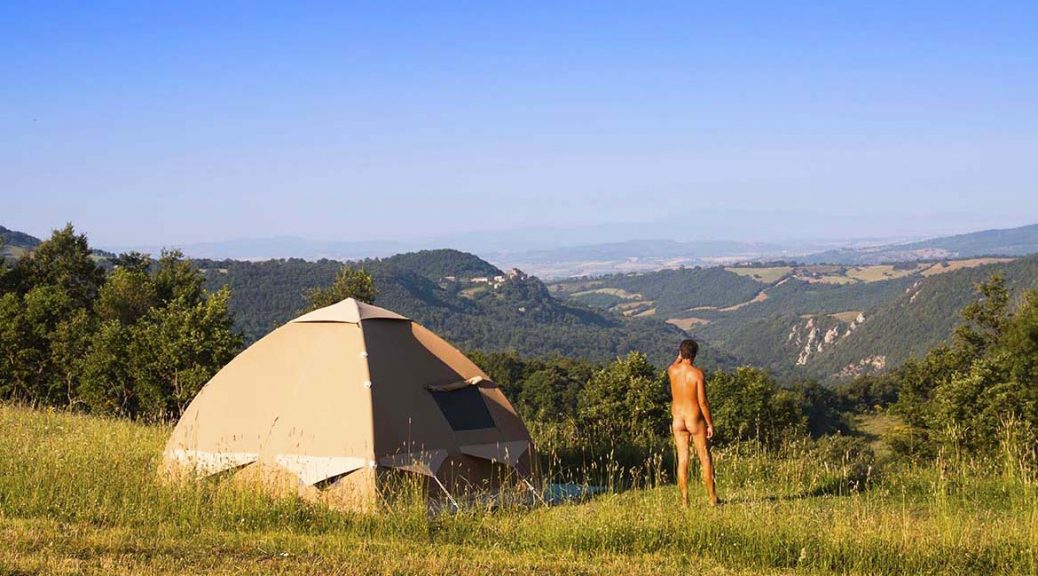 Sasso Corbo is the one and only ecologic naturist camping site in Tuscany. Here, you can enjoy 'la dolce vita', Italy at its best.
The atmosphere is relaxed, free and confident. Enjoy the lovely food, a good glass of wine, the sunset. All the small things that makes life worth living.
The camping site is an oasis of quietness and space, viewing over WWF park Rocconi, the Tyrrhenian Sea and the typical Tuscan fields.
Sasso Corbo is an ecologic camping site. We use sustainable energy and natural products.

Ecocampeggio Naturist Sasso Corbo
Località Casone, snc,
58055 Petricci GR,
Italy
GPS: 42.755009, 11.534829

🌲 Domain size: 23 ha
⛺ Camping pitches: 40
🏠 Rentals: 3 
Food & Drinks
✅ Bar
✅ Shop
✅ Communal meals
Activities
✅ Access to River
✅ Outdoor pool
✅ Playground
Other
✅ Free parking
✅ Free wifi
✅ Laundry service
Family Friendly

Languages: EN, IT, NL, FR, DE

🏝️ Hot springs of Saturnia: Thermal baths with warm sulphurous waters. A great stop when exploring the area. Entrance is free.
🏝️ Ancient Etruscan cities: Sovana, Sorano and Pitigliano are cosy little historical villages where time seems to have stood still for ages.
🏝️ Siena: The historic centre of Siena, a UNESCO World Heritage site, is one of the highlights of a trip to southern Italy. Get indulged by splendid art, culture and history and digest it with excellent food and wine.


There are currently no promotions for Sasso Corbo