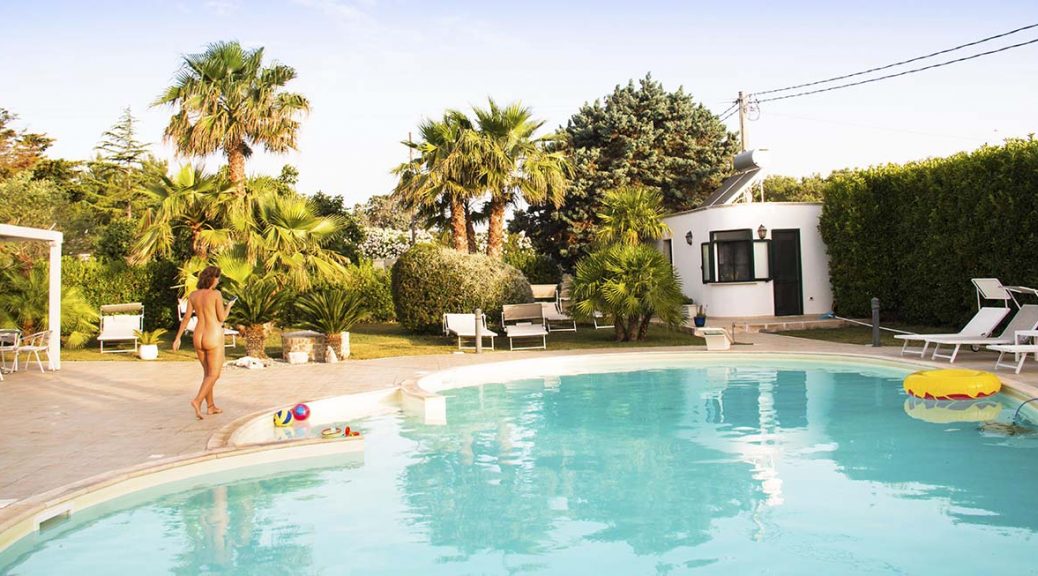 Grottamiranda
Grottamiranda
A relaxing and exotic stay in the colours of the South of Italy
Resort Naturista Grottamiranda is a 9-unit Naturist Apartment complex on the coast of Puglia, Italy. The proprietors are a couple from France who purchased this 16th-century limestone country home and transformed it into an Italian Naturist Paradise.
It is located in the midst of olive groves and close to the beach. This deluxe Naturist Vacation Rental Resort off a high-quality retreat experience. It is completely private and welcomes both singles and couples as well as families. However, it must be noted that children guests are rarely present.
Proprietors Martine & Pierre are happy to welcome you to Apulia and their beautiful Naturist Resort Grottamiranda in the south of Italy.

Resort Naturista Grottamiranda
Contrada Grottamiranda (snc),
Serranova di Carovigno 72012
Carovigno (BR)
Italy
GPS: 40.693065, 17.836691

🌲 Domain size: 8 000 m²
🏠 Rental apartments: 13 
Food & Drinks
✅ Bar
✅ Food delivery
✅ Communal meals
✅ Meals on request
✅ Wine Tastings
Activities
✅ Outdoor pool
✅ Volleyball field
✅ Petanque court
✅ Jacuzzi
✅ Massage service
✅ Meditation
✅ Pilates
✅ Games
✅ Entertainment
✅ Playground
✅ Library
Other
✅ Free parking
✅ Free wifi
✅ Laundry service
✅ Airport shuttle
Family Friendly

Languages: EN, IT, FR, DE

Day visitors welcome

Facilities for disabled

🏝️ Coastal towns of Puglia: Visit the picturesque villages of the coastal region of Puglia and get indulged with charming architecture and excellent gastronomy.
🏝️ Swim in turquoise waters: The beaches of Puglia can easily be compared to the Maldives or the Caribbean. There's also a nude beach near Grottamiranda.
🏝️ Lecce: The baroque city Lecce has gained a lot of commercial importance through history. When you wander through the historic centre, it's not hard to see why this city is also called "the Florence of the south".


There are currently no promotions for Grottamiranda