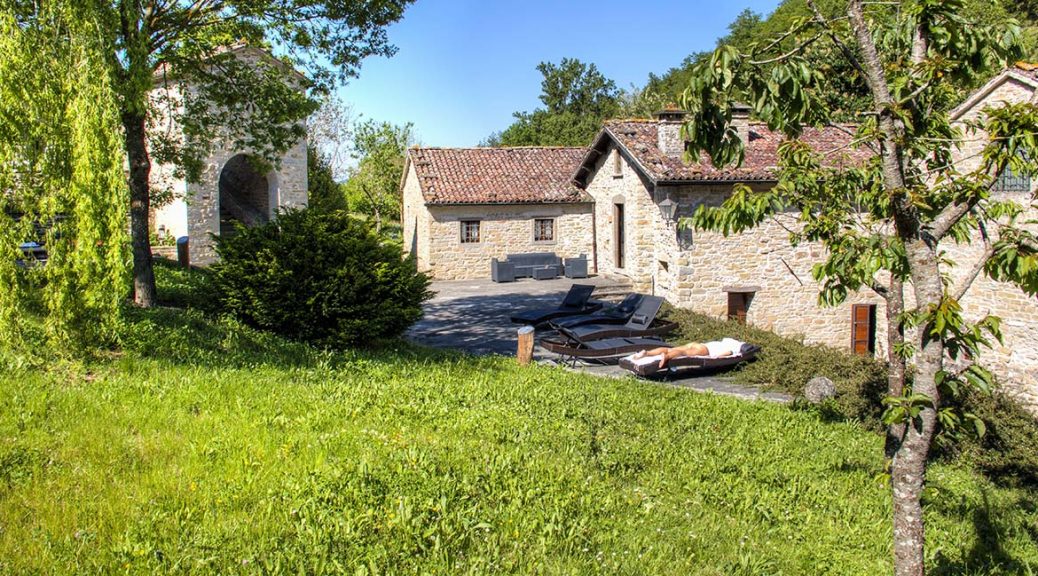 Borgo Corniola
Borgo Corniola
Picture yourself relaxing with a book in front of the fireplace, or being re-energised by a swim in the stream after a Finnish sauna, or simply opening the window and breathing in the intoxicating air of the hills before you…
Borgo Corniola is a FKK/Naturist Resort in the  countryside of Italy. A wonderful and welcoming place immersed in the green Tuscan hills, between Florence and Faenza.
Along the walls of Borgo Corniola we have the gorgeous Acerreta creek: the water is the "music "that gives the rhythm to the day.
The B&B is set in a magical stone village, once a trading post of the 13th century. The interior and the rooms have been refurbished with natural material such as stone, iron and wood and furnished in an impeccable style and at the same time, cozy and elegant.
In the former woodshed you will find the beautiful and panoramic Finnish sauna that can host up to 30 persons and the relaxing lounge with sun loungers chromatic showers.
Hiking trails, mountain biking routes, archery and the entire park is available to relax on the meadow, sunbathing in the hammocks, next to the creek.

Naturist B&B and Spa Borgo corniola
Via di Valle Acerreta, 42,
50034 Lutirano FI,
Italy
GPS: 44.089567, 11.751486

🌲 Domain size: 2.1 ha
🏠 Rooms: 3 
Food & Drinks
✅ Bar
✅ Breakfast included
Activities
✅ Sauna
✅ Jacuzzi
✅ Massage service
✅ Fitness
✅ Library
Other
✅ Free parking
✅ Free wifi
Family Friendly

Languages: EN, IT

Day visitors welcome

🏝️ Outdoor sports: The natural region around Borgo Corniola is excellent for hiking, cycling and mountain biking. Get some fresh air and make pit stops in picturesque villages.
🏝️ Ravenna coastline: After a short ride from Borgo Corniola, you will arrive at Italy's Adriatic coast. Relax on the beach, swim in the turquoise waters and visit the historical centre of Rimini.
🏝️ Florence: The birthplace of Italy's most famous artists. Wandering around Florence is like stepping into a painting. The ride over there will show you some of Tuscany's most splendid natural beauty.


There are currently no promotions for Borgo Corniola